Best Hydration Pack
last updated:
Apr 01, 2020
No matter the temperature or sport, staying hydrated is one of the most important aspects of any adventure. Hydration packs are a functional and easy way to carry water with you without being an inconvenience. Many packs leave extra room for other necessities, such as energy bars, a cell phone, and keys. When doing any activity, hydrating ourselves should be our main priority as if we do not, then our body quickly lets us know. Hydration packs also usually come with hydration systems that are ready to go and will allow you to take a sip whenever you need it, even while you are moving. These pieces of gear are convenient and should be a part of any runner, biker, or outdoor enthusiasts arsenal of gear.
In a Hurry? The test winner after 16 hrs of research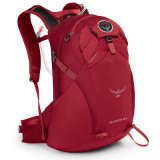 Osprey Skarab 18
Why is it better?
Comfortable
Lightweight
Easy-to-use
In a
Hurry? Editors choice: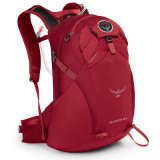 Test Winner: Osprey Skarab 18

14
Researched Sources
1,799
Reviews Considered
16
Hours Researching
15
Products Evaluated
Capacity
Ease of Use
Comfort
By Default
Criteria Used for Evaluation


Capacity
When trying to figure out the size of your hydration backpack, you'll need to think about what you'll most likely be doing while you are outdoors. If you know you need a hydration backpack for road cycling and you only plan to be outside for a couple of hours, then getting a more simple, lightweight pack would probably suit your needs and save you money.
However, if you are the type of outdoor enthusiast who likes to be outside for several hours, and you like to plan a lot of long-term activities, then you will probably want to consider a larger pack that will also provide you with extra storage options. Also, depending on the activity you partake in, like mountain biking or climbing mountains, then you'll probably need more rock climbing gear carrying capacity in your hydration backpack anyway since you'll need to carry more with you based on what you might encounter when you are outdoors.
If you're doing anything for long periods of time in the mountains, you'll need to carry a lot of water with you, but you'll also need to hold extra food and extra clothing, and you might even need some type of emergency shelter. Hydration packs designed to hold several liters of water typically offer these other benefits, like the CamelBak M.U.L.E.


Ease of Use
Hydration Systems and Ease of Drinking
When you are selecting a hydration backpack, you'll want to see how easy the hydration backpack is to use each time you need to take a drink, since some hydration packs work better than others in this category. Typically, higher-priced hydration packs perform very well each time you take a drink and usually provide you with hands-free options so you can get the water you need while you stay active. Also, if leakage is a concern, then look for a bite valve that features an on and off switch.
When you're considering what hydration backpack to buy, you want to make sure the hydration backpack allows you to easily drink from it while you are actively moving. Also, you want to make sure you don't wind up with anything that will leak onto you and create discomfort. So, look for hydration packs that have easy-to-drink from systems that are hands-free, and feature valves that can be turned on and off easily.
Filling
Another thing you'll want to factor in is how easy the hydration backpack you are considering for purchase is to refill while you are outdoors and on-the-go. You want something that is both easy to drink from and easy to fill so that you won't have frustrations when you are in the middle of your outdoor adventures and active.
So, how do you check your hydration bladder choices to figure out how easy each one is to fill? First, you need to see how easy the pack is to fill by trying to access the hydration bladder in the pack. Some hydration packs make their hydration bladders easier to access than others, usually by design.
To check and see where the hydration bladder is located in your hydration backpack, lift up the hydration pack's cover, and look through the opening. Then, you'll be able to see where the hydration bladder sits within the hydration back.
Some hydration packs still provide easy access because they feature hydration sleeves that keep the bladder in a zippered area of the pack. Hydration packs designed like this gives you full access to your hydration bladder without you having to totally take your pack apart.
Either one of these hydration backpack styles offers easy refill hydration systems, and you want to think about which style you prefer by analyzing where you are likely to be refilling your pack. Almost all hydration bladders are easy to refill from a kitchen sink, but if you need to refill from more shallow sinks or natural bodies of water, then you might want something that has a quick disconnect fitting. Hydration bladders that feature this make it easy to both access and refill them.


Comfort
How comfortable your hydration backpack feels when you wear it will depend on a wide variety of factors which include support, ventilation, and the straps on the system. We'll cover each in a bit more detail below.
Support features
How much support you'll need from your hydration backpack will depend on the amount of gear and items you typically bring along with you. If you tend to need a lot of gear when you are outside, then you'll definitely want a hydration backpack that features extra support. Most manufacturers know this and design their hydration packs to fit this concept. Minimalist packs won't give you a lot of pockets or carrying space for extra storage. So, if you plan on taking longer outings and know you can run into a variety of weather conditions, you need to consider purchasing a larger pack that will bring you both more support and comfort when you need it.
Larger packs are designed to carry more deals, and also feature better overall support systems to balance out this need. Most larger hydration packs give you more padding in your waist area, in your should strap, and also have a back pad. Also, some larger hydration packs are still made to be fairly lightweight and feature wireframes. Having extra support will give you more comfort when you know you'll be going longer and need to carry more items with you.
Ventilation systems
Most high-quality hydration packs feature good ventilation systems, meant to help air out your back, shoulders, and waist as you move and sweat. It's nice to keep both yourself dry and your back dry as you perspire and stay active, and most hydration packs offer a decent amount of breathability to assist with this issue. Remember, the hotter the temperature is when you are outside, or the more you sweat, the more ventilation you will need out of your hydration backpack.
To get a hydration backpack that offers a good ventilation system, consider hydration packs that have open mesh construction to enhance breathability and keep you cool. Most hydration packs have mesh-covered foam back pads that also have air channels to boost breathability. One pack on our list that offers a great ventilation system is the Osprey Syncro 10 because it has a mesh back pad and a lightweight wireframe.
Straps and belts
Depending on the amount of gear you'll be carrying when you venture into the outdoors, you'll need to factor in what you need for your straps and belts. The more gear you decide to bring along with you, the stronger your shoulder straps and waist belts need to be designed. Some packs give extra padding in the shoulder strap area and use wider design materials. Wider straps mean you have more strap contact with your shoulder, which decreases the number of pressure points you'll feel in that area of your body.
Waist belts are typically designed with the same features of functionality in mind, and hydration packs that are made to be more stable will also be designed to spread the weight across your waist. Similar to shoulder straps, the thicker and wider the design, the better the support you'll get from the waist belt area.
Expert Interviews & Opinions
Most Important Criteria
(According to our experts opinion)
Experts Opinion
Editors Opinion
Users Opinion
By Default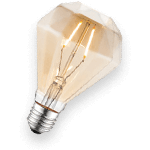 Flavor
It is frowned upon by some to add flavor to your hydration pack. Honestly, it isn't the end of the world. The worst part is that you probably will not be able to fully get the flavor out the pack and you may be stuck with the lingering flavor of whatever you added. Think twice before filling your pack with anything besides plain water.
Sloshing
Some people get annoyed with the constant sloshing of water as they hike through the mountains. A trick to minimize this is to make sure that you squeeze all of the excess air out of the pack after you fill it. This will create a tighter seal and less movement for the water.
Insulation
Has your water ever frozen in the hose? This can be a real annoyance when hitting the outdoors in the winter. A functional way to avoid this headache is to insulate the hose. Many companies offer these hose "sweaters" at an additional cost, but you could also get creative and make your own if you wanted to. Luckily, the pack itself is usually held so close to your body that it won't freeze.
Other Factors to Consider


Weight
How heavy or lightweight you need your hydration backpack to be is another factor you'll need to consider before you make your purchase. If you need something lightweight, then you'll be opting for a hydration backpack that won't carry as much water or feature as many pockets. The more lightweight the hydration backpack, the less water it holds, and the fewer extra benefits you get.
Minimalist packs tend to be the hydration packs that are lightest in weight, but they typically don't hold much more than just a little bit of water and aren't really built for those people who plan on being outdoors for long periods of time. However, minimalist packs are comfortable, easy-to-use, and they are also very easy to carry.
If you need something that's going to get you through a full day of outdoor activities, then you'll want to consider a larger pack. Larger packs offer a lot of options for carrying extra items and also allow you to carry plenty of water along with you on your outdoor adventures.
The types of hydration packs that will give you the most features and options tend to be full-sized hydration packs. Most of the hydration packs on our list above come fully sized, and they will give you extra carrying space, and at least a standard-sized bladder. These hydration packs are also meant to hold larger bladders if you need to use one for extra hydration. They won't be as lightweight, but they'll give you everything you need to get the job done on your longer outings.
Frequently Asked Questions
Subscribe to our Newsletter