Best Cycling Shorts
In a
Hurry? Editors choice: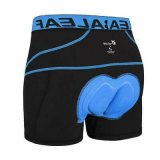 Test Winner: Baleaf 3D

When cycling, one of the most important factors you want to consider is that you are comfortable and
properly geared up
for a day of cycling. This sport can provide quite the adrenaline rush and is a great total body workout. When cycling you want to
make sure you are wearing the proper clothing
to make sure you stay comfortable for the complete cycle and that you will not have to stop due to being uncomfortable from the clothing you have decided to wear.
That is why if you are an avid cycler than you know that cycling shorts are the best piece of clothing to give you
maximum moveability and comfortability while you cycle
. If you are looking for more leg movement and feeling unrestricted than the guide below was made for you as it lists the top ten pairs of cycling shorts.
Standout Picks
Criteria Used for Evaluation
Use
Before you even start researching what type of cycling shorts you might want to purchase, you need to first define exactly what your purpose is for these shorts. If you know how you plan to use the shorts, you might be able to save a little. Plus, you don't want to wind up with a pair that won't suit your needs.
When you try to define what your intentions are when you wear your shorts, you need to think about how you plan to ride. Some shorts are better for mountain biking, others for road riding, and still others for long-distance rides.
Also, some cycling shorts are made for triathlon events, which makes them more of a combination design that can adapt to swimming, biking, and running all in one outing. So, you need to consider the type of cycling you are doing, and if you also need shorts that are intended for multi-purpose uses.
The more basic your cycling intentions, then the better off you'll be on the affordability scale. However, if you really need a pair of shorts that do more, then you'll be happier spending a little more. You need to factor in exactly what you can sacrifice, and what you can't if you are trying to save a bit of money. We'll cover some of the other things you can probably let go of—like style—if you are on a budget, but also mention a few things you shouldn't sacrifice—like comfort and fit.
Effectiveness
The quality of any product is always important when you're looking into purchasing cycling gear, and this is also certainly true of buying cycling shorts. You want to make sure you purchase cycling shorts that are made to be durable and use strong material. Strong stitching is important because you'll be wearing and washing your shorts often, but you also want to make sure the stitching stays flat against your skin to prevent chafing.
The fabric is an important factor to consider when looking into the quality of your bike shorts. Most cycling shorts on the market are designed with stretchy fabric to support your body and avoid any hindrance of movement. But the quality and purpose of these stretchy fabrics can vary.
Spandex is a popular stretchy fabric you'll find in many cycling shorts. One reason spandex is commonly used is because it is flexible, but it also can hug the body to provide compression, which helps boost your riding performance and increase muscle support.
Features
While what features you really need or want to get out of your bike shorts are really a matter of opinion, you do have a lot of options here for cycling shorts. It's probably a good idea to get shorts that have 8 inches on the inseam because you'll get more sun protection and decrease your chances of abrasion as you ride since you'll have more coverage. Also, having a pocket is always great, since it helps you access certain items easily.
You can also decide if you want a bib style pair of shorts, which tend to be a bit more expensive, but also provide better support and comfort. Also, you'll need to think about whether or not the style of the shorts matters to you since that can cost you more. If you're looking to save money and prefer function and comfort, then you probably can save some money by skipping over style.
Comfort
What really matters when you're searching for a great pair is the comfortability of the product. Being comfortable as you ride is very important. That means they fit as well as the pad, leg grippers, and the quality of the stitching are all important factors when looking for comfort. The comfortability of your pants will make all the difference in how far you can ride and for how long. The moment that you start to feel uncomfortable is the moment that you will need to take a break or head back home.
Now, remember, just because another cyclist you know prefers a certain type of bike shorts and finds them comfortable does not mean you'll like the same shorts. You need to find something that feels comfortable for you, since the better you feel in your shorts, the better you'll perform. The best way to know if the pants you have your eye on will be comfortable for your complete cycle and help you gain more maneuverability is by checking the customer reviews. The customer reviews will give you a first-hand look at how these cycling shorts felt for other riders, who decided to go ahead with them. This way you will know if you are getting a pair of shorts that will be comfortable, or if you should start looking at another pair.
Top Ten Pairs of Cycling Shorts
Subscribe to our Newsletter