Best Running Compression Socks
In a Hurry? Editors choice: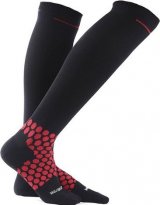 Test Winner: Mubasel Gear Compression Socks

For avid runners and adventure seeks, having fitting and comfortable socks are very important. Especially for those who run marathons and who have prior injuries. Making sure your legs and feet are protected from injury, swelling, leg pains, leg fatigue and to improve your circulation you need a great pair of compression socks. Compression socks typically pull up over the knee, giving both your feet and lower legs ample extra support. They are also excellent for protecting you against potential
problems like plantar fasciitis
and shin splints. Compression socks can even be used for pregnant women to help their circulation, to give them extra support, and to improve their water weight in their legs. Below we have listed the top ten best running compression socks in the market today including details for each sock to help you decide which one suits your running needs.
Standout Picks
Criteria Used for Evaluation
Top Ten Compression Socks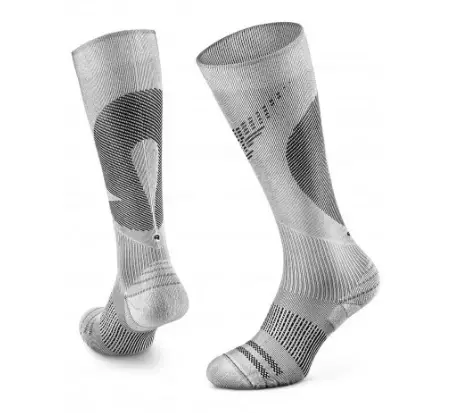 Best Alternative to Compression Socks: This premium Rockay product is the perfect choice if you are looking for support for your everyday run routine.
Read more
Materials
They are made of high-quality stretching materials which make them so comfortable that you won't even notice that you are wearing them. The compression is tight enough so it increases the blood flow throughout your legs which makes your training much safer. Yet, comfortable enough so that you can wear them all day!
Effectiveness
The Rockay Vigor compression socks are not just for runners and athletes. Anyone who spends the day standing, walking, jogging, or running can benefit from them. They reduce swelling and leg pain.
Style
Rockay allows you to enjoy the product without any risk. If you are not satisfied with your purchase they will give you a full refund. Even if you need another size or a replacement compression sock, Rockay stands behind their product.
Use
The Rockay Vigor compression socks are great for outdoor activities, hiking, water sports, cycling, runners, winter sports, and even athletes.

2

. Mubasel Gear Compression Socks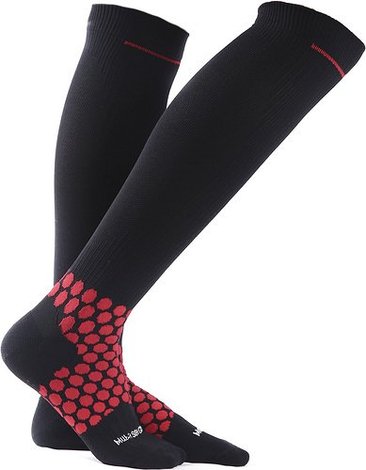 Mubasel's Compression Socks are made to be worn any time of the day to help decrease potential foot problems for runners, or people that struggle with foot and lower leg injuries. They are a bit thicker which makes it a good choice for cold temperatures. The style makes them a great choice for everyday wear.
Read more
Materials
These Mubasel Gear Compression Socks are made from durable fabrics that have great stitching and do not fall apart which makes them have a long lifespan.
Effectiveness
The extra stability provided by Mubasel's Compression Socks not only helps to increase oxygen and blood flow in the feet and legs but also help to prevent common runner injuries. The added support reduces heel pain symptoms, swelling, Achilles tendon problems, and plantar fasciitis.
Style
Mubasel's Compression Socks are very thick but made to be breathable for added comfort, preventing problems like blisters, foot odor, and fungus. These are a great inexpensive running sock, especially with the included graduated compression.
Use
These compression socks are wonderful for athletes, diabetics, pregnant women, avid runners or hikers, and will help to improve your circulation and prevent any injuries.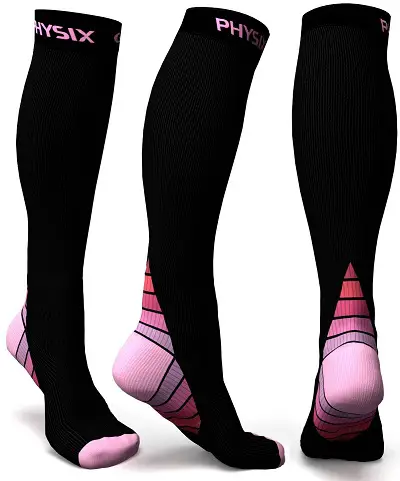 Physix Gear Sport's Stamina Compression Socks come perfectly designed for not only runners but also individuals who spent hours every day on their feet. They not only help runners by preventing future injury, but they also help to ease any current soreness or suffering with a healthy amount of compression.
Read more
Materials
Physix Gear Sport's Stamina Compression Socks also come with a moisture-wicking material. This material helps the socks to breathe even while runners sweat, allowing for more soreness relief.
Effectiveness
These socks help to protect the wearer's legs and feet from a wide variety of injuries and fatigue, including foot and leg pain, shin splints, varicose veins, and Plantar Fasciitis.
Style
Physix Gear Sport's Stamina Compression Socks bring runners two helpful comfort benefits. First, some compression socks are known to slip down when running, wrecking their potential to protect the runner's legs and feet. Physix' socks won't slip down and remain pulled up throughout any run, helping to compress the legs and feet throughout the entire workout.
Use
Physix's Stamina Compression Socks can also prevent blood clots, which is an excellent benefit for those recovering from surgery. The compression offered by these socks is graduated, which helps to bring up the runner's blood circulation, a key to both running better and recovering faster from injury. They are great for runners and athletes to help prevent injuries or even restless leg syndrome.

4

. Blitzu Compression Socks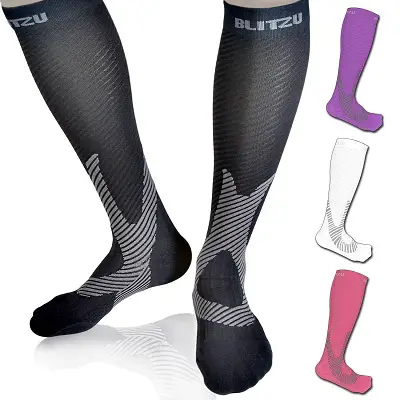 Blitzu's Compression Socks were created with comfort for everybody in mind. While they make a great running sock, they are also developed to help people who have to be on their feet while working most of the day. The innovative design of the socks helps to relieve some common runner's fatigue problems in both the legs and feet.
Read more
Materials
These compression socks are all made from high premium power performance fabrics to help ensure you get the best circulation.
Effectiveness
Blitzu's socks are designed to bring additional support to the legs and feet, which not only helps to prevent future injuries, but also decreases foot and leg fatigue, cramping, and soreness. The sock helps to bolster all vulnerable areas for runners—including ankles, calves, feet, heels, and arches. Blitzu's socks also reduce the formation of blood clots in the legs.
Style
Blitzu's compression socks offer graduated compression to help prevent a variety of common leg and foot injuries. These socks also utilize what the company calls Blitzu Kinesiology Taping Design, which adds increased support through kinesiology taping in combination with the compression design the sock already offers. Your feet and legs will both perform better and last longer since your fatigue will be reduced.
Use
These compression socks are best used for helping prevent injuries and restless leg syndrome. They are known for athletes, pregnant women, and runners to help reduce any swelling in your feet or legs.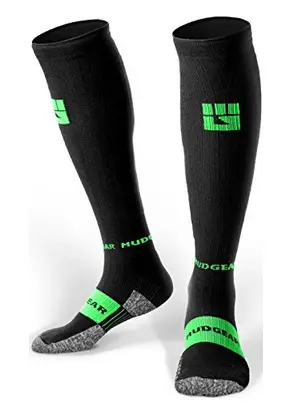 Specifically designed around obstacle course racing, MudGear's OCR is about as badass as a compression sock can get. There are actually a lot to these. These graduated compression socks will give you the benefits of even pressure being applied to the lower leg, resulting in increased blood flow. But, they are also durable enough to be worn through hell and back.
Read more
Materials
These MudGear OCR compression socks are made from spandex, polyester, and nylon to give you and very comfortable fit. All of the durable materials also help with making sure you get medical support as well as great circulation and breathability while wearing them or conducting any sport.
Effectiveness
As mentioned above, they do provide graduated compression, so you'll have even pressure being applied to the shins and calves, helping with needed support and even shorter recovery time.
Style
The durable backing is an extra layer that provides added protection from rope burn, slipping, and most other hazards that you might encounter during an OCR type event.
Use
As these are designed for racing, they are constructed of extremely breathable material. The best part is the fact that they drain water quickly. When paired with the right shoe, this feature could make a ton of difference on the course.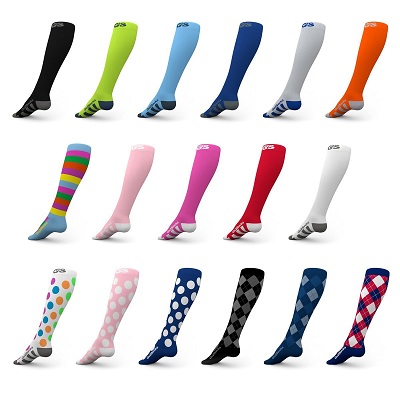 Go2 Compression Socks promise to cut back on the feeling of tired legs with their compression sock design. Go 2 Compression Socks were developed with the concept of improving your everyday performance while protecting your legs from injury and increasing circulation. The socks promise to provide extra cushioning and support you can depend on throughout your day.
Read more
Materials
These Go2 Compression Socks are made from durable fabrics in order for you to get the best fitting and most comfort.
Effectiveness
Go2 Compression Socks offer many benefits to runners. The graduated compression they offer was developed to prevent shin splints and varicose veins, and assist people post-surgery. Wearing them while running should help you recover from your exercise routine faster, and they can even be worn for marathons.
Style
These socks are made to help prevent fatigue while helping you avoid cramps and soreness. They also offer help to those suffering from edema and DVT with their clinical design and ability to prevent fatigue while enhancing performance.
Use
Along with the graduated compression offered by Go2 Compression Socks, the design of these socks brings you an extra-cushioned layout sole. This cushioned sole helps to absorb more shock as you run, cutting back on potential injury and pain, and bringing extra support to your legs, ankles, calves, and feet.

7

. Cruicial compression sock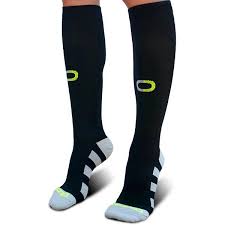 If you're looking for compression socks that pack a lot of visual punch, these are for you. They don't just look good, they feel good. The Cruicial Compression socks offer great support and breathability and are a solid choice for general compression. These Cruicial compression socks are made from over 10 different colors and several different sizes. They are very durable and fitting compression socks that are made from great quality lycra to help prevent your feet and legs from injury. They are very easy for you to be able to pull up and get on and help with relieving any pains you are having and circulate your legs well.
Read more
Materials
These Cruicial socks are made from lycra to give you the best protection and form-fitting.
Effectiveness
The graduated compression benefits of Cruicial Compression Socks focus on increasing oxygen and blood flow throughout the feet and legs of the runner, decreasing fatigue and providing a performance boost. The added shock absorption benefits of the reinforced toe and heel areas also reduce your chances of experiencing cramps, swelling, shin splints, pulled muscles, blisters, and other common runner's injuries.
Style
The Cruicial Compression Socks are made with a form-fitting design and extra padding to reinforce the sensitive areas on both the heels and toes. Developed with lightweight nylon and spandex, the socks are breathable and keep feet dry, cutting back on blisters and bacteria. Also, the materials used in the socks help contribute to overall runner mobility while still offering solid support.
Use
Many runners report feeling less restricted in mobility when wearing these socks, which is an added benefit of the Cruicial compression sock design since better support without restriction helps improve a runner's potential.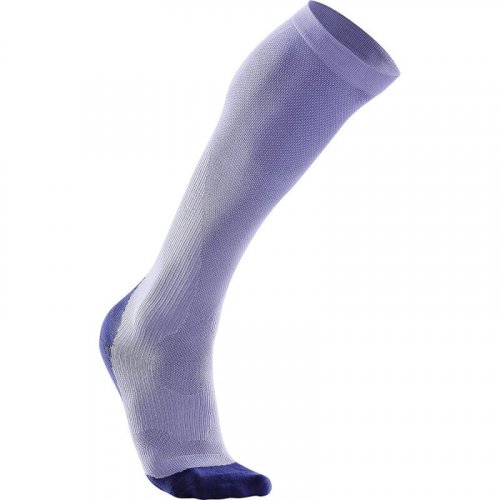 Designed specifically for women, the 2XU Compression Socks offer compression support and UPF 50 protection. They are very flexible due to the PWX FIEX and do a great job of wicking moisture away because of their high filament yarn construction. These great socks offer 18 different colors so you can choose the ones that best match you.
Read more
Materials
These compression socks are made from 100% other fibers which make this sock a very durable and high-quality product.
Effectiveness
The fit is tight, but not so much that they are uncomfortable, as long as you get the right size. The compression is evenly distributed, which means they are designed well.
Style
These passed the test when it came to all of the normal things we want to work in a sock with a purpose. They stay put during a long run, don't lose their applied compression properties after several runs, and they do not seem to want to fall apart easily. And one thing that matters for a lot of people is value. The MSRP for these is much more affordable than many others on the list, yet the benefits and quality are top-notch.
Use
2XU Women's Compression Performance Run Socks are great for protecting your legs, knees, glutes, ankles, and feet from injury and making sure you get great circulation. This compression run is great for runners, cycling, general sports, walking, aerobic sports, paddle or water sports, hiking, climbing, or even winter sports as they are well insulated.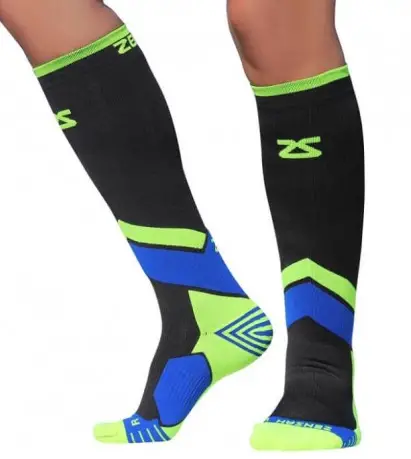 This great option from Zensah was impressive. Yes, an impressive pair of socks. The graduated pressure compression combined with the received lower leg support that these provided offer greater circulation, allowing less needed recovery time after long runs. It seems to be true with compression socks, that you get what you pay for.
Read more
Materials
Though there are some models that will leave your feet super sweaty, there doesn't seem to be that particular problem with Zensah's socks. They are made of a moisture-wicking material that works well for colder weather, yet allows adequate airflow.
Effectiveness
The graduated compression gives even pressure and support to the calf and shin. These are also designed with their Ultra Zone Ribbing, which adds even more support under the arch and heel.
Style
Constructed with durability in mind, these will maintain integrity over time, to ensure the appropriate level of compression is had for many miles. These aren't the cheapest pair on our list, but the benefits here simply outweigh the cost to the point where they are totally worth it.
Use
These Zensah POP Tech+ compression socks are known for being great for runners, athletes and even those who are leg or knee injuries.

10

. CEP Progressive+ 2.0 Compression Socks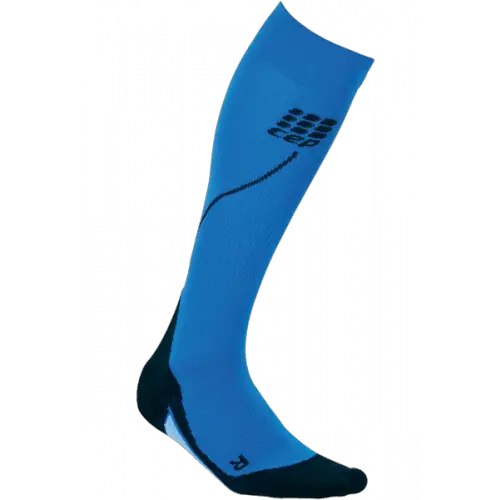 The CEP Progressive+ 2.0 Compression socks place an emphasis on both comfort and effective compression. They have managed to nail the balance between support and ease of movement. With a lot of technology built into them they are designed for high performance and are great for a run of any length.
Read more
Materials
CEP Progressive+ 2.0 Compression Socks are made from 85% polyamide and spandex so they reduce moisture, thus preventing bacteria and fungus on the foot. The moisture control also helps ward off blisters and odor while running.
Effectiveness
The compression technology provided helps to decrease swelling in the legs of the active runner. They also help to keep the legs warm, keeping your muscles ready and willing for more running. The graduated compression brought by the socks helps prevent many annoying runner pains and injuries, like cramping and fatigue, while also helping to boost muscle recovery. Leg and foot pain are both controlled by the effective compression.
Style
This CEP Progressive+ 2.0 Compression Socks can be used for males or women as they are gender neutral socks and come in a variety of different sizes and colors. They are very comfortable and fit just below the knee for extra support and even have a ribbing for better circulation and a better ability for breathability. These compression socks are good for all types of weather conditions including warm, cold and even more damp climates. They are made from nylon, elastane as well as polypropylene which are all materials that are known for being comfortable and very fitting.
Use
This compression sock has many different uses for athletes to pregnant women and avid runners. These socks help with circulation and even help with leg, ankle or even feet injuries to keep you safe, they prevent you from having shin splints and even help with any muscle soreness you may be experiencing.

Subscribe to our Newsletter