Best Running Shoes For Painful Knees
In a
Hurry? Editors choice: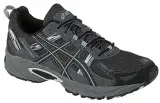 Test Winner: ASICS Gel Venture

For people that love running
for both training and exercise purposes
, experiencing knee pain can be disappointing. Sometimes, knee pain can be so awful that it can keep you off your feet and away from the trails, which is something you certainly want to avoid. Since you won't want to miss any runs when you have the time and ability to go, one of the best solutions to this problem is to purchase
great running shoes
that can help you out with your knee pain. That way, you can avoid the depressing experience of having to stay inside and away from the trails. Having a great pair of running shoes for knee pain can provide you the relief you need to keep you running on the trails. Check out our top picks below.
Standout Picks
Criteria Used for Evaluation
Comfort
Comfort is probably the most important criteria point we analyzed on our product list. You need to make sure the shoes you purchase offer a good cushioning system, plenty of support and stability, and also feel great on your feet. The comfort of the shoes will dictate how much better your knees will feel as you run. So, you may need to go to the store and try some of these shoes on to check out their comfort levels.
This should be your main focus when looking for a new pair of running shoes to help with the soreness that is occurring in your knees. It is always recommended if you can, to go into a store and try on the shoes before you purchase to get a feel for them and see if they are the right fit for you.
Traction
Traction becomes important because you want to make sure you have the right kind of grip system . Traction also helps you out with stability and support while you are on the move. We analyzed all of the products on our list for traction and discussed the outsoles for each shoe design.
Traction is an important feature to consider as it will help ease the soreness that is being caused in your knees. If you have better traction than you will not be slipping around while running which puts a strain on your legs and expecially your knees.
Durability
Outsoles tend to dictate how durable a shoe is. The more durable the outsole, the longer the shoes will last. Also, when looking at durability, check to make sure the shoes have a mesh upper that also looks and feels durable. The mesh upper is usually another place that manufacturers build durability into their shoes.
Durability is an important factor to consider when looking for a new pair of running shoes as most of the time running shoes take quite a beating and if you are making a investment, you want these shoes to last you many years to come. If you can check the reviews from other consumers to check the durability or if you have the option, go into a store and check them out first-hand.
Value
Value is always an important factor to consider, and we discussed why we felt each product offered a nice value option. Whether or not you are shopping on a budget, you'll want to make sure you get the most for your money.
Always check the price tag when looking at investing in a new pair of shoes, compare the price to the features and the durability of the shoes as this will help justify the pricing. Always stay in your budget, there is always a pair of running shoes for you that fits your budget.
Top Ten Running Shoes for Painful Knees
Subscribe to our Newsletter