Best Barefoot Running Shoes
In a
Hurry? Editors choice: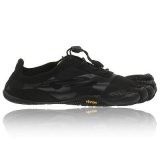 Test Winner: Vibram KSO EVO Training

If you are an
avid runner
then you know that getting the
best running shoes
for your feet and running style is one of the best investments you can make. Many people do not understand the different styles of running and how different footwear can provide you with different features and advantages depending on the style of running you will be doing. Barefoot running shoes are a style of shoe that is meant to mimic the feeling and nature of running barefoot. The benefit of wearing this type of shoes is that it can improve your arch functionality and also build foot strength. Eventually, if you desire, you can graduate to actually running without the need of shoes safely.
Standout Picks
Criteria Used for Evaluation
Breathability
During your tenure with your new barefoot running shoes, there are probably going to be occasions where you wear them in harsh conditions (say in hot weather). As such, specifically in hotter weather, sweat and moisture are going to build up quicker and if your feet are not allowed to breathe they will begin to feel clammy and overheated.
This is exactly what you are looking to avoid when running, which is why breathability is such an important factor. To achieve a breathable nature, you will most likely see designers integrate both a mesh lining and TPU materials. The mesh lining is rather self-explanatory and allows proper ventilation and air to come into the shoes. But, the TPU materials also aid in breathability as they are extremely lightweight.
Yes, besides ventilation, the weight is the other vital component to breathability. If your feet are engorged inside of heavy and bulky shoes, it is only natural that more heat will build up. Having lightweight soles and specific portions of the shoe will add up (or drop for lack of better words).
Comfort
Ah, this one is quite obvious and a mandatory for any type of shoe that you intend to wear. However, these running shoes are special as they are designed to mimic the properties of running on your bare feet while adding protection and comfort.
While we are not going to go in-depth into the scientific backings of barefoot running as compared to other types of running, these types of shoes provide more of a form fit and some prefer the comfort they provide. But, no matter, designers still must integrate specific elements into their shoes to make them effective in terms of comfort.
For example, the impact absorption technology (whether through cushioning underneath your feet, having a sole with a high-profile, etc.) that is implemented. When you run, your feet are constantly striking the ground at high speeds and without this technology, the pain will become evident quickly. Of course, the feel and overall cushion can also aid in general comfort. This is especially important if you plan on running for extended periods of time.
Outsole
Perhaps you are wondering why each sole did not receive special recognition. Even though all soles are important, the outsole is special as it is literally the sole on the outside of the shoe (on the bottom). This is what provides you with traction and control while you run, which is important when you are running over slippery and uneven terrains.
When you walk, you may be paying closer attention to staying upright on your feet without falling flat on your face. However, your concentration is elsewhere when running and that is a good thing; as you should not need to worry about the terrain under your feet.
But, the outsole is designed for more than just traction and stability. Also, look for outsoles that are designed to offer your feet a wide range of flexibility. What this delivers is a more natural range of motion and more freedom of movement. This can, in turn, add comfort over the long haul.
Color
You could go out and recruit a thousand people and conduct a study about the preferences of specific shoe color. If you displayed ten different shoes without telling one of them the design features or reviews, they would choose differently based on the visual appeal. In other words, how cool they think they look.
As humans, it is a natural tendency to prioritize certain clothes, products, vehicles, furniture, etc. based on how appealing the design is. Even though it may seem shallow, you are lying to yourself if you say it does not matter. After all, why else do you think that manufacturers craft several different variations of the same shoe? They know that everyone's tastes are different and to sell as many as possible, they must adapt to their user's tastes.
However, be aware not to take this too seriously. The visual appeal is important , but the performance is clearly the most important aspect of running shoes. Do not select one over the other (that clearly is inferior in terms of the performance) just because the color is better. But, instead, use this as a tiebreaker when you can't decide between two shoes.
Overall Fit
Color options may be an optional and "tasteful" design factor, but the sizing options are 100 percent mandatory. To achieve the best run and most comfortable fit, the shoes must contour to your foot in a specific way. Shoes can be tricky because you obviously can't have them be too small, but having too much room can result in sloppy and uncomfortable running.
Thankfully, most designers understand this and design many sizes for their shoes. However, anyone who has ever purchased new shoes (which should be everyone) knows that some fit differently than others. Also, when you initially wear a pair of shoes, it takes a bit to wear them in.
As such, they may fit different once you wear them multiple times. So, do not be too concerned if they are too stiff at first as over time, they should loosen up (although, these types of running shoes do not do as good a job of breaking-in as others).
Subscribe to our Newsletter