Ankle Braces for Running
In a Hurry? Editors choice: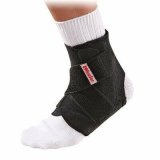 Test Winner: Mueller Adjustable

Injuries and accidents can happen when you least expect it, and when it comes to running, there is no exception. Every day there are
ankle sprains
and injuries
due to running
. Many ankle injuries are caused by running on uneven terrain, and a lot of people suffer in pain from
existing injuries
, for these reasons it's important to invest in good running ankle braces. Ankle braces are great to have on hand as you never know when a sprain will occur, even the most cautious runners will experience a sprain in their running career. Some may believe when they get a sprain that they can just leave it unattended and keep the weight of it, but in actuality, this may cause further longer-term injury. It is best to wrap your injury in an ankle brace and you will be back
out running
in no time.
Standout Picks
Criteria Used for Evaluation
Features
It's important to know the difference between the braces and the compression sleeves and what each one offers. Know that each one provides support according to specific needs. Every product on our list is designed to offer the best ankle support possible, but some are for injury prevention only while others offer injury prevention and healing.
Some of the features you want to keep your eye out for is if the ankle support brace offers extra support such as built-in wraps or laces. This way when you apply the brace you can tighten it for extra compression and will offer extra support than a simple basic brace.
Style
After you decide if you want a structural brace or a sleeve, you will want to examine the design. Knowing if you want one with straps, laces, or both is important. If you just need extra compression you can opt for a sleeve. Many braces and sleeves are designed in a modern fashion with different color choices that will match your shoes and socks. The materials that are used in the designing are important too and you should use caution to materials that you might be allergic to such as latex.
Comfort
Comfort is one of the obvious things you want to look for. You know what you will need it for and how long you will be wearing it. Make sure you get one that is lightweight, so your foot doesn't get fatigued. Be sure it's made with soft textures that won't cause skin irritations or allergies. Make sure it doesn't poke into your skin or cause you to get blisters.
Comfort is one of the most important things to keep an eye out for when looking for a ankle brace. The best way to ensure that the brace you are looking at will be comfortable while you heal your injury is to go into the store and try it on before you purchuse to make sure it fits well. If you are buying online than the best thing to do is to check the customer reviews to see how it fit and felt on other customers. If you follow these suggestions you will end up with a great fitting brace that will help to heal your injury and get you back to running in no time.
Breathability
You probably already know that you will want a brace that will allow you to breathe. There is nothing more discomforting than hot and sweaty skin. No matter if you are wearing a structural or a compression sleeve, there will be a risk factor when it comes to sweat. For these reasons you will want to be sure you choose one that is constructed of lightweight materials that allow for breathing room. Mesh is ideal, and those types that expose parts of your feet are also the perfect choice.
Top Ten Ankle Braces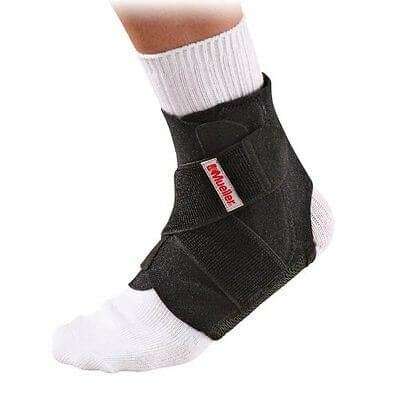 If you like to keep it simple without adding all the bells and whistles, then you will want to try this standard brace. It is a good balance between stability and mobility and it's one of the easiest to put on.
Read more
Features
You will not only appreciate all the comfort and support you get from the Mueller, but you will also enjoy the excellent amount of stability and arch support it provides as well. It's completely adjustable; the crisscross straps provide a custom fit and restrained compression that will keep your foot in place and give you full support. When choosing the fit that suits you best, keep in mind that this one will match with your shoe size.
Design
The Mueller is designed for simplicity while providing a custom support and stability. It's constructed of neoprene material and it does contain latex, so be cautious if you have an allergy. You will step into this one and attach the straps in a crisscross fashion. It will start above your ankle and stop mid-way across the top of your foot. Your heel and toes will poke out from the brace giving you added comfort and mobility. It is minimal and lightweight to fit over your sock and in your shoe with ease. You can wear the Mueller on either foot and it only comes in black.
Comfort
When it comes to comfort it doesn't get any better than this one. The straps are comfortable and lightweight while giving you comfort and providing you with support without you even noticing you're wearing it. The only discomfort you might feel is from your heel as the Mueller does fit a bit small and sometimes adds discomfort to the heel.
Ventilation
The Mueller offers a significant amount of breathing room with the design of the heel and toes poking out from inside. It is lightweight and should keep your foot dry and comfortable, but it does contain latex which tends to get hot and uncomfortable.
Value
On the lower end of the price chart, the Mueller is lightweight, supportive, and easy to put on. It is made of high-quality materials and should last a long time.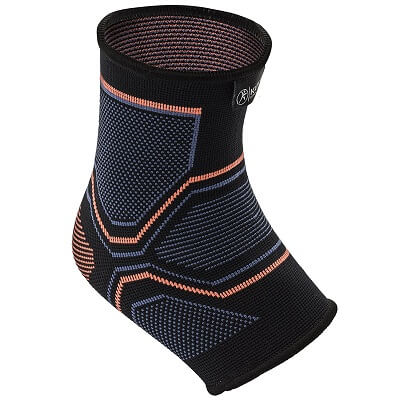 When you've had an injury and you need the support while you run but you don't like the idea of wearing a bulky brace, this compression sleeve might be your answer. This one will help you with your discomfort from plantar fasciitis, Achilles tendons, and arthritis too.
Read more
Features
It's an ankle sleeve with a lot of support and comfort, yet stylish enough to look like an ordinary sock. It's so versatile it will help with the pain of many ailments and treat in the recovery of sprains and other injuries. You will slide this sleeve on and off like a sock, it will stand up above the ankle and lay down in the middle of your foot allowing your toes to hang out. When you think of compression you might think of those traditional support socks they provide at the hospital, well with this you will get the same kind of support, but you won't be embarrassed to be seen in public. You should find your size with this variety of sizes from extra-small to large and just like regular socks, it will fit your shoe size.
Design
Designed with you in mind, this sleeve has an attractive look and is made of spandex and lycra to feel like an ordinary sock yet provides a lot of support in all the right places. You can easily wear this under your sports sock and inside your running shoes.
Comfort
It's so comfortable that you will forget you're wearing this compression sleeve under your sock. It will keep your circulation flowing to give your foot the comfort it deserves without the swelling and pain you were experiencing before.
Ventilation
The material will allow you to run for hours without your foot getting wet and when you're done you won't notice a terrible stench coming from your foot. Your toes will not be bound inside the sleeve, so they can breathe without fear of choking and sweating.
Value
With this sleeve, you get quality and durability that is constructed to last for a long time. It will keep its shape and deliver the same support and comfort even after it has been through the wash several times. This one is definitely worth every dime spent, and the pennies saved from doctor visits proves there is a lot of value in this sleeve.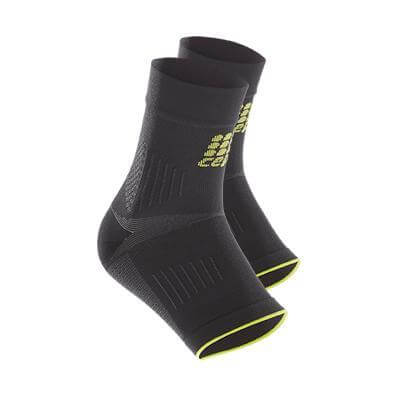 If you can't wait to get back out there and start running again but you are still healing from that nasty sprain you had, you can get on your feet again with this ankle braces. It will provide the support you need, it will alleviate your pain, and it will keep your circulation flowing.
Read more
Features
This sock is so fashionable that it doesn't look like it would provide the support and comfort of an ankle brace. It molds to your foot to give you the compression and support you need to keep your blood flowing, to keep the swelling down, and to relieve the pain when your foot pounds the pavement. It's made to go on and off like an ordinary sock and it will go up just beyond your ankle stopping at the edge of your toes, so they can move around freely. It is offered in two different colors and the sizes vary according to the color you choose. To get a good fit you will need to measure your ankle and not your foot.
Design
It is made of polyamide and elastane to give you the support you need. It's designed as a sleeve to give you more freedom and the ability to wear it under your sock, rather than over the top like most, and it will fit inside your shoe without difficulty. It's constructed with durability to last and even after many washes it will retain its shape and still offer the same support it should.
Comfort
You will be pleased in knowing that this might be the most comfortable ankle brace on our list. It's lightweight, thin, and designed to keep your foot and ankle pain-free, what more could you ask for? You can wear it under your sock and shoe without even knowing it's there. It will give you support and keep your blood flowing without cutting off circulation.
Ventilation
This design allows your toes to show out the front giving them plenty of breathing room. The sleeve is lightweight, and although the material might absorb a bit more heat than the rest, your foot will still have sufficient ventilation without extreme sweating.
Value
This is a stylish ankle brace that offers all the support and circulation you need without the huge expense. Consider this a bargain with the pain management you get from this ankle support.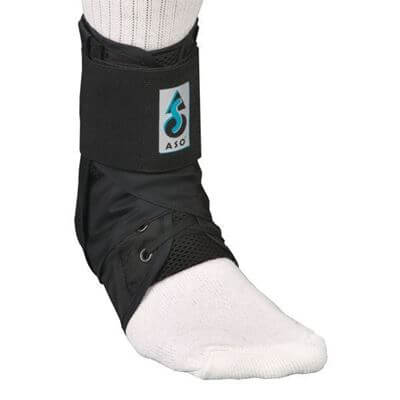 The Med Spec is preferred by many of the pro and collegiate athletes. It's the perfect choice for the daily stress you put on a sprained ankle.
Read more
Features
The perfect combination of comfort and support have been mixed together in this durable product. The laces and Velcro straps are made to adjust to your foot giving you just the right amount of support you need. You will have the confident stability to keep your foot stable, so you won't roll your ankle. You can wear it inside your favorite pair of running shoes without anyone noticing, and you can purchase it in white or black, so it will blend in with your clothing. You should have no problem with sizing because it's offered in every size imaginable, and it's made to fit on either foot.
Design
Constructed of nylon and cotton, the Med Spec is designed to fit sung above your ankle and wrap around the middle of your foot allowing your toes to hang out freely. Much like a shoe, the Med Spec is designed with laces that cover a tongue and the top adds extra support to your ankle with stabilizing Velcro straps.
Comfort
This durable product offers plenty of comfort and stability that will allow you a pain-free run. The laces and straps can be adjusted to your comfort level and it's not bulky, so you won't notice you have it on inside your shoe.
Ventilation
The lightweight material provides plenty of breathing room and ventilation, so you won't have the worry of your foot sliding from sweat. The adjustment allowance from the tongue, laces, and straps will assure your foot won't choke, and with your toes will have plenty of room to stretch out and breathe.
Value
With all the comfort and support this one will provide, you won't be disappointed, and with its low price, you can call this a bargain.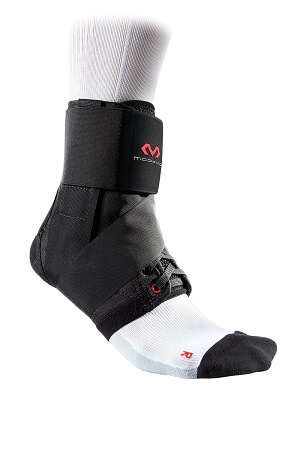 Studies show there are fewer injuries from people who wear the McDavid, and if you are recovering from a sprain or injury, you will be happy knowing you will be pain-free while you do the things you enjoy.
Read more
Features
No matter if you have severe or mild weakness in your ankle, you will find the comfort and stability in the McDavid to be the relief you've been looking for. The McDavid mimics wrapping tape with its figure-6 strapping. It features adjustable laces and comfort straps that start above the ankle and rest on top of the foot just before the ball and toes. The healing compression and support it provides are unbelievable. You will have no problem finding your size because it is available in extra-small to extra-large.
Design
Designed with a polyester material, the McDavid feels like a durable canvas. It ties like a shoe and straps around the ankle. With the three colors; black, grey, or white, you can find one to blend in with your sports socks and shoes. One of the best things about this design is that it will fit on either your right or left ankle.
Comfort
The design was made with your comfort in mind. Although the laces seem to be a bit bulky, they do adjust allowing for the proper fit and stability. It provides full, yet lightweight support so you don't end your day feeling fatigued, and the compression in the top straps give positive results without the discomfort you would get from some of the others.
Ventilation
The material isn't overbearing and with the lace and strap systems being adjustable, you will be sure your feet will breathe with ease. The tongue offers additional ventilation, and since your toes will not be covered, they will have the freedom and mobility they need to stay dry and comfortable.
Value
Value is always a plus when it comes to your safety and comfort. Knowing that you can run again, even with a weak ankle means more than any amount of money.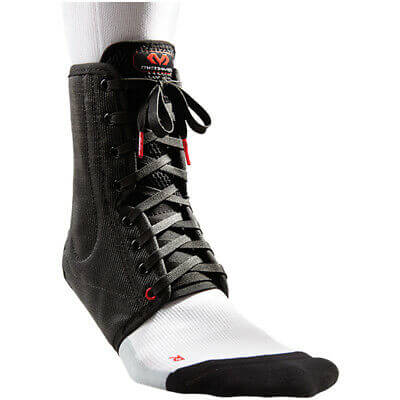 If you are one who has a habit of using tape to support your ankles, it's time to let loose and try this product. It's better than the tape and it provides support stays, which is more than you can say for that tape you've been using.
Read more
Features
Different from the others on our list, the McDavid looks like half a shoe with the high top and the laces. It's extremely lightweight and allows you to run without restrictions, and once you get used to it, you will probably forget you have it on. It will fit over your sock and under your shoe without a problem and with the choice of white or black, it will match any pair of shoes you own. It will fit either ankle, it comes in sizes from extra-small to extra-large, and it fits with your shoe size.
Design
Designed to fit higher above your ankle than the others, the McDavid is made of polyester and vinyl mesh. It is designed with laces that will adjust for your comfort and support and the medical stays are in place to add more of the solid support you require. This is a high-quality product that offers exceptional support for this design.
Comfort
From looking at the McDavid, you would never believe how comfortable it really is. With this design, you might think it's bulkier than most, but that doesn't keep the comfort out. It doesn't cover the entire foot, so the ball of your foot and your toes have the freedom to move around as you desire without restrictions. You can adjust the laces to satisfy your comfort, and even with the sock and shoe, you will still find the McDavid to be comfortable.
Ventilation
The vinyl mesh allows it to be extremely breathable, and with this design, the lower part of your foot and your toes will not choke. Your feet will stay dry and cool no matter how long you keep it on, and you won't have to worry about a disturbing odor or soaked socks.
Value
The McDavid delivers outstanding support and comfort for a reasonable price, but when it comes to supporting and comfort, no price is too high.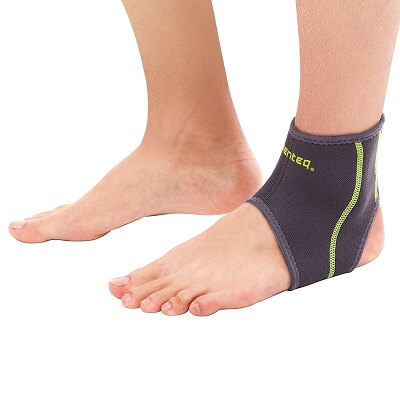 For a simpler and easier way to relieve the stress and pain of your sprain or the discomfort from your plantar fasciitis, this is the perfect ankle brace for you. It's simple to use, it can be put on and off quickly, and you will not even know you're wearing it.
Read more
Features
You will be delighted with the results you will get from this sleek compression brace. Unlike others, this one slides on and off of your foot just like a sleeve, or a glove for your foot. It offers a lot of support with an excellent amount of compression from the dual elastic strap. It fits securely around the heel for perfect alignment while you run. It will fit well under your socks and it won't be bulky inside your shoe. It's available in six sizes from small to triple XL, so finding one that fits, shouldn't be a problem for you. Be aware that you will need to measure your ankle for a proper fit because this one is not based on your shoe size.
Design
Designed with an open toe and an open heel, you will find that the neoprene fabric will form to your foot for a custom fit. Keep in mind that while this is a great quality product, the support comes solely from compression and not the same stabilizers you would find in a structural brace, therefore, the life of this one might not last as long as you would expect from another product.
Comfort
You will be completely satisfied with the comfort you receive. It's lightweight and with the open toes, you will have the freedom of mobility you deserve. The compression is firm and satisfying without loss of circulation. It provides a warm feeling that is soothing and comfortable to the sensitive area.
Ventilation
With the breathable nylon and the open toes and heel, you will find the Senteq offers plenty of breathing room to keep your foot dry and cool. The comfort from the mesh lining will assure you won't be wringing out your foot after your morning run, and your foot won't carry a lingering odor that will scare everyone away.
Value
This compression sleeve might not provide the same support as a structural brace, but if you're looking for something a little sleeker, this is the best one you could choose. With all the quality and stability, it provides and with its economical price, the Senteq holds excellent value.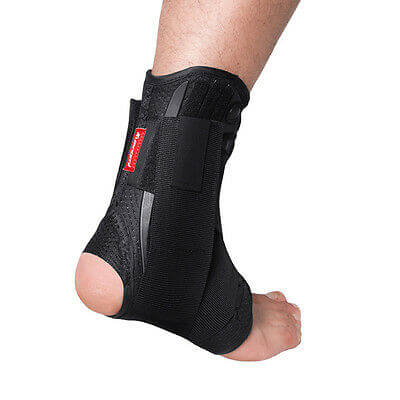 This compression brace will deliver the comfort and relief you will need the most after an injury. Designed to aid in rehab, this one is more commonly used by runners than other sports enthusiasts.
Read more
Features
Not only will you be pleased with the adjustable strapping and lacing system this one offers, but you will also be delighted with the contoured design and added comfort you will feel in your arches. You will find even more relief from the side stabilizers and you will notice less pressure on your ankles than you would usually feel.
Design
Made of high-quality neoprene materials, the Venom Neoprene is designed to fit men and women of all ages. It will fit with most shoes, it comes in sizes from small to large, and fits your shoe size. It is made to fit above your ankle and it covers half your foot, so our toes have room to move and breathe. If you find any confusion in putting on the Venom Neoprene, you have no need to worry because it comes with a PDF that will guide you through the process.
Comfort
The side stabilizers are the culprit for most of the comfort with the Venom Neoprene. They will help to reinforce the ankle avoiding muscle fatigue and swelling while relieving the pain of sprains and other injuries. The straps are completely adjustable for added comfort and it is designed to fit comfortably inside your shoe without feeling heavy or bulky. Although it is designed to add comfort to your arches, it can seem to be a bit more uncomfortable than you imagined. Other than that, you will be satisfied with the overall comfort you will get from this compression sleeve.
Ventilation
You will be satisfied in knowing that this compression sleeve is designed with lightweight material made to resist sweat. With the ability to adjust the straps and laces, that will also help with the comfort of keeping your foot dry. Since the sleeve rests at the top of your foot, just above your toes, you will have plenty of wiggle room allowing your toes to breathe.
Value
This is a high-quality product at an affordable price, and the satisfaction of knowing you can run with the comfort you deserve means a lot when it comes to the value.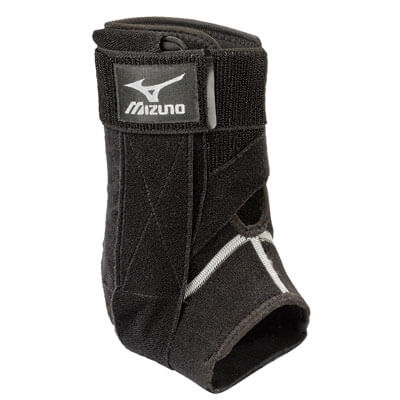 If you are an avid runner or a regular on the volleyball court, the Muzino DXS2 will provide you with the perfect amount of support and comfort you need to keep your foot stable and your ankle straight.
Read more
Features
When you see this one you will notice that it looks thicker than the others on the list, but that might be from the wider mouth at the top and the bottom. Unlike some, this one doesn't give you laces to hassle with, you will only have to fasten the three adjustable straps. You can easily fit this over your sock and most of your shoes will fit with the Muzino DXS2. It's only offered in black but that's not a problem because black will match anything you are wearing, making it blend in well without attracting a lot of attention. Be careful when you are choosing the one that's right for you because it is left or right foot specific. The sizes are available from extra-small to large and fit with the measurement of your ankle.
Design
Designed to be worn in comfort and constructed of polyester, nylon, and rubber materials, the Muzino DXS2 will fit just above your ankle and stops at the bridge of your foot. Like most, your toes will stay exposed so that they have the freedom to move. The straps are designed to stay securely closed with Velcro for added stability and support.
Comfort
The Mizuno DXS2 might be bulkier than some, but that doesn't mean it isn't comfortable. Once you have the straps adjusted to fit properly, you will find comfort in leaving it on during your long run or competitive game.
Ventilation
The polyester and nylon are made to breathe, but sometimes the rubber can get hot. Your toes will be exposed, so the air will flow better throughout the brace. Overall, you shouldn't experience much discomfort from sweat or odor when you take it off.
Value
The Muzino DXS2 is durable, sturdy, and extremely affordable. Given the ability to run again without pain is value in itself.

10

. DonJoy Performance POD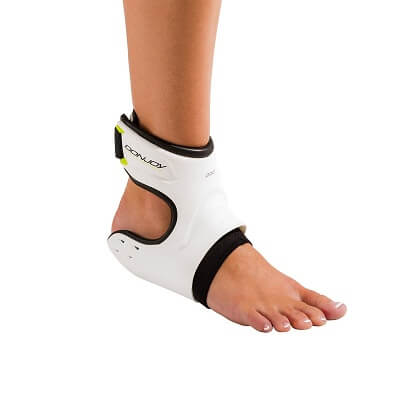 When your ankle rolls you can acquire a major sprain or even a fracture, not to mention the pain you will incur from the injury, that's why the DonJoy is highly recommended for the prevention of injury and ankle rolls.
Read more
Features
You will regain your confidence while running with the DonJoy on your foot. With the stability and control it provides, you will once again feel the freedom you once had. It isn't bulky, and with its low-profile, you can wear it over your sock and under your shoe without anyone noticing. It's easy to put it on, just step into it and you're finished; no difficult laces or straps to figure out. You must pay close attention when you choose this one because it is right or left foot specific, unlike some that are made to fit either foot. It's available in various sizes depending on the right or left foot.
Design
It is designed to step into and doesn't come with laces and straps like most. It fits around your ankle and overlaps to the front leaving the back of the foot and heel exposed. It stops at the halfway point of the foot leaving half of your foot and toes open for flexibility. The materials are made of high-quality and built to last.
Comfort
The molded TPU on the outside is designed to shape to your foot for comfort and the inside is lined with EVA so that it will be soft against your foot without irritation and discomfort. It's lightweight, supportive, and it won't slow you down while protecting your ankle from the painful injuries that could occur.
Ventilation
With the unique design of the DonJoy you can see the ventilation it will provide. With most of your foot exposed, there is plenty of breathing room and the part that is covered is lined with lightweight, breathable material.
Value
This is a high-quality product with durability that will last a long time. The price is a bit higher than most, but it is well worth paying for when it comes to ankle injury prevention.

Subscribe to our Newsletter