Ankle Braces for Running
In a
Hurry? Editors choice: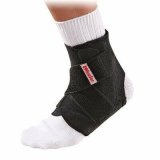 Test Winner: Mueller Adjustable

Injuries and accidents can happen when you least expect it, and when it comes to running, there is no exception. Every day there are
ankle sprains
and injuries
due to running
. Many ankle injuries are caused by running on uneven terrain, and a lot of people suffer in pain from
existing injuries
, for these reasons it's important to invest in good running ankle braces. Ankle braces are great to have on hand as you never know when a sprain will occur, even the most cautious runners will experience a sprain in their running career. Some may believe when they get a sprain that they can just leave it unattended and keep the weight of it, but in actuality, this may cause further longer-term injury. It is best to wrap your injury in an ankle brace and you will be back
out running
in no time.
Standout Picks
Criteria Used for Evaluation
Features
It's important to know the difference between the braces and the compression sleeves and what each one offers. Know that each one provides support according to specific needs. Every product on our list is designed to offer the best ankle support possible, but some are for injury prevention only while others offer injury prevention and healing.
Some of the features you want to keep your eye out for is if the ankle support brace offers extra support such as built-in wraps or laces. This way when you apply the brace you can tighten it for extra compression and will offer extra support than a simple basic brace.
Style
After you decide if you want a structural brace or a sleeve, you will want to examine the design. Knowing if you want one with straps, laces, or both is important. If you just need extra compression you can opt for a sleeve. Many braces and sleeves are designed in a modern fashion with different color choices that will match your shoes and socks. The materials that are used in the designing are important too and you should use caution to materials that you might be allergic to such as latex.
Comfort
Comfort is one of the obvious things you want to look for. You know what you will need it for and how long you will be wearing it. Make sure you get one that is lightweight, so your foot doesn't get fatigued. Be sure it's made with soft textures that won't cause skin irritations or allergies. Make sure it doesn't poke into your skin or cause you to get blisters.
Comfort is one of the most important things to keep an eye out for when looking for a ankle brace. The best way to ensure that the brace you are looking at will be comfortable while you heal your injury is to go into the store and try it on before you purchuse to make sure it fits well. If you are buying online than the best thing to do is to check the customer reviews to see how it fit and felt on other customers. If you follow these suggestions you will end up with a great fitting brace that will help to heal your injury and get you back to running in no time.
Breathability
You probably already know that you will want a brace that will allow you to breathe. There is nothing more discomforting than hot and sweaty skin. No matter if you are wearing a structural or a compression sleeve, there will be a risk factor when it comes to sweat. For these reasons you will want to be sure you choose one that is constructed of lightweight materials that allow for breathing room. Mesh is ideal, and those types that expose parts of your feet are also the perfect choice.
Subscribe to our Newsletter