Best Knee Braces For Running
Knee
pain and injuries affect millions of people per year. While for some this may mean mild irritation after being a weekend warrior, for others this may mean debilitating
pain
or surgery. A knee brace can improve your quality of life by reducing pain, healing time, or the risk of further injury. Further, a knee brace can also help those who suffer from chronic knee ailments such as arthritis, lupus, and ligament deformities. If you're a runner, chances are you'll experience the need for a knee
brace
at some time in your life. This guide can help you choose the best option for
running
to combat knee pain, swelling, and reduce the risk of future injuries
Standout Picks
Criteria Used for Evaluation
Support
In addition to knowing the type of injury you have, you also need to know what type of support the knee brace offers. Also, consider:
Compression – Compression braces reduce swelling (inflammation) caused by injuries. Reducing swelling improves circulation and reduces pain.
Impact Protection – The right knee brace will prevent future damage caused by daily activities or resuming physical activity.
Stability – Look for a knee brace that provides stability for the joint and immobilizes the ligaments, so they don't shift as you move around.
Adjustability – Not every knee is the same and swelling or injury can make a brace fit differently, take this into consideration when choosing a knee brace, that it won't always fit the same way every day.
Movement – Choose a knee brace with the right level of stability for your injury type. Some braces allow for more movement than others. The more rigid the brace, the less likely re-injury will occur.
Slippage – Generally the softer the material, the more it will slip down. For soft compression sleeve braces, look for those with special grip inner weaving and silicon grip pads. When a brace is made well and fits right, it should not shift or slip.
Area of Effect – if your main goal is to provide compression to the entire knee area, then you will need a longer brace. Make sure to choose a brace that covers what you need to be covered.
Rigidity – Generally soft compression sleeves are not very rigid. Rigid-type knee braces must be fitted at a physical therapist's office. However, compression sleeves vary in how much support they provide. Some compression sleeves provide more ligament support while others are made only to keep compression and warmth in the knee area.
Moisture – If you plan to bathe, swim, or dance in the rain, take this into consideration when choosing a knee brace. Some knee braces are made to withstand getting wet, while others will become uncomfortable, deteriorate, or slip off under wet conditions.
Weight – Consider how much weight you need to put on your knee and the weight of the brace. Both factors will determine how fatigued your knee will become when using the brace.
Your orthopedic doctor will help you select a rigid brace and fit it to your knee for maximum relief. Compression knee braces are for recovery after the doctor has permitted resuming regular activities and the rigid brace has come off. A compression brace will be your knees best friend during activity and rest for many years to come.
Style
ACL Brace – An ACL brace keeps the knee from rotating excessively, but this brace needs to be fitted individually.
Functional Knee Brace – The type of functional knee brace depends greatly on the injury type and where you are at in your recovery. Functional knee braces are made for everyday wear, to stabilize your knee joint during daily activities.
Knee Immobilizer – This type of knee brace is made to stabilize the ligaments of your knee, especially after surgery.
Neoprene Brace – these offer a low level of support and are a generally used to keep a knee warm and dry while resting. Neoprene is made to help reduce swelling and inflammation while promoting healing.
Patellofemoral Brace – with a hole or additional support at the kneecap, this brace type is geared to keep your patella, or kneecap, stable during activity and prevent it sliding out of place after injury.
Prophylactic Knee Brace – This type of brace is specifically designed to keep pressure and protect either the ACL, LCL, or PCL. Its main function is to immobilize the knee joint during activity, particularly during practice before a game.
Rehabilitative Knee Brace – if you are recovering from knee surgery, this type of brace if designed to promote healing and recovery. They are usually made of foam and straps and are worn for six to eight weeks following surgery.
Fit
Providing the right support type and fit is essential for choosing the right knee brace for your knee injury or issue. Look first for any designs that are specifically tailored to your particular knee issue, then look to this guide below to choose the right overall fit for proper knee recovery. Brace sizes vary in size, be sure to check each one for their unique measurement instructions. Some knee braces measure right around the patella, while others measure three, four, and even five inches above the knee. Take the measurement placement into consideration. Further, a size medium in one brand might be a size large in another brand. Make sure to check the sizing chart carefully. Finally, decide if you want a loose or tight fit with your knee brace, the right fit will ensure the knee brace stays in place and provides optimum support during your activities.
Materials
The materials used to make the compression braces is important, especially if you have a latex or nylon allergy. Ideally, bamboo or non-latex spandex makes for the best materials, but the combination of materials contributes to its look, feel, and durability. More importantly are how these materials are woven together, an interwoven design will hold up better than a sewn together design because eliminating the extra stitching reduces ways the brace can come apart during washing or use. Keep the design and materials in mind when choosing the best knee brace for you. Look for a knee brace that provides all-around support and specialized support woven from a single piece of fabric. Look for materials that will be smooth against the skin and comfortable to wear a long time. Pay attention to the inside of the brave as well as the outside, to make sure it provides the right support inside and doesn't just look nice to wear.
Top 10 Picks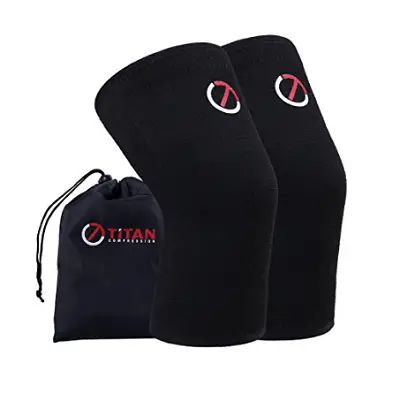 Tired of achy knees? These knee braces from Titan are designed to stabilize your knee, reduce inflammation, and keep it warm and supported. Designed for a full range of motion, the durable fabric allows your knees to breathe while improving performance during any activity including a jog around the park. They can easily be worn as a pair, or only use them as needed to give one knee some extra care.
Read more
Overall Fit
The Titan knee brace is made to act as a knee stabilizer during sports activities where a stable joint is required to perform. Their fit is snug, yet flexible, allowing for a full range of motion while still providing the stability that you need.
Materials Used
The latex-free hypoallergenic material allows skin to breathe while wicking away moisture and preventing odors. The 3D circular knitting and silicon ribbing helps keep the sleeve in place while stabilizing the knee.
Adjustability
The Titan Knee Brace comes in four sizes, but these are suggestions as the specially woven fabric allows for a wide range of one-size-fits-all adjustability. The sizing helps the user select a tighter or looser fit.
Protection
In addition to the circular woven fabric, the Titan Knee sleeve has reflective designs to help keep athletes safe, and visible especially at night and during low light conditions.
Summary
These knee braces come in a pair set with a storage bag. They are machine washable, durable, and can be worn by either an adult man or woman. They can also be used independently, or together for maximum protection. The attention to detail, comfort, and style will help keep your knee stable through tough workouts or during daily activities.

Subscribe to our Newsletter