Best Knee Braces For Running
In a Hurry? Editors choice:
Test Winner: Titan Brace

Knee
pain and injuries affect millions of people per year. While for some this may mean mild irritation after being a weekend warrior, for others this may mean debilitating
pain
or surgery. A knee brace can improve your quality of life by reducing pain, healing time, or the risk of further injury. Further, a knee brace can also help those who suffer from chronic knee ailments such as arthritis, lupus, and ligament deformities. If you're a runner, chances are you'll experience the need for a knee
brace
at some time in your life. This guide can help you choose the best option for
running
to combat knee pain, swelling, and reduce the risk of future injuries
Standout Picks
Criteria Used for Evaluation
Support
In addition to knowing the type of injury you have, you also need to know what type of support the knee brace offers. Also, consider:
Compression – Compression braces reduce swelling (inflammation) caused by injuries. Reducing swelling improves circulation and reduces pain.
Impact Protection – The right knee brace will prevent future damage caused by daily activities or resuming physical activity.
Stability – Look for a knee brace that provides stability for the joint and immobilizes the ligaments, so they don't shift as you move around.
Adjustability – Not every knee is the same and swelling or injury can make a brace fit differently, take this into consideration when choosing a knee brace, that it won't always fit the same way every day.
Movement – Choose a knee brace with the right level of stability for your injury type. Some braces allow for more movement than others. The more rigid the brace, the less likely re-injury will occur.
Slippage – Generally the softer the material, the more it will slip down. For soft compression sleeve braces, look for those with special grip inner weaving and silicon grip pads. When a brace is made well and fits right, it should not shift or slip.
Area of Effect – if your main goal is to provide compression to the entire knee area, then you will need a longer brace. Make sure to choose a brace that covers what you need to be covered.
Rigidity – Generally soft compression sleeves are not very rigid. Rigid-type knee braces must be fitted at a physical therapist's office. However, compression sleeves vary in how much support they provide. Some compression sleeves provide more ligament support while others are made only to keep compression and warmth in the knee area.
Moisture – If you plan to bathe, swim, or dance in the rain, take this into consideration when choosing a knee brace. Some knee braces are made to withstand getting wet, while others will become uncomfortable, deteriorate, or slip off under wet conditions.
Weight – Consider how much weight you need to put on your knee and the weight of the brace. Both factors will determine how fatigued your knee will become when using the brace.
Your orthopedic doctor will help you select a rigid brace and fit it to your knee for maximum relief. Compression knee braces are for recovery after the doctor has permitted resuming regular activities and the rigid brace has come off. A compression brace will be your knees best friend during activity and rest for many years to come.
Style
ACL Brace – An ACL brace keeps the knee from rotating excessively, but this brace needs to be fitted individually.
Functional Knee Brace – The type of functional knee brace depends greatly on the injury type and where you are at in your recovery. Functional knee braces are made for everyday wear, to stabilize your knee joint during daily activities.
Knee Immobilizer – This type of knee brace is made to stabilize the ligaments of your knee, especially after surgery.
Neoprene Brace – these offer a low level of support and are a generally used to keep a knee warm and dry while resting. Neoprene is made to help reduce swelling and inflammation while promoting healing.
Patellofemoral Brace – with a hole or additional support at the kneecap, this brace type is geared to keep your patella, or kneecap, stable during activity and prevent it sliding out of place after injury.
Prophylactic Knee Brace – This type of brace is specifically designed to keep pressure and protect either the ACL, LCL, or PCL. Its main function is to immobilize the knee joint during activity, particularly during practice before a game.
Rehabilitative Knee Brace – if you are recovering from knee surgery, this type of brace if designed to promote healing and recovery. They are usually made of foam and straps and are worn for six to eight weeks following surgery.
Fit
Providing the right support type and fit is essential for choosing the right knee brace for your knee injury or issue. Look first for any designs that are specifically tailored to your particular knee issue, then look to this guide below to choose the right overall fit for proper knee recovery. Brace sizes vary in size, be sure to check each one for their unique measurement instructions. Some knee braces measure right around the patella, while others measure three, four, and even five inches above the knee. Take the measurement placement into consideration. Further, a size medium in one brand might be a size large in another brand. Make sure to check the sizing chart carefully. Finally, decide if you want a loose or tight fit with your knee brace, the right fit will ensure the knee brace stays in place and provides optimum support during your activities.
Materials
The materials used to make the compression braces is important, especially if you have a latex or nylon allergy. Ideally, bamboo or non-latex spandex makes for the best materials, but the combination of materials contributes to its look, feel, and durability. More importantly are how these materials are woven together, an interwoven design will hold up better than a sewn together design because eliminating the extra stitching reduces ways the brace can come apart during washing or use. Keep the design and materials in mind when choosing the best knee brace for you. Look for a knee brace that provides all-around support and specialized support woven from a single piece of fabric. Look for materials that will be smooth against the skin and comfortable to wear a long time. Pay attention to the inside of the brave as well as the outside, to make sure it provides the right support inside and doesn't just look nice to wear.
Top 10 Picks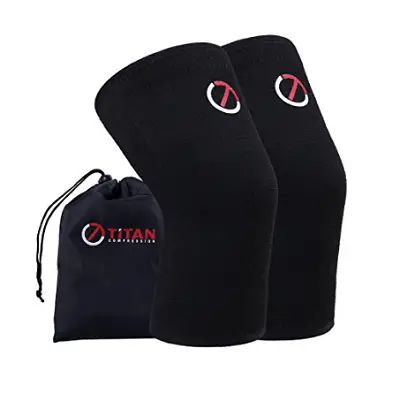 Tired of achy knees? These knee braces from Titan are designed to stabilize your knee, reduce inflammation, and keep it warm and supported. Designed for a full range of motion, the durable fabric allows your knees to breathe while improving performance during any activity including a jog around the park. They can easily be worn as a pair, or only use them as needed to give one knee some extra care.
Read more
Overall Fit
The Titan knee brace is made to act as a knee stabilizer during sports activities where a stable joint is required to perform. Their fit is snug, yet flexible, allowing for a full range of motion while still providing the stability that you need.
Materials Used
The latex-free hypoallergenic material allows skin to breathe while wicking away moisture and preventing odors. The 3D circular knitting and silicon ribbing helps keep the sleeve in place while stabilizing the knee.
Adjustability
The Titan Knee Brace comes in four sizes, but these are suggestions as the specially woven fabric allows for a wide range of one-size-fits-all adjustability. The sizing helps the user select a tighter or looser fit.
Protection
In addition to the circular woven fabric, the Titan Knee sleeve has reflective designs to help keep athletes safe, and visible especially at night and during low light conditions.
Summary
These knee braces come in a pair set with a storage bag. They are machine washable, durable, and can be worn by either an adult man or woman. They can also be used independently, or together for maximum protection. The attention to detail, comfort, and style will help keep your knee stable through tough workouts or during daily activities.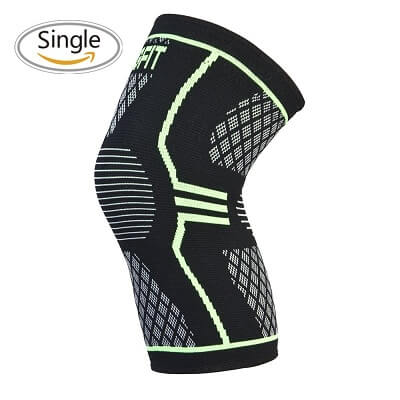 The Longfit 3D weave design, with its cotton, latex, tourmaline fabric is designed to keep injured knees warm and stabilized through moderate activities. The breathable, washable fabric is designed for outdoor use, but can also help provide support while resting or in cold, drafty rooms.
Read more
Overall Fit
Longfit weaving knee brace is a breathable support sleeve to aid in the stabilization of injured and irritated knees. It comes in three sizes that stretch to fit, for the perfect compression type for your activity and needs.
Materials Used
This compression sleeve is made from cotton, latex, and tourmaline for optimal warmth, elasticity, compression, and support. The fabric is woven together in a circular pattern to improve durability and help it retain its shape for longer.
Adjustability
With three sizes to choose from, these one-size-fits-most knee compression braces stretch to fit a variety of sizes with varying compression needs. Remember to choose up a size for a looser fit and down a size for a snugger fit.
Protection
The 3D weave design and advanced silicone grips provide proper support and compression where your knee needs it most. The support matrix structure is woven right into the brace, not sewn on, for a better support that won't come apart during use.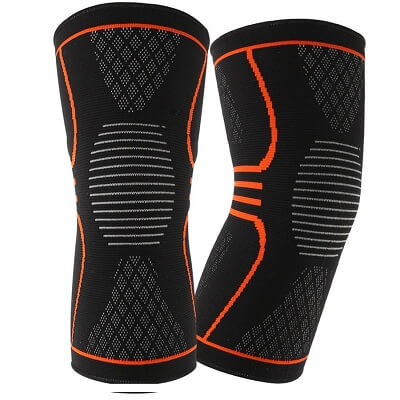 These colorful, orange and gray, Eveshine knitted knee braces are made from a soft, breathable fabric and built to reduce knee pain and improve performance during a knee injury. They are made to reduce movement of the ligaments in your knee.
Read more
Overall Fit
The fabric is designed to fit a variety of knee sizes and retain its shape after removal. The size you choose will depend on your size and the amount of compression you desire. With four inches of support above and below your knee, they will help stabilize the knee joint in a way that is most recommended by physical therapists.
Materials Used
The materials used are not disclosed, but they are woven with elastic and contain silicon grips. The fabric is breathable, moisture wicking, and designed in a circular 3D patter, for optimal support.
Adjustability
With two sizes available, the right fit for your compression needs is easy to find. The stretchable, breathable fabric retains its shape, helping to ensure a customized fit for your running needs.
Protection
The weave, combined with the internal texturing, helps keep the compression sleeve in place, to stabilize the knee and tissues around the knee. The moisture-wicking fabric helps keep the knee dry and warm.
Summary
For a third-best in show, the Eveshine knee compression sleeve has great overall quality, and is very easy to use. The two-sizes-fit-most design is woven for comfort and support while the textured fabric and silicon grips keep the support in place during moderate activities.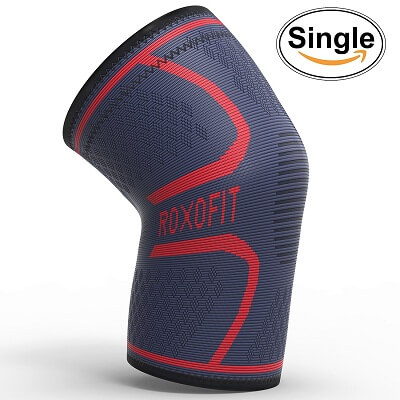 The Roxofit knee compression sleeve provides snug, breathable support for an injured knee or long-term knee issues. The sleeve is designed for maximum stretch and movement while providing knee support for active people.
Read more
Overall Fit
This non-slip knee sleeve provides snug-fit compression to reduce pain and inflammation due to illness, disease, injury, or surgery. This brace is for those needing a long-term solution to pain and inflammation during activity, and can be a great choice for runners who are just getting back into the sport after an injury.
Materials Used
While we don't know the exact materials used, the skin-friendly material discourages bacterial growth and keeps the knee dry. Its hand-washable, and dries quickly.
Adjustability
With three sizes available and a handy sizing chart, it's easy to pick the right size for your knee by choosing the next larger size on the chart from your knee measurements. Remember to choose a larger size for a looser fit and a smaller size for a tighter fit.
Protection
In addition to keeping your knee warm and dry during activities, this knee brace is also a great way to keep the knees safe from impact injuries while running. It is designed for high-impact sports and lots of movement, but can also be worn during sedentary activities for additional support.
Summary
Keep your knee supple and support movement through various activities using this Roxofit knee compression brace. The anti-slip grip design aids in free movement while providing breathable support and warmth.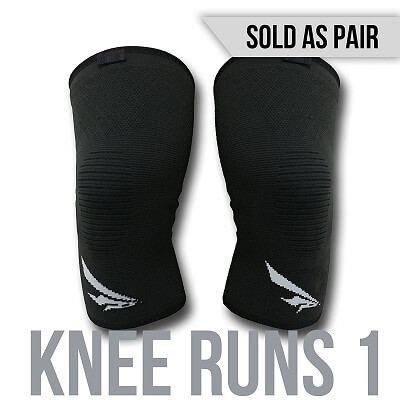 The 147th Runs knee compression sleeve provides smooth, breathable support with a snug fit. This sleeve is designed for everyday wear and supports minor knee injuries or ailments. It is designed for active people, and can be a great choice for runners who want a little bit of added protection.
Read more
Overall Fit
With its snug fit, this knee compression sleeve helps reduce water-retention in injured knees while providing support and compression during activity. Wear it while exercising, warming up, or just during daily activities to help stabilize the knee.
Materials Used
Its made of neoprene and latex with silicon grips. The weave provides a dry-fit to help wick moisture from the skin for all day comfort.
Adjustability
There are three sizes available and handy sizing chart for an optimal fit. Choosing the size nearest your snug measurements ensures the correct fit every time.
Protection
The stretchy, breathable fabric is a basic knee brace to help keep the joints aligned and ligaments in place. Wear it all day for best results.
Summary
The 147th Knee Runs Compression Sleeve is designed to keep pressure on the knee and support blood flow and knee alignment. It is best for light to moderate activity and can be worn daily.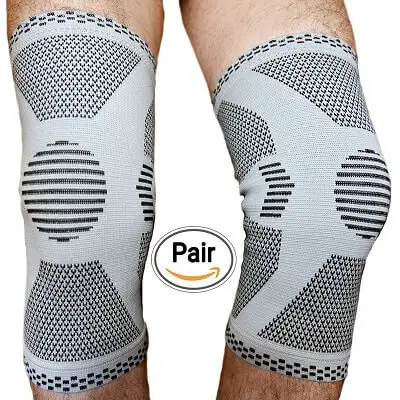 The ADG 01 knee compression sleeve and patella stabilizer provides a longer fit for better support. Its 4-way design provides unrestrained movement while delivering full patella and tendon compression support.
Read more
Overall Fit
With four sizes to choose from, its easy to find your perfect fit. Unlike other compression braces on the market, which measure 4-inches above the knee, the longer design of this support brace required a measurement 5 inches above the knee. The non-slip grips should keep it in place and the longer length provides additional support as needed.
Materials Used
The brace is made from a combination of elastic, silicone and other materials. The 4-way elastic design plus added patella compression provides additional support. Its hand- washable and air dries quickly, the weave is moisture wicking and shouldn't need much care.
Adjustability
The four sizes are a one-size-fits-most design and enable you to order up or down a size for a tighter or looser compression fit. Since it is made with elastic and woven into one piece of cloth, its easily adjustable to any size within its size range.
Protection
The patella and tendon compression-support is woven right into the fabric in the form of additional support bands. It is made for active wearers, but can be easily used to keep a knee warm and compressed during sedentary activities.
Summary
Longer support means keeping more of your tendons warm and compressed. The ADG 01 compression knee braces come in a pair so you can use them together or independently as needed.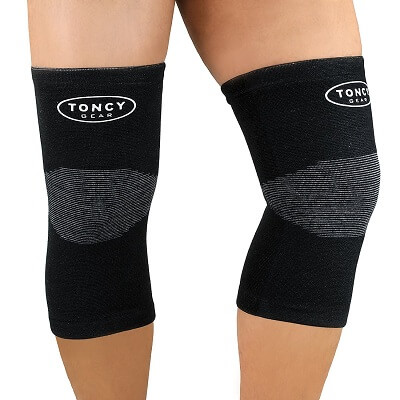 The Toncy Gear Orthopedic Knee compression brace is engineered for pain management during physical activities. Unlike other compression sleeves with multiple fabrics and directed compression support, these bamboo knee braces are made for even compression support and warmth.
Read more
Overall Fit
Instead of measuring your thigh, the Toncy gear measured your knee for a perfect fit of your knee and not your leg. The four sizes make it easy to order up or down in a size for more, or less, compression support as desired.
Materials Used
The bamboo fabric is stretchy and moisture wicking. As a bonus, bamboo fabric is ultra-smooth on skin and antimicrobial, for added support and comfort. The antimicrobial bamboo fabric means you won't need to wash it nearly as often. When you need to wash simply hand wash in warm water and air dry.
Adjustability
Bamboo is extremely stretchy, and this brace comes in four sizes. Simply order the size nearest your knee measurements for the right fit, or order up or down a size to obtain a looser and snugger fit.
Protection
The patella and tendon compression-support is woven right into the fabric in the form of additional support bands. It is made for active wearers, but is comfortable enough to wear for a lazy day around the house.
Summary
The Toncy Gear orthopedic compression knee brace is made of a breathable and stretchy bamboo fabric for ultimate comfort and support. They come in a pair, so you can wear one or both as needed.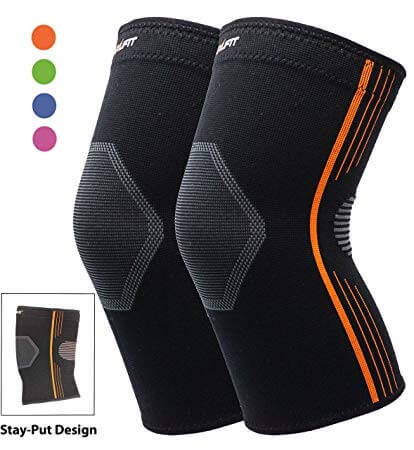 The NeoAlly Flexufit latex-free patella stabilizer support brace is designed for those who enjoy an active cardio lifestyle. The latex-free design supports knee stabilization and improves circulation for quicker muscle recovery.
Read more
Overall Fit
The longer fit provides additional support and with three sizes on the chart, and its easy to choose the right fit for you. The tighter weaving and 3D design provides additional support.
Materials Used
Latex-free and made with nylon, spandex, and polyester, for a highly woven ultra-supporting material that shouldn't roll or bunch during use. The silicon inner weaving should keep the brace in place and prevent sliding too.
Adjustability
It comes in three sizes fit most, there are no straps or adjustments to be made. Simply buy the size nearest your measurements and order up or down a size according to your preferences for fit. Remember though, measure five inches above your knee as these are longer than average.
Protection
The 3D weaving design and tightly woven fabric will provide strong support and stabilization in highly active sports. The Flexufit design means an ultra-light and breathable fabric with 4-way stretch with optimal compression design to improve blood flow and reduce muscle recovery.
Summary
The Neoally Flexufit design is made for highly active sportsman looking for quick injury recovery or injury prevention. This knee compression sleeve is made to support and stabilize the patella and tendons during activity.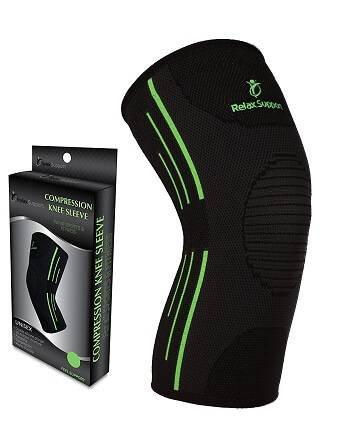 The Relax Support RS2 knee compression sleeve and athletic support provides breathable relaxed support during sporting activities and rest. This brace is designed to support and reduce pain from osteoarthritis and common sports knee injuries.
Read more
Overall Fit
This brace has three sizes to choose from and measures around the knee, not the thigh. It runs small, but it needs to provide a tight fit for optimal support. Consider ordering up or down a size to suite the type of compression you need.
Materials Used
The manufacturer does not disclose that the product is made from, but were betting its some for of elastic and nylon. There is silicon ribbing to keep this brace in place. Other than that, its hand washable and lay flat to dry.
Adjustability
With three sizes to choose from it is easy to pick the right snugness for your particular knee size and injury. This knee brace is easily adjustable to your knee size and shape because it is a single sleeve construction and the support is woven right into the fabric.
Protection
There is additional patella support right in the front of the knee brace for added comfort and protection. The 4D weave technology ensures your knee is supported and stabilized throughout activities.
Summary
Don't let knee injuries keep you down. Keep the injured knee warm and the blood circulating for maximum relief and minimum healing time using Relax Support rs2 knee compression sleeve and athletic support. With anti-slip grip and 360-degree support, this brace keeps your knee happy.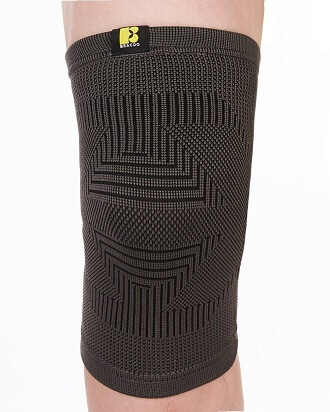 The Bracoo neoprene Knee Wrap provides compression support for injured knees. The two-layered opening provides a non-slip grip to help keep the brace in place during all activities.
Read more
Overall Fit
With five sizes to choose from, it's easy to find the right size brace for your knee and desired compression and support level. Use the chart and measure four inches above your knee, then order the size smaller or larger, depending on how tight you want it to fit. The material doesn't stretch out or become misshaped.
Materials Used
Made of a mixture of elastic, spandex, and nylon, this 4-way stretch fabric is hand washable and air dries. But it shouldn't need much washing as the weaving helps wick moisture away from your skin and keeps the knee brace dry.
Adjustability
The five sizes are a one-size-fits-most design that enable you to choose the right fit for your compression needs. Simply order a size lower than your measurement for a tight fit and a size higher than your measurement or a looser fit. The 4-way woven elastic design is really stretchy and leads to a comfortable fit.
Protection
This knee brace provides pain relief and moderate support to aid in faster recovery from sports injuries. It helps limit tendon and patella shifting and movement to reduce further injury of delicate tendons and joints.
Summary
Non-slip is woven right into the design of this Relax Support rs2 knee compression sleeve and athletic support. The 4-way weave design and five custom sizes mean the perfect level of support for injured and recovering knees.

11

. TechWare Pro Knee Support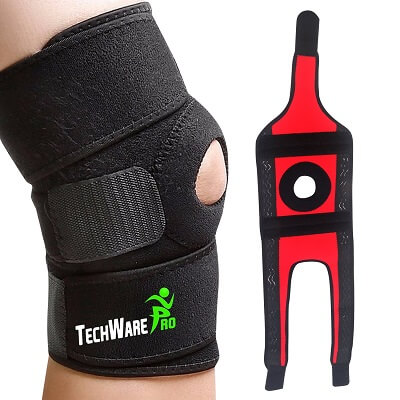 Most knee braces only have straps on one side, which can result in uneven support. The TechWare Pro Knee Support uses bidirectional velcro closures to ensure even support around your knee, while the non-slip silicone strips ensure a secure fit during physical activity.
Read more
Overall Fit:
Using a bidirectional pair of velcro straps, the TechWare Pro Knee Support works to stabilize the patella evenly to reduce knee pain. An open knee design allows for compression and support without hindering your ability to move freely.
Materials Used:
The body is made of a lightweight neoprene that wicks moisture to keep you dry and reduce irritation. Non-slip silicone strips ensure that the brace stays securely in place during physical activity.
Adjustability:
The TechWare Pro comes in four unisex sizes, and sizing is based on the circumference of the knee. If you find that you fall in between sizes, it's best to go up a size. Velcro straps allow for an adjustable fit as well.
Protection:
As stated above, the alternating strap design provides even support around the knee while allowing for freedom of movement. A gel pad inside of the brace works to reduce inflammation and swelling, reducing pain and the likelihood of an injury.
Summary:
While it is expensive, the TechWare Pro Knee Support provides even support around your knee and patella, and the bidirectional velcro and non-slip silicone ensure a secure and comfortable fit.

12

. Cambivo 2pk Knee Support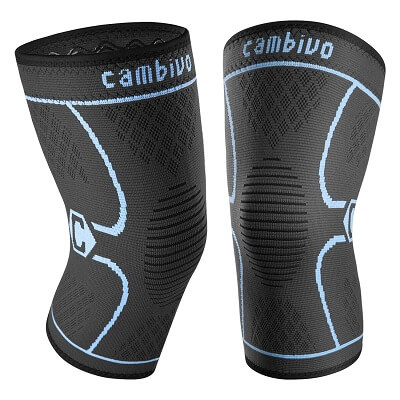 Most knee supports only come with a single brace, meaning that in order to have support for both knees you'll have to spend twice the money. The Cambivo Knee Support comes in a 2-pack for a similar price as to what you would pay for a single one.
*These knee supports do contain latex, so if you have a latex allergy this isn't the right product for you. Don't fret, however; we have plenty of latex-free products on this list as well.
Read more
Overall Fit:
This brace is offered in five sizes, ranging from small to 2XL based on the circumference of the knee. It also comes in three color options; black with blue accents, black with gray accents, and black with orange accents. Anti-slip silicone ensures a secure fit.
Materials Used:
The supports are made of a nylon, latex, and spandex blend for flexibility, as well as moisture wicking, to reduce sweat and irritation. This allows for comfortable movement and a secure fit without the need to use velcro straps, which can be a hassle for some. The stretch fabric makes it easy to put on take and off.
Adjustability:
While the lack of straps means that adjustability can be somewhat limited, the stretch fabric provides a good amount of give without hindering support. If you prefer a more relaxed fit you can order a size up, and if you prefer more compression you can order a size down.
Protection:
The anti-slip silicone means that the Cambivo Knee Support will securely stay in place during physical activity, without hindering comfort, and range of motion. This stable fit allows for maximum support for your knees, to relieve pain and prevent injuries.
Summary:
Provided you don't have a latex allergy, the Cambivo Knee Supports are a great option. The stretch fabric allows for a comfortable fit and solid range of motion while providing adequate support for your knees, and the moisture-wicking fabric works to reduce sweat and irritation.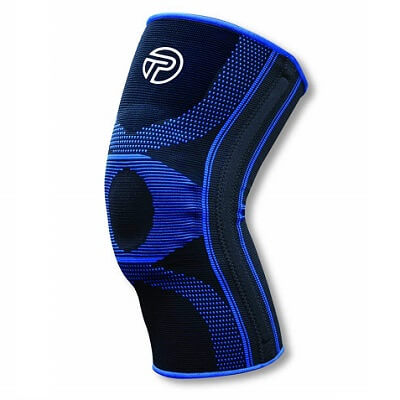 A slightly more expensive option on our list, the ProTec Gel Force features a large gel pad covering the patella (kneecap) area to extra support as you move. The dual spiral stay system provides extra support and joint stability where you need it most.
Read more
Overall Fit:
The ProTec Gel Force support is offered in four sizes, ranging from small to extra large, as measured by the cirucmference 1" above the kneecap. If you prefer a relaxed fit it's suggeset to go a size up, and if you prefer extra compression it's suggested to go a size down.
Materials Used:
The four-way stretch fabric is made to move with you during your activites while providing support and a secure fit. It's also light and breathable as well, to ensure proper moisture management and mitigate sweat and irritation.
Adjustability:
While this is a sleeve-type support without adjustable straps, the four-way stretch fabric allows for it to be easily put on and removed. This also facilitates a comfortable and secure fit.
Protection:
Equipped with both medial and lateral spiral stays, the ProTec Gel Force ensures proper support and joint stability where you need it the most, while a thick gel pad over the kneecap provides ideal comfort during physical activity.
Summary:
The price may be off-putting to some, but with the ProTec Gel Force that price comes with high quality and support. A wide range of sizes and stretch fabric allow for a comfortable fit and support for a wide range of body types.

14

. Copper Wear Compression Sleeve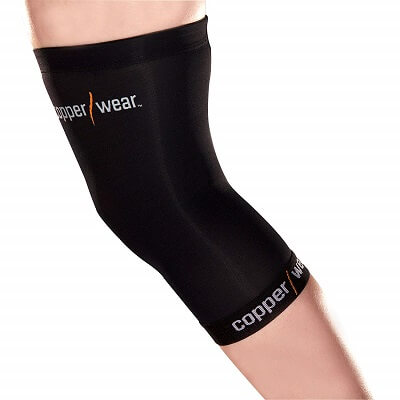 A unique feature typically not seen in most knee braces, Copper Wear uses copper-infused fabric for their products, hence the name. Copper is a soft and malleable metal that's been used in supplementary and alternative medicine to assist with treating inflammation and pain.
Read more
Overall Fit:
This compression sleeve comes in a range of sizes, from small to 2XL. Sizes are based on the circumference 5" above your knee. As this is a compression sleeve the fit is meant to be tight, so if this is a concern to you, you may be best ordering a size up from what you would typically wear.
Materials Used:
The copper-infused compression fabric offers strong support for your knees without being as bulky as other supports, meaning you can inconspicuously wear it under your clothes. A silicone band on the top and bottom ensure a secure and stable fit during physical activity.
Adjustability:
This is a sleeve-type support, without any velcro straps or buckles. The fabric is lightweight and stretchy, allowing for a flexible fit without hinder its compression abilities.
Protection:
While the healing benefits of copper are still under debate by the scientific community, this sleeve definitely shows promise. The compression fabric works to support your knee and reduce inflammation, which can in turn relieve pain and joint swelling.
Summary:
If you're looking for a sleeve that incorporates supplemental medicine and compression support, the Copper Wear Compression Sleeve is something to consider. While it is slightly more expensive, this sleeve offers support and pain relief in a lightweight product that you can wear anywhere, under any type of clothing.

Subscribe to our Newsletter