Best Under Armour Running Shoes
In a
Hurry? Editors choice: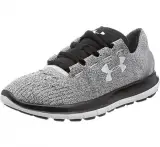 Test Winner: Speedform Slingride

It is pretty clear that if a buying guide is being constructed that focuses on one manufacturer, they must be at the top of their game. Those words could not reign truer for Under Armour as they have consistently designed all-world running shoes that even the professionals would be proud to wear. The brand is known for having
high-quality athletic
wear and shoes that have a long lifespan. Even though this list will be limited to just 10 of their shoes, they have a plethora of other models and all of them are worth your time. But, let's focus on the following 10 as they are the best of the best from one of the best running shoe
manufacturers in the world today.
Standout Picks
Criteria Used for Evaluation
Fit
No matter who you are buying shoes from, whether from Nike, Adidas, New Balance, or in this case Under Armour, there is always one area of concern that will be the greatest. Of course, this is whether or not the shoe is going to fit you properly. This is the be-all-end-all of any type of shoe and rightfully so, for that matter. The question beckons, however, how do you determine if a running shoe properly fits your feet? Well, it is important to note right away that shoe sizes will vary by brand. Two shoes of exactly the same size may fit differently if they are different brands. It makes little to no sense to the average person but this is the reality of the situation.
As such, there are a few tips for deciding the right shoe size. For one, there should be around a thumbnail's length of additional space in the toe box. Your feet should also fit snug, width-wise, without feeling cramped inside. Lastly, your heel should fit like a glove and should not be allowed to move around.
Comfort
No one wants to run in shoes that provides massive amounts of discomfort and potential injuries. Running shoes should be as comfortable as possible, as running is a demanding enough activity as it is without painful shoes adding to the difficulty.(check out one of the most comfortable running shoes for women - under armour hovr phantom) Well, one of the primary components of any shoe that oftentimes will determine the amount of comfort is the midsole. For the record, the midsole is the layer between the upper and the outsole that provides the cushioning and stability that runners look for.
One of the more common materials that is used for midsoles is EVA. This is a foam that is used to cushion the shoes and sometimes, multiple densities will be used. However, also assess the plates as these stiffen the forefoot of the shoe and can protect the bottom of your foot when you step on abrasive surfaces. Also, there are shanks and these stiffen the midsole itself and will protect your heel and arch from injury.
Durability
Have you ever sat back and thought about how much abuse the average pair of running shoes is going to take in its lifetime? If you think about it, every single time you hit the ground, the shoe is absorbing all that impact and then when you take into consideration abrasive surfaces and high speeds, it becomes more apparent that they will certainly not last forever. But, that does not mean that durability is deemed irrelevant as some shoes will wear down quicker than others. Overall, you want to look for running shoes that will not break down after a week or two.
Yet, another key component of a running shoe rears its head and that would be the outsole. Also called the sole, this is the portion of a shoe that is located on the outside. The sole will physically make contact with the ground and hence, it needs to be designed with high-quality. Most of the time, they will be comprised of rubber as this holds up well to wear and tear. You may also see blown rubber and this also aids in cushioning.
Breathability
These types of shoes will come with lungs and it is important as they allow the shoe to breathe. All joking aside, this has nothing to do with the shoe itself but your feet. Have you ever went on a run with shoes that prevented any airflow from coming in and ones that caused your feet to sweat profusely within minutes? If you have, you understand how utterly uncomfortable and how unsettling it can be. In order to prevent this from happening, the shoe needs to be breathable, bottom line.
Again, though, how is this achieved? This actually brings us to the next key portion of a running shoe, the upper. Two of the most important aspects to look for is if it integrates mesh and if it keeps the weight of the shoe to a minimal. A mesh upper, oftentimes made of nylon, will allow air to flow inside. But, any moisture that builds up still needs to be allowed to dry so look for quick-drying materials or membranes that are bonded to the interior of the linings. As far as the weight is concerned, the lighter the better in hotter weather.
Subscribe to our Newsletter