Best Running Shoes
In a
Hurry? Editors choice: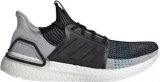 Test Winner: Adidas Ultraboost 19

When it comes to running, it is essential to find a pair of high-quality running shoes that work with your stride.

When it comes to shopping, it is important to do some research, that way you can find a pair specifically made for you.

With there being thousands of different brands, it is hard to find the best running shoes. Here we have taken the time to look through many reviews, using a list of criteria to help ensure we are giving our readers the best of the best.

We also included the pros and cons of each shoe, allowing you to pick through this top 10 list swiftly.
Standout Picks
Criteria Used for Evaluation
Features
Experts agree that selecting the right shoe can help runners who have issues such as shin splints and plantar fasciitis to be more efficient when they work out and without unneeded pain.
A solid pair of running shoes will provide you with the motivation and comfort that you need to go the distance.
When properly selected, a pair of good running shoes can help eliminate pain and discomfort when runners push themselves to reach goals.
The options on our list were picked to be more than just sport shoes. These models are able to be used as trainers, everyday shoes, walking shoes, and workout shoes.
All picks on our list should be responsive and easy to transition between activities or movements, depending on what you are doing.
Breathability
If it's training for your annual marathon or your first 5K, naturally you're going to increase your moment, and with that comes more energy given off from the body which leads to sweating.
If you're going to be spending money on some of the best running shoes, you're going to want to make sure you get a pair with proper ventilation.
Thanks to GearWeAre researchers, we have put together a guidance sheet allowing you to find a pair of running sneakers that maximize your strengths and minimize your weaknesses.
Runners all over the world will say when the upper of the shoe is properly ventilated, you are able to run longer and more efficiently. This is why we made sure that our selection includes top running shoes constructed with light and airy materials.
Responsiveness
When looking into the best marathon shoes, the reason we picked responsiveness as a criterion is pretty simple.
You want the most of your running shoes, and with them being highly responsive, you get the most out of your stride.
Most companies like to say responsive shoes literally give you energy. It's not that the actual shoe itself gives you energy, the law of physics states that no system creates or destroys energy-energy can only be transformed.
The foam in the sole of the shoes transforms your energy back into your stride. It almost feels as if it propels you forward.
Considering that other criteria are also important, we felt that responsiveness is a hot topic in the running industry, while companies are competing against each other creating the next best foam to put in their new models.
Comfort
Nobody likes to wear uncomfortable marathon shoes. When you're wearing a pair that doesn't fit right it affects the natural movement of your body.
This then causes you to have to adjust your gait which ultimately puts pressure on your back, hips, knees, and ankles.
Comfort is important when it comes to a pair of the best marathon shoes, and even shoes in general. That's why when looking through the top-rated shoes to find the best ones, we kept this criterion in mind.
Looking online for shoes it's a bit difficult to tell since you're not able to physically try them on, GearWeAre looked into real reviews, real people, real stories, to give our viewers the best and most accurate information there is.
Support
Support is very important; Americans Pediatric Medical Association has recently done a report stating that more than 50% of people from age 18 to 60 suffer from some kind of foot pain or issue.
The leading cause is not having the right shoes for your feet. More and more shoes are being made for style instead of comfort, stability, and more. In some cases, you could tell yourself beauty is pain; NOT this time.
When looking into shoes for this list, we made sure these passed the test on support. Proper support in top rated running shoes will not only be good for your the health of your feet but it will also allow you to give your best performance.
Running is an intense sport, and can be hard on your knees, ankles, hips, and feet if you do not have the proper support. You want your best jogging shoes to feel just as good before a run as they do after. If this is not the case for you, maybe think about finding a new pair.
Subscribe to our Newsletter