Best Nike Running Shoes
In a
Hurry? Editors choice: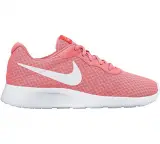 Test Winner: Nike Tanjun

Depending on where you live in the world, chances are you're familiar with the Nike brand of running shoes. Incorporated in 1971, this company has grown into a powerhouse of
athletic gear
and is known throughout the world as a leader in the industry. With all their changes over the years, however, Nike has remained true to what started it all for them –
high-quality running shoes
.
The Nike company provides thousands of different choices, and finding the best one for you can be a bit daunting. Don't worry, though; we've taken a look at what's on the market today and hand-picked the best Nike running shoes available.
Standout Picks
Criteria Used for Evaluation
Fit
As you can imagine, having a pair of sports shoes that fit properly is essential. A well fitting shoe can help to prevent blisters, sore spots and discomfort overall, but they can also help to prolong the life of your shoe. Often if a shoe doesn't fit the way it should, the tread and even the shoe itself will begin to wear unevenly, leading to potential stress points.
As a brand, Nike is fairly well known for the fit of their shoes; the average person, large or small, will often find a shoe that feels almost made for them. While there are some instances where the shoes prove to be a bit too narrow, those instances are few and far between.
Materials
For the most part, these shoes from the Nike brand were created using either entirely synthetic materials, or a combination of natural rubber and synthetic material. This provides a fairly strong, yet lightweight shoe that can easily flex with the runner to achieve a great overall performance.
If you have ever worn a pair of Nike shoes then you know that the materials used are like no other running shoes. Most shoes you purchase from Nike will be durable and will last you many years to come with proper care.
Traction
The tread, or bottom of the shoe is often one of the most critical aspects of a running shoe, and with the Nike brand that is no exception. Many of their treads are designed for use on concrete, asphalt or other harder surface. There are a few on this list that provide the ability to transfer quickly from concrete to dirt or forest path, but for the most part, the tread is designed to be used on smoother surfaces.
Durability
If running is a true calling or passion, you'll want the shoes you wear to last for as long as possible. There are quite a few factors that go into the durability of a running shoe, including the overall craftsmanship, the materials used, as well as the actual design. For the most part, the best Nike running shoes have been shown to have a great sense of pride in making their shoes some of the toughest and most durable on the market today.
The frequency of your runs matters when it comes to choosing the right shoe for you. If you're a devoted morning runner, for example, or your training for a marathon, you'll definitely want to consider both the overall comfort and the durability of the shoe. After all, you'll want it to last through quite a few runs, correct? However, if you only run on an occasion, a shoe that provides great overall comfort and stability may be a better option.
Top Ten Nike Running Shoes
Subscribe to our Newsletter