Best Running Accessories
In a
Hurry? Editors choice: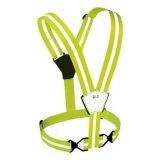 Test Winner: Amphipod Xinglet Vest

Running
is very common when it comes to training and exercise. Whether you're an avid runner who likes a short
jog
through the park early in the morning or you're training for a marathon, your needs are no different. Safety always comes first no matter what; you don't want to end up in a dangerous position in low lighting or heavy traffic. If that's the case, you'll want reflective clothing and a flashlight. You will need to stay hydrated, so you will want to choose an easy way to carry your water. If you're one who likes to track your steps or keep up with your heart rate, there are trackers you can use for this purpose. You'll probably want to keep your
phone
with you when running, and even listen to some music while you're at it. We took the time to search for the best running
accessories
you might find interesting enough to add to your collection.
Standout Picks
Criteria Used for Evaluation
Durability
When it comes to your accessories, you will want to make sure they are durable enough to hold up to the test of a tough workout. If you should fall, you want to make sure that your accessories don't break. If you're running through an unpredictable terrain there is the possibility of dropping something, and if it rains you want to be sure your accessories are safe. It's important that zippers are strong enough to stay secure and straps should have enough flexibility without tearing and breaking. These are all reasons you will want to research the durability of each product. Take into consideration how much pressure you will be putting on your running accessories and where you will be running. You want to make sure your stuff will last a long time so you can relax without having to replace something every time you want to use it.
Features
The features on most of these accessories are personal preference, but some of them do require certain necessities. Color isn't always as important as versatility and knowing you can run hands-free is something to consider with a lot of the other accessories. A place to carry your valuables is an important feature as well as comfort and flexibility. You will also want to take into consideration the safety features the accessory can offer. Size might be important when it comes to clothing and you will also want to think about the ease of mobility when you will be carrying things on your body.
Safety Hazards
Just like with any activity you participate in, safety is an important factor to consider, and with running that is not an exception. One of the first things you should be sure of before going out for your run is that you have a form of ID with you in case of an accident. Consider a form or an ID bracelet that will provide emergency contact numbers that can easily be read for your loved ones to be notified in the case of an emergency. This is one of those things you should have in hoping you will never need to use it, but it's there just in case. You will want to be sure that you don't bog yourself down with accessories you don't need because that can cause a lot of needless weight on you.
Ease of Use
Knowing how easy the product is to use is very important for running accessories. You don't want to fumble with a zipper that sticks while you're running because that will slow you down, and if you have to struggle to make your phone fit you can risk breaking it or dropping it. If you're using a hydration device, you will want one that keeps you running and you don't want to risk a spill. You want electronics that are simple to use and clothing that will fit without having to stop every second to fix something. The easier it is to use, the easier and more enjoyable your exercise will be. Safety is a plus when it comes to value, and you want to be sure the price you pay is accompanied by the quality you expect. If you can find an accessory that is multi-functional that is even more valuable. Choose wisely and do your homework like you're doing now, and you should have no problem finding the proper accessories that are well worth your hard-earned money.
Subscribe to our Newsletter