Best Running Accessories
In a Hurry? Editors choice: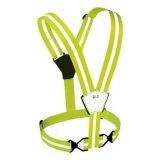 Test Winner: Amphipod Xinglet Vest

Running
is very common when it comes to training and exercise. Whether you're an avid runner who likes a short
jog
through the park early in the morning or you're training for a marathon, your needs are no different. Safety always comes first no matter what; you don't want to end up in a dangerous position in low lighting or heavy traffic. If that's the case, you'll want reflective clothing and a flashlight. You will need to stay hydrated, so you will want to choose an easy way to carry your water. If you're one who likes to track your steps or keep up with your heart rate, there are trackers you can use for this purpose. You'll probably want to keep your
phone
with you when running, and even listen to some music while you're at it. We took the time to search for the best running
accessories
you might find interesting enough to add to your collection.
Standout Picks
Criteria Used for Evaluation
Durability
When it comes to your accessories, you will want to make sure they are durable enough to hold up to the test of a tough workout. If you should fall, you want to make sure that your accessories don't break. If you're running through an unpredictable terrain there is the possibility of dropping something, and if it rains you want to be sure your accessories are safe. It's important that zippers are strong enough to stay secure and straps should have enough flexibility without tearing and breaking. These are all reasons you will want to research the durability of each product. Take into consideration how much pressure you will be putting on your running accessories and where you will be running. You want to make sure your stuff will last a long time so you can relax without having to replace something every time you want to use it.
Features
The features on most of these accessories are personal preference, but some of them do require certain necessities. Color isn't always as important as versatility and knowing you can run hands-free is something to consider with a lot of the other accessories. A place to carry your valuables is an important feature as well as comfort and flexibility. You will also want to take into consideration the safety features the accessory can offer. Size might be important when it comes to clothing and you will also want to think about the ease of mobility when you will be carrying things on your body.
Safety Hazards
Just like with any activity you participate in, safety is an important factor to consider, and with running that is not an exception. One of the first things you should be sure of before going out for your run is that you have a form of ID with you in case of an accident. Consider a form or an ID bracelet that will provide emergency contact numbers that can easily be read for your loved ones to be notified in the case of an emergency. This is one of those things you should have in hoping you will never need to use it, but it's there just in case. You will want to be sure that you don't bog yourself down with accessories you don't need because that can cause a lot of needless weight on you.
Ease of Use
Knowing how easy the product is to use is very important for running accessories. You don't want to fumble with a zipper that sticks while you're running because that will slow you down, and if you have to struggle to make your phone fit you can risk breaking it or dropping it. If you're using a hydration device, you will want one that keeps you running and you don't want to risk a spill. You want electronics that are simple to use and clothing that will fit without having to stop every second to fix something. The easier it is to use, the easier and more enjoyable your exercise will be. Safety is a plus when it comes to value, and you want to be sure the price you pay is accompanied by the quality you expect. If you can find an accessory that is multi-functional that is even more valuable. Choose wisely and do your homework like you're doing now, and you should have no problem finding the proper accessories that are well worth your hard-earned money.
Top 10 Picks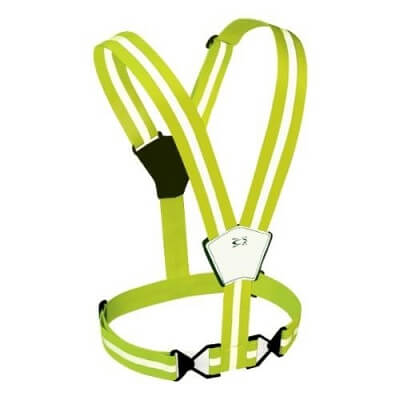 When you're a runner you know that if you are near traffic, it can be dangerous, especially during the wee hours of the morning and when the sun goes down in the late afternoon. The motorists are not always watching for you and some just don't pay attention, so safety is a priority for you. With this safety vest, you will be off to a good start where your safety is concerned.
Read more
Durability
It is made with durable straps that are designed to stretch for comfort and they won't break when you move. The latches are strong and secure; they won't snap or break when you fasten them. The reflectors are painted on, so they might wear off with time, but they will withstand much stress before that begins to happen.
Features
This safety vest offers shoulder and side straps that are designed to fit well with any body size and shape. It's light and fits comfortably over all types of clothing without damaging them and it will work well with all your accessories too. It's offered in three bright color choices, so you will always be visible to the motorists and the best part is that you will never know you're wearing this vest, it's that comfortable.
Ease of Use
The vest is extremely functional and easy to put on and take off. The straps are easy to adjust, the latch on the front is easy to secure and it can be quickly released.
Value
There is no amount of money that can take the place of a life, that's why this safety vest is well worth every dime spent.
Summary
There is nothing that can replace your life, so when it comes to your safety, you need to consider this vest for your safety while running. The quality and comfort are better than some and it fits well with any clothing. The price is right, and the colors are stylish and bright, so this should be in your collection of running accessories.

2

. Black Diamond Spot Headlamp



Like we talked about before, your safety is the most important when you're running and that's why you should consider a Black Diamond Spot headlamp if you plan to go on nightly runs.
Read more
Durability
This headlamp is made to withstand heavy runs over rough terrain without bouncing around or flopping off your head. The lamp will stay in place and it will tolerate rain, wind, and dust. The band is durable and will lock steady in place.
Features
The bright light will give you plenty of visibility through the night to keep you from tripping over twigs or twisting your ankle in a hole. Motorists will see you without a problem which adds to your safety if you generally share the road with cars. It has a red-light feature and it will tilt at different angles to help guide you through tight corners on the trail. The beam can be dimmed when necessary and you have a switch lock function, so you can be sure it doesn't turn on while it's in your bag. It has a battery that will last a long time, but the indicator will tell you when it gets weak. There are five colors to choose from, so you can easily match it with your clothing.
Ease of Use
It is easy and basic to use with a simple mode switching operation. It adjusts well and snaps on easy and secure without the worry of it falling off.
Value
This makes the perfect replacement for a flashlight with more options and convenience than an ordinary light offers. With the durability and price of this one, it makes sense to put your money to good use.
Summary
If you're planning a short jog under the stars this is one accessory you will need. Keep it in your bag or in your car; you could even take it camping or hunting with you. No matter what you are using it for, rest assured you will be safer with it than without.

3

. Grantwood Technology Tune Band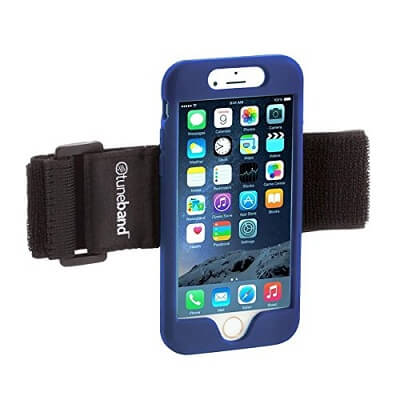 Having the convenience of listening to music while staying hands-free during your run is a bonus, and with this iPhone 7 band, you will have just that, and with a colorful style added to it too.
Read more
Durability
The silicone case is designed with the durability it takes to keep your phone protected and the strong Velcro strap will keep it secured to your arm without worry it will fall off. These bands are made to last for years, and the Velcro won't get weak even after harsh use.
Features
The open-face cover is made of silicone and will keep your phone tight while it rests on the durable band wrapped around your arm. There's no need to worry if it will fit you because it comes with two different sized bands to choose from assuring it will fit anyone's arm. As an added bonus it even comes with two screen protectors, so you won't have to worry about scratches or cracks on your screen. You will have access to the touchscreen and the ports so you can easily operate your music without having to take your phone off your arm. It's not waterproof, so you will want to be careful of that and there is no extra storage for your credit cards or money. This band is compatible with an iPhone 7, if you have a different iPhone you will need to find the proper Grantwood band to fit.
Ease of Use
Your phone will easily slide into the silicone case as long as you don't have another case on your phone. The straps easily adjust to your arm and it simply secures with Velcro. It can easily be removed when you're finished.
Value
You pay good money for your iPhone, therefore, the money you spend for the added protection of your phone is value in itself.
Summary
Taking your phone with you everywhere you go is a necessity, especially if you enjoy your music that's why this is an accessory you should strongly consider. Don't just use it when you run, take it along on a walk or cycling, it will even come in handy while you're doing housework or mowing the lawn.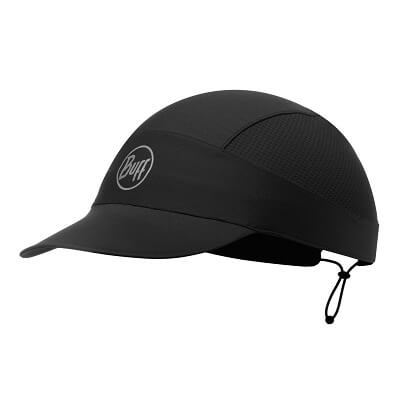 When you're running on a hot day it's ideal to wear a cap that will block the sun, but unfortunately, that can get uncomfortable and the bill can block your visibility. You will no longer have that problem if you choose this running cap.
Read more
Durability
This is a high-quality cap made of lightweight polyester designed to last a long time in the fight against the battle of a strenuous workout.
Features
With this cap, you will notice the comfortable fit that can easily be adjusted with the strap on the back. The bill is not so long that it will get in the way of your visibility, but it isn't too short that it won't block the sun. It's lightweight and folds nicely for packing. It is an ideal cap to wear under your bicycle helmet and when you're finished, just rinse it out and hang it to dry. It's available in five fashionable colors, so you can get one to match your running shorts or your shoes.
Ease of Use
It's very easy to adjust to fit the size of your head, just pull the string in the back and your all set. It rolls nicely for packing and reshapes with ease when you're ready to wear it.
Value
There is a lot of value in comfort and this one fits the bills. It's priced right for the quality and it will help to block the sun avoiding a burn on your face.
Summary
Overall, this is one of the best caps you can purchase for running. It would work equally for walking and biking, you might even want to consider this one when you walk on the beach or work in the yard. It offers comfort and it cleans up nicely. What more could you ask for in a cap?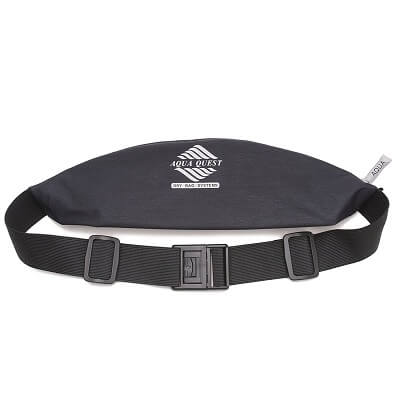 The perfect alternative to the armband is this modern style fanny pack made to carry your phone plus a whole lot more.
Read more
Durability
This pouch is made with a durable elastic belt that will stretch to fit without losing its elasticity. The zipper is durable and although the clasp looks like an ordinary cheap plastic one, it is reliable with a strong grip to keep the pouch secure to your waist.
Features
This pouch is so much better than those bulky fanny packs from the 80's. It is spacious with enough room to hold almost any size phone, your keys, ID, credit cards, and even a protein bar or two. It doesn't bounce around when you run, in fact, it's so comfortable that you might forget you're wearing it. Although it's waterproof, you might consider an additional pouch for your phone to keep it dry and safe. You can hook your earbuds into your phone, but you will need to keep the corner of the zipper open to easily fit the cord. The speaker sounds clear through the pouch and Bluetooth works well with it too. It's offered in three different color choices to blend in with your attire.
Ease of Use
It sits well on your waist without flopping around. The elastic belt stretches easily, and the clasp is easy to secure. The zipper glides easily and it's simple to put on and take off in a hurry.
Value
Keeping your hands free to concentrate on a safe workout is important as well as keeping your phone and other valuables safe. With this one, you get all that in one package, it can't get better than that.
Summary
This pouch is all you need for keeping things safe and organized on your run. You can consider this one while walking through a theme park or biking. It will serve the purpose of many needs and is so comfortable you will forget you're wearing it.

6

. Nathan Speed Draw Plus Insulated Flask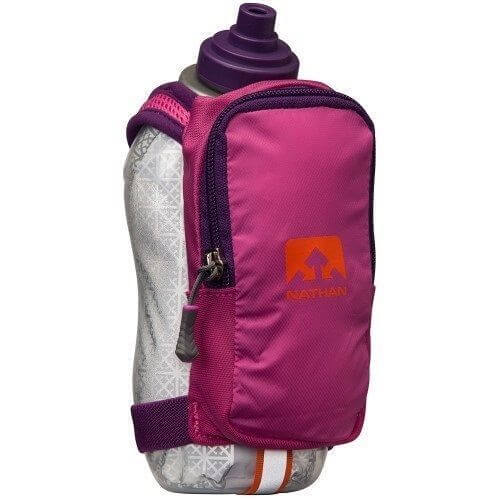 Staying hydrated is important in any situation, but when you're running it's essential to your health and safety, so you need to be sure you have a dependable vessel to carry your water. This one just might be the perfect answer for that purpose.
Read more
Durability
Made with durability to withstand a serious workout, this flask is filled with heavy insulation to keep your drinks cold in the hottest temperatures. The pouch provides a strong zipper to keep your valuables secure and the hand strap is strong enough to fit almost any sized hand. The pouch is durable and won't tolerate punctures or tears from its contents.
Features
This insulated flask will hold 18-ounces of your favorite power drink and it will stay cold even when it's hot outside. It's easy to hold with the adjustable strap and the thumb hole makes it easy to grip. It's a squeeze and sip design, so you don't have to fuss with opening a cap. The removable zipper pouch makes it convenient to carry your phone, but it won't hold every phone size, and you can keep a key, ID, and maybe a snack snug inside. It comes in seven bright fashionable color choices for you to pick from.
Ease of Use
This flask is easy to carry and equally easy to use. Using one hand, you can conveniently squeeze it when you want a drink, you won't have to worry about a cap. The straps adjust easily to fit your hand and the top can be easily removed to refill the bottle.
Value
This one might be priced a bit higher than some but it's worth every penny spent. It's durable, easy to use, and comfortable to carry.
Summary
This flask is convenient to use while running and it can be easily used at the gym. It's simple to use, pretty to look at, and affordable. This is better than having to carry a bulky bag that weighs you down when you're running. Consider gifting this to the avid runner in your family.

7

. Smartwool Liner Gloves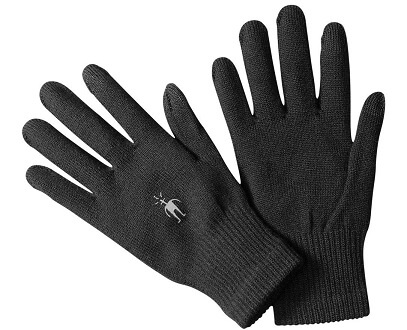 You shouldn't let the cold weather keep you from your morning run, with these wool liner gloves, you can enjoy that run just like you do in the spring. They're not bulky and you can even wear them under another pair of gloves if you get too cold.
Read more
Durability
Made of wool and other knits, these gloves are more durable than others. They are not durable enough to hold up for a long time in distress, but they are liners that are meant to be worn under another pair of gloves, and as long as you are just using them to run, they will last a long time.
Features
These liners are comfortable and warm enough to keep you warm, yet they are not too thick, so you won't get overheated when your blood starts pumping. Unlike other wool gloves, these will not shrink, and they won't make your hands feel wet even when the gloves are. They're softer and not as itchy as you would think they would be for wool, but you might want to pass these up if you have sensitive hands. They're not bulky if you choose to wear them under another pair of gloves, and they provide excellent touchscreen ability. They're available in a variety of sizes and four popular color choices.
Ease of Use
Although they are wool, they are easy to put on and take off. They can easily be used as liners for heavier gloves, and they should be hand washed.
Value
There is a lot of value in warmth, and these gloves definitely pay off. The price is right where you would expect it to be for gloves of this quality.
Summary
When it comes to staying warm while running in the early morning, these gloves would be an excellent choice. They offer comfort and versatility along with thumb and finger dexterity. The color choices are acceptable and there is a size to fit everyone.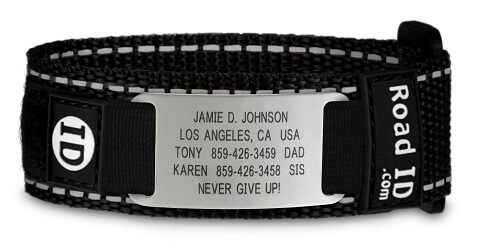 This brilliant creation will keep your loved ones connected to you while they run, and you will have peace of mind knowing that you will find them if something happens.
Read more
Durability
Made with extraordinary durability and comfort, this ID bracelet will last forever. The strap is made of high-quality nylon and the Velcro keeps it secure, so you never have to worry it will fall off while you're running.
Features
This ID bracelet is a must-have accessory for every runner, especially those who have a medical condition. The letters engraved on the tag are in capital letters, so they are easy to see, and you can customize it to include any important information that is necessary in the case of an emergency. This is an essential necessity not only for runners, but you should include this when you are traveling, walking, and even for young children to wear in case they get lost. It's rugged and durable enough that you could wear it without ever having to take it off, and you can even wear it on your ankle if you need to. It comes in three choices of colors, so you can match it with your clothes or shoes and there is a size for everyone.
Ease of Use
It is designed with a heavy nylon band that fits through a loop and fastens with durable Velcro. It's simple to put on and easy to take off without complications.
Value
There is nothing more valuable than a life, and when you think about it, this bracelet could be a potential lifesaver, so with that in mind, you can see the automatic value you will have in this. Think of it as your lifeline when you can't speak for yourself., and the peace of mind it will give you speaks for itself.
Summary
It's really a no-brainer when it comes to the importance of this ID bracelet. You should consider this as a must-have piece before you walk out the door. Think about what a great gift this could make for someone special in your life. There are so many benefits to consider with this bracelet.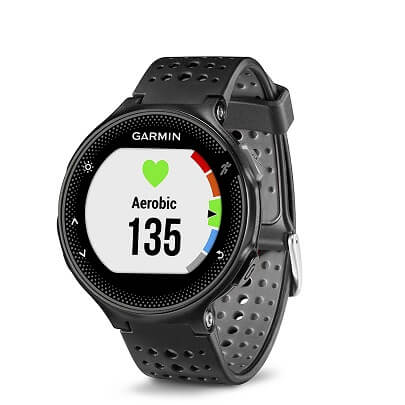 Designed with both tech and fitness enthusiasts in mind, the Forerunner 235 from Garmin does double duty as a fitness tracker and running watch. It connects to your smartphone through Bluetooth and is compatible with both iOS and Android devices.
Read more
Durability:
The Forerunner 235 is made to be water- and sweat-resistant, so it'll withstand even running on hot summer days. The band is made of silicone and may break with long-term use, but it is replaceable and replacement bands are inexpensive.
Features:
Garmin packed a lot of features into this watch. It can show notifications such as calls and text messages while connected to your phone, so when you're on a run you can decide if that incoming call is worth taking or if it can go to voicemail. A 24/7 wrist-based heart monitor keeps track of your pulse when you're running, sleeping, or anything else. The watch also has GPS functionality, so you can keep track of your location through the watch with ease, though GPS mode will severely impact battery life. On that note, the Forerunner 235 has an average battery life of nine days, outlasting some of the high-end watches.
Ease of Use:
The watch connects to your phone via Bluetooth and the Garmin Connect app. Setup is pretty straightforward, but the app itself can be clunky and difficult to navigate at times. The watch itself features a large touchscreen that's easy to read in all lighting conditions.
Value:
At $250, the Forerunner is more expensive than the average Fitbit but less expensive than most Apple and Samsung watches. It's a great mid-range option for those who want more than what most Fitbit models can offer, but don't want to shell out the money for a high-end watch that may come with features they won't have a need for.
Summary:
Whether you're tech-savvy and want the latest gear to enhance your runs, or simply feel that a watch will allow you to keep better track of your exercise and fitness goals, the Garmin Forerunner 235 offers all of the features you need (such as heart monitoring and GPS), and none of the features you don't (such as mobile payments or streaming music through the watch itself).

10

. Body Glide Anti-Chafe Balm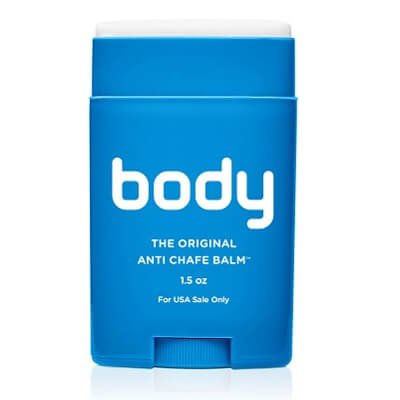 While chafing and discomfort while running is a highly personal matter and this isn't discussed very often, we feel it is something that does need to be addressed. There's really no tactful way to say this; in warmer weather when you may be wearing shots, or for those of us who are a bit huskier, chafing is an unfortunate reality of running. It's painful, distracting, and all around unpleasant. So what do you do? You get a stick of Body Glide Anti-Chafe Balm. Made primarily of glycerin, this balm is designed to form a thin barrier on your skin to reduce chafing, whether it's from rubbing by clothing, skin, or footwear
Read more
Durability:
Body Glide's Anti-Chafe Balm is designed to last all day, even in humid conditions where you may be sweating a bit more than normal. Still, it may be a good idea to reapply it in the event you sweat a lot or start to feel some chafing.
Features:
Made from plant-based ingredients, this balm is suitable for those with allergies to compounds such as petroleum and mineral oil. It's also non-toxic and safe to use on children. Body Glide does not test this product on animals, so it's suitable for vegans to use as well.
Ease of Use:
This balm comes in a tube very similar to a stick of deodorant. You simply apply it to areas where you're concerned about the potential for chafing and go about your run. As stated above it's designed for all-day protection, so unless you're going to be sweating excessively, reapplication likely won't be a concern.
Value:
A 1.5-ounce stick will set you back around $10, which is slightly more expensive than most deodorants, including aluminum-free ones which cost a bit more than their conventional counterparts. It seems like a lot of money, but since you only need to apply a thin layer one and a half ounces will go a long way.
Summary:
Body Glide Anti-Chafe Balm is a simple, no-nonsense way to combat painful and uncomfortable chafing when you run. It's plant-based and doesn't contain mineral oil, making it suitable for sensitive skin and even kids.

Subscribe to our Newsletter