Best Car Phone Mount
In a
Hurry? Editors choice: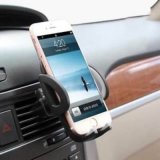 Test Winner: Beam Electronics

Did you know that the
hands-free law is effective
in sixteen states and three territories? When it comes to utilizing your smartphone safely, doing so while on the road is essential. Thankfully, as the technology advances for cell phones, so does the ability to use them with minimal distractions.
One of the easiest ways to keep you safe behind the wheel is to use a car phone mount to keep your smartphone truly hands free. There are many options here from suction cups, to AC clips, to devices that
grip on to the dashboard
. Either way, a car mount can help keep you, your passengers, and other drivers around you safe. Here are ten of the best we've found on the market today.
Standout Picks
Criteria Used for Evaluation
Durability
Believe it or not, your car can be a very dangerous place, especially for a smartphone or cell phone. Keeping it secure and in one place is essential. In order to do that, having a cell phone holder that is durable enough to withstand some turbulence is a great idea. In addition, the last thing you need is the cell phone mount to break or come unattached during an accident. It can easily become a danger to you or those in your vehicle.
In order to determine the durability, we considered the materials used to make the holder, how well it was put together, and customer complaints or reviews concerning the quality seen. In most cases, we found the examples on this list to be durable enough to work well in most driving situations, even more dire ones such as collisions or roll-overs.
Features
It may not be something you think about when considering which car phone mount to buy, but often it's the little things that matter the most. Things such as whether or not there is padding where the phone is gripped, or whether your charging port is easily accessible are often important things to consider. While many car phone mounts are simple ways to keep your smartphone out of the way while you're driving, some do feature some great additional characteristics that make answering the phone while driving easy and safe.
If you take a look at some of the car phone mounts on the market today, you'll soon realize that while the overall concept was interesting, the overall design was far from practical or usable in a normal situation. Carphone that mounts into a cup holder is one example of this. In order to make this list, the overall design had to be easy to use, practical, and have a certain aesthetic that made it either pleasing to the eye or makes the whole phone and car phone mount unnoticeable. Thankfully most of the examples presented here fall easily into one of those two categories.
Ease of Use
In a very real sense, a car phone mount is only a good investment if it is easy to use overall. The last thing you need while driving is to have to deal with a cumbersome device that will distract you from what's important. A quality car phone holder should not only hold your phone easily and securely, but it should also be easy to reach and use during normal driving conditions. Features that help with this idea include such things as the ability to mount in a few different locations, the ability to easily adjust the angle and height of the actual phone, and easy access to your phone's charging outlet.
Finally, when you're searching for the best car phone mount, you'll want to consider how accessible it makes your phone. Will it fit your phone correctly? Does it provide easy access to your smartphone screen? Does it provide easy access to your volume controls? Does it help to enhance your hands-free experience? And finally, is it easy to use by people who are disabled?
Subscribe to our Newsletter