Best Car Phone Mount
In a Hurry? Editors choice: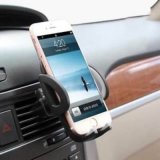 Test Winner: Beam Electronics

Did you know that the
hands-free law is effective
in sixteen states and three territories? When it comes to utilizing your smartphone safely, doing so while on the road is essential. Thankfully, as the technology advances for cell phones, so does the ability to use them with minimal distractions.
One of the easiest ways to keep you safe behind the wheel is to use a car phone mount to keep your smartphone truly hands free. There are many options here from suction cups, to AC clips, to devices that
grip on to the dashboard
. Either way, a car mount can help keep you, your passengers, and other drivers around you safe. Here are ten of the best we've found on the market today.
Standout Picks
Criteria Used for Evaluation
Durability
Believe it or not, your car can be a very dangerous place, especially for a smartphone or cell phone. Keeping it secure and in one place is essential. In order to do that, having a cell phone holder that is durable enough to withstand some turbulence is a great idea. In addition, the last thing you need is the cell phone mount to break or come unattached during an accident. It can easily become a danger to you or those in your vehicle.
In order to determine the durability, we considered the materials used to make the holder, how well it was put together, and customer complaints or reviews concerning the quality seen. In most cases, we found the examples on this list to be durable enough to work well in most driving situations, even more dire ones such as collisions or roll-overs.
Features
It may not be something you think about when considering which car phone mount to buy, but often it's the little things that matter the most. Things such as whether or not there is padding where the phone is gripped, or whether your charging port is easily accessible are often important things to consider. While many car phone mounts are simple ways to keep your smartphone out of the way while you're driving, some do feature some great additional characteristics that make answering the phone while driving easy and safe.
If you take a look at some of the car phone mounts on the market today, you'll soon realize that while the overall concept was interesting, the overall design was far from practical or usable in a normal situation. Carphone that mounts into a cup holder is one example of this. In order to make this list, the overall design had to be easy to use, practical, and have a certain aesthetic that made it either pleasing to the eye or makes the whole phone and car phone mount unnoticeable. Thankfully most of the examples presented here fall easily into one of those two categories.
Ease of Use
In a very real sense, a car phone mount is only a good investment if it is easy to use overall. The last thing you need while driving is to have to deal with a cumbersome device that will distract you from what's important. A quality car phone holder should not only hold your phone easily and securely, but it should also be easy to reach and use during normal driving conditions. Features that help with this idea include such things as the ability to mount in a few different locations, the ability to easily adjust the angle and height of the actual phone, and easy access to your phone's charging outlet.
Finally, when you're searching for the best car phone mount, you'll want to consider how accessible it makes your phone. Will it fit your phone correctly? Does it provide easy access to your smartphone screen? Does it provide easy access to your volume controls? Does it help to enhance your hands-free experience? And finally, is it easy to use by people who are disabled?
Top 10 Picks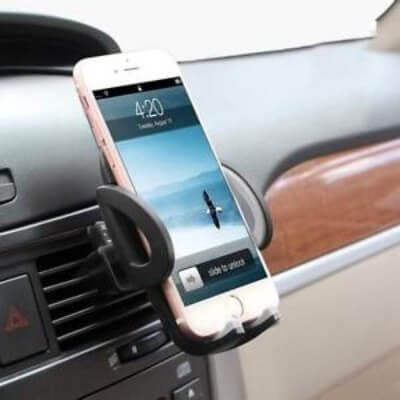 If you're concerned about finding a truly universal car phone mount that is easy to use and fits just about any car dashboard, you really can't go wrong with our top choice from Beam Electronics.
Read more
Durability
This particular car phone mount comes with a one year warranty, and most customers found that it's relatively simple design and solid construction meant that the warranty was never truly used.
Features
A few of the included features of this cell phone mount is a quick-release button, a 360-degree rotation for easy viewing, and the ability to easily remove or install your cell phone with one hand.
Ease of Use
This phone is mounted to the car's air vent with relative ease and is meant to easily adjust for the most common smartphone sizes including popular Android and iPhone designs. Most people found that using its many features was a fairly simple process. About the only area where many people had some trouble was the first assembly and mounting of the car phone mount to their chosen location.
This device can easily fit most smartphones and has passed numerous tests for compatibility with a number of cell phone styles and sizes. In addition, the single-handed operation makes it easy to use, even for those with problems with arthritis or other joint ailments.
Summary
While the initial set up maybe a bit cumbersome, most people found that this particular cell phone mount met all of their needs in providing a safe driving experience.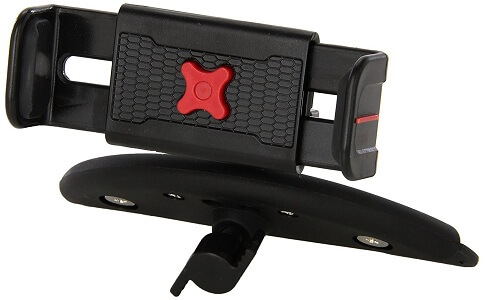 If you have an iPhone or a Samsung Galaxy phone, and a CD player that isn't being used in your car, you might want to consider this next option on the list. The Exogenous EGEM-TCD Exomount is an extremely simple to use car phone mount that can take a great amount of abuse.
Read more
Durability
Overall the majority of customers found this car phone mount to be strong enough to withstand quite a bit of abuse, and protect their phone from the same. While we certainly wouldn't suggest using it for things other than holding your phone while driving, it should survive the normal driving abuse of potholes, sudden stops, and rapid acceleration. There were a few complaints about the durability of the adjustment knob, so care should certainly be taken when making adjustments.
Features
Beyond the ability to hold most Samsung and iPhones without issue, and the ability to mount and dismount the phone with a single hand, there isn't much else that is offered as an included feature with this particular entry. While this car phone mount does fit a wide range of smartphone sizes, it is in no way universal. However, the minimal design does make it fairly easy to access the different features of your phone securely while you're driving. The only other feature that it has is the ability to rotate the smartphone 360 degrees for ease of viewing.
Ease of Use
This car phone mount has a straightforward design where the smartphone is securely gripped between two adjustable clamps and mounted into the radio CD player. This allows for the phone to be placed in a position where it can be easily seen, and yet not obstruct the view of the driver.
Once everything is set up, this car phone mount is simple enough to use. One potential problem that we found was that once the release button was pressed, there was nothing holding the phone in place. So it's best to be prepared; grab the smartphone and then hit the release button to prevent undue damage.
Summary
If you're looking for a car phone mount that speaks to your more minimal nature without too much fuss, this example from Exogenous is certainly a good option. While you'll have to be careful mounting and mounting your smartphone, the overall simple design has certainly gained it a number of fans.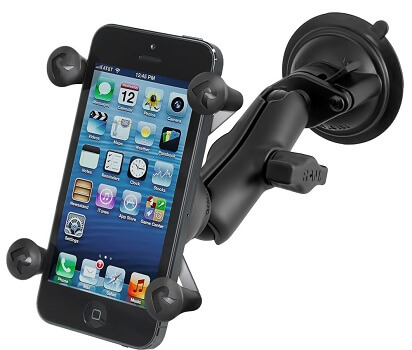 Looking for a car phone mount that is tough enough to withstand the rigors of the Indy 500? Well, then you'll definitely want to consider this contender from Ram Mounts. The universal X-Grip holds most cell phones securely and easily for hands-free use.
Read more
Durability
Truth be told, this is one of the toughest car phone holders that we've seen in a long time. Each part is solidly built, and the x-grip design can easily hold most smartphones without a second thought. Just don't tighten it too much. There is always a chance you might crack your phone before this holder breaks.
Features
Unlike the other car phone mounts that grip your phone in one or two sides, the overall X -grip design provides four points of strong contact, making it one of the most secure mountings that we've seen. However, the suction cup design does leave a bit to be desired. It's a very strong grip and has been known to damage the finish on some dashboards, especially in hotter weather. This is not the car phone mount that you want to leave sitting out in the sun.
Beyond being able to grip your phone with Fort Knox type of security, there really isn't too much that this particular car phone mount offers. But then again, when you have a grip strength like this one, bells and whistles aren't always necessary.
Ease of Use
Most people found the initial set up to be simple and straightforward. It's easy to mount to just about any flat portion of your dashboard or center counsel. Finding the right orientation for the X-grip may take a few tries, but once you find the sweet spot on your phone, you'll quickly learn how easy and secure it is to use.
The minimalist nature of this mounting system allows for easy access to many of the smartphone features including volume control, app control, and wifi capabilities as well as voice commands.
Summary
If you're looking for a car phone mount that has a simple design and is tough as nails, this entry on the list is certainly something to consider. While the suction cup grip may be a bit too strong for some car dashboards, overall this is a great choice for when strength and quality matter.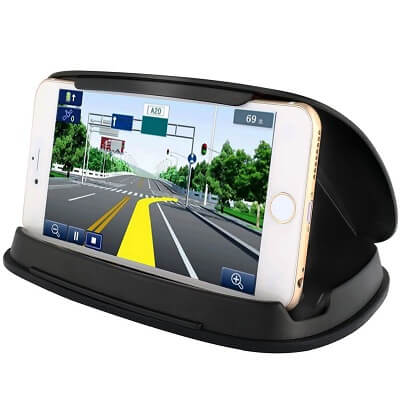 Looking for a car phone mount that is versatile enough to hold not only your phone but can be easily adjusted to hold most GPS units as well? Then this entry on our top ten list from Bosynoy may just be what you're looking for.
Read more
Durability
While it's not as tough as some of the others on this list, especially the preceding entry, this car phone mount has a good overall design and is made from solid materials, making it durable indeed. While there were some complaints about the attachment sticker wearing out sooner than expected, overall this is a great example of good craftsmanship.
Features
While other designs presented here grip the phone with a minimal amount of surface tension, this unit chooses to almost cradle the device in a clam-like setting. There is little chance of the device moving or falling out from this particular design. However, there were two items that most customers saw as a design oversight. First, the flat edge of the bottom attachment sticker wouldn't allow adhesion on most curved dashboards. Second, the clam-like design made accessing important cell phone features somewhat problematic.
Ease of Use
Overall most people found the clam-like design easy to install and use, as long as the necessary switches on the phone were easily accessible. Besides the problem with mounting on a curved surface, the other problem that most people ran into was being able to access certain features, such as the speakers on the phones, volume control, or even being able to plug in the smartphone.
This car phone holder features a silicone base that has a gel nature for ease of use and protection of both your dashboard and phone. Beyond that, and the ability to easily hold most phone types, there isn't that much more to write about.
Summary
While the overall design doesn't lend itself to easy and accessible use of a smartphone and mounting it may be an issue, this car phone mount does offer a way to securely hold your phone or GPS unit.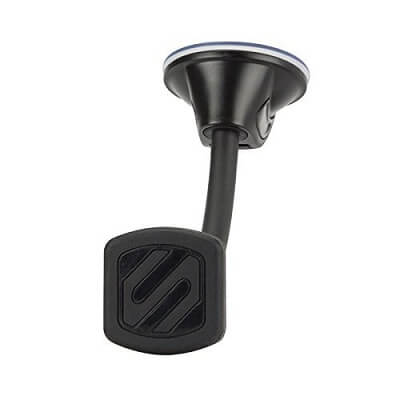 If you're worried about your phone sliding out of the grip of most car phone mounts, and you want to be able to access the features of your phone easily, then you'll want to consider this option from Scosche.
Read more
Durability
Overall most people found this unit to be well made and a durable way to mount a smartphone to your dashboard. About the only complaint that we saw was that the stickiness of the mounting pad wore out a bit faster in hot weather.
Features
This design is simplicity in itself. A small square mount with a relatively strong adhesive is placed on the dashboard, and a curved arm extends upward and is attached to a magnetic base that holds your phone is a powerful magnetic grip. And if you're worried about the magnet affecting the performance of your smartphone, rest assured. The magnetic grip can be re-positioned into two different orientations to prevent interference with both smartphones and Qi-enabled phones as well.
This phone holder for a car features the ability to rotate your phone's viewing angle 360 degrees. Also, the design features an open cradle feature that allows easy access to your phone auxiliary features. It also has an integrated charging cord clip to keep your charging cord out of the way while in use.
Ease of Use
Overall most people found this particular set up easy to install and use. The main problem that most people encountered was that while the magnet holding the phone itself was surprisingly strong, the adhesive attaching it to the car was not.
This car phone mount was one of the better ones we've found when it comes to accessibility. Not only did the open frame design allow easy access to the phone's features, but it also was easily adjustable to account for different needs and tastes.
Summary
While not the best adhesive we've ever seen, this car phone mount from Scosche does provide great access to your smartphone while driving in a secure manner. If you're looking for something simple and straightforward, this is a great overall choice.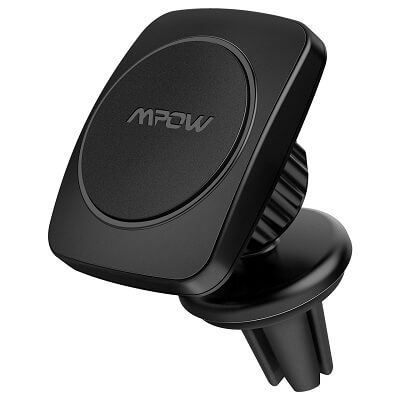 Have an extra air vent in your car that you don't see using in the near future for some fresh air? Why not use it to keep your smartphone in reach? The sixth entry on our list will help you do just that.
Read more
Durability
The overall simple design and quality workmanship and materials made this car phone mount one of the more durable ones we've come across. Although there were a few minor hiccups with the vent attachment not lasting as well as expected, especially when used with larger phones.
Features
The design of this car phone mount is pretty straightforward. A rubberized grip-on claw is slid into your air vent, and the strong magnet mounted on a 360-degree rotating ball bearing provides a secure place to put your smartphone.
While it doesn't include many bells and whistles, this car phone mount does provide for a dual setting clip to adjust to and support larger phones.
Ease of Use
Once the car phone mount was properly installed, most people found it to be rather easy to use. The main problems that most people encountered were trying to get the air vent grip to truly attach to their vent, and making sure that the magnet could find the phone while in a thicker case.
Summary
While the attachment to the air vent on this car phone mount could be improved, the overall design and execution are pretty good. We liked the strong magnet and ball bearing swivel nature of the mount and found it easy to use overall.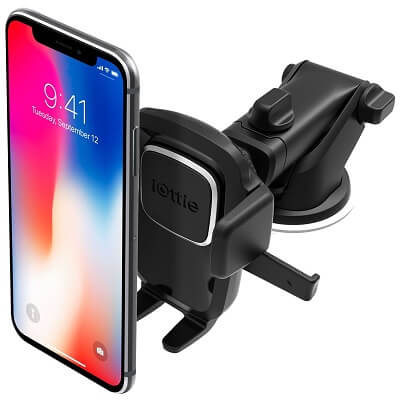 If you're looking for a stable method of holding your smartphone while driving, and you don't want to sacrifice a vent or a portion of your windshield, this option from Lottie may be the way to go.
Read more
Durability
This car phone mount is solidly built, and features a sturdy design that can fit most smartphones easily. The hardened plastic material of the smartphone frame can easily withstand the rigors of driving and protect your phone from most mishaps.
Features
While the car phone holder itself doesn't have too many added features besides the mounting system itself, the company does offer a number of driving aids through downloadable apps. These include audiobooks from Audible and an app that helps you find your car in a crowded parking lot.
Ease of Use
Unlike previous items in this list, the design of this car phone mount features a semi-permanent mount to the car's dashboard through a powerful suction cup that is more or less permanently attached to your car. The car phone mount itself is then attached to this and features a vertical grip system that is fully adjustable and holds your phone at the bottom and at the sides.
Once installed the majority of customers found this product easy to use. However, the installation of the suction cup base for a number of people was found to be problematic. In order to work correctly, certain conditions must be met, such as clean and dry surfaces, the dashboard being at a certain recommended temperature, and to be truly flat. If any of those criteria are not met, the base simply will not stick to the dashboard or windshield.
Summary
While the finicky suction cup base may be an issue for some, this car phone mount is solidly built and offers a safe way to mount your smartphone to the dashboard.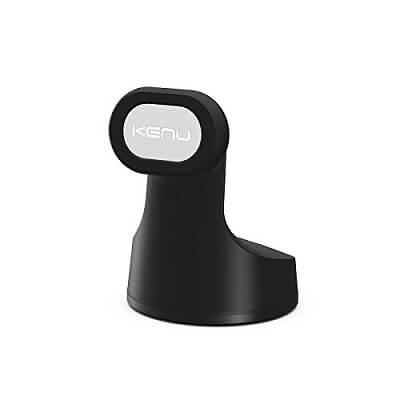 If you're searching for a compact way to securely mount your phone to your dashboard, and to be able to easily change its position when needed, the Airbase car phone holder from Kenu is definitely worth a second look.
Read more
Durability
For the most part, this car phone mount is well made and will withstand a few drops or mishaps. We wouldn't suggest using it in a NASCAR race, but for a normal commute, it works just fine.
Features
Beyond the ability to keep your phone in place, there really isn't much more too this device.
Ease of Use
The functionality and form of the design are remarkably simple and user-friendly. There's a strong suction cup that can be easily released from the windshield or dashboard, and a strong magnet to keep your phone in place.
This car phone mount is easy to use overall, but like most suction cup mounting systems, there are some issues with mounting it to the dashboard. Having a smooth, clean and dry surface is essential.
This car phone mount allows for easy overall access to your smartphone features.
Summary
The simple design and powerful magnets in this particular phone holder to make it a great way overall to secure your smartphone. We would have liked to see a more secure mounting method, though.

9

. IPow Silicone Dashboard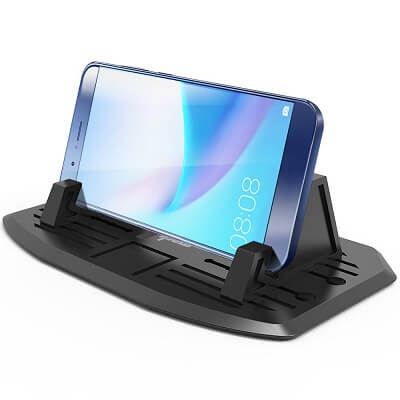 If you've found the suction cup method of mounting to be a bit less than desirable, but you still want to keep your smartphone on the dashboard, this silicone car pad mount is certainly worth considering.
Read more
Durability
The overall design of this particular car phone mount lends itself to stability and durability in design. There are no real moving parts, and the smaller parts are well made and solidly built.
Features
Among the car phone mounts on this list, this one from Ipow can be considered unique. Essentially, the silicone base grips the dashboard and the rubberized protrusions hold the phone in a cradle-like fashion, almost like it's holding a reading book.
Ease of Use
While the design itself is simple enough indeed, the execution of it left a bit to be desired. First, for many customers, instructions on installation didn't include, which made troubleshooting when problems arose somewhat problematic. Also, the static grip points that cradle the phone are well suited for smaller smartphones but not for larger ones.
Most if not all the features on the smartphone are easily accessible in this setup.
Summary
With a unique design that helps keep the smartphone on your dashboard and out of your way, this car phone holder provides a great way to securely keep your phone in a convenient place. While the inclusion of a manual would be nice for troubleshooting, overall it's not a bad set up.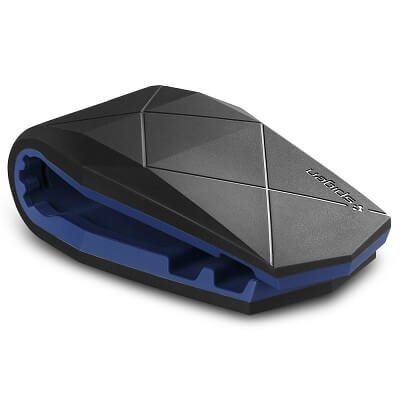 Do you have a curved dashboard, and are you tired of trying to make your car phone mount attach successfully? Then you might want to consider this final option on our list.
Read more
Durability
There weren't too many complaints about the durability of this particular phone holder for a car. It appears to be well made with quality materials.
Features
This car phone mount features a clam-like design that opens up to hold smaller smartphones and a powerful gel-like grip adhesive on the bottom.
Ease of Use
Overall, not too bad to use. The adhesive doesn't always stick as well as we would have liked, but it does work well on curved surfaces.
The clam-like structure means that some of the features of your smartphone may be hidden from users.
Summary
If you have a smaller or more compact smartphone, and you're tired of trying to mount it unsuccessfully using suction cups, this car phone mount may be the way to go.

Subscribe to our Newsletter