Best Car Tire Inflators
In a Hurry? Editors choice: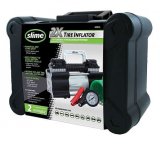 Test Winner: Slime 40026

If only standard, everyday
tires
were designed to be puncture proof? Would that not be the "life"? Well, no matter how much technology manufacturers integrate into their car
tires
, this will always be an issue as no company has not made a mainstream puncture proof tire and as long as tires continue to be filled with air you will always need a tire inflator handy. If you have finally decided to stop borrowing your neighbor's compressor and invest in one for yourself, then you have come to the right place. We know that there are a number of tire inflators on the market and you could get lost in all the options, so we have done the research for you and listed the top ten
car
tire inflators on the market today and explained why they are the best over the rest.
Standout Picks
Criteria Used for Evaluation
Effectiveness
Probably the most important mistake you need to avoid when you are inflating your car tires is to make sure you never fill them with too much air. If you were not aware before then yes, this is not recommended. Doing so will cause the sidewalls and the tread to be harder than they are typical. Thus, this can reduce the amount of traction and the performance of the tire. In short, it is a big fat no-no. So, how do you avoid this? Besides understanding the recommended maximum PSI of your current tires, this is why some manufacturers design their inflators to be programmed.
With these tire inflators, you can select the desired tire pressure you want and once the machine has reached this pressure, it will shut off to prevent any more air from entering in. But, what do you do if your machine does not have this? Granted it at least has a pressure gauge that allows you to monitor your tire pressure, you can stop when enough air has been inflated.
Portability
Part of the reason why air compressors and tire inflators are highly recommended is in emergency situations. Look, pumping air into a flat tire is not going to permanently fix the issue you have if there is a hole present. However, it could provide enough air for you to get to a mechanical shop for assistance if you do not have the tools to change your tire. As so, portability is going to be an important buying aspect to assess. For tire inflators, it comes down to a few areas. Firstly, how large and heavy is the air compressor? If you have limited storage space in your vehicle, you may want to aim for a smaller and more compact compressor. As far as weight is concerned, some people may not want to lug around an extremely heavy piece of equipment.
However, even though this will also be addressed later, the portability can also be dependent on the power options. If it can't be powered by your car, whether by the battery or via the cigarette lighter, it will be of little use to you without access to an electrical output. Of course, it could be if you have a dedicated 12-volt accessory outlet in your car.
Use
This guide is tailored towards air compressors and inflators that are designed to inflate your car tires. However, that does not mean that these same machines are limited to just that. If the correct adapters and nozzles are included, they can also be used to inflate a plethora of other objects. For example, with a small infiltration needle, you could inflate your favorite sports balls (footballs, basketballs, soccer balls, etc.). However, certain adapters will also allow you to power up your swimming rafts and inflatable toys. Gone will be the days of blowing air into them manually.
Of course, though, at their core, they are perfect for inflating your car tires. Most will account for standard tires but if you wanted one to inflate much larger tires (say agricultural tires), they need to be rated to do so. Some, not all, will state the maximum size tire their compressor can handle.
Features
This last section is devoted to outside features that were not quite important enough to warrant their own sections. However, this does not mean they are not important. For starters, a situation may arise when you need to utilize a tire inflator at night. If this happens, some sort of LED lighting and display is ideal so you can see what you are doing. Also, what about the noise? Pretty much every single air compressor is going to produce a decent amount of noise. But, limiting this to tolerable could be important to you.
A few other factors to consider would be the accuracy of the pressure gauge and the cord lengths. The former is clearly vital as what good is an indicator that is consistently inaccurate? But, you can't slight at the cord lengths either. With power cords, there is always the option of using an extension cord but it is a little tougher with a cigarette lighter socket. In other words, the longer the cord the better.
Top 10 Picks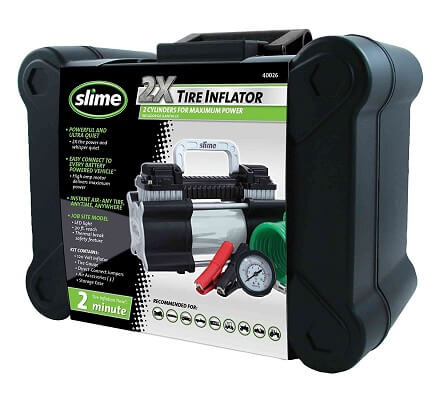 It can sometimes be difficult for products to properly combine power and portability. Thankfully, the Slime 40026 Tire Inflator does just that as not only is it built with an integrated folding handle, it also has twin cylinders for optimal performance.
Read more
Precautions
To prevent the engine from overheating and thus leading to potential damage, there is an auto shutdown feature that has been integrated. While overheating should not normally be an issue, this prevents it in the rare case it is.
Portability
Not only does this have a convenient folding handle incorporated on the top but Slime also includes a carrying case with their inflator. Unfortunately, though, various users have pointed out that it is a relatively cheap plastic storage box.
Compatibility
To adapt to other objects past the tires on your vehicle, there are several adapters that are included. These adapters can allow you to inflate objects such as sports balls and pool rafts.
Power
This machine can be powered by any 12-volt car battery or RV battery. When running, its two cylinders provide an optimal amount of power and is above-average for an inflator of its size.
Convenience
You do not get to decide the time of day in which you may need a tire inflator. As such, the integrated LED light is ideal when using this machine during a nighttime emergency.
Overall
No matter what the situation calls for, this is the best car tire inflator that you can currently get your hands on. It is not impossible to haul around, it has a surprising amount of power for its size and it comes with several adapters.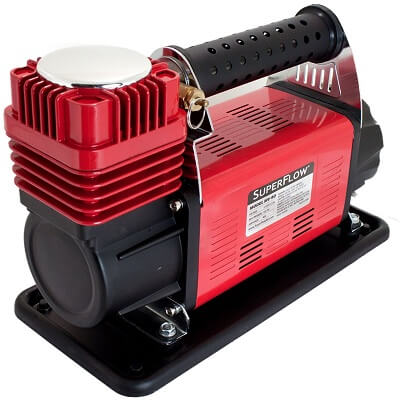 Some people may be seeking a car tire inflator that cannot only easily fill their flat car tires, but one that can also fill up larger tires. Enter in this inflator from SuperFlow as it can inflate tires of up to 44 inches.
Read more
Precautions
On the hose of the inflator, there is a pressure gauge that allows monitoring. It is still up to you to stop inflating your tires when they are filled, but the gauge will give you an idea of how close you are.
Portability
While a nylon carrying bag does come included with your purchase, this tire inflator is a bit on the heavy side. It is not impossible to lug around, but it will still work you.
Compatibility
Quick connect Type M air fittings are included with the self-coiling air hose. As far as the type of tires this beast can inflate, it can handle everything from standard care tires to agricultural tires.
Power
Yet again, this machine gathers its power straight from your car battery and includes alligator clips for doing so. Also, because of the 60mm piston and high-strength cylinder, it packs a punch and can deliver 6400 cubic inches of airflow per minute.
Convenience
As far as additional convenient features, there is not too much to assess here. However, some users may want a better rubber hose and if so, you can buy your own.
Overall
SuperFlow delivers a more than impressive car tire inflator and while it is heavier than others, its power and inflating capabilities are tremendous. No doubt, this is worth the price of admission.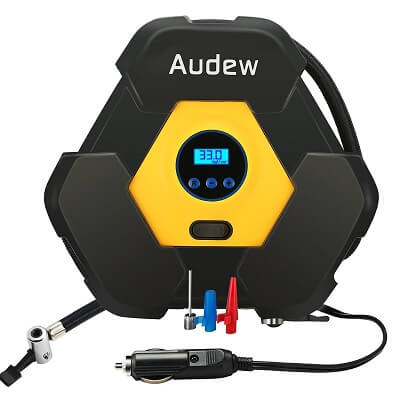 Perhaps a slightly longer cord and an easier-to-see LED screen in the daylight might have propelled this air compressor to the top spot. However, modern technology and extreme diversity ensure this is one of the best.
Read more
Precautions
Being fully programmable, you have the ability to set the desired pressure level and when the machine hits it, it will automatically shut off. Thus, it prevents over-inflation.
Portability
The overall design of this compressor pump is compact and when you need to use it, it is easy to both carry and lift. Also, it will take up little room in your car's trunk.
Compatibility
Three different tips are included for your convenience and this allows you to inflate a multitude of different objects. Among these are sports equipment and inflatables adaptors.
Power
This has a maximum operating voltage of 12 volts and can register a maximum 150 PSI. As far as how you power it, it comes equipped with a cigarette socket.
Convenience
At night, not only does the LED screen light up for easy viewing but integrated LED lights also make it easier to use, as a whole. But, the screen can be difficult to see in bright daylight.
Overall
In terms of modern car tire inflators, this one perfectly fits the bill. It has an integrated LED interface and can be programmed to prevent over-inflation. Think of this as a technology geek's air compressor.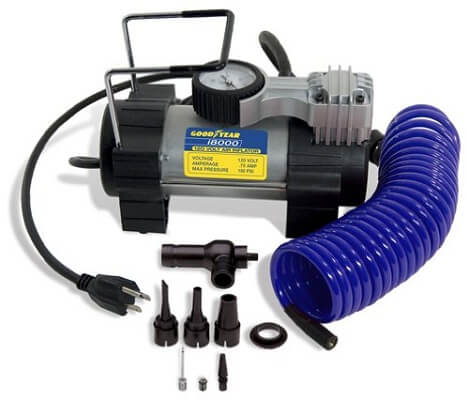 The i8000 Tire Inflator from Goodyear gets its power from any 120-volt wall outlet. With this kind of power, though, extra weight comes alongside with it. However, it is not completely immobile, so do not get the wrong impression.
Read more
Precautions
To ensure that you are always aware of the current inflation level, there is a built-in analog gauge for your convenience. As a side note, the gauge measures up to 150 PSI.
Portability
As this needs to be plugged into an electrical outlet, it may not be of much use in the middle of nowhere. However, even though it is heavy, it could still be transported anywhere with access to electricity.
Compatibility
At its core, this is capable of inflating your car tires. But, thanks to the adaptors, this is also a suitable option for providing much-needed air to your sports equipment and inflatable rafts.
Power
This 120-volt direct drive inflator will plug into any standard 120-volt electrical outlet. Thanks to the voltage, the power provided will satisfy most users.
Convenience
With Whisper Soft technology, the overall noise produced from this machine is kept to a minimum. In addition, the 18-foot air hose and six-foot power cord offer solid ranges.
Overall
While this is limited by its lone power source and may not be much use when you are stranded in the middle of the freeway, it is still an ideal tire inflator. After all, its power is proof enough for that.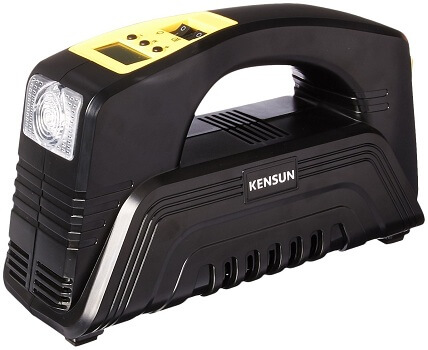 Thanks to the digital presets of this next air compressor, you can feasibly inflate any object that you can possibly think of. In addition to this, it is highly versatile and can be powered via an AC wall socket or a DC cigarette lighter socket.
Read more
Precautions
Kensun designed their air compressor with digital preset functionality. What this provides for you is the confidence in knowing that your tires will never be over-inflated, granted you select the correct pressure needed.
Portability
A carrying bag is included with your investment and it has an integrated handle on the top. All the components will fit inside; however, the bottom section of the compressor does not have a flap to keep the cords secure.
Compatibility
Much like the other air compressors that have preceded it on this list, additional attachment nozzles are included. Combine this with the, previously alluded to, digital presets and you would be hard-pressed to find an object that this can't inflate.
Power
While this is not the most powerful air compressor in the world, with a maximum pressure of 90 PSI, it does come with dual-power options. As such, you can power it via an AC wall socket or DC cigarette lighter socket.
Convenience
Designed in the front of this compressor is an LED light and when you can't see anything, this will be a lifesaver. Past this, there is a digital pressure gauge on the top. But, because of its placement, you have to look at an angle to view it.
Overall
This is one of the more impressive air compressors that you can get your hands on, end of story. In terms of raw power, it may not be but as an overall design, it is both convenient and highly-portable.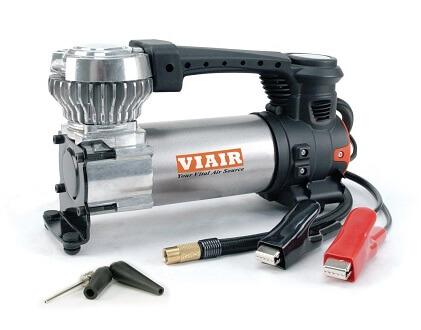 Viair is one of the more popular manufacturers in the world of air compressors. Their 00088 model, which happens to be one of their best, has an exceptional build and it should last you for years on end.
Read more
Precautions
The tire pressure can be monitored on the pressure gauge but only when the unit is turned off. Unfortunately, this is extremely limited but at least it is something.
Portability
You can use the included packaging box for storage and when you plan to transport it, it is very easy to do so in the trunk of your car given the compact size.
Compatibility
There are included adaptors to inflate other objects but for tires, it is rated to handle tires up to 33 inches in size.
Power
This model from Viair has 12 volts of power and has a maximum pressure of 120 PSI. However, your car battery is needed to power this machine and the alligator clips are included.
Convenience
While you have the ability to monitor your tire pressure, albeit when you switch the unit off, a few users have complained that the accuracy is off by three to four PSI.
Overall
It is not surprising that Viair is such an esteemed manufacturer in the world of air compressors. This particular model, while not perfect, is an ideal choice for anyone and a high recommendation.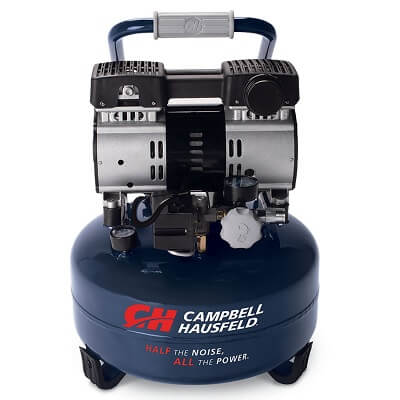 This next air compressor is marketed as being 50 percent quieter than compressors of its kind. But, it is worth noting that there are no additional couples or connectors and this is simply a compressor and compressor only.
Read more
Precautions
It is still up to you to prevent over-inflation but, at least, there is a pressure gauge on this unit that should give you a good indication of when you should stop inflating.
Portability
Thanks to the steel handle and the integrated wheels for mobility, this is one of the most portable air compressors on the market.
Compatibility
As a compressor, this can be used to inflate your car tires and even provide air to your power tools. But, no additional connectors or adaptors are included and you will need to buy them separately.
Power
Due to its maximum PSI of 125 and 120 voltage, this machine packs a powerful punch. Given that it can be powered by any 120-volt electrical outlet that works on a 15 amp circuit, it is better for home use.
Convenience
As previously mentioned, this is headlined by its advertised slogan of being 50 percent quieter than comparable compressors. Additionally, it features an oil-free and maintenance-free pump.
Overall
Basically, this provides enough power to suit most everyone's needs but does so while minimizing the amount of noise outputted by the compressor. All in all, that is a tough combination to pass up.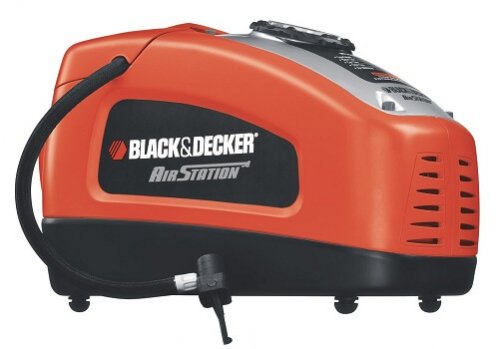 At first glance, you can clearly tell that Black & Decker designed the Air Station due to their iconic color combination. About the only aspect that desperately needs to be improved is the astronomically short power cord.
Read more
Precautions
This is yet another tire inflator that allows you to program how much air pressure you desire. As such, this will prevent you from over-inflating your tires if you select an appropriate pressure.
Portability
With a weight of just six pounds and a very compact exterior, this inflator was made for portability. It will easily fit into the backseat of your vehicle.
Compatibility
Past its obvious ability to inflate your low-pressure car tires, it can also add air to other items such as sports balls.
Power
The capability of this machine to power from any electrical outlet and also the lighter socket in your vehicle allows it to be used in a variety of situations. Also, its maximum power of 160 PSI is solid.
Convenience
Because the red-faced gauge is illuminated, it becomes possible to view it when the sun goes down. In addition, because the gauge keeps tabs on the current pressure, removing the hose to take readings is not necessary.
Overall
Black & Decker should be applauded for the design that they have put forth with their Air Station. A few caveats aside, such as the ridiculous power cord length, this remains a great car tire inflator.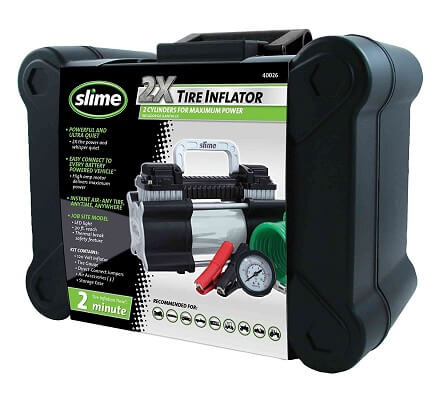 This is yet another digital tire inflator that features an auto shut-off feature that prevents you from over-inflating your tires. But, this is also an ideal machine for inflating your air beds, mattresses, and poolside toys.
Read more
Precautions
All you need to do is select the proper tire pressure that you desire and when this inflator reaches it, it is programmed to automatically shut off.
Portability
When you are taking care of this compressor, its large cord compartment is convenient. But, as compared to other units, it is quite a bit bulkier.
Compatibility
Included with the actual car tire inflator are adaptors and they allow you to inflate a plethora of other objects.
Power
Instead of having dual-power options, this machine will only plug into a 15-amp and 12-volt cigarette lighter receptacle. The option for plugging into an electrical outlet is not available.
Convenience
As compared to the average air compressor that runs of 12 volts of power, this is relatively quiet. Furthermore, the implemented LED light ensures ultimate sight in the darkest environments.
Overall
Simply put, there is a lot to love about this machine. First off, it is much quieter than similar machines. Secondly, it has an auto-shutoff feature that can prevent over-inflation and finally, it can be powered by your car.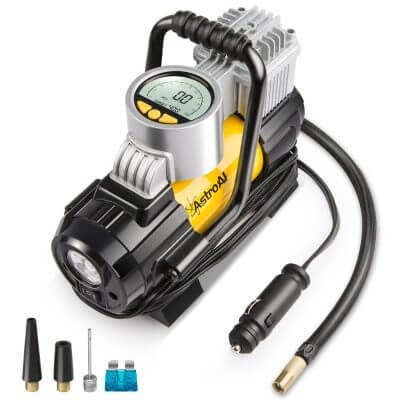 This tire inflator is on of the most compact and technologically advanced machines that you can have on hand in case of an emergency where one of your tires deflates. This inflator is compact and can easily be stored in your car for quick access. It is definitely a tire inflator to check out if you are looking to add one to your gear.
Read more
Precautions
This inflator could have more power as it is not as fast as some other inflators on our list, but it's compactness makes up for the power it lacks. It is able to get the job done - it just takes a little longer.
Portability
This tire inflator is quite compact and lightweight which makes the portability of this air compressor superb.
Compatibility
Compatibility is certainly not going to be an issue with this inflator. The included adapters make it a suitable solution when you need to add air to your camping (or other) equipment.
Power
This inflator can only be used on DC 12V.
Convenience
This unit is compact and lightweight, which makes it quite convenient since it does not take a lot of space up in your car and is easy to transport. It also has cool features like preventing overfilling and overheating.
Overall
Overall this is definitely a unit to consider if you are looking for a convenient portable inflator to keep you prepared for minor roadside emergencies. It's light, versatile, and won't take up a lot of space.

Subscribe to our Newsletter