Best Car Tire Inflators
In a
Hurry? Editors choice: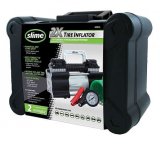 Test Winner: Slime 40026

If only standard, everyday
tires
were designed to be puncture proof? Would that not be the "life"? Well, no matter how much technology manufacturers integrate into their car
tires
, this will always be an issue as no company has not made a mainstream puncture proof tire and as long as tires continue to be filled with air you will always need a tire inflator handy. If you have finally decided to stop borrowing your neighbor's compressor and invest in one for yourself, then you have come to the right place. We know that there are a number of tire inflators on the market and you could get lost in all the options, so we have done the research for you and listed the top ten
car
tire inflators on the market today and explained why they are the best over the rest.
Standout Picks
Criteria Used for Evaluation
Effectiveness
Probably the most important mistake you need to avoid when you are inflating your car tires is to make sure you never fill them with too much air. If you were not aware before then yes, this is not recommended. Doing so will cause the sidewalls and the tread to be harder than they are typical. Thus, this can reduce the amount of traction and the performance of the tire. In short, it is a big fat no-no. So, how do you avoid this? Besides understanding the recommended maximum PSI of your current tires, this is why some manufacturers design their inflators to be programmed.
With these tire inflators, you can select the desired tire pressure you want and once the machine has reached this pressure, it will shut off to prevent any more air from entering in. But, what do you do if your machine does not have this? Granted it at least has a pressure gauge that allows you to monitor your tire pressure, you can stop when enough air has been inflated.
Portability
Part of the reason why air compressors and tire inflators are highly recommended is in emergency situations. Look, pumping air into a flat tire is not going to permanently fix the issue you have if there is a hole present. However, it could provide enough air for you to get to a mechanical shop for assistance if you do not have the tools to change your tire. As so, portability is going to be an important buying aspect to assess. For tire inflators, it comes down to a few areas. Firstly, how large and heavy is the air compressor? If you have limited storage space in your vehicle, you may want to aim for a smaller and more compact compressor. As far as weight is concerned, some people may not want to lug around an extremely heavy piece of equipment.
However, even though this will also be addressed later, the portability can also be dependent on the power options. If it can't be powered by your car, whether by the battery or via the cigarette lighter, it will be of little use to you without access to an electrical output. Of course, it could be if you have a dedicated 12-volt accessory outlet in your car.
Use
This guide is tailored towards air compressors and inflators that are designed to inflate your car tires. However, that does not mean that these same machines are limited to just that. If the correct adapters and nozzles are included, they can also be used to inflate a plethora of other objects. For example, with a small infiltration needle, you could inflate your favorite sports balls (footballs, basketballs, soccer balls, etc.). However, certain adapters will also allow you to power up your swimming rafts and inflatable toys. Gone will be the days of blowing air into them manually.
Of course, though, at their core, they are perfect for inflating your car tires. Most will account for standard tires but if you wanted one to inflate much larger tires (say agricultural tires), they need to be rated to do so. Some, not all, will state the maximum size tire their compressor can handle.
Features
This last section is devoted to outside features that were not quite important enough to warrant their own sections. However, this does not mean they are not important. For starters, a situation may arise when you need to utilize a tire inflator at night. If this happens, some sort of LED lighting and display is ideal so you can see what you are doing. Also, what about the noise? Pretty much every single air compressor is going to produce a decent amount of noise. But, limiting this to tolerable could be important to you.
A few other factors to consider would be the accuracy of the pressure gauge and the cord lengths. The former is clearly vital as what good is an indicator that is consistently inaccurate? But, you can't slight at the cord lengths either. With power cords, there is always the option of using an extension cord but it is a little tougher with a cigarette lighter socket. In other words, the longer the cord the better.
Subscribe to our Newsletter