Best Tire Pressure Monitoring System
In a
Hurry? Editors choice: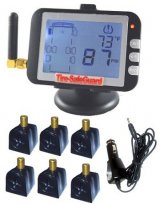 Test Winner: RV 6 Tire-Safeguard

A tool that you may find every prepared driver to have on hand is a
tire
, pressure monitor, to ensure their vehicle is working at maximum efficiency every time they get behind the wheel. A tire pressure monitor will allow you the driver to know the pressure of your tires to indicate if your tires are over pressured or under pressured to hopefully avoid a flat or burst tire situation while you are on the road. If you want to avoid a possible accident and get to where you are going without incident than investing in a tire pressure
monitor
is a smart choice. These little devices can be a little pricey but overall will save you more time and money, and if you agree then our guide below will help you find the perfect tire pressure monitor for you and your
car
.
Standout Picks
Criteria Used for Evaluation
Effectiveness
It was mentioned in the beginning but a TPMS, which again stands for tire pressure monitoring system, is an electronic system that is able to read the current air pressure of your tires and other metrics. No matter which model you invest in, they will all come with the capability of doing this. But, they will not all deliver the same efficiency and readings. For instance, the max PSI they can read will fluctuate from model to model and this becomes important if you need a system for your RV or tow vehicle. Also, while most should relay the information of your tires in real-time, some systems will not update as fast as others.
For the record, in a recreational four-wheeled vehicle, the optimal PSI for your tires will be right around 30 to 35. All systems should be equipped to handle readouts of this magnitude. But, it is not just the air pressure that these systems can detect as most will also be able to detect the tire's temperature. This can actually be one of the most important parameters to measure in regard to the performance of a tire. With this information, the tuning of the tire pressure, camber, and toe and vehicle balance can be adjusted.
Accuracy
No system is complete without the sensors that get installed into the valves of your tires. These devices are responsible for actually receiving the information that is relayed to the main unit. But, as small as they are, there are several critical attributes that can make or break them. For starters, how about if they are flow-through or not? If they are, then you can leave them installed when you need to pump your tire's air pressure up. Yet, if they are not, you will need to remove the sensor to add air. Another important feature is its physical design.
In short, they should be resistant to corrosion and waterproof. With proper fittings, they should be all-but immune to any damage from water, dust, or snow. The last thing you want is the sensor to allow air to leak through when it is installed. In addition to this, not all sensors will be compatible with all types of vehicles. Generally speaking, there are systems designed for RV's and others for regular four-wheeled cars. Oh yeah, and do not forget to assess their accuracy and precision.
Features
Now that the sensors are out of the way, let's talk about the main unit itself. The sensors work in coordination with the monitor to provide you with the information you need. When looking into the design of the monitor, there are two areas of assessment. The first is the screen of the monitor. First off, it needs to be an optimal size for you to easily view while you are driving. If you have to squint at the screen to view the data, it could turn into an entirely different safety hazard. So, look for a large screen (ideally an LCD screen) and also clear and easy-to-read fonts. Oh yeah, and do not forget about the backlighting as to account for more situations, there should be a way to adjust it.
Now, the second area you want to look at is the manner in which the monitor is powered. While some will require the power from a standard 12-volt DC charger (such as your cigarette lighter socket) others may use a mini-USB port or even solar energy. Either way, look for models with a built-in battery that can hold a charge continuously for a solid amount of time (say a few days).
Ease of Use
This final section sort of caps off your journey, in a way. Installing these systems is not too tricky and only involves two areas. Firstly, you need to mount the main unit in your vehicle. This can either be painfully annoying or really easy; it simply depends if you can use a dashboard mount or suction cup mount.
As for the sensors, this installation process should be pretty straightforward. They simply get inserted into the valves of your tires. Of course, if you ever have any issues with this phase, reference the included manual or online tutorials.
Top Ten Tire Pressure Monitoring System
Subscribe to our Newsletter