Best Waterproof Socks
In a Hurry? Editors choice: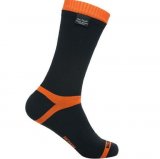 Test Winner: Dexshell Hytherm Pro

How many times has your adventure been ruined because your
socks
became drenched to the point where they made it unbearable to walk? Chances are, this has happened too many of you who are currently reading this and there is a solution. The solution is waterproof socks. Now, it sounds easy, right? Just hold on for a second because it may not be as easy as you think it is to invest in a high-quality pair. Outside of possessing the ability to
keep your feet dry
in a multitude of different conditions, a high-quality pair should also
keep your feet cool
. Of course, if you need them in the winter, then they should also provide insulation properties. You see, it is not so easy after all.
Standout Picks
Criteria Used for Evaluation
Water Resistance
This one is too obvious, right? Well, not every model of waterproof socks will sport the same waterproof efficiency, if you will.
Logically speaking, where else would you begin? Without question, if you invest in a pair of waterproof socks, you expect them to be able to repel water and prevent it from entering inside with the utmost efficiency. Well, how exactly does a pair of waterproof socks accomplish such a feat? All designs may be a little different but they all follow a very similar design concept. With most models you will see, designers will craft them with a waterproof membrane that is protected by outer and inner layers. Thus, this means you will often see triple-layer designs and there is a reason for this.
First off, even the best-designed membranes need to have some sort of protection. That protection is provided by the other two layers. So, this is why it is common for these types of socks to be much thicker than ordinary ones. As for what membranes to look for, again, each designer may integrate different technologies and materials so it is not fair to recommend one over the other. Just ensure that the entire sock is well-constructed as when the membrane becomes punctured, the ability to keep water at bay will be gone.
Comfort
Good luck finding someone that wants to wear a pair of socks that are uncomfortable.
It can be said a million times and it would reign true every single time. That is that the comfort of the garment you are in the market is going to play a pivotal role in the decision process. Guess what, a sock of any kind is a garment and that means that you will need to assess the comfortability. Of course, with waterproof socks, it is going to be no different. And, although you can always search through consumer feedback to see what others have claimed, there are some important features and design strategies to look out for.
First off, you should assess the materials and the linings that are used. One of the most common is merino wool and part of the reason why is it is the world's finest wool and feels incredibly soft and lightweight. Secondly, assess the design of the seams, or lack thereof. Generally speaking, it is best to look for seamless constructions to eliminate friction (which can lead to blisters). And, lastly, look for padding in the toe, heel, and footbed areas to aid in shock absorption.
Breathability
This one is not as obvious but it is just as important as the other two. Your feet need to be allowed to breathe to prevent moisture buildup.
If you have ever bought athletic wear, then you probably are fully aware of what the term "breathability" refers to. For those of you who are not familiar with the term, it is basically the ability of a fabric to transport moisture (that is still in a vapor state) from a higher humidity area to a lower humidity area. In short, the more breathable a fabric is the less moisture will build up on your clothing. And, when you are in the market for waterproof socks, you better believe that the breathability is going to be of the utmost concern.
Besides integrating materials that are naturally breathable, most designers will also aim for their waterproof membrane to be breathable. Of course, this is also where a material like merino wool is so wonderful. You see, this fabric is able to regulate your body temperature and, in turn, control the moisture. So, essentially, the merino wool will absorb the moisture vapors from your body and then release them to the drier environment that you are currently in.
Fit
As with any article of clothing, the fit is essential. Thankfully, it is a bit easier to find the right fit here.
In comparison to other articles of clothing, it can be a little easier to find a proper fit for waterproof socks. It is still something that should not be taken lightly, but it is not as difficult as say new shoes. With that said, you need to first ensure that the model you pick is going to adequately fit on your foot. In order to do so, first establish what size you will need. If a seller offers multiple sizes, then reference their sizing charts to see which option best suits you. Of course, as with any garments, sometimes certain models will not be sized normally. This is where conducting a little research can come in handy because if previous buyers report that a certain option runs small, then you may want to take their word for it and order a size larger if needed (if enough buyers have had the same issue).
There are also some design features, however, that you can look for that will affect the fitting. For instance, some designers will include elasticized ankles and even specially engineered heels.
Durability
For a waterproof sock to last a long time, it needs to be made of high-quality fabrics and technologies.
Due to the fact that there is not a soul on this planet that enjoys investing in poorly-made waterproof socks, you need to assess the quality of the craftsmanship. When it comes to this type of waterproof socks, the good news is that is not too hard to do. Once again, you can always conduct some research or glance through consumer feedback. But, you can also analyze the actual design itself. For starters, it all begins with the materials that are utilized. High-end fabrics such as nylon and merino wool are quite common due to their strength and resiliency. Nylon, which often gets compared to polyester, is actually stronger than polyester but it is still able to maintain its softness.
As for merino wool, each individual wool fiber is able to be bent and stretched in any direction 30,000 times without damage. If that does not say it all nothing else will. Of course, it is also ideal when certain reinforcements are made (for example in the toe and heel areas). Along the same line, look for the outer most layer to be made of an abrasion-resistant fabric (such as a nylon blend) as that is the heaviest wear area of a sock (or at least one of them). To prolong the life of whatever model you buy, though, it may be wise to avoid everyday wear and to only wear the pair when they are needed.
OUR TOP PICKS FOR THE BEST WATERPROOF SOCKS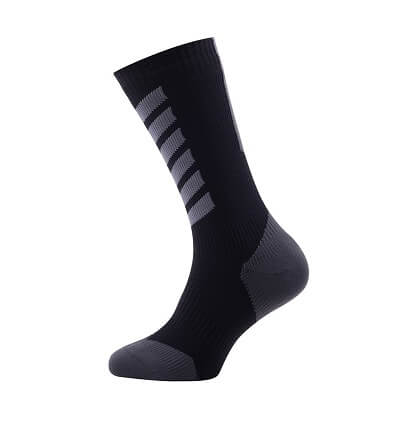 Does it seem absolutely absurd to pay this much for a pair of waterproof socks? Well, perhaps for some of you the answer will be yes but the SealSkinz MTB brand is top-notch, to say the very least.
Read more
Water-Resistance
Using their patented Stretchdry technology, SealSkinz was able to craft foot garments that are both waterproof and windproof. Oh, and the silicone free elastic taping provides a water-resistant battier, as well.
Comfort
All sorts of features enhance the comfort of this model including merino wool lining, flat seam toe closure construction, and padded heel, toe, and footbed areas.
Breathability
In addition to the Stretchdry technology that enhances the breathability, the merino wool also regulates body temperature and controls moisture.
Fitting
There are two features that increase the ease of fitting here. Firstly, you have the Y-gore heel construction and secondly, you have the elasticated ankle and insteps.
Longevity
The merino wool and all the other materials integrated are designed to last. Due to the price of admission, they certainly better be.
Overall
Due to the steep price tag, it is safe to say these should be situational socks that you only use when you really need them. Because, as for the quality, that really speaks for itself.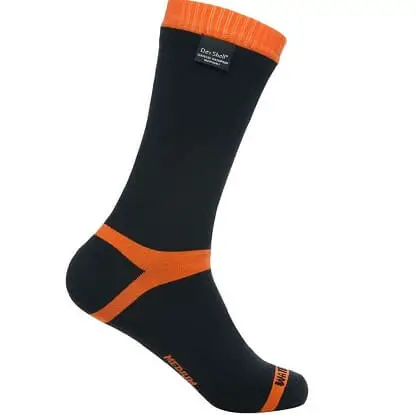 It just seems that DexShell is a step ahead of the rest of the competition. As you will shortly see, they are plastered all over this list but their Hytherm Pro Waterproof Socks stand above all the rest.
Read more
Water-Resistance
Due to the Porelle membrane that has been integrated, water is not going to stand a chance at entering inside your feet with this pair on.
Comfort
Make no mistake about it, these waterproof socks are thermal and feature merino wool. In addition to this, there are no seams and that eliminates the chances of irritation and chaffing.
Breathability
The same merino wool that was just alluded to plays a big role in the breathability. You see, this fabric will react to your body's temperature and it will release body heat and moisture when too hot.
Fitting
As for the length, this pair will reach up to your mid-calf. Now, most users agree that the fit is comfortable and that they will stay up great while you run and walk.
Longevity
One user noted that you may not want to walk around barefoot with these on. The primary reason why is this will wear out the bottoms of them much, much quicker.
Overall
In spite of the few one-star reviews that have been garnered, DexShell hits it out of the ballpark here. As a whole, there is very little that you will find wrong with the Hytherm Pro Hosieries.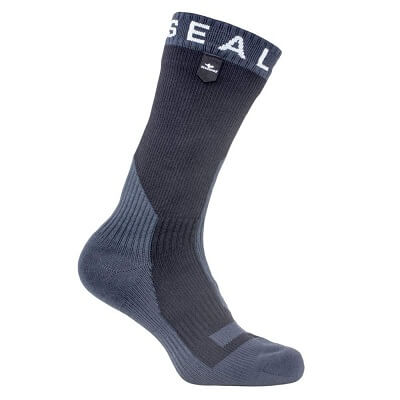 The best way to describe this model is to look at the Stretchdry technology that was integrated. With this technology, this pair of hosieries remains waterproof, breathable, and windproof.
Read more
Water-Resistance
Once again, SealSkinz uses their incredible Stretchdry technology to create a waterproof core.
Comfort
Though these have been noted as being stiff, there are several features that enhance the overall comfort. This includes thick merino wool lining, padded heel, toe, and footbed areas to better absorb shock, and flat seam toe closures.
Breathability
Again, merino wool lining is utilized and that means that the socks are able to regulate your body temperature and draw excess heat away from your body when needed.
Fitting
As with the other model from SealSkinz, these hosieries are able to provide great fitting thanks to the Y-gore heels and elasticated ankle and insteps to deliver more support.
Longevity
The quality of the craftsmanship here can't be referenced to enough. The materials are top-notch and all the construction methods are as well.
Overall
You know, that last sentence perfectly describes this pair of waterproof socks. They sport merino wool lining, Stretch-dry technology, and flat seams. Could you ask for much more?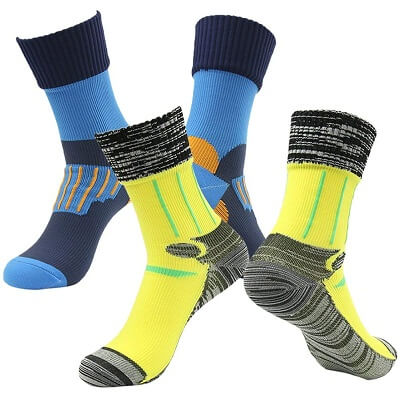 Talk about a brand that is universally recognized as one of the absolute best waterproof socks? When you discuss the best waterproof socks on the market today, the discussion is not complete without referencing these bad boys.
Read more
Water-Resistance
Thanks to the strong adhesive, three-layer structure of these hosieries, they are able to prevent water from entering in. Of course, the waterproof outer layers also help.
Comfort
The good news is each individual sock features a 100 percent seamless construction for maximum comfort. The unfortunate news is one buyer noted that the lining felt like stiff neoprene.
Breathability
The same three-layer construction that helps with waterproofness also helps with air permeability. Additionally, the anti-bacterial properties help to reduce bad odors.
Fitting
It seems that these are going to run a bit large, based on consumer feedback. Due to this, you may want to order a size smaller than you typically would.
Longevity
There have not been too many negative remarks in regard to the durability here. Still, despite that, you may want to avoid using these everyday to prolong their lifespan.
Overall
Can you see why so many reviewers and buyers have raved about these hosieries? The stiff lining could be bothersome for some, sure, but the overall design makes up for it.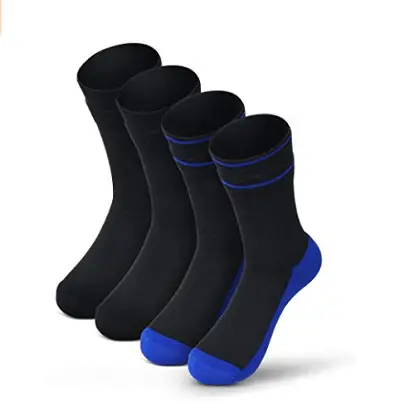 To say this next pair of hosieries is good would be an understatement of epic proportions. Due to the three-layer design that has been implemented, it is able to perform in different ways.
Read more
Water-Resistance
The middle layer of this triple-layer design is what provides the water resistance. You see, the middle layer film material effectively prevents any water from entering in.
Comfort
With the combination of the merino wool and nylon blend, in addition to the seamless valley construction, the comfort provided here is not going to be brought into question.
Breathability
Both the merino wool and the nylon assist with the breathability. And, adding on to this is the comfortable mesh which also enhances the airflow.
Fitting
There are two sizes available and both of them feature elasticity. You have either medium or large but the elasticity present does assist with the fitting.
Longevity
Again, the triple-layer design features some high-quality materials such as nylon, rubber, and merino wool.
Overall
This model right here is not necessarily one of the most popular ones on the market. That said, it is one of the best and that is all that really matters.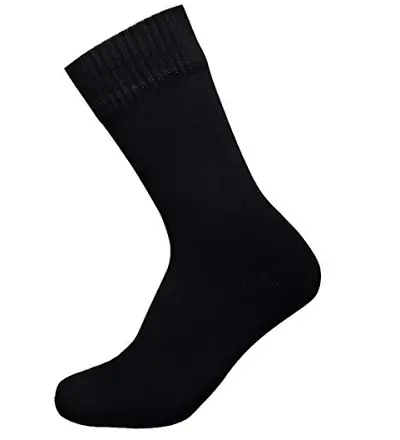 In spite of the ultra-tight fit, these foot garments from Always Outside are utterly superb. Perhaps the most talked-about feature is the triple-layer construction that manages to keep water at bay.
Read more
Water-Resistance
As mentioned, it is the triple-layer construction of this pair that allows it to be waterproof. Then again, it is noted by the seller that these hosieries should not be submerged in water.
Comfort
Both the seamless construction and the cushioned soles allow these to maintain an optimal level of comfort. Also, the friction is eliminated as a result and this will reduce the chance of blistering.
Breathability
The Coolmax inner is what provides the breathability that users crave. It manages to wick away moisture from your skin to prevent it from building up. Then again, the middle membrane is also breathable.
Fitting
For certain, no one is going to label this pair of hosieries as loose fitting. Per the contrary, these are designed for activewear and fit tight against your skin. Perhaps too tight, though, as some users have commented that they can leave marks on your ankles.
Longevity
The outer is made of abrasion-resistant nylon. This is ideal because the highest wear area of any type of sock will be at the bottom.
Overall
There is no sugarcoating the fact that some of you will not enjoy the tight fit of these socks. While no one is going to question their performance, this can make or break things for you.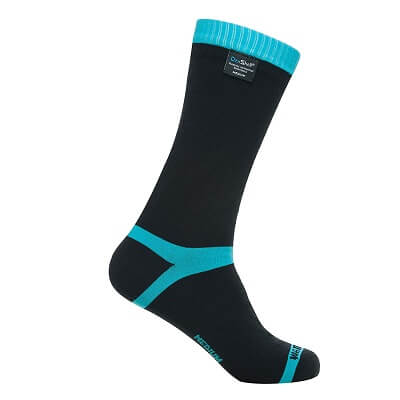 Yes, here they are again and, this time, DexShell presents their Coolvent Mid-Calf Waterproof Socks on this list. While they may not be the warmest pair on the market, they remain incredible thanks to their waterproofness and breathability.
Read more
Water-Resistance
Though the warmth has been brought into question the waterproofness has certainly not. When it rains and if you come across standing water, your feet should remain dry.
Comfort
In regard to the warmth, there are definitely superior options out there. With that said, the Coolmax FX yarns sports terry loop cushion pads running from the toe to the heel.
Breathability
There are integrated features, including the anti-bacterial moisture transfer performance inner, that enhance the breathability of this model.
Fitting
One user observed that this did not appear to be shaped like a normal sock. Instead, they noted that the ankle region was very large in diameter.
Longevity
One of the reasons DexShell is so terrific is the quality of the products that they produce. For certain, this is just another fantastic example of that.
Overall
If you are seeking a suitable pair of waterproof socks in the winter to keep your feet toasty, this pair may not be the best option. For any other season, though, Coolvent hosieries are the way to go.

8

. DexShell Ultralite Bamboo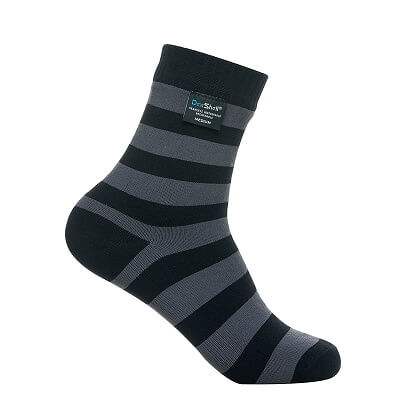 At this point, it is becoming more and more apparent that you can't go wrong with DexShell. What makes their next pair of hosieries so great is their soft bamboo lining and breathable Porelle membrane.
Read more
Water-Resistance
Though there have been a few users who have claimed the Ultralite Bamboo Hosieries were not as resistant to water as they would have hoped, the interlining Porelle membrane does make these waterproof socks.
Comfort
Not only does the seamless craftsmanship ensure optimal comfort but this pair is also outfitted with high-quality and soft materials (such as nylon).
Breathability
The same Porelle membrane that was just alluded to also comes into play when assessing the breathability of this pair. Indeed, with this membrane, the moisture is controlled.
Fitting
There have been a few buyers who have reported that these felt tight but at the same time loose. A few users even linked it to feeling like a wetsuit, which is a bit strange.
Longevity
Again, this is DexShell and that means you know that all the materials that are utilized here are high in quality.
Overall
For DexShell, you could almost consider this a disappointment, though that is a bit of a stretch. As compared to other brands, though, these socks are great with a few hiccups.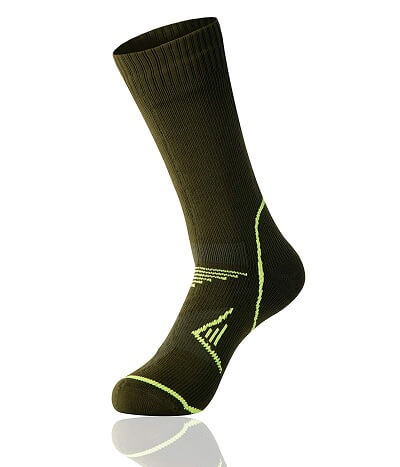 This is actually another model that sports a three-layer construction. While there has been some negative feedback left by some reviewers, this pair of waterproof socks seems more than suitable for most uses.
Read more
Water-Resistance
Though these are advertised as being 100 percent waterproof socks, there was a specific reviewer that experienced wet feet when they steeped into a puddle with these on (with their shoes).
Comfort
The multi-layer structure consists of nylon and Coolmax FX yarn and it enhances the comfort overall. The interlining breathable membrane also increases the comfort, as well.
Breathability
As you probably expected, the same interlining membrane that increases the comfort also increases the breathability.
Fitting
There are two different sizes available and it is interesting to note that both of them are designed to be unisex. Based on feedback, the fit seems to be as expected, though.
Longevity
Overall, the multi-layer construction creates a very durable core. Speaking of which, the outermost layer is made with enhanced durability for obvious reasons.
Overall
Much like the last entry on this list, these socks are not the most well-known in the world. They also can be a bit hard to get ahold of but if you can, they are worth it.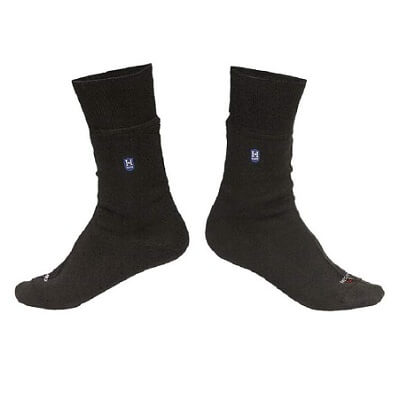 Even though this is marketed as an all-season waterproof socks, it is more tailored toward colder climates. It will certainly keep water out but it is also not very breathable, despite the Moisture Vapor Transpiration (MVT) membrane.
Read more
Water-Resistance
The aforementioned MVT membrane is used to prevent water from coming in. In addition to this, this model has been high-pressure leak tested to ensure waterproofness.
Comfort
To help avoid blisters and chafing, this waterproof socks has been made with a unique seamless construction. On top of the materials themselves, this ensures optimal comfort.
Breathability
Now, the same MVT membrane is designed to allow perspiration out. However, quite a few consumers have noted that the sock they received was not breathable at all.
Fitting
Part of the reason why this is not the most breathable model is due to the thickness. Also, the fit seems to be a bit loose.
Longevity
It was mentioned earlier that the outermost layer of a sock is the most prone to wearing. What did Hanz do to combat that? It is simple; they implemented an abrasion-resistant outer layer.
Overall
As great as this design is, a lot of you will take issue with the lack of breathability. That is a big part of, admittedly, and it is understandable if you want to pass on this one.

Subscribe to our Newsletter