Best Gore-Tex Socks – 2023 list
In a Hurry? Editors choice: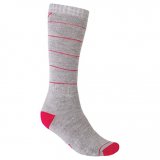 Test Winner: Klim Hibernate

Gore-Tex socks are essential for runners that aren't sidelined by rain or snow. What we love most about these designs is that they are composed of materials that effectively work to wick away water and moisture to keep your feet perfectly dry when running in soggy conditions. It makes it a great addition for muddy trails, or if your feet sweat excessively. You can wear them alone in the warmer months or layers them under
wool socks
to keep your feet warm and dry.
In this guide, we have selected some of our favorite designs of Gore-Tex socks to keep your feet happy in any type of weather condition.
Standout Picks
Criteria Used for Evaluation
Fit
When choosing Gore-Tex socks you should first decide whether you are going to use them with another pair of socks under them or not. Gore-Tex socks are usually worn with wool socks and this combination is the perfect fighter against low temperatures and high moisture areas. Regardless of the socks, you are going to choose, this will also determine how comfortable you are going to be during your hike. For this reason, if you happen to do so, make sure you also get high-quality material socks underneath the Gore-Tex ones.
When you are purchasing shoes, you are spending a lot of time considering the size of them and whether they fit you. With socks it is the same, or at least it should be the same. If your socks are too big they could cause you blisters no matter how good they are. And if they are too small they will cause lower blood circulation in your feet and as a result, you will get cold feet.
Another thing which is essential to know is that you should first get hiking socks and only after that, hiking boots. However, these socks all have the same thickness, so if you already have a pair at home, you could try on your boots with them as well. If you are planning to wear another pair of socks underneath, which is highly recommended, and then decide their thickness as well before proceeding to the boots.
Materials
Gore-Tex is a material that is now being widely used in the world for the production of waterproof and sporting equipment as well as clothing such as Gore-tex pants and backpacking gear. The market is flooded with Gore-Tex material products and there is a good reason for this. Since the this name is patented and protected by the brand itself, there are even numerous similar products on the market that have attempted copying and imitating the properties of the material.
What layers and levels you need with your socks will depend a lot on the climate you live in and what you plan to be doing when you wear your clothes. So, before you decide on getting something that is very expensive and includes every top-of-the-line feature, think about whether or not you really need all that in your socks. If you factor in your real necessities, you might be able to save a decent amount of money when you purchase your socks.
Features
When you are looking for sports Gore-Tex socks, you should consider a couple of features that are essential for your comfort and foot stability. They wick the moisture out and they are drying very fast. Even though natural is always considered as better, in this case, the good old Gore-Tex material is the most convenient one. The stitching should be unnoticeable so that it doesn't bother you and the only thing left for you to do is to choose the right size.
Putting this type of socks on is not the same as putting on other socks. Because of the waterproof membrane layer that is incorporated in its composition, the socks are not as stretchy as other models, even though they are promoted as stretchy. This means that you are going to have to put them on by first putting them on your toes then go to the heel without pulling them on the end but more of seat your foot inside them.
The main point of this putting the Gore-Tex socks on technique is to not put too much strain on the cuffing because it might get damaged. In fact, damaging the socks while putting them on is a common practice for many people which is why we have included this section.
Water Resistance
What is perfect about these socks is that they are ideal for summer temperatures. They are the perfect substitute for waterproof boots. Hiking with boots is great. However, boots are heavy and they are keeping your feet warm even though you don't need them to.
For this reason, wearing good hiking shoes combined with Gore-Tex socks and liner socks underneath is the ideal combination of summer hikes. This combination will help you deal with snow in high areas and you could pass streams without any issue. And the best thing is that you are not going to feel a drop on your feet.
Top 10 Picks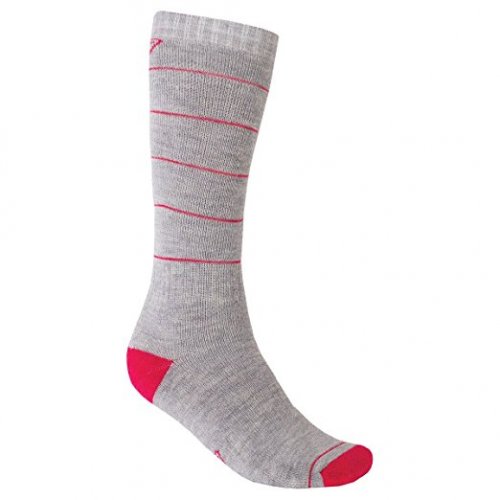 Klim's Hibernate Gore-Tex socks are designed with Gore-Tex technology, so you get a lot of weather protection combined into a sock that is more affordably priced if you are shopping on a budget. Made to keep out the wind and rain, you'll also get a lot of comfort with these socks since they provide a good level of ventilation and breathability.
Read more
Fit
These Klim socks do fit tightly and have to be pulled up underneath your knee. However, even with their snug fit, they are easy to get on and take off. You shouldn't have much difficulty with them, and that's a nice bonus when dealing with socks that are tall.
Materials
Klim's Hibernate socks feature a nylon reinforced toe, heel, and sole, which gives these socks a lot of strength and durability while also helping to give your feet the stability you'll want when you are active. They also feature terry construction, which helps make the socks insulated so you'll stay warm, but it also helps to cushion the socks. You'll love the padding and comfort that you'll get with these well-padded socks.
Features
These socks come with arch support and also have a stretch band to help keep them in place so you won't have to worry about the socks sliding down your ankle. Also, you won't have to worry about the socks bunching up. That helps make these feel very comfortable each time you wear them.
While the Klim socks are up to par with the quality Klim usually provides in their products, they aren't quite as durable as some of the other Klim products on the list. That's because the materials aren't manufactured for durability, but more for comfort. However, that's not a bad trade-off, and these socks do cost less when compared to some of the more durable Klim socks we've listed here.
Water Resistance
The Klim Hibernate sock is a great, durable technical sock that allows your feet to stay dry and warm in the colder climates. This Gore-Tex sock helps hold heat in and is made from 60% Merino wool, 24% polyanide, 16% lycra.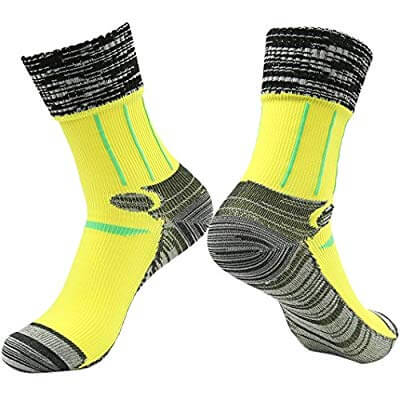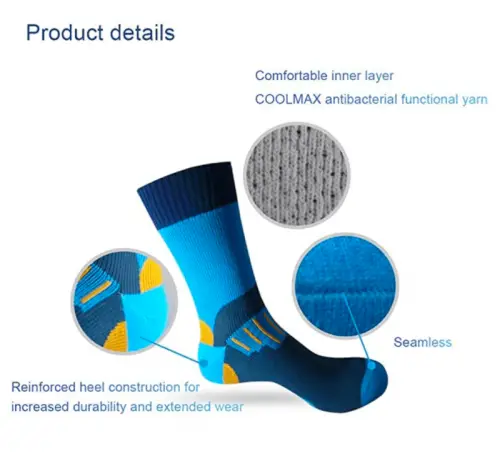 For a wonderful combination of form and function along with odor mitigation, the Randy Sun Waterproof socks are a great choice. Featuring a seamless design for extra comfort and a tighter cuff for a secure fit, these socks will withstand any sort of adventure.
Read more
Fit
The Randy Sun socks are designed to be form-fitting, especially around the cuff, so take your time putting them up and roll them up slowly; as such, they aren't likely to slide down over the course of wearing them. These are crew-length socks with unisex sizing and come in a variety of colors.
Materials
These feature a three-layer design: the outermost layer is waterproof nylon and Lycra, a lightweight and breathable waterproof membrane serving as the interlayer, and a Coolmax and elastane lining. This ensures extra waterproofing while still offering adequate ventilation and moisture-wicking to keep your feet dry in even the most humid conditions.
Features
The seamless design adds comfort and helps accommodate for any foot shape, which is paramount in unisex socks. Layers of lycra and Coolmax facilitate proper ventilation so your feet will stay dry and comfortable even for longer treks. Anti-microbial materials are included to control odor.
Water Resistance
While these socks provide great ventilation and breathability while still being waterproof, they don't offer too much in terms of heat insulation. In the event of extreme temperatures, it's best to pair these with wool socks or boots designed specifically for the cold. They're also a shorter length than most Gor-Tex socks, and as such water can get in them if it reaches over the cuff.
The outer layer is made from 74% waterproof nylon and is made from a breathable waterproof membrane. These socks are 100% waterproof and breathable and are great for outdoor activities.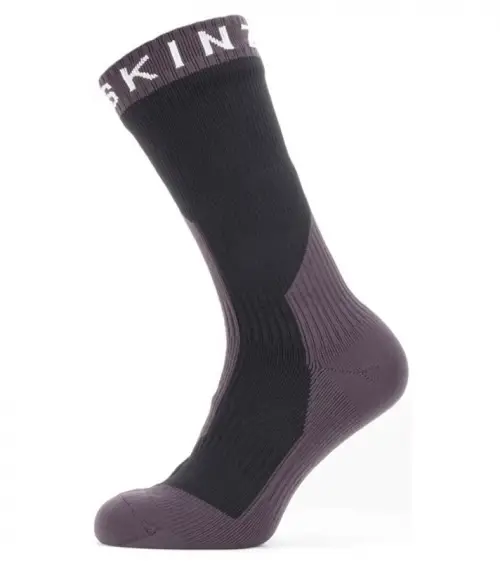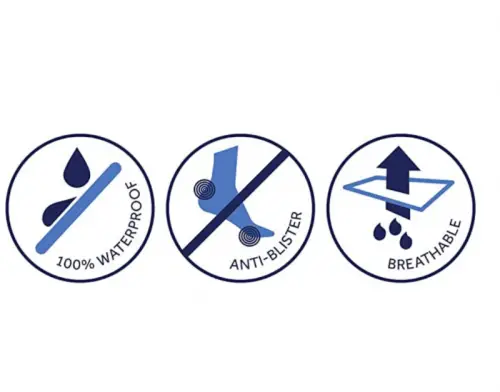 Being one of the leaders in the industry, SealSkinz does not disappoint with their waterproof socks. They keep water out and can stand up against the elements, but are comfortable enough to not need to wear standard socks underneath.
Read more
Fit
The lycra spandex outer layer gives these socks a good amount of stretch and a comfortable fit, and shouldn't take too much difficulty to put on. The SealSkinz socks offer ample accommodation for any inner socks you may need to wear with them, without compromising fit if you wear them as is.
Materials
The mid-calf socks are made of a lycra outer later and a Merino wool interior, making this ideal for cold weather when thicker socks are essential. An elasticized instep and ankle provide additional support, while the hard-linked toe closure and Y-Gore heel construction ensure a proper and comfortable fit.
Features
Immersion tests, as well as people's experiences with these socks have indicated that they are completely waterproof. This along with their wool design make them best suited for colder activities, such as winter hiking and snowshoeing. They weigh about 5.4oz (153g) per pair, making them a lighter weight choice in regards to thicker socks.
Water Resistance
Given that these are a thicker wool construction, you won't need to worry about the cold, but breathability for these socks is decent at best. It isn't a significant hindrance, but it is enough to make the socks feel somewhat chilly as a result of sweat. This sock has a great combination of breathable, waterproof, and windproof technology.

4

. Gore Bike Wear Universal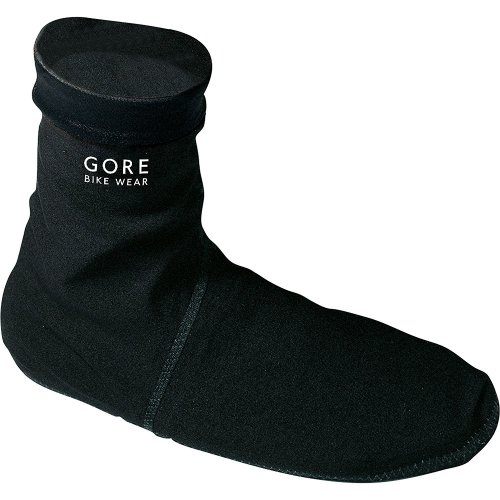 These Gore-Tex bike wear socks are one of the top choices on the market. They are perfect if you are planning on hiking in highly humid areas. Choosing the right waterproof boots for hiking is essential for a good hike. They are ideal for hikers, backpackers, bikers, kayakers or hunters who spend most of their day in humid areas.
Read more
Fit
There are only a few companies that are manufacturing these socks and there is a good reason for this. Even though the manufacturer claims that they are very breathable, their breathability properties are taken to a minimum. When tested, these socks have been put underwater pressure. For this reason, it is safe to assume that they have little or no holes.
Materials
Their content is a combination of polyamide, which is the main ingredient in every Gore-Tex product, elastane, in order for them to fit better and so that you could take them on easier, and a Gore-Tex membrane. The inside shell is made from a blend of polyamide and elastane. Its combination of different materials allows the user to feel comfortable while wearing them. The inside of the socks was also completely dry.
Features
Even though these socks are well known for their waterproof properties, they have some other features which you might find useful. They are also windproof which would prove very useful up on the skiing lift. The windproof properties make them ideal for bikers, as well. They also have extra elastane material on the cuffing in order for them not to slip while you are wearing them. This will also prevent blisters.
Water Resistance
For this pair of socks, the core garment is a waterproof, windproof, breathable membrane. The socks are known for being water-resistant and have pores that are so small that the Gore-Tex membrane is repellent to water and is completely waterproof.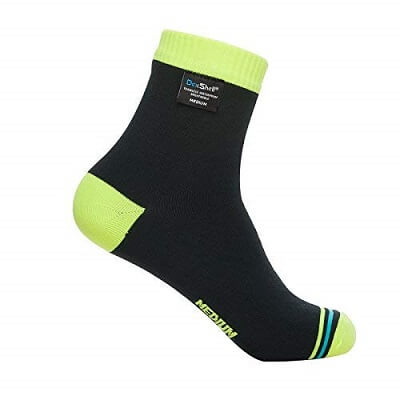 Sometimes you don't need a calf- or knee-length sock, and this is where the Dexshell Ultralite socks come in. With an ankle-length design that doesn't compromise durability, these are best for warmer weather, be it hiking, biking, or simply walking the dog in the rain.
Read more
Fit
The Dexshell Ultralite socks are ankle length and lightweight, with a cotton and nylon inner sock to ensure comfort and reduce the likelihood of blisters. The porelle interlayer ensures strong waterproofing, without making the socks too thick.
Materials
These are another wonderful three-layer sock. The outer layer is composed of nylon and elastane for waterproofing and a secure, snug fit. The interlayer is a porelle membrane that reinforces waterproofing while allowing for ventilation and moisture-wicking. The inner sock is a cotton and nylon blend to keep you comfortable on even the longest of adventures. The cuff is brightly colored for enhanced visibility.
Features
As stated above, the cotton inner sock works to prevent blistering, which is very important for longer activities. The thin design will ensure a good fit in any shoe - even light running shoes will lace up comfortably with these. Being ankle length makes these wonderful for warmer weather when a longer sock may not be ideal, and the elastic cuff means you won't have to deal with them slipping.
Water Resistance
While these socks offer superior waterproofing, they are also shorter than most Gore-Tex socks, being only ankle length. The socks may get wet if exposed to deeper water or snow, so for those conditions, a longer option may be preferable. If water does get into these socks, it can be difficult to get them completely dry, though the same can be said for most waterproof socks.



Many designs out there on the market are built for cold temperatures, but soggy feet are a real problem when it's warm as well.
Read more
Fit
The very first thing that we noticed about this design is that it boasts a much lower profile than some of the other designs that we have seen so far. It sits just above the ankle, which makes it ideal for running in warmer climates. Plus, the materials used work to effectively wick away water when running in soggy conditions.
Materials
This sunlight design from Gore is composed of easy and lightweight materials that will keep your feet cool as well as dry when running in warmer temperatures. Plus, they come in at a price point that won't break the bank.
Features
We also like that this tough design boasts additional padding where you need it most. It has reinforced padding in the entire footbed to provide extra cushioning and support and doesn't wear down as quickly as other designs. While it may cost a bit more than some of the other designs that we have seen, this pair of socks are made to last for hundreds of miles.
Water Resistance
If you are in the market for something that is made for warmer temperatures that help to keep your feet cool and dry when running in rainy conditions, this design from Gore is a great option. We love that it provides runners with additional padding and support to keep your feet comfortable as you train.

Subscribe to our Newsletter