Best Winter Hiking Boots
In a
Hurry? Editors choice: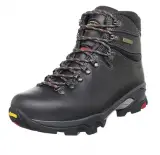 Test Winner: ZAMBERLAN 996 VIOZ GT

Few things in life are as wonderful and as relaxing as a long hike in the woods. While some of you will probably debate the relaxing part, it goes without saying that it is an activity that many people love. However, there are some of you out there who are willing to brave the cold and do so in the winter. If you are one of these crazy individuals, then you are going to need a high-quality pair of best winter hiking boots to enhance the overall experience.

Because you will need the extra element of sufficient insulation, normal models are just not going to cut it most of the time. And, although this footwear can be a pricy investment, it will be worth it for most of you.
Standout Picks
Criteria Used for Evaluation
Insulation
What winter hiking boots do best is keep your feet warm that much is for sure.
What good is a pair of hiking boots in the winter if they can't keep your feet warm? They are just a normal pair of warm-weather hiking boots that is what they are. Clearly, that is not what you are looking for and if it is, then you have come to the wrong guide. For cold-weather models, though, you will want to look for some key features that will enhance the overall warmth. Of course, this all starts with the insulation. Some sellers will indicate just how much insulation their model sports, typically in grams. And, they will also list the type of insulation they used with an extremely popular one being Thinsulate insulation. The thicker the insulation, the warmer your feet are going to be.
However, most models are also going to be waterproof. This is huge because if you plan to hike in the winter, chances are snow is going to be on the ground. With a waterproof shell (with Gore-Tex being a common, albeit expensive, option) and a gusseted tongue (which will have the tongue sewn into the sides of the interior), your feet are much more likely to stay dry. Oh, and in regard to warmth ratings, understand that there is no standard way of measuring warmth. This is more of an estimate rather than an actual accurate proclamation.
Fit
No matter the footwear you buy, they need to fit your feet correctly.
Unless some miraculous technology is created that eliminates the need for you to find footwear that fits your feet properly, this will always be a top priority no matter what. A common theme with most winter hiking boots, however, is that they tend to run small. A lot of times, reviewers will advise you to order a size larger than you normally would. And, if the general consensus is that a specific model runs small, it is recommended to adhere to the advice of the general public.
Now, in regard to how winter hiking boots should fit, in the first place, it is much the same as normal shoes. You want to minimize the heel lift (which means the heel should be snug) but you also want to have some wiggle room in the toe box. The last thing you want is for the boot to be too loose or too tight that is for sure. The best advice, really, is to see what other buyers have said about the sizing and fitting.
Durability
Come on now, do you really want to buy hiking boots that will need to be replaced within a few months?
If the last thing you want is boots that do not fit you correctly, then the second thing is a model that is not going to last. Here is the good news; the best winter hiking boots will not undergo the normal wear and tear of your regular pair of boots. The main reason is when used in colder weather, you will avoid the abrasive effects that dirt and gravel can have. However, you still need to look for a model that is expertly crafted with high-quality materials.
Some main areas you can assess are sole and the upper. These are generally heavier wear areas of footwear and ensuring both are made of high-quality materials (such as leather and nylon for the upper and rubber for the sole) is optimal. Much like with the fitting, you can also conduct some research of your own to see what previous buyers have to say. Generally, the most common durability concern is going to be tearing of the seams. Thankfully, this is a repairable issue with the use of some heavy-duty seam sealer.
Outsole
Chances are, you are going to encounter some slick terrains and that means you will need to place an emphasis on the outsole.
With winter conditions come slick and slippery terrains and this is something that you are fully aware of. Anyone who has ever slipped and fallen right onto their face on ice can attest to this. To combat this, you will need to look for winter hiking boots that implement proper outsoles (also known as soles). In addition to having deep tread, an ideal outsole will also sport rugged lugs. These will help to provide even more traction when you walk on loose snow. And, when you think of this kind of sole, Vibram comes to mind first.
All around the world, various consumers have raved about Vibram soles claiming them to be highly durable, slip-resistant, and efficiently stable. Of course, if you are worried that this is not going to be enough, you can always add additional accessories such as microspikes to your boots. Microspikes will work with practically any hiking boot and they are pointed pieces of metal that are connected to short chains. They wrap around your footwear and provide even more traction.
Comfort
Much like with achieving a proper fit, you want boots that will be comfortable to wear.
Even though this type of footwear has a reputation for being stiff, there are actually some vital features that you need to look out for in regard to the comfort. For starters, how about the midsole? In any shoe or boot, this is the area that is going to deliver cushioning and shock absorption. While you will probably not be running with hiking boots, having ample cushioning is ideal and an EVA midsole will accomplish just that. In addition, analyze the design of the cuff. Not only can a well-designed cuff trap in heat but it can also add comfort if it is soft to the touch.
Oh yeah, and even a minor feature such as a removable inner liner can be beneficial. If you plan to hike for a weekend trip, for example, you could remove this liner to allow it to dry (to avoid excess moisture). Lastly, a reinforced toe cap should also be in order as this will not collapse the front of the boot (which can result in blisters otherwise).
OUR TOP PICKS FOR THE BEST WINTER HIKING BOOTS
Subscribe to our Newsletter