Best Winter Hiking Boots
In a Hurry? Editors choice:
Test Winner: OBOZ BRIDGER

Few things in life are as wonderful and as relaxing as a long hike in the woods. While some of you will probably debate the relaxing part, it goes without saying that it is an activity that many people love. However, there are some of you out there who are willing to brave the cold and do so in the winter. If you are one of these crazy individuals, then you are going to need a high-quality pair of best winter hiking boots to enhance the overall experience.

Because you will need the extra element of sufficient insulation, normal models are just not going to cut it most of the time. And, although this footwear can be a pricy investment, it will be worth it for most of you.
Standout Picks
Criteria Used for Evaluation
Insulation
What winter hiking boots do best is keep your feet warm that much is for sure.
What good is a pair of hiking boots in the winter if they can't keep your feet warm? They are just a normal pair of warm-weather hiking boots that is what they are. Clearly, that is not what you are looking for and if it is, then you have come to the wrong guide. For cold-weather models, though, you will want to look for some key features that will enhance the overall warmth. Of course, this all starts with the insulation. Some sellers will indicate just how much insulation their model sports, typically in grams. And, they will also list the type of insulation they used with an extremely popular one being Thinsulate insulation. The thicker the insulation, the warmer your feet are going to be.
However, most models are also going to be waterproof. This is huge because if you plan to hike in the winter, chances are snow is going to be on the ground. With a waterproof shell (with Gore-Tex being a common, albeit expensive, option) and a gusseted tongue (which will have the tongue sewn into the sides of the interior), your feet are much more likely to stay dry. Oh, and in regard to warmth ratings, understand that there is no standard way of measuring warmth. This is more of an estimate rather than an actual accurate proclamation.
Fit
No matter the footwear you buy, they need to fit your feet correctly.
Unless some miraculous technology is created that eliminates the need for you to find footwear that fits your feet properly, this will always be a top priority no matter what. A common theme with most winter hiking boots, however, is that they tend to run small. A lot of times, reviewers will advise you to order a size larger than you normally would. And, if the general consensus is that a specific model runs small, it is recommended to adhere to the advice of the general public.
Now, in regard to how winter hiking boots should fit, in the first place, it is much the same as normal shoes. You want to minimize the heel lift (which means the heel should be snug) but you also want to have some wiggle room in the toe box. The last thing you want is for the boot to be too loose or too tight that is for sure. The best advice, really, is to see what other buyers have said about the sizing and fitting.
Durability
Come on now, do you really want to buy hiking boots that will need to be replaced within a few months?
If the last thing you want is boots that do not fit you correctly, then the second thing is a model that is not going to last. Here is the good news; the best winter hiking boots will not undergo the normal wear and tear of your regular pair of boots. The main reason is when used in colder weather, you will avoid the abrasive effects that dirt and gravel can have. However, you still need to look for a model that is expertly crafted with high-quality materials.
Some main areas you can assess are sole and the upper. These are generally heavier wear areas of footwear and ensuring both are made of high-quality materials (such as leather and nylon for the upper and rubber for the sole) is optimal. Much like with the fitting, you can also conduct some research of your own to see what previous buyers have to say. Generally, the most common durability concern is going to be tearing of the seams. Thankfully, this is a repairable issue with the use of some heavy-duty seam sealer.
Outsole
Chances are, you are going to encounter some slick terrains and that means you will need to place an emphasis on the outsole.
With winter conditions come slick and slippery terrains and this is something that you are fully aware of. Anyone who has ever slipped and fallen right onto their face on ice can attest to this. To combat this, you will need to look for winter hiking boots that implement proper outsoles (also known as soles). In addition to having deep tread, an ideal outsole will also sport rugged lugs. These will help to provide even more traction when you walk on loose snow. And, when you think of this kind of sole, Vibram comes to mind first.
All around the world, various consumers have raved about Vibram soles claiming them to be highly durable, slip-resistant, and efficiently stable. Of course, if you are worried that this is not going to be enough, you can always add additional accessories such as microspikes to your boots. Microspikes will work with practically any hiking boot and they are pointed pieces of metal that are connected to short chains. They wrap around your footwear and provide even more traction.
Comfort
Much like with achieving a proper fit, you want boots that will be comfortable to wear.
Even though this type of footwear has a reputation for being stiff, there are actually some vital features that you need to look out for in regard to the comfort. For starters, how about the midsole? In any shoe or boot, this is the area that is going to deliver cushioning and shock absorption. While you will probably not be running with hiking boots, having ample cushioning is ideal and an EVA midsole will accomplish just that. In addition, analyze the design of the cuff. Not only can a well-designed cuff trap in heat but it can also add comfort if it is soft to the touch.
Oh yeah, and even a minor feature such as a removable inner liner can be beneficial. If you plan to hike for a weekend trip, for example, you could remove this liner to allow it to dry (to avoid excess moisture). Lastly, a reinforced toe cap should also be in order as this will not collapse the front of the boot (which can result in blisters otherwise).
OUR TOP PICKS FOR THE BEST WINTER HIKING BOOTS
1

. LA SPORTIVA NEPAL EVO GTX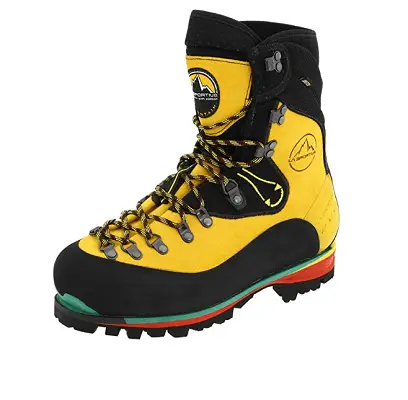 After you take the time to break this bad boy in, you will be relishing in its design. Not too many of you will be willing to spend this much money on hiking boots, however.
Read more
Insulation
The combination of the Gore-Tex lining and the Thermo nine-millimeter insole provide exceptional warmth and insulation.
Fitting
One user went out of their way to proclaim the Nepal EVO GTX the best fitting boot they had ever tried. That is pretty high praise and, of course, the adjustable tongue makes achieving the perfect fit much easier.
Durability
To say that this model is expertly crafted is an understatement. The EZ-Roller hardware and silicone impregnated leather are just two examples of why.
Outsole
Integrated into this model is a Vibram sole and this provides an incredibly durable and slip-resistant bottom.
Comfort
While it is going to take some time to break this in, the SBR Aircushion provides superb shock absorption. Additionally, the superb fit also does enhance the overall comfort.
Overall
Yes, this is going to break your bank a little but it is hard not to marvel at the quality. Once again, if you are serious about this, here is your top contender.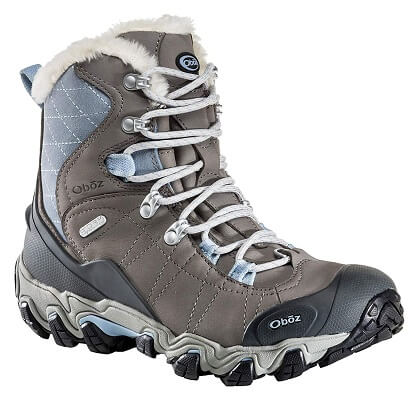 When it comes to keeping your feet warm, let's just say that this designer knows a thing or two. Above all else, that is what this next option is going to perform arguably better than any other.
Read more
Insulation
Outside of the breathable and waterproof membrane that is integrated here, this is also designed with 400 grams of premium 3M Thinsulate insulation.
Fitting
What you will often see with these types of boots is they will run small and that is exactly the case with this option. Ordering a size up may be in your best interest.
Durability
Other than one user who reported that one of the lace eyelets broke off, this appears to be an extremely well-made and long-lasting boot.
Outsole
A lot of thought was put into the design of the outsole. First off, it sports winterized rubber that is specially formulated to grip harder in snowy conditions. Secondly, the map that is molded into the bottom of the outsole features Granite Peak.
Comfort
Granted you achieve the right fit, everything else plays out for itself in regard to the comfort. This includes the dual-density EVA midsole, TPU chassis for protection and nylon shank for enhanced support.
Overall
In many ways, this is the best and most practical option on this entire list. That is, granted you can buy a size that fits you correctly as this has been a bit of a pain for other buyers.

3

. THE NORTH FACE CHILKAT III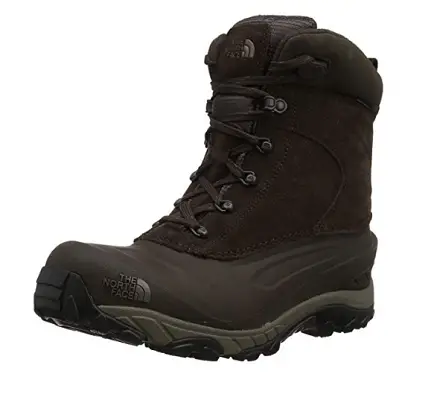 The North Face has made a killing with their Chilkat line of winter hiking boots and their third one is arguably their best one yet. Part of the reason why is thanks to its superb insulation.
Read more
Insulation
If one thing is for sure; your toes will not get cold in the Chilkat III. This is thanks to the 200 grams of Heatseeker insulation and the injection-molded, waterproof TPR shell.
Fitting
Due to the thickness of the insulation, it may be in your best interest to size up with this model. Of course, due to the circumstances, this is not a bad compromise.
Durability
Now, one buyer did report that they experienced busting at the seam within a month's use. Overall, the rustproof hardware and other top-end materials, however, do make for a fairly durable boot.
Outsole
In addition to the fact that a TNF Winter Grip rubber sole is implemented here, the sole itself sports rubber lugs that are temperature-resistant (and these will enhance the overall traction).
Comfort
EVA is one of the most popular foams when it comes to footwear manufacturing. The North Face is fully knowledgeable of that and designed their model with a compression-molded EVA midsole.
Overall
Did The North Face ever hit the nail on the head of the hammer here? The design of the Chilkat III speaks for itself, really, and offers superb insulation and excellent waterproofness.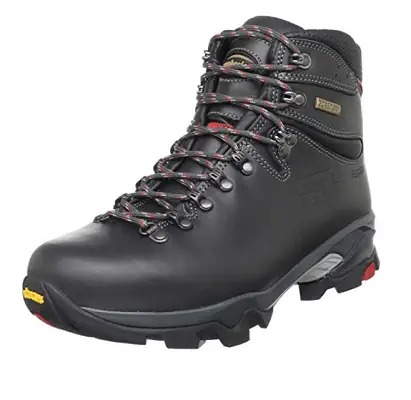 This is yet another model that is designed with Gore-Tex and that makes it both waterproof and breathable. It is also handcrafted in Italy, so there is that.
Read more
Insulation
As mentioned, this is another model with Gore-Tex. Now, the thing about the Vioz GT is the membrane is made of the premium fabric. Also, the Microtex wicking nylon collar lining helps to control the moisture.
Fitting
While one buyer did claim that this model fit them well, they made mention of the fact that a size smaller (one-half) would have done them better. This is a bit unique seeing as most winter hiking boots will run small.
Durability
Due to the lone fact that this was handcrafted in Italy, you know that the quality is going to be high. In addition, the integrated outsole is also extremely durable.
Outsole
Part of the reason the sole is so durable is that it is Vibram. Now, the aggressive tread pattern that is implemented is terrific but it does have its downsides. One, in particular, is that your traction on slippery, smooth surfaces is going to be dreadful.
Comfort
As with some of other winter hiking boots, this is quite heavy and stiff. However, the Zamberlan Flex System does allow for proper foot flex without compromising support.
Overall
Even as a top two model, this does have some minor hiccups. But, what product out there does not? Easily, these slight flaws can be overlooked thanks to the overall design.

5

. THE NORTH FACE CHILKAT II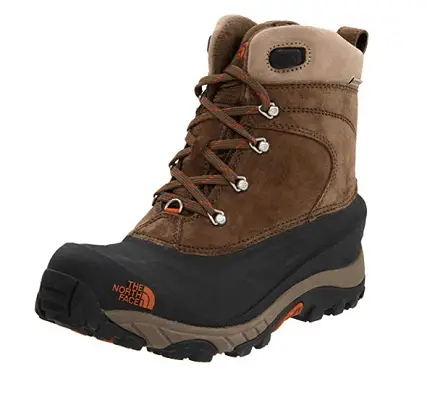 This is a prime example of a product that has been overshadowed by its successor. Yet, does that mean that the Chilkat II is obsolete? No, and it is still one of the better options out there.
Read more
Insulation
The Chilkat II is advertised to handle temperatures down to -25 degrees. Now, whether or not this is accurate is up in the air. But, it is built with PrimaLoft Eco insulation and a waterproof shell.
Fitting
It is one thing when a few buyers complain about a particular feature but it is another when several do. The general consensus is that the Chilkat II runs small (with some even saying very small).
Durability
For the most part, the quality of these winter hiking boots have been lauded by previous users. One tester did note, however, that one of the metal lace holders did rip out.
Outsole
Thanks to the implementation of the Icepick snow traction sole, you will be able to achieve an optimal grip on frozen and slippery terrains.
Comfort
Not only does the natural warmth provided from this boot enhance the comfortability but so does the built-in Dri-Lex fleece collar.
Overall
You see, the Chilkat II is still worth talking about. Perhaps The North Face will completely outdo themselves to put this one to rest but, until then, this will remain a top choice.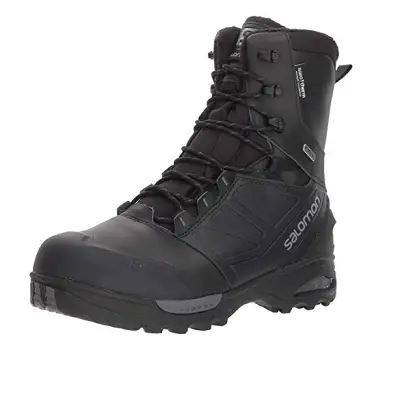 If you are beginning to notice a theme it is that most of the top-end winter hiking boots on the market offer remarkable insulation and warmth. As you guessed, that is present with this next model yet again.
Read more
Insulation
This is ready for the frozen tundra that much is for sure. With NASA technology and a full waterproof bootie, this is claimed to keep your toes warm to -40 degrees.
Fitting
Here is what is interesting; the toe box of this boot is actually really wide. But, as multiple buyers have documented, it still tends to run on the small side.
Durability
A downside might be this model's durability, according to one user who experienced tearing at the seams. That is only one instance, though.
Outsole
If you are worried about slipping on slick terrains when you are hiking, then this is a sole that you will utterly love. It sports aggressive treads that allow you to trudge through snow and ice with ease.
Comfort
Per the words of a previous buyer, these hiking shoes for winter are a little stiff. If you (or whoever you are buying winter hiking boots for) need to crouch down a lot with these on, you will feel the stiffness often.
Overall
The Toundra Pro is a lot like other top-end models in that it features excellent insulation with questionable sizing and a bit of stiffness. That is about the standard it seems.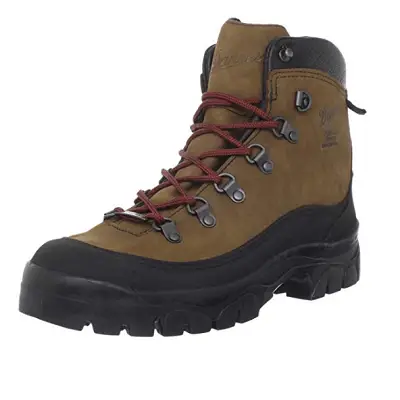 It is worth noting that these winter hiking boots from Danner are actually not insulated. However, it is built with a Gore-Tex membrane making it fully waterproof. With thermal hiking socks, this still should be a suitable model for average winter days.
Read more
Insulation
Again, these are technically not insulated winter hiking boots. It makes an appearance on this list mainly due to its Gore-Tex membrane. This will prevent any snow or moisture from seeping through and when paired with thermal socks, or even maybe with trekking gaiters, can do a pretty good job providing warmth.
Fitting
The fit of the GTX boot may be the best feature, honestly. It provides a snug fit but there is also enough room in the toe box to prevent cramping.
Durability
To say the attention to detail here is exquisite is putting it lightly. In addition to the all-leather construction, this is also outfitted with a fiberglass support shank with an abrasion-resistant rand.
Outsole
The deep, multi-directional lug pattern of the rugged Vibram sole does wonders to enhance the traction you receive on various terrains.
Comfort
Now, the collar is padded and the footbed does provide solid cushioning. However, virtually no support is provided and this can be hard to break in.
Overall
A lot of you will scoff at this appearing on this list. Sure, it may not be the best option for brutal temperatures but various features make it ideal for average winter hikes.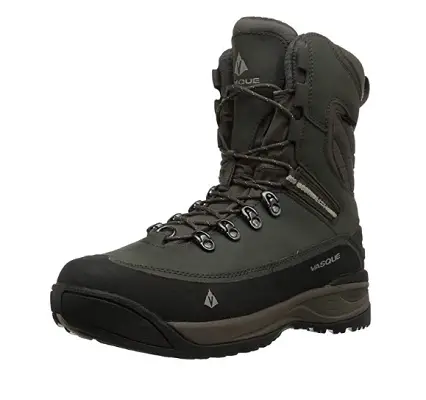 Hey, would you look at that? The Snowburban II is another top choice that runs small. With that aside, it really is perfect for winter use thanks to its 400 grams of 3M Thinsulate insulation.
Read more
Insulation
In addition to the aforementioned 400 grams of insulation, the Snowburban II is also outfitted with terry loop wool collar lining which also enhances the warmth. Oh yeah, this is also designed with an UltraDry waterproofing system.
Fitting
Yep, the beans were spilled earlier so you are already aware that this tends to run small. Do yourself a favor and order a size larger than you normally would.
Durability
Sometimes, it is actually a good sign when something is not discussed. Very rarely do previous buyers have any disparaging remarks in regard to the durability of this model.
Outsole
The Nordic Rover sole that has been implemented is also designed with Vasque ColdHold Compound. This is going to help provide you with optimal traction.
Comfort
Though the hard lower section can be difficult to break-in, the dual-density EVA footbed does wonders to improve the overall comfortability here.
Overall
What more is there really to say here? In a way, this is a cliché winter hiking boot as it sports incredible insulation with a fit that is smaller than what you will be accustomed to.

9

. COLUMBIA BUGABOOT PLUS III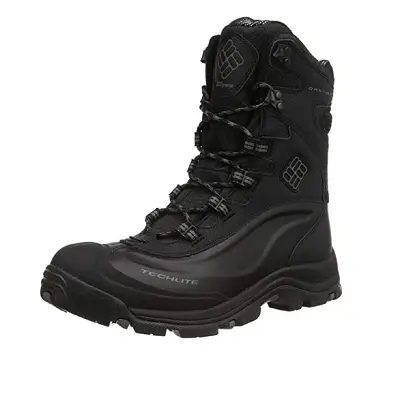 In actuality, the Bugaboot Plus III from Columbia has everything you would ever want in a good pair of winter hiking boots. Yet, the value is hurt by a few things.
Read more
Insulation
Yep, these are most certainly winter boots. In addition to the 200 grams of insulation and the Omni-Heat reflective lining, this is also outfitted with seam sealing to ensure waterproofness.
Fitting
To nobody's surprise, really, the Bugaboot Plus III is another model that tends to run small. It is a broken record at this point, is it not?
Durability
The combination of the leather, nylon and metal hardware makes for the high-quality design. In spite of this, one buyer did make mention of the fact that an abrasion developed on the side of theirs.
Outsole
An Omni-Grip, non-marking traction rubber outsole has been designed into the Bugaboot Plus III. This will indeed enhance your traction.
Comfort
Once you get past the break-in phase, you can then start to relish in the comfort of this boot. It sports a lightweight midsole with superior cushioning and a high-energy return.
Overall
When you take into consideration this design as a whole and then when you factor in that Columbia engineered it, it makes you realize just how great it truly is.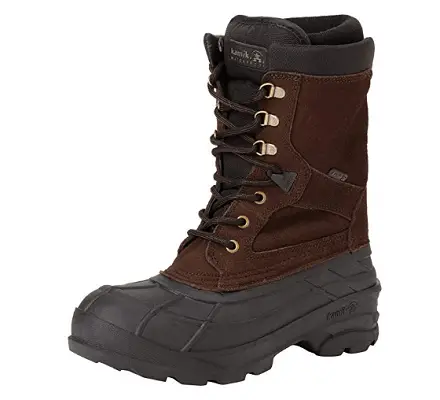 Kamik designed winter hiking boots that does its job perfectly. Yet, it would not have hurt for them to optimize it a bit more for ankle support. Granted, that is not the main purpose of this type of footwear.
Read more
Insulation
Very few users will have any issues with the insulation of this last boot. Past the 200B Thinsulate insulation, additionally, is seam-sealed waterproof construction.
Fitting
The rustproof speed lacing system is a nice touch as it allows for a custom fit while also not succumbing to rust. However, once again, this does tend to run small.
Durability
For the record, this has been engineered with a synthetic rubber shell. In another direction, one buyer did note that the sole seems to be a little too thin.
Outsole
Again, the sole of this boot is a little thin. Also, it flexes very easily which equates to little to no ankle support or toe protection.
Comfort
In addition to the lack of ankle support, this can also be very stiff much like most hiking boots. Of course, the comfort antimicrobial footbed does help with the overall comfort.
Overall
Considering there are nine models out there that are better than this one, the quality is pretty impressive. In fact, this is a nice option if you do not want to break the bank.

Subscribe to our Newsletter