9 Best Winter Boots – 2021 Reviews
In a
Hurry? Editors choice: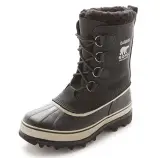 Test Winner: Sorel Caribou

Winter boots are one of the most practical pieces of winter gear you can have. They will keep you warm, safe, and comfortable as the temperatures drop.

There are many different types of winter boots, some warmer than others, and some with more traction. Knowing what type of activities you plan on indulging in ahead of time will help you to make a better decision when choosing a boot.

To help steer you in the right direction, we have rounded up some of the best winter boots that are currently available and rated them accordingly to show you their specific features and downfalls.
Standout Picks
Criteria Used for Evaluation
Comfort
Comfort is an important factor to consider when purchasing winter boots because you want to make sure they feel great on your feet or you might not ever use them.
When we analyzed comfort, we discussed the feel of the boots, such as a cushioned sole, tongue padding, a soft fur lining, and how tightly or loosely the boots hug your feet.
In addition to the materials that line the inside of the boots, we also investigated their warmth, breathability, and insulation. These three factors are incredibly important as well but sometimes overlooked.
Breathability is one of the most important features of a boot because if there is no ventilation in your boots, sweat can build up and lead to rubbing and blisters. Also, no one wants to keep their feet sitting in a pool of their own sweat.
Features
Features are important when analyzing your winter boots.
When we took a look at features, we talked about the weather resistance found in each boot and the type of traction system.
Weather resistance is determined by the materials that the shoe is made from and how they can keep your feet safe from the harsh winter elements. A rubber sole is always a great thing to look for because it will help to keep your feet dry. Another great thing to look for is a DWR (durable water repellent) finish. Many rain jackets have a DWR finish, and while this can fade over time with washing, you can always re-finish your boots.
Traction is another feature that we looked at with each pair of boots. Snow and ice can be very dangerous to walk on but a boot with great traction can help you to stay upright. Winter boots with poor traction are comparable to a car with bald tires. It is incredibly dangerous and difficult to manage.
Ease of Use
We analyzed ease of use for all of the products on our list.
With that, our primary focus was on the lacing systems of these boots and how easy the boots are to get on and off.
Lacing systems of winter boots can be a bit tricky. A lot of these boots go up over the ankle and a tight fit is important. While shoes with laces are typically easier to get on and off, each boot features a different lacing system and can take some getting used to.
Boots without laces fit the needs of some people and are typically more stylish. However, these are sometimes harder to pull on and off your foot.
Another thing to pay attention to with boots without laces is the opening on the top. Is there a feature to keep the snow from falling into your boot or will they fit comfortably around your calf?
Traction
To avoid a nasty spill in a winter wonderland, you are going to want to take a look at the traction of each winter boot.
The packed sections of ice can disguise themselves among the powder and sneak up on you. A pair of winter boots with great traction can help keep you safe and upright.
You can see the traction system by looking at the sole of the shoe. Rubber has proven to be the most durable material for a sole. You'll also want to look at the tread system. The larger the tread system, the safer you'll be.
Some winter boots feature lugs as well. Lugs are for the serious outdoorsman who will be working or spending a lot of time in the snow.
Value
When we analyzed value for each product on our list, we considered each factor: price, durability, comfort, features, and all of the other factors the boots had to offer for the price.
Winter boots are not cheap, but they are a necessary investment. Something else that you may want to look into before buying a pair of winter boots is the brand's reputation. Some brands offer a lifetime warranty and have great customer service. Others offer one or the other, or nothing at all.
You will most likely recognize most of the brands on our list and know that they have been keeping customers happy for many years.
Subscribe to our Newsletter