Best Ice Grippers for Shoes
In a Hurry? Editors choice: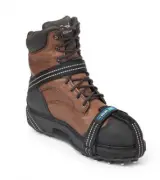 Test Winner: STABILicers Heavy-Duty Cleats

The reality is just because winter comes and brings with it icy conditions; it does not mean you need to stop partaking in your favorite activities. Of course, perhaps you
work outdoors
and have to contend with the nature of ice quite often. Either way, you may be in line to look for some new ice grippers for shoes.
Otherwise known as ice cleats, this is equipment that is used to enhance your traction in icy and snowy conditions. But, some will be
better for hiking
and others will be better for running and general walking and so on and so forth.
From model to model, the materials and overall design can differ quite a bit. So, it is up to you to educate yourself on what it takes to buy the best ice grippers for shoes. Thankfully, we are here to guide you.
Standout Picks
Criteria Used for Evaluation
Traction
Without question, the ice grippers you buy need to be able to enhance your grip in icy conditions.
At the end of the day, you need to buy ice grippers for shoes that are going to deliver you the traction you require. Now, the word "require" is essential here as you need to factor in many outside variables when you go to buy ice cleats for shoes. For example, the terrain and conditions you plan to encounter can alter the cleats you end up going with.
And, while you may still find ice grippers with hinged or rigid constructions, the most common ones will sport semi-rigid constructions. Part of the reason why they are familiar is cleats of this nature will sport superior performance without the nuisance of slowing you down. Additionally, semi-rigid ice cleats are also quite versatile in their usefulness.
Of course, you should also pay attention to the design of the studs. In addition to the fact that they should be aggressive to grip into ice and another such terrain, you also need to pay attention to where they are positioned on the cleats. Ideally, most of the points will be right beneath the instep.
Oh, and as for how many studs you should look for, this can vary. Some models will sport upward of 18 different points or studs. But, most commonly, you will see right around 10 to 12 points, and this is fine too.
Durability
What you want to look for are models that are built with high-quality materials.
It is safe to assume that most of you will not be interested in purchasing cheaply-made ice grippers for shoes. Now, with that said, there are more affordable options out there that will not last as long, and these can still be good. Anyway, back to business, the first order is to assess the design of the cleats themselves.
Most of the time, they will be made out of either steel or stainless steel. While both steel and stainless steel cleats are very durable, stainless steel variations have the added advantage of corrosion resistance. Then again, there are also aluminum options out there. But, when compared to steel, these are going to wear much faster.
Now, something else to talk about is heat treating. A lot of the times, top-end ice grippers for shoes will sport heat-treated steel cleats. To put it, when metal is heat-treated its toughness, hardness, and strength are all enhanced.
Oh, and do not forget about the design of the soles if the ice grippers come with them. The best ones will be made with what is known as a thermoplastic polymer. This sports the performance and properties of rubber but is processed like plastic.
Stability
For this section, you want to pay attention to the binding attachment systems.
For this section, your primary focus needs to be on the different types of bindings that ice grippers can be designed with. Most commonly, there are three types, and these are used to attach the cleats to your footwear. You have a strap-on, step-in, and hybrid bindings.
Starting with strap-on bindings, these are great if you wear boots for walking on ice. These are designed to run from your heel to your toe and typically come with nylon webbing straps. For the most part, they are best suited for non-technical terrain.
Now, if you do plan to traverse technical terrain, then you may want to consider ice cleats with step-in bindings. Being equipped with both a cable heel piece and a lever, these allow you to achieve maximum traction. Hence, this is why they are better for more technical terrain.
And, as you may have expected, hybrid bindings are both strap-on and step-in designs combined. You can think of them as the best of both worlds, and they allow for maximum versatility. And, to wrap this section up, no matter the design of the bindings, you should ensure that they will remain stable on your feet.
Size
What you also need to ensure is that the cleats you buy fit your current shoes or boots.
Because you need to actually attach ice grippers to your shoes or hiking boots, you need to pay attention to ensure that you buy the right size. After all, you do not merely just wear ice cleats for shoes on your feet as they would be stupendously painful. And, while there are one-size options out there, others will come in various sizes.
Depending on the binding style, some models will come in sizes ranging from extra-small to extra-large. Finding the right size is going to be critical as cleats that are too small will not attach to your shoes and those that are too large will be too unstable.
The question is, though, how do you know which size is right for you? You can't try them on, so to speak, after all. In addition to looking through consumer feedback, it is also recommended to see what the manufacturer recommends. They may even provide you with a sizing chart and this can be useful.
Portability
If you do not want to wear your ice grippers at all time, look for them to be portable.
This section may come across as unnecessary or pointless but it is the complete opposite when you stop and think about it. After all, you may not want to wear your ice grippers for shoes all the time. And, wearing them on specific terrain can eat away at the studs and wear them down quicker.
So, whether you need them for hiking, climbing, or anything else, you may want to attach them to your shoes or boots when the time comes. What this means is they need to be easy to transport and travel with. Thankfully, this will be the case most of the time.
First off, most ice grippers for shoes will be lightweight. They are not going to add much weight to your load, and that is always a good thing. Secondly, some will be able to be folded or rolled down compactly. This can be a real space saver and can come into play if you already carry a ton of other items with you.
Oh, and one last thing, some sellers will even provide you with a dedicated carrying bag. These bags will often be puncture-resistant to handle the rough and abrasive nature of the studs. Then again, you can always account for a bag of this nature yourself.
Our Top Picks for the Best Ice Grippers for Shoes
1

. STABILicers Heavy-Duty Cleats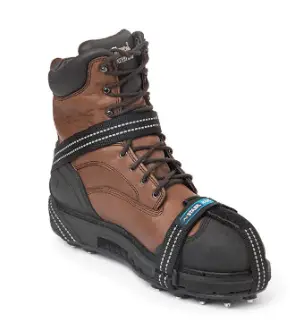 These ice grippers for shoes are about as heavy-duty as it gets. In addition to being made with the highest quality materials, the heat-treated steel cleats are actually replaceable.
Read more
Traction
In addition to the fact that the machine screw style studs grip with absolute efficiency, the Maxx cleats are also equipped with full-sole coverage to provide ample traction on all sorts of wintery terrains.
Durability
Everything about the Maxx cleats screams durability. This includes the superior rubber straps, 34 heat-treated steel cleats (which are all replaceable) and long-lasting soles.
Stability
Though the rear straps are fastened a little too low, the polyester hook-and-loop bindings work incredibly well when it comes to securing these soles to your boots.
Sizes
The vast majority of buyers have had nothing but positive remarks regarding the sizing of these cleats. Also, for the record, there are size options between extra-small and extra-large.
Portability
If you are backpacking, hiking, or merely traveling with these cleats, you will be able to do so with ease. Indeed, Maxx cleats are easily packable.
Overall
It is remarkable how well-designed these cleats are. When it comes to selecting the best ice gripper for shoes, it is not hard to see why this is the number one option.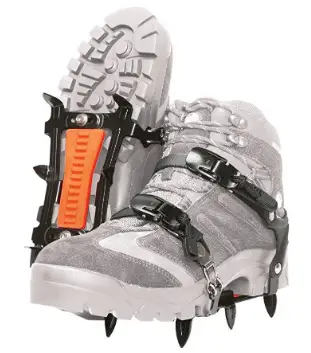 What is so ironic about this option is the fact that it really only works well in snowy conditions. Due to the heavy-duty and large teeth, it provides incredible traction but also can be uncomfortable on normal terrain.
Read more
Traction
You will never need to worry about slipping and falling on your face with these crampons when walking on icy terrain. However, with these on, they can make your shoes uncomfortable if you are not walking or hiking insufficient snow.
Durability
In addition to the rigid bottoms, the steel teeth are going to wear well. Let's say that if you treat these cleats with the care that they should last you for years to come.
Stability
Above all else, what most people will love about these crampons is how quickly they can be fastened to your shoes. This is thanks to the high-quality ratchet binding system that has been utilized.
Sizes
This is a one-size option. But, a wrench does come with your purchase for quick and easy adjusting. Also, to note, these crampons are better suited for boots or heavy-duty shoes.
Portability
Some of the best ice grippers for shoes come with carrying bags and, you guessed it, these do too. And the kit you are provided with is specially designed to resist punctures.
Overall
The Cypress 6 Crampons are top-end ice grippers, and there is no reason to say otherwise. But, they do work better for more substantial footwear as they can be a bit uncomfortable otherwise.

3

. STABILicers Ice Cleats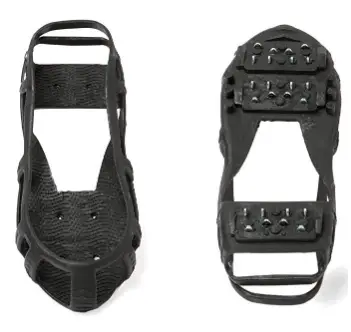 What is so nice about these cleats is they provide full coverage. As you can see from the photos, these are not your average pair of ice grippers for shoes.
Read more
Traction
Past the full-sole coverage that the Walk cleats provide for you, the cleats that have been integrated are aggressive in their design. This means they are optimized to grip on just about any terrain out there.
Durability
The metal cleats are buried in a ton of rubber and are very unlikely to break off. Also, the soles themselves are made with proprietary Thermo Plastic Elastomer.
Stability
What the manufacturer notes to their consumer base (you) is these cleats will be smaller than your shoes. But, the unique tension fit system on each sole is designed to stretch considerably.
Sizes
There have been a few reviewers who have made mention of the fact that these do run small. Again, however, they have been specifically designed to stretch over your shoes.
Portability
In addition to being lightweight in nature, these will also fold small enough for them to be easily packed and transported.
Overall
These cleats are one of the best ways to provide yourself with ice slip-resistant shoes. Plus, they will wear extremely well over time to ensure you will not need to replace them in a year or two.

4

. Hillsound Trail Crampon Ultras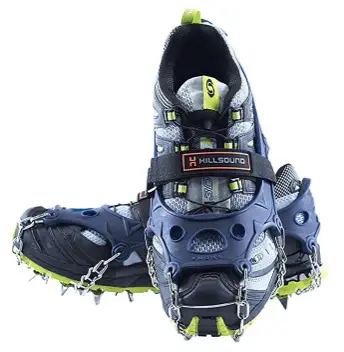 Now, these are engineered with a familiar design when it comes to ice grippers for shoes. In addition to the multiple stainless steel spikes, these are also designed with welded chains.
Read more
Traction
When walking on ice or even black ice, the 1.5-centimeter spikes and wide heel plate will provide ultimate traction. Of course, in wet snow and slush, the cleats can get packed with snow which can make them hard to walk in.
Durability
To say these crampons are durable is a vast understatement. These are designed with welded chains that can stand up to repeated torque, stainless steel spikes and a reinforced elastomer, tear-resistant harness.
Stability
The aforementioned elastomer harness is not only durable but also incredibly practical. It will stretch over any footwear that you have and secure with high efficiency.
Sizes
Most everyone agrees that the sizing is fairly accurate here. Then again, a few naysayers have noted that these can run a bit large.
Portability
A heavy-duty nylon carrying bag is included with your purchase and can be used to carry these ice grippers around. Additionally, they are lightweight.
Overall
Looking past the fact that these can be detrimental in slushy snow, they ultimately flourish in providing you traction on slippery ice. They are also built extremely well.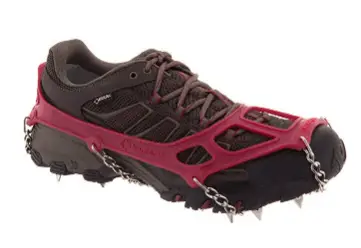 Talk about a company that you can rely on when it comes to finding some elite traction cleats, how about Kahtoola? Their MICROspikes are ideal because they are optimized for many different activities.
Read more
Traction
When it comes to the MICROspikes, everyone seems to agree that they deliver superb traction on icy terrain. This is thanks to the fact that the 3/8-inch stainless steel spikes dig into all types of terrain.
Durability
The spikes have been made of heat-treated stainless steel (400 series), and they are not the problem. However, previous users have had longevity issues with the chains and rubber.
Stability
No unique straps or buckles are required to fasten these to your shoes. And, when doing so, they secure very well to ensure they will not slip off.
Sizes
There are four size options that you can choose between. The possibilities are there for small, medium, large, and extra-large.
Portability
These are pocket-sized ice gripper for shoes and, in addition to that, you also receive a carrying case with your purchase. This makes them easily portable.
Overall
In spite of the fact that certain portions of these cleats can wear down a bit too prematurely, they are incredibly stable and deliver some of the best traction you will ever get on the ice.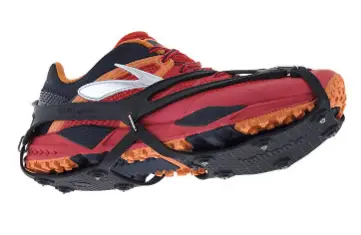 As opposed to the MICROspikes which are also made by Kahtoola, the NANOspikes feature rubber strap attachments. For those of you who do not like ice grippers with chains, you should appreciate this.
Read more
Traction
The NANOspikes are just like the MICROspikes in that they deliver unbelievable traction on all sorts of icy and snowy terrain. Also, what is beautiful about them is they can be used efficiently on running shoes.
Durability
Even though the spikes themselves are not replaceable, they are molded into the rubber soles. So, in other words, it is improbable that they are going to break off or wear down quickly.
Stability
A few users have taken issue with the design of the rubber straps. Some have noted that they can roll over and place pressure on your toes while you walk or run.
Sizes
Sizes are available from extra-small up to extra-large. But, one buyer did report that the quantity they ordered was too large for their running shoes.
Portability
As with so many of the best ice grippers for shoes, these are lightweight in their design and easy to take with you on the go.
Overall
The NANOspikes are extremely practical, and this makes them an ideal choice. The rubber straps, however, are not the best that you will encounter.

7

. Yaktrax Traction Cleats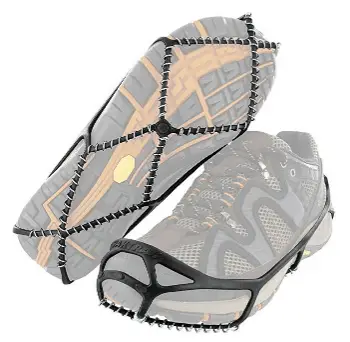 When these cleats stay on your shoes or boots, they work tremendously. As long as you understand that they have been known to slip off from time to time, you will be good.
Read more
Traction
One of the reasons why these cleats are so useful is thanks to the shaped edge of the coils. This provides a full 360 degrees of traction and protection on slippery surfaces.
Durability
While some users have had longevity issues with the fastening system on these cleats, the steel coils are zinc-coated and abrasion-resistant. Also, they will resist breaking down too -41 degrees.
Stability
The elastic outer band has been equipped to secure these cleats to your shoes. However, as alluded to, these ice grippers have been known to slip off from time to time.
Sizes
If you intend to use these for either boots or oversized shoes, the manufacturer recommends ordering one size larger than your standard shoe size. As for the dimensions, you can pick from extra-small to large.
Portability
Let's say that you should not concern yourself too much with the portability of these cleats. They are light enough to transport easily.
Overall
As a more affordable option, these ice grippers are quite ideal. No, they are not flawless, but they are far from poorly designed, which is all that matters.

8

. Yaktrax Pro Traction Cleats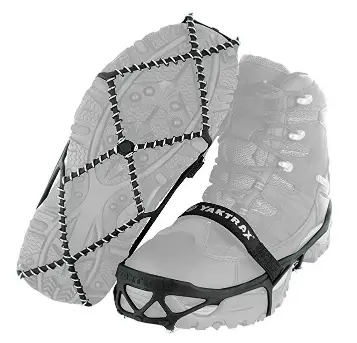 As with other versions of Yaktrax ice grippers for shoes, the Pro Traction Cleats perform what they need to do superbly. It just so happens, unfortunately, that these do wear down quicker than other models.
Read more
Traction
Indeed, you can count on these cleats delivering the traction you need over icy terrain. This is thanks to the 360 degrees of stability that are provided by the coils.
Durability
While the abrasion-resistant, stainless-steel coils are not prone to breaking, the same can't be said about the rubber support bands. Though the rubber is supposed to be heavy-duty, many buyers have reported otherwise.
Stability
The same "high-quality" rubber support bands are intended to keep these cleats secure to your footwear. Before they break off, they do a pretty good job at this, though.
Sizes
To fit most shoe sizes out there, these cleats are offered in sizes ranging from small up to extra-large.
Portability
When you look at the photos, you will see just how simple these cleats are. It is easy to tell that you should have few issues when you go to travel with these.
Overall
Because these are not expensive in the slightest, you can rest a bit easier knowing that the rubber support bands may break. When functional, these ice grippers are top-notch caliber.

9

. Unigear Traction Cleats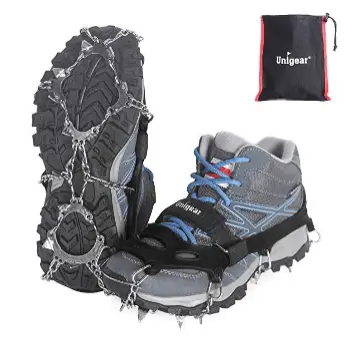 While very few consumers will complain about the traction these cleats provide on ice, they can become problematic in the snow. You will see why but just know that these are better for pure ice.
Read more
Traction
Thanks to the long-lasting soles and the heat-treated stainless steel cleats, these have no issues gripping on ice. Then again, slushy snow can build up inside of them, which makes things quite annoying.
Durability
It seems that the chains are not permanent; let's say that. As for the spikes (heat-treated stainless steel), elastomer band, and soles, these are all extremely well-built.
Stability
Not only are these easy to "mount" on your shoes, but they are also going to remain stable when attached. This is thanks to the adjustable straps that are in play.
Sizes
Because the sizing is not well-defined, it can be hard to find the right size for you. As for what sizes are available, you can select from small to extra-large.
Portability
Based on the photos, it does appear that a travel bag is included with your purchase. This is an excellent addition to have for sure.
Overall
There is a lot to love about these crampons from their well-designed spikes to their solid stability. They do not perform very well in thick and slushy snow, however.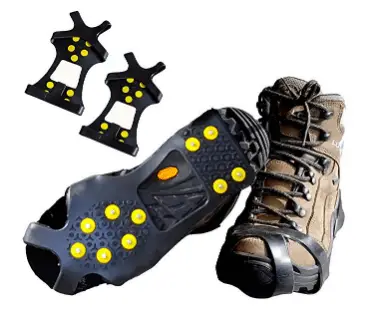 These are an excellent value pick for some of you. While the studs are not as heavy-duty as others out there, they will deliver you the traction that you crave.
Read more
Traction
Not only are these cleats (with ten steel metal studs) going to deliver you traction but they also will not get hung up indoors if you forget to take them off.
Durability
You do need to be careful with the studs on these as they will wear down quickly on typical terrain (such as concrete). As for the main body, the most excellent quality TPE material was utilized.
Stability
Though these are fast and easy to slip on, they tend to do that a lot: slip. Granted, you can tolerate having to readjust them from time to time; this will not bother you too much.
Sizes
In addition to being ideal for men's shoes, these are also high ice cleats for women's shoes. Some of the sizes will also be optimal for kids, as well.
Portability
To allow you to carry these easily in whatever bag you prefer, they can be rolled up compactly.
Overall
These ice traction cleats are a perfect value pick. Indeed, superior designs are available, but you will also have to pay the price for most of them.

Subscribe to our Newsletter