13 Best Ice Boots – 2021
In a
Hurry? Editors choice: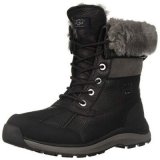 Test Winner: UGG Adirondack III Snow

Having a quality pair of winter boots that will keep you warm and dry is extremely important. With the winter months firmly among us, there is a high chance you will experience snow, sleet, or ice. That is why it is really important to invest in a pair of reliable ice boots, not only because they will keep you warm but they will ensure your feet stay firmly on the ground, avoiding any dangerous slippage.

To help you pick a pair, we have selected some of the best ice boots available now. 
Standout Picks
Criteria Used for Evaluation
Insulation
Winter ice boots are designed to provide insulation and warmth during the cold winter months.
All of the best boots for ice we've included in our list offer you some type of insulation to help keep you warm when you are outside in the low temperatures. Also, another thing to remember that ice boots that provide good insulation properties and waterproofing will help you do what you need to do even when the weather is cold and icy outside.
Most of the ice boots on our list give you two choices in insulation: either synthetic insulation or neoprene insulation. Neoprene insulation is the same material usually found in wetsuits that help protect people from the cold water while still allowing for effective thermal regulation in temperature. Designed to create warmth and also made to be durable, neoprene insulation lasts quite a long time, and it's insulated capabilities don't degrade with continuous use. So, neoprene is long-lasting, and its ability to insulate well will never wear off.
However, there is one downside to neoprene, and that's the fact it doesn't offer a lot of ventilation, so your feet can sweat. How effective the ventilation system is can also depend much on the boot's overall design. Neoprene is also an effective insulator, but the material itself is not extremely warm.
The second type of insulation you'll find in many of these shoes on our list, and probably the more popular material, is synthetic insulation. Synthetic insulation uses spun plasticized fibers combined into the interior area of the boot. Plus, synthetic insulation is not only used in those shoes to create warmth, but it is also used in a wide variety of other products, including winter jackets and winter sleeping bags. Synthetic insulation does a great job at keeping heat inside the interior area of the boot, and also comes with a decent loft system to help cushion your feet for extra comfort. However, how effective the synthetic insulation is designed into the boots can affect much about the warmth that you'll experience.
Depending on the amount of synthetic insulation used and how it's manufactured into the ice boots, you will experience different levels of warmth. Synthetic insulation also dries out quickly when it does get wet, and it won't lose its ability to insulate if it gets wet. Synthetic insulation, however, is not as durable as some other insulation types, and its loft system can break down and lose its effectiveness over time.
Comfort
How comfortable your boots for snow and ice are, and how effective they are when you use them, will depend a lot on the lacing system designed into them.
First, lace type and design can dictate how well a boot will fit your feet, and also will tell you a lot about how easy they will be to get on and off your feet. Some lacing systems are easier to use than others, and how good the lacing systems are can affect how comfortable they feel and their overall performance.
Boots for ice that are designed with several lace eyelets can offer a great adjustment system when it comes to getting them to fit right but can create problems when you lace them up over the top area of your feet. While you can lace them to feel right, the feel of the fit overall is often not snug, but loose. So, depending on how snug you want your shoe to fit, that can be an issue.
Other boot lacing systems feature a speed lacing system that gives you more ankle support and more adjustability. While you'll get the ability to customize the fit of the boots well with this lacing system, speed lacing systems can be the hardest to use when you want to get your snow ice boots on or take them off. Also, quick lacing systems aren't quite as durable as shoes made with more traditional lacing systems.
Weather Resistance
Most brands that make ice boots focus on utilizing waterproof materials including rubber or waterproof leather, while others use a waterproof coating on the exterior of the boot to boost weather protection.
Since ice boots are designed to handle snow and ice well in cold weather conditions, and also are manufactured to create warmth, weather protection becomes a very important feature because if your feet get wet, you'll get cold and miserable quickly.
Not all ice boots are made to be fully waterproof, even if they are advertised as such. However, if you're looking for a pair of fully waterproof boots, then you'll want to make sure your shoes have materials like neoprene and rubber, or those with a treated exterior shell. Just remember that with neoprene, the ventilation systems aren't always excellent because of the way the materials react to regulate your warmth inside your boot.
The ice boots we've provided you with on our list above all have some kind of waterproofing protection on them. However, other features designed into the shoes can also affect how much water might seep into the boot, like zippers and tongue areas. So, make sure you check these out to make sure they provide the water protection you'll need to have in your ice boots.
Traction
If you've ever walked outside of your house when the ground is covered in ice and snow, then you know the importance of having good traction in your ice boots.
If you want to make sure you don't slip, the traction system on the boots you purchase has to be effective enough to prevent injury, while still providing adequate amounts of support.
All of the best boots for ice on our list feature some kind of traction and grip features, but not all are created equally. So, make sure you consider how icy it will be whenever you walk outside.
Value
The ice boots on our list all feature value points and most of these shoes all fit into the more affordable price range.
We've listed many boots that will fit into anybody's budget, and if you want a more affordable pair of high-quality shoes, we've provided you with some brands and styles that meet that expectation.
Subscribe to our Newsletter