Best Winter Running Shoes
In a Hurry? Editors choice: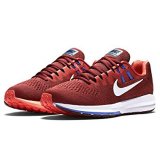 Test Winner: Nike Air Zoom Structure 20

Unless you are lucky enough to live in a
year-round warm environment
, you're going to need a different pair of
running shoes
for the wintertime. Running on the wet streets and sludgy trails can be a challenge in your regular running get-up. A great pair of winter running shoes will have proper traction, great support, and as always, be comfortable. To keep up with your routine and favorite sport, there is actually a lot more to think about than the shoes, but they are a great place to start. With a good pair of running shoes, you'll be able to
hit the trails every day,
regardless of what the weather should be: ice, sleet, or snow.
Standout Picks
Criteria Used for Evaluation
Support
Some manufacturers call cushioning levels "stack height," and the approach to cushioning stayed the same for quite some time in this industry. However, with new technologies appearing everywhere and various options for padding becoming available, the shoe industry changed, and now we have a variety of winter running shoes with different types of cushioning options. The cushioning options you'll find when purchasing a pair of winter running shoes include:
-Barefoot shoes are shoes that don't include padding. Some runners like shoes without padding because they "feel" the trail better as they run.
-Minimal padding. For runners that still want to "feel" the trail as they run but want some light padding, this padding style provides that option.
-Moderate padding. This type of padding is more standard nowadays and traditional trail runners usually opt for these types of shoes so they feel fine running over rocks or other trail obstacles.
-Maximum padding. If you want a lot of padding at the midsole, then this is the option for you. Maximum padding works well for those who have joint problems or are worried about fatigue on longer runs since these shoes help prevent that. However, some people feel that this excess level of cushioning makes you less efficient when you run.
-How much cushioning you feel you need depends a lot on personal preference, but you'll want to think about things like joint pain and fatigue, how far you'll be running, what you'll be running over, and what type of protection you need. Most runners purchasing winter running shoes opt for moderate to maximum cushioning, but this is all a matter of personal comfort and how much you want to "feel" the trails as you run.
Drop
Cushioning height and heel-to-toe drop often go hand-in-hand. Heel-to-toe drop tells us the difference between the heel's height and the forefoot's height. A heel-to-toe drop in winter running shoes can be anything from 0mm to more than 12mm.
Shoes with barefoot cushioning usually have a 0mm drop. Finalists shoes will have a drop of 0 to 4 mm. Moderate and maximalist shoe types have a range of various heel-to-toe drops.
So, how do you figure out what type of heel-to-toe drop is the right one for your feet and running style? You'll want to factor in a few things:
-Check out the drop in your current running shoes. If you're already running often and are comfortable with the heel-to-toe drop you have now, you won't have to mess around with the way your body feels in a heel-to-toe drop if you currently use shoes that already have this and feel comfortable running with it.
-If you don't have running shoes, then check out some of your other pairs. If you do have some athletic shoes already, check those out. If not, then examine your other shoes. Most shoes have some kind of heel-to-toe drop, and once you figure out which shoes you feel are most comfortable to wear and know their heel-to-toe drop, you should be able to assess what you'll want your heel-to-toe drop to be in your winter running shoes. For example, if you like to wear flat shoes often, then you'll probably feel better wearing shoes with a low heel-to-toe drop.
-Figure out if you need more stability when you run, and if so, then you'll prefer a low heel drop. When shoes have a low heel drop, they provide you with a lot more stability when you land, which also increases your ability to balance well. Because most runners want to have great balance, a lot of them opt for barefoot and minimalist shoes, and they'll forego the padding. However, not all runners will feel great in a low-drop shoe, so this is something you'll need to feel out.
-If you are used to a higher heel-to-toe drop and want to change to a barefoot or minimalist shoe, you'll need some time to get used to the new feel. There will be a learning curve with this change, so you'll have to be patient and plan it out if you do want to do this.
-Some moderate and maximum cushioning shoes also have low heel drops. So, if you do still need a lot of cushioning but want a lower heel-to-toe drop in your shoe, you can have the best of both worlds as long as you purchase a shoe that does both.
-Determining your heel-to-toe drop comfort level can take a little bit of research into some of the other shoes you own to figure out what you feel most comfortable in. While a lower heel-to-toe drop does add stability when you run, if you don't feel comfortable with it, and aren't patient enough to make the transition, it just might not be right for you. So, when figuring this out, remember it will be up to your personal preferences, so you want to try to stay with what makes you feel comfortable.
Overall Fit
Probably the most important criteria point you'll look into when selecting the best winter running shoes for your feet is the fit of the shoe. Even if shoes are very popular and well-reviewed, if it doesn't fit you right, you're not going to like shoes.
Making sure running shoes fit you correctly will mean more than just checking out the length and width of your feet. Your feet are a lot more complex than that, and you'll need to look at things like your arch shape and length as well as the overall volume of your feet.
Traction
Winter running shoes are specially designed to provide you with greater traction than traditional running shoes. In the winter, you are likely to encounter ice, sludge, and snow. Your other running shoes may grip well on dry pavement, but they are no match for these conditions.
Winter-specific running shoes feature an intricate and specially designed traction system on the bottom of the shoe to prevent slipping. Some even have knobs, spikes, or studs built-in. The snowy trail can drastically change without warning and it's always better to be overly tractioned than under. This can make the shoes heavier, but the stability and confidence are worth the few extra ounces.
Top Ten Winter Running Shoes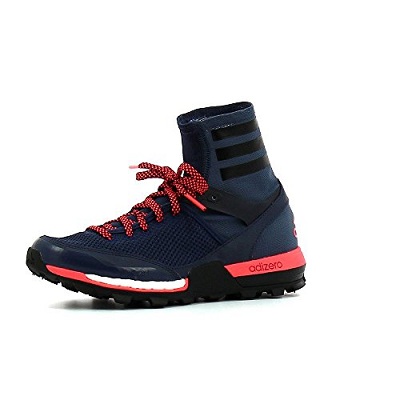 If you want one of the most popular and best-performing running gaiters on the market, you'll feel very comfortable in a pair of Adidas Adizero XT Boost Winter Running Shoes. These shoes are designed to make your feet feel great each time you run and don't bunch or cut into the ankle because of the great design.
Read more
Support
The Adizero shoes also are made with a smaller toe box, but it's stable underfoot is a real plus because these shoes have an excellent heel cup and plastic straps that will keep your foot where it needs to stay as you run.
Drop
These shoes have a 10.5mm drop, promoting stronger heel strikes.
Overall Fit
Adidas' Adizero XT Boost Winter Running Shoes includes a breathable "debris sock" gaiter, which is one of the most effective designs on the market today. It rolls smoothly into the tongue and will remain snug on your foot while keeping debris out of your shoes—meaning you won't feel any rubbing or irritation with this design.
Traction
These shoes also have a Continental Race King Outsole, meaning they feature excellent grip quality, helping you on hills.
While these shoes are not waterproof, they are still excellent when you run in mud and much. They do well-keeping debris away from your foot and perform well on just about any surface you'll encounter when you run.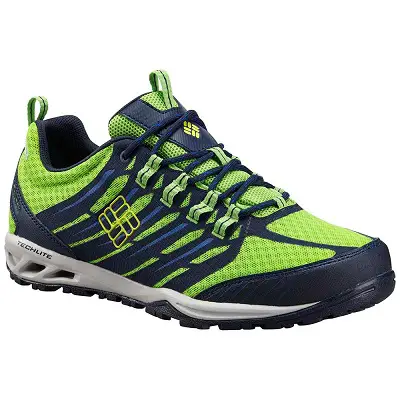 If you're the type of person that enjoys lightweight hikes and trail running in winter weather, then the Columbia Ventrailia Winter Running Shoe offers the perfect combination of features and benefits to keep you on the trail when the weather is cold. Made to be an affordable, comfortable, waterproof shoe, for the price, this shoe has all you need to keep you going through the winter.
Read more
Support
The welded overlays on this shoe also help provide your feet with better support and comfort, and make the shoe strong so it won't wear or tear easily.
Drop
These waterproof shoes feature a mere 3mm heel to toe drop.
Overall Fit
Columbia's Ventrailia shoes have a lightweight welded textile mesh upper area, and a lightweight midsole to boost the cushioning of the shoe, making it very comfortable. You'll feel energetic the entire time you run since your feet will be extremely comfortable no matter what terrain or weather you encounter outdoors.
Made with a strong waterproof membrane, Columbia's Ventrailia shoes are designed to be rugged and weather-resistant, helping to keep your feet warm and dry no matter where you run. The waterproof membrane on the outside of these shoes is melded to the exterior fabric, which helps boost your protection.
Traction
Also designed with an Omni-grip non-marking traction rubber on the bottom of the shoe, you'll get an excellent grip while out on the trails.

3

. La Sportiva Tempesta GTX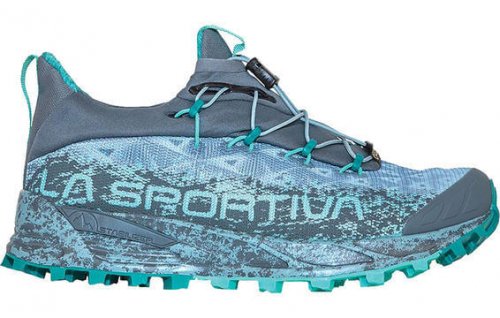 These La Sportiva Tempesta GTX Running Shoes really offer some fantastic benefits for running in winter months. They have a durable mesh that stops the elements from getting in. They also have a very easy lacing system and are waterproof.
Read more
Support
The midsole of these waterproof winter shoes is made from comfortable EVA foam with a TPU stabilizer. They provide great shock absorption and comforts. The Ortholite Mountain Running Ergonomic footbed is 4mm thick.
Drop
These shoes have a 10mm drop, alleviating strikes from the toe area and putting more pressure on the heel.
Overall Fit
When it comes to lacing these La Sportiva Tempesta GTX runners up, you won't struggle with icy cold hands to tighten and tie laces. Instead, they have a simple lacing system that makes for a pull fast experience.
The Gore-Flex material in these runners will offer you a waterproof experience. The upper of these runners are made with durable mesh, which allows breathability, but it also wards off the elements.
Traction
When looking for ultimate traction, the bottoms are made of durable and traction ready grips, so you don't slip.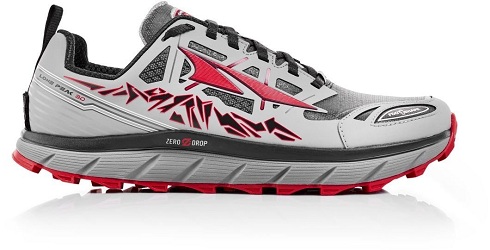 Altra Lone's Peak 3.0 Winter Running Shoes are made to be both durable and comfortable no matter how brutal you treat them, or how bad the weather becomes when you're outside. These waterproof running shoes can handle all types of terrain, including deep snow, mud, and muck, and will keep your feet comfortable for the duration of your adventures.
Read more
Support
The upper and overall support of these Lone Peaks has been improved from previous models and has proven to be very comfortable. The dual-layer EVA foam midsole offers great shock absorption, taking the stress off of your joints.
Drop
These shoes are also very comfortable and fully cushioned with Zero Drop and a FootShape toe box to keep your foot in the right position, helping you with your stability and running form. You'll be warm, comfortable, and ready for anything on the trails with a pair of these shoes.
Overall Fit
These shoes offer plenty of room in the toe box for full toe splay. Altra Lone's Peak 3.0 Winter Running Shoes use Polartec Neoshell on the outer area of the shoes, so they will stay dry for a long time no matter where you find yourself running. These shoes are very water-resistant, and the Polartec Neoshell material will help both you and your shoes through anything, keeping your feet warm and dry.
Traction
Altra Lone's Peak 3.0 Winter Running Shoes are also made with StoneGuard in the shoes, making these shoes flexible while still keeping your feet protected from rocks and other things that can bother your feet. Also, TrailClaw technology is designed into this shoe's outsole, making it easy for you to run uphill or downhill in any weather condition.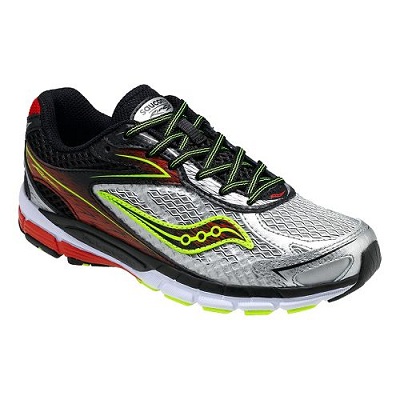 If you want happy feet when you're out running in the winter weather, then the Saucony Ride 8 Winter Running Shoes provide a nice cushioned shoe for most feet. Designed with Gore-Tex technology, which is a new waterproofing technology, Gore-Tex not only makes a shoe waterproof but also decreases the weight of the shoe compared to other waterproofing materials.
Read more
Support
Saucony also designed their PowerGrid EVA technology into the cushion of this shoe, which makes the cushion lightweight but still comfy, helping you to respond as you run. Also, the cushioning system is made to help with shock absorption and stability, so you'll feel great even if you're out running for a long time.
Drop
These shoes feature an 8mm heel to toe drop.
Overall Fit
The No-Sew FlexFilm upper offers a snug and flexible fit without chafing. They hug the foot and provide a comfortable fit. Many reviewers suggest going up a half size for an ideal fit.
Traction
With these waterproof running shoes, you also get an IBR+ traction rubber outsole, which will help you get better grip and traction on difficult terrain. On cold days, it should be very easy to get up and down hills and enjoy your run outside for many hours in these shoes.
Since you get a waterproof, weather-resistant shoe with the Saucony Ride 8 design, your feet will stay warm and dry no matter what the weather is like outside. Plus, these shoes are made to be lighter and can handle difficult weather, but aren't made to run in warmer conditions.

6

. Merrell All Out Terra Ice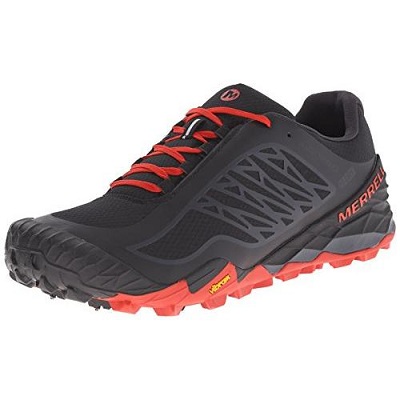 Merrell's All Out Terra Ice Winter Running Shoes are made to be strong and durable in any weather conditions and perform well in the snow. Made with a waterproof barrier and nine carbide spikes, these shoes are a very strong pair of winter running shoes that will help you perform well throughout the winter.
Read more
Support
These winter shoes also come with a removable insole that's made with a TrailProtect pad, helping to protect your feet from shock and other issues. Plus, this shoe comes with M Select DRY and M Select FRESH technology to cut back on bacterial growth and odor, making it easy to go all day long in these shoes.
Drop
These shoes feature a pretty typical drop of 6mm.
Overall Fit
Merrell's All Out Terra Ice Winter Running Shoes are made with a strong synthetic out layer that includes mesh and TPU with reflective details, they'll keep your feet warm and dry, repelling water and snow away from your feet. Plus, these shoes are also made with lace-up closures which makes them easy to take on and off, and also helps them to fit with comfort.
Traction
Designed with a Vibram rubber outsole and 6mm lug depth, the Tungsten Carbide spikes on these shoes, combined with the carbon toe, make an effective grip formula for any terrain. You'll feel warm, dry, and comfortable each time you run in these shoes.

7

. Saucony Peregrine 8 ICE+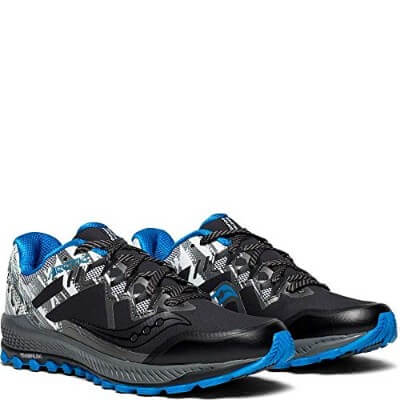 A great companion for all types of snowy ground, the Peregrine 8 ICE+ is one of the newest releases from Saucony. These shoes have a low drop which gives you a natural stride with an even and continuous energy return. While these shoes are in fact water-resistant, a waterproof version of these shoes would really take them to the next level.
Read more
Support
The Peregrine 8 ICE+ runners have neutral pronation and offer great support. The 3mm Everun top sole paired with the Pwrfoam midsole provides comfort, resilience, and comfort. The full-length midsole gives continuous energy return, absorbs impact, and evenly distributes pressure. The Everun technology also resists heat and cold, meaning that it doesn't lose resilience throughout your run.
Drop
The drop in these shoes is quite low, at only 4mm. This allows you to run with a more natural stride, using your body and muscles more and depending less on the shoes for push and power.
Overall Fit
These waterproof running shoes tend to fit true to size and fit comfortably for most people. The cushioning is bouncy without being mushy and gives you just enough bounce back to keep you going. You can tighten the shoes to your liking with the flat laces that start from the middle of the foot. As a bonus, the shoes are finished with a water-resistant DWR flex shell. The flexing shell keeps your feet comfortable and warm in complex climates. It would be preferable if the shoe were waterproof, but water-resistant is better than nothing.
Traction
On the bottom of the shoes, you'll find a tacky and durable rubber outsole. The outsole is finished with Vibram Arctic Grip technology and features 6mm lugs down the center. This technology and lugs combination is the perfect competitor for wet, icy, and slushy grounds. The Ice track outer sole of the shoes is flexible and provides you with a natural stride and sure footing in almost all conditions, including grass, trail, and ice.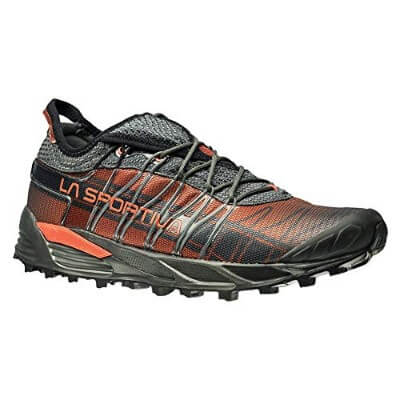 For a sturdy, solid winter running shoes, La Sportiva's Mutant Winter Running Shoes are made with a treat that resembles cleats, making it easy for you to get around in the winter when you hit the trail. Plus, these shoes are made to snugly hang onto your feet, with their stretchy upper tongue that overlaps the shoe, meaning they are very comfortable.
Read more
Support
La Sportiva's Mutant Winter Running Shoes are also made with a lot of cushioning while still remaining lightweight, so you get a lot of comforts, helping your feet feel great even on long runs. Plus, these shoes are also breathable and come with AirMesh fabric to cool your feet down as you run, control moisture, keep bacteria out, and reduce blisters, rubbing, or skin irritation.
Drop
These shoes have an 11mm heel to toe drop.
Overall Fit
These winter shoes have an innovative lacing feature, putting the laces off to the side and over the metatarsals, instead of over the top of the shoe like most of us are used to. You can tuck your lace end into a mesh pocket on the tongue area, making the shoes easy to get on and off since you don't need to tie them each time.
Traction
Designed with stability and control, you get a solid grip from the FriXion XF soles that also feature an Impact Brake System, boosting stability and helping you with traction. You won't have to worry about slipping, and you'll be able to stop easily.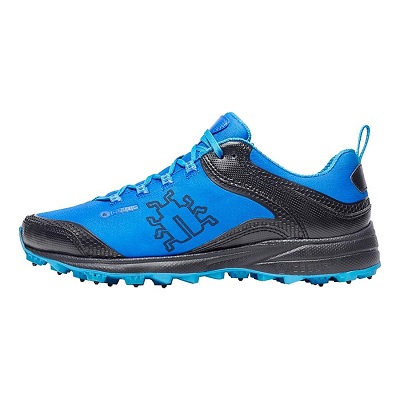 Icebug is a company located out of Sweden, so they know how to manufacture great shoes for winter conditions, and believe in making a great product to keep your feet warm and dry while you run during the cold weather seasons. These shoes are designed for people that enjoy running on the roads, and who still want to train and run even when it starts to snow.
Read more
Support
Icebug's Aurora shoes include a removable molded EVA with a mesh liner that will help to keep your feet in place each time you run but can be taken out if you don't need the liner. These shoes are also made with injection-molded lightweight technology on the midsole, meaning they can absorb shock and protect your feet throughout a wide variety of conditions.
Drop
These shoes have an 8mm heel to toe drop.
Overall Fit
The Auroras are flexible shoes but have a slightly narrow toe box. Made with durable steel metal studs, these Aurora shoes are manufactured to grab right into the ice, making the grip excellent over all terrains. Plus, they are also made to be weather and water-resistant, and have a protective PU/TPU winter shield lining over the top of the shoe, and include the quick-drying mesh.
Traction
Icebug made these shoes with a rubber BUGrip on the outsole, which has nineteen carbide tip studs to help you with your traction. You should be able to handle just about any weather conditions or terrain anytime you run in these shoes.

10

. Nike Air Zoom Structure 20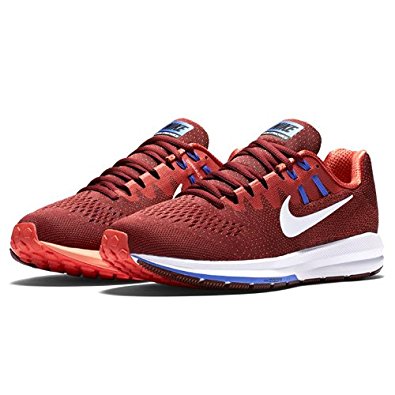 Nike's Air Zoom Structure 20 Winter Running Shoes offer you excellent stability as well as the ability to achieve the speed levels you want when you're out on the trail during the cold weather. Made with a slanted block of foam that is higher up in the inner part of the shoe that's combined with a soft foam cushion to keep your feet comfortable, you'll love how good these shoes feel on your feet.
Read more
Support
Made to be lightweight, this shoe also comes with a removable insole when you don't need the extra support. The shoe also gives you a performance boost since it's flexible and comfortable while still giving you an extra level of support.
Drop
These shoes feature an 8mm drop, making them very responsive.
Overall Fit
Nike's Air Zoom Structure 20 uses compression-molding that removes the need for glue on the shoe, so these winter running shoes won't feel stiff at any point and are designed to be flexible enough to move well as you move. You still get the support you need since the shoe is also constructed with a strong platform for your toe-off.
Also, this show is made with an effective foot cradle, allowing the mesh area of the shoe to meet the foam, providing a lot of comforts.
Traction
You also get great traction from this shoe, since it's made with deep flex grooves on the sole of the foot.

Subscribe to our Newsletter