Best Winter Cycling Shoes – 2023 Edition
In a
Hurry? Editors choice: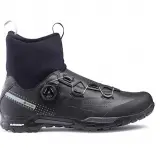 Test Winner: Northwave Northwave X-celsius Artic Goretex

A good pair of winter cycling shoes is a great way to protect those hard-working feet from the elements when biking in cold climates. Even though your feet make limited contact with the ground, they still need to be protected. Beneficial features include internal booties and waterproof uppers that wick away snow and rain. Standard cycling shoes are designed for warm climates and boast a low profile, lightweight design, and plenty of mesh panels. If you intend on cycling all year, your basic footwear simply will not do.

In this guide, we have provided a list of some of the best winter cycling shoes from trusted brands to keep your feet from turning into blocks of ice this winter!
Standout Picks
Criteria Used for Evaluation
Fit
Not only does the fit need to be perfect for you but you need to pick a good lacing system.
Fit is important when it comes to all shoes. For winter cycling shoes, it is crucial to analyze the lacing system in addition to the way the pair actually fits you. It may surprise you a little but a good pair of cycling shoes should fit much as your sneakers should. Unlike hiking boots, you don't need to go a little larger to accommodate winter socks. Select a size that fits your foot like a glove and invest in a good pair of lightweight yet insulating outdoor socks.
The lacing system is also very important. A very popular one, in fact, is the Boa closure system. Even though each Boa system can be custom designed, each one will sport three integral parts that will allow you to achieve an optimized fit with great efficiency. There are other lacing systems such as a speed lacing system. As the name implies, this system is designed to allow users to quickly and effortlessly adjust the fit.
Above all else, be sure that you consult the sizing chart provided by each brand. Multiple brands have sizing charts that are slightly different, so be sure to measure your foot and consult the chart provided to ensure that you get the right size for your feet.
Insulation
Good insulation will help hold in the heat without the use of bulky and cumbersome materials.
Basic cycling shoes are composed of lightweight materials that have a myriad of mesh panels to keep air circulating. For cold weather, there are a few important features implemented to keep your feet warm yet functional.
It is never a bad idea to look out for Gore-Tex. In addition to its waterproofness, it adds much-needed insulation. Common insulation that designers will implement is known as Thinsulate. This is very popular insulation and for good reason, as it retains heat efficiently. The gram-count will dictate just how warm the shoe will be.
Keep an eye out for heat-reflective technology. If the interior is lined with this technology, your body warmth will be reflected and it will enhance the warmth overall.
Water Resistance
Dry feet are warm and happy feet.
Your winter cycling shoes need to be waterproof shoes. With cold weather often comes rain and snow, so it is important to keep your feet dry.
Materials such as Gore-Tex are a great way to wick water away without adding excess bulk. We found that most of the name brand designs out there on the market utilize a Gore-Tex membrane to keep snow and rain on the road where it belongs. Gore-Tex is great because it is 100 percent waterproof and it is also lightweight so it won't hinder your full range of motion.
A higher profile is another great way to keep water out. Basic cycling shoes boast a super low profile that falls just under the ankle bone to promote a full range of motion in the foot. If you know that you will be out in rainy and snowy conditions, a high profile cuff is a must. Many brands opt for a Gore-Tex cuff that is stretchy and contours to the shape of your foot without being overly stiff.
Outsole
A grippy outsole means no more slipping off of the pedals when you need to turn up the intensity.
Cycling shoes are unique and can improve your pedaling experience. There are different types available, though, with two of them being road shoes and mountain bike shoes (MTB). The former are specially designed for outdoor use and are compatible with LOOK Delta cleats and the latter can be used both indoors and outdoors and are compatible with SPD cleats.
Also, the actual sole (which is the bottom-most layer of a shoe) should provide traction. Vibram soles specifically come to mind and work great for cycling shoes.
Many brands opt for grippy rubber materials that are designed in a way that almost wraps around the pedals. These effectively-positioned rubber grips won't slip off of the pedals as you pick up speed, and are designed to grip even slick surfaces, similar to winter boots or running shoes.
Durability
Though winter cycling shoes will not wear as quickly as other footwear, it is still optimal to look for high-quality materials.
Cycling shoes do not suffer the same type of wear-and-tear as standard shoes, but they will wear down over time. Pressure on the midfoot, as well as constant exposure to the elements, will wear on the materials and render them less effective. That's why we made sure to select designs that are built to hold up to some pretty extreme temperatures.
The outsole of each design needs to be composed of solid panels of waterproof materials such as Gore-Tex. We mention the use of solid panels because the more seamlines that are found in the outsole means that there is more of a chance of water penetrating inside. Double-stitched outsoles also extend the life of your gear as well.
OUR TOP PICKS FOR THE BEST WINTER CYCLING SHOES
1

. Northwave Northwave X-celsius Artic Goretex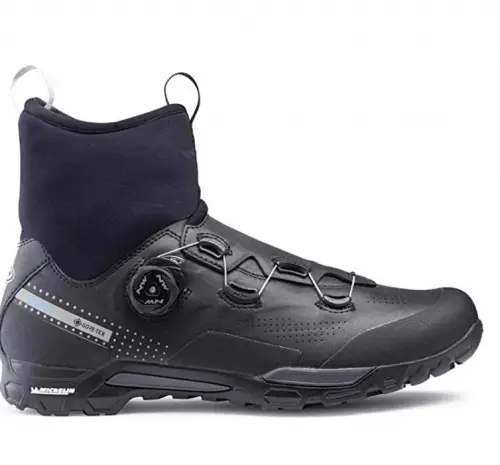 Northwave is a name that you will certainly be familiar with before this list ends. Their name is plastered all over this technology and it just so happens that their GTX footwear tops the list.
Read more
Fitting
Thanks to the double Boa closure system, it is much easier to achieve a perfect fit. In addition to this, this is also designed with an additional Velcro strap.
Insulation
First off, this option is equipped with a Gore-Tex membrane and this allows for excellent heat insulation. Additionally, they are built with double shield construction for even more protection against the cold.
Water Resistance
The same Gore-Tex membrane that enhances the insulation also makes the core of this shoe waterproof. That is the true beauty of Gore-Tex.
Outsole
Even though the Speedlight 3D outsole is equipped with nylon and carbon fiber to obtain efficient pedaling, the tread is made of hard plastic and this does not provide much grip on hard surfaces.
Longevity
In addition to the high-quality materials that have been integrated, the membrane also virtually guarantees that abrasions will not occur.
Overall
Can you see why this is the best of the best? In nearly every area, these winter cycling shoes excel. If the tread was rubber instead of hard plastic, though, it would have been even better (somehow).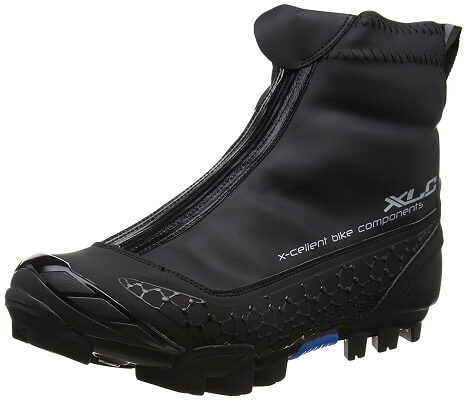 This entry is a perfect example showing that this type of footwear is not exactly cheap. However, you are paying for quality and the performance.
Read more
Fitting
The lace-up closure system is quite nice here. With that said, one buyer did note that the fit of this winter cycling shoe was on the small side. You may want to order a size larger.
Insulation
For optimal thermal insulation, this option has been outfitted with Lycra and also a waterproof coating of polyurethane. Also, the interior is padded for further insulation.
Water Resistance
As you probably guessed, the waterproof polyurethane coating adds a layer of waterproofness to this shoe.
Outsole
Arguably the most impressive aspect of this design is the sole. First off, it is comprised of both nylon and fiberglass and is extremely rugged. Secondly, and most importantly, is sports bolt-on TPU studs for even more grip.
Longevity
Really, when you want to point to the longevity of this shoe, just look at the materials. High-quality nylon, fiberglass, fleece and polyurethane are just some of the materials utilized.
Overall
A lot of money will need to be forked over to buy this model but, as mentioned, this is going to be worth every penny for serious winter biking enthusiasts.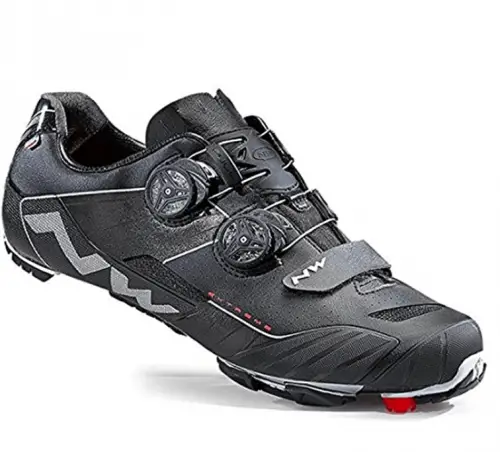 This is another great example of Northwave's brilliance as their XCM GTX shoe is not only perfectly insulated but is also waterproof thanks to its Gore-Tex membrane.
Read more
Fitting
Due to the SLW2 dial instead of a Boa system, it can be a little tougher to put this winter cycling shoe on. And, this has been a common complain amongst the buyers who have tried it.
Insulation
Let's just say this is going to keep your toes warm. It is outfitted with a windproof Gore-Tex membrane, four-layer aluminum and fleece construction, and also extra thermal coating that has been strategically placed on the toe.
Water Resistance
As alluded to, this does implement a Gore-Tex membrane and that means that you can expect it to wick away sweat and keep your toes dry.
Outsole
Thanks to the triple-density Speedlight 3D carbon sole that has been integrated, you can rest easy knowing that you will be provided with a stiff cycling shoe.
Longevity
To enhance the longevity, Northwave designed their XCM GTX with rubber reinforcements and this is going to make it harder for abrasions to develop.
Overall
Although it can take some time to get accustomed to the lacing system of the XCM GTX, once you do, you will never look back as this is one of the best offerings on the market.

4

. Louis Garneau Klondike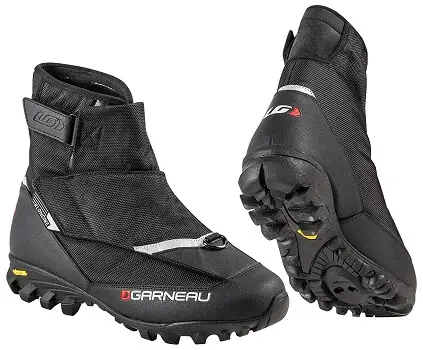 This option implements the world famous Boa quick attachment system for easy adjustments on the fly.
Read more
Fitting
As mentioned before, this option implements the Boa quick attachment system. Not only does this reduce pressure point to enhance the fit but it also is extremely easy to use on the go.
Insulation
Thanks to the triple-layered insole (which sports 400 grams of Thinsulate insulation) and the neoprene cuff that traps in the warm air, your toes will not be left cold in frigid climates.
Water Resistance
There is actually no mention of the water resistance of this model. The neoprene cuff does stay snug against your skin but you may not want to submerge the Klondike.
Outsole
Rest assured that the Klondike does feature a sole that is adapted for the winter. It sports rubber lugs instead of hard plastic and this enhances the traction you get in the snow (when you do need to walk).
Longevity
The upper of this shoe is crafted of Cordura 1680-denier fabric and it is safe to say that it is both durable and highly resistant to abrasions. The rest of the design holds up very well.
Overall
It is hard to not admire the design at play here. The Klondike is an extremely durable, highly insulated and ideally fitted shoe that will work for just about anyone and everyone.

5

. Northwave Celsius R Artic Goretex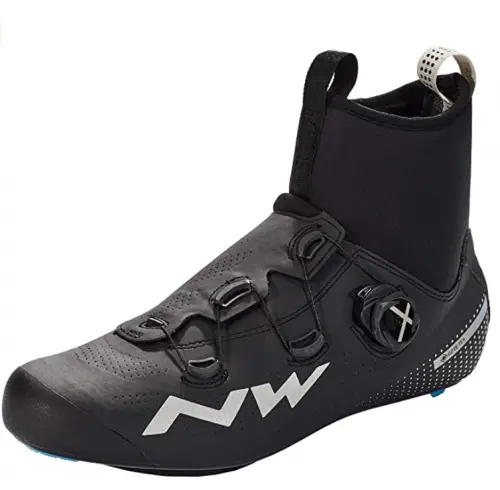 Northwave is a brand known for high-quality materials that hold up well in some pretty extreme temperatures. What we like most about this design is that it boasts a high upper that fits comfortably around your ankle and wicks away snow and moisture.
Read more
Fitting
If you want a boot-like design that isn't as stiff as a boot, this design from Northwave is a great compromise.
Insulation
What makes this design different from other boot-like designs is that the upper is made from soft materials that do not feel still and won't hinder your full range of motion. A pull-on loop makes this design easy to pop on and off as well. The Gore-tex bootie sits pretty high up on your ankle, and it is completely waterproof and wind-resistant.
Water Resistance
The upper is made from Gore-tex materials, and it boasts an NRG Air carbon sole that offers riders the stiffness they need with a hit of flexibility.
Outsole
A great feature of this design from Northwave is that it is composed of lightweight materials that feel as light as your summer gear, but still holds in heat and wicks away moisture to keep your feet warm and dry.
Longevity
If you are in the market for the best of the best this winter, you can't go wrong with this super durable design from Northwave.
Overall
It is important to note that it clocks in at a price point that is much higher than some of the other designs that we have seen, but we feel it is worth every penny for those riding in extremely cold temperatures.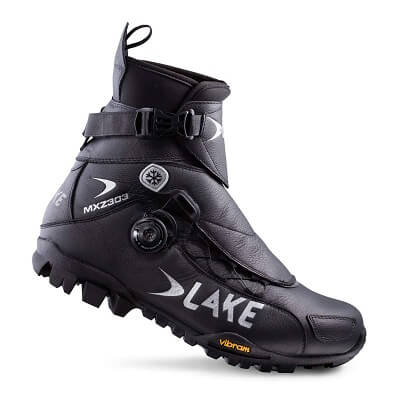 Right here is another manufacturer that has gotten their feet wet with this technology. They have released quite a few superb winter cycling shoes but their MXZ303 could be their best.
Read more
Fitting
Here is what is interesting. Lake specifies that they specially designed their MXZ303 to accommodate for wide feet. Yet, numerous buyers have reported that, in spite of this, the shoe still fits normally and is not wide at all.
Insulation
In both the insole and the toe box, there is 3M Thinsulate insulation present to keep your toes warm. Additionally, both the heel and the tongue are lined with Outlast heat-reflective technology.
Water Resistance
With waterproof and windproof flaps at the ankle, it enhances the waterproofness just a bit.
Outsole
Lake outfitted their model with a rugged Vibram sole. If you need to chug through some snow, this shoe provides an enhanced grip.
Longevity
Let's just say that this is not cheaply made. The Vibram sole is a great example as this is a sole that has garnered a reputation for its durability and longevity.
Overall
Even though the "wide" claim of this shoe appears to be vastly exaggerated, everything else is tremendous including its outsole, insulation, and durability.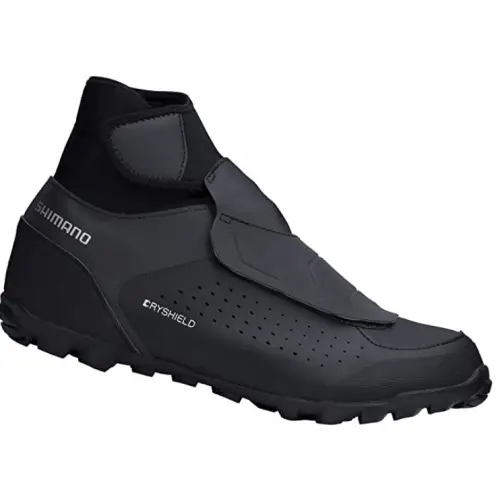 If you are a veteran cyclist, you are likely familiar with the brand Shimano. Shimono knows what cyclists need in all types of climates, and integrates that knowledge into their gear.
Read more
Fitting
What makes this cycling shoe design great for cold weather is that it has a weather-proof upper and a lightweight design that keeps your feet nimble yet protected and warm in chilly temperatures.
Insulation
The very first thing that we noticed about this design is found in the interior membrane. It is composed of DRYSHIELD that works to wick away water and snow before it even reaches your foot. This liner boasts a soft fleece-like lining that is incredibly comfortable and also works to hold in heat as well.
Water Resistance
While it boasts a ton of features to keep your feet warm and dry, it isn't overly heavy and won't hinder your full range of motion.
Outsole
The sole is composed of Shimano's proprietary outsole that will grip your pedals in all types of soggy weather conditions. Plus, it has reflective panels that will keep you noticed at night.
Longevity
If you are in the market for something that comes from a trusted brand, this design from Shimano is a great choice.
Overall
It boasts supportive features to keep your feet comforted and protected, and works to wick away water and snow to keep them dry as well.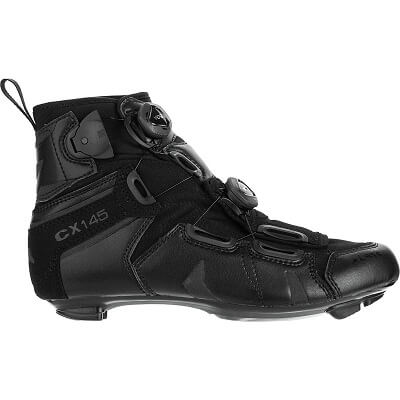 This is a unique model that's designed with a waxed canvas upper. Additionally, it does sport a waterproof membrane that will keep your toes dry under most conditions.
Read more
Fitting
As with most of Lake's models, the CX145 does seem to run on the small side. One nice feature, looking past this, is the precise fitting toe box as this prevents slippage.
Insulation
In theory, this winter cycling shoe should keep you warm because of the waxed canvas upper and leather construction. Yet, one specific reviewer documented that this option could not keep their toes warm for more than an hour or so.
Water Resistance
Due to the waterproof core that was alluded to earlier, this option will protect you from water. Be aware, though, that they will not handle full submersion very well.
Outsole
The sole that is included is made of fiberglass-injected nylon and it provides suitable stiffness for your rides. Additionally, it accepts 2-bolt Mountain and 3-bolt road cleats.
Longevity
Whether you want to look at the fiberglass-injected nylon sole or the waxed canvas and leather upper, the quality of the materials is there and that should result in superb longevity.
Overall
It is hard to base your purchase on the opinions of one or two reviewers. But, as great as this option is, there are documented issues with its provided warmth.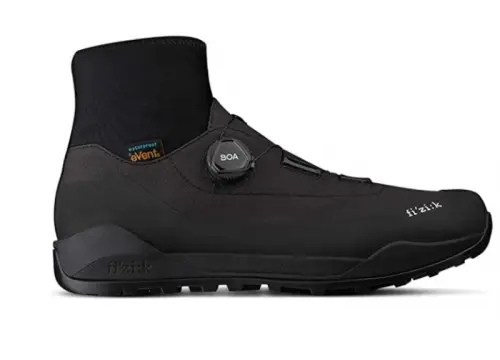 Fizik is another trusted brand that knows exactly what riders need. What we love most about the Terria Artica X2 is that it boasts supportive features to keep your feet comfortable and dry when riding in some pretty nasty conditions.
Read more
Fitting
The very first thing that we noticed about this design is that it boasts a higher profile that is still slim and lightweight like a basic pair of cycling shoes.
Insulation
The lightweight exterior shell is composed of 100 percent waterproof materials to keep rain and snow on the road where it belongs. The higher cuff is composed of stretchy materials so it won't hinder your full range of motion as well.
Water Resistance
The dual layers work together to keep your feet dry, but it also has a vented membrane to prevent clammy and sweaty feet on those long journeys.
Outsole
The X2 outsole is composed of a thin layer of grippy rubber that is designed for snow and rain-soaked pedals for a secure grip. The zippered ankle cuff also provides users with a secure fit and doesn't have a pull tab like some of the other designs that we have seen out there on the market.
Longevity
For a design that feels like a summer riding shoe but is reinforced with materials to keep your feet warm and dry in some pretty cold temperatures, these are an excellent choice.
Overall
If you are willing to spare no expense, this design is worth every penny!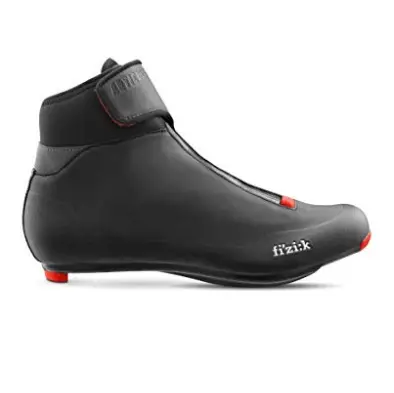 At the end of the day, the R5 Artica has everything that you look for in a winter cycling shoe.
Read more
Fitting
The R5 Artica runs large. So, you may want to consider ordering a size down. As for the closure system, this shoe implements a speed lacing system.
Insulation
For the record, this is the winter edition of this shoe and it comes with a special insole. Also, this sports a fleece upper with an aluminum foil underside which provides insulation.
Water Resistance
While Gore-Tex is not the fabric that was used here, Fizik did integrate a Microtex-reinforced shell. Yes, this shoe is waterproof and it is also breathable to prevent overheating.
Outsole
The carbon-reinforced nylon sole is as optimal as it gets. It is both stiff and light to ensure maximum power transfer when you are pedaling.
Longevity
Unfortunately, there was a previous buyer who documented their issues with the zipper.
Overall
As a precaution, you should be careful with the zipper if you go with this model. But, given the impressive insulation capabilities and outsole, this option will be a wise choice for anyone.

Subscribe to our Newsletter