Best Winter Cycling Shoes – 2021 Edition
In a
Hurry? Editors choice: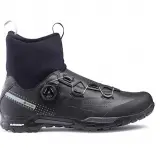 Test Winner: Northwave Northwave X-celsius Artic Goretex

A good pair of winter cycling shoes is a great way to protect those hard-working feet from the elements when biking in cold climates. Even though your feet make limited contact with the ground, they still need to be protected. Beneficial features include internal booties and waterproof uppers that wick away snow and rain. Standard cycling shoes are designed for warm climates and boast a low profile, lightweight design, and plenty of mesh panels. If you intend on cycling all year, your basic footwear simply will not do.

In this guide, we have provided a list of some of the best winter cycling shoes from trusted brands to keep your feet from turning into blocks of ice this winter!
Standout Picks
Criteria Used for Evaluation
Fit
Not only does the fit need to be perfect for you but you need to pick a good lacing system.
Fit is important when it comes to all shoes. For winter cycling shoes, it is crucial to analyze the lacing system in addition to the way the pair actually fits you. It may surprise you a little but a good pair of cycling shoes should fit much as your sneakers should. Unlike hiking boots, you don't need to go a little larger to accommodate winter socks. Select a size that fits your foot like a glove and invest in a good pair of lightweight yet insulating outdoor socks.
The lacing system is also very important. A very popular one, in fact, is the Boa closure system. Even though each Boa system can be custom designed, each one will sport three integral parts that will allow you to achieve an optimized fit with great efficiency. There are other lacing systems such as a speed lacing system. As the name implies, this system is designed to allow users to quickly and effortlessly adjust the fit.
Above all else, be sure that you consult the sizing chart provided by each brand. Multiple brands have sizing charts that are slightly different, so be sure to measure your foot and consult the chart provided to ensure that you get the right size for your feet.
Insulation
Good insulation will help hold in the heat without the use of bulky and cumbersome materials.
Basic cycling shoes are composed of lightweight materials that have a myriad of mesh panels to keep air circulating. For cold weather, there are a few important features implemented to keep your feet warm yet functional.
It is never a bad idea to look out for Gore-Tex. In addition to its waterproofness, it adds much-needed insulation. Common insulation that designers will implement is known as Thinsulate. This is very popular insulation and for good reason, as it retains heat efficiently. The gram-count will dictate just how warm the shoe will be.
Keep an eye out for heat-reflective technology. If the interior is lined with this technology, your body warmth will be reflected and it will enhance the warmth overall.
Water Resistance
Dry feet are warm and happy feet.
Your winter cycling shoes need to be waterproof shoes. With cold weather often comes rain and snow, so it is important to keep your feet dry.
Materials such as Gore-Tex are a great way to wick water away without adding excess bulk. We found that most of the name brand designs out there on the market utilize a Gore-Tex membrane to keep snow and rain on the road where it belongs. Gore-Tex is great because it is 100 percent waterproof and it is also lightweight so it won't hinder your full range of motion.
A higher profile is another great way to keep water out. Basic cycling shoes boast a super low profile that falls just under the ankle bone to promote a full range of motion in the foot. If you know that you will be out in rainy and snowy conditions, a high profile cuff is a must. Many brands opt for a Gore-Tex cuff that is stretchy and contours to the shape of your foot without being overly stiff.
Outsole
A grippy outsole means no more slipping off of the pedals when you need to turn up the intensity.
Cycling shoes are unique and can improve your pedaling experience. There are different types available, though, with two of them being road shoes and mountain bike shoes (MTB). The former are specially designed for outdoor use and are compatible with LOOK Delta cleats and the latter can be used both indoors and outdoors and are compatible with SPD cleats.
Also, the actual sole (which is the bottom-most layer of a shoe) should provide traction. Vibram soles specifically come to mind and work great for cycling shoes.
Many brands opt for grippy rubber materials that are designed in a way that almost wraps around the pedals. These effectively-positioned rubber grips won't slip off of the pedals as you pick up speed, and are designed to grip even slick surfaces, similar to winter boots or running shoes.
Durability
Though winter cycling shoes will not wear as quickly as other footwear, it is still optimal to look for high-quality materials.
Cycling shoes do not suffer the same type of wear-and-tear as standard shoes, but they will wear down over time. Pressure on the midfoot, as well as constant exposure to the elements, will wear on the materials and render them less effective. That's why we made sure to select designs that are built to hold up to some pretty extreme temperatures.
The outsole of each design needs to be composed of solid panels of waterproof materials such as Gore-Tex. We mention the use of solid panels because the more seamlines that are found in the outsole means that there is more of a chance of water penetrating inside. Double-stitched outsoles also extend the life of your gear as well.
OUR TOP PICKS FOR THE BEST WINTER CYCLING SHOES
Subscribe to our Newsletter