UGG Adirondack III Hiker
Since 1978, UGG has been a well-known and stylish shoe brand. For all of these years, they have continued to produce durable, reliable, and warm shoes.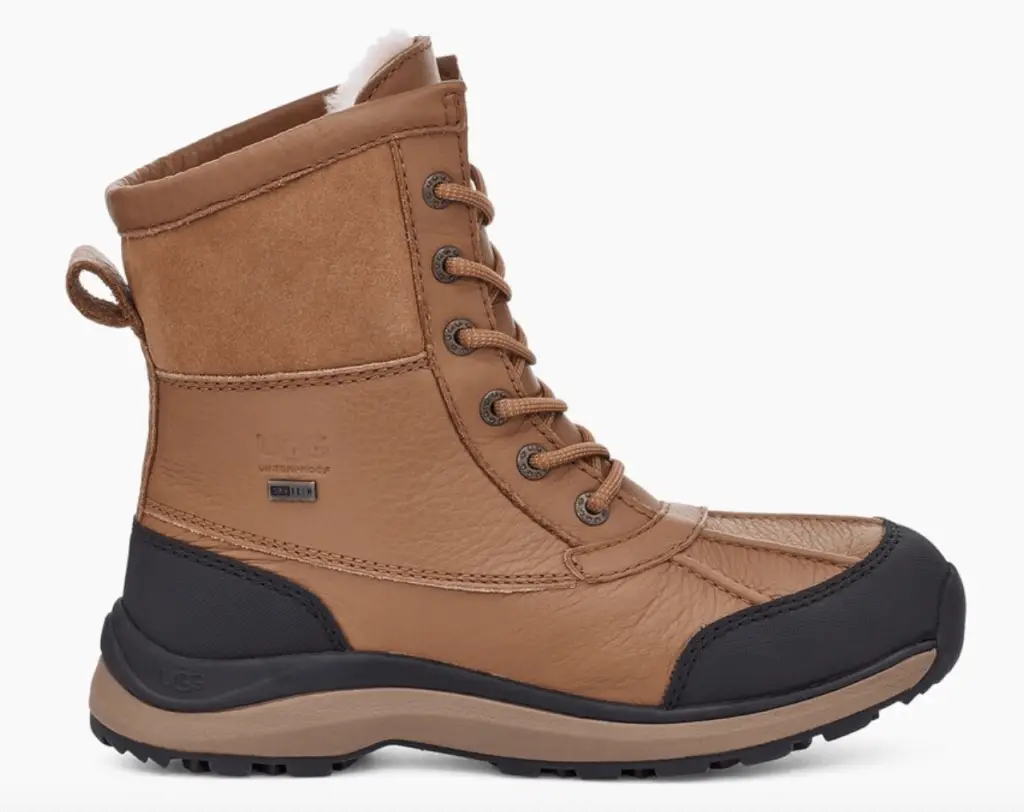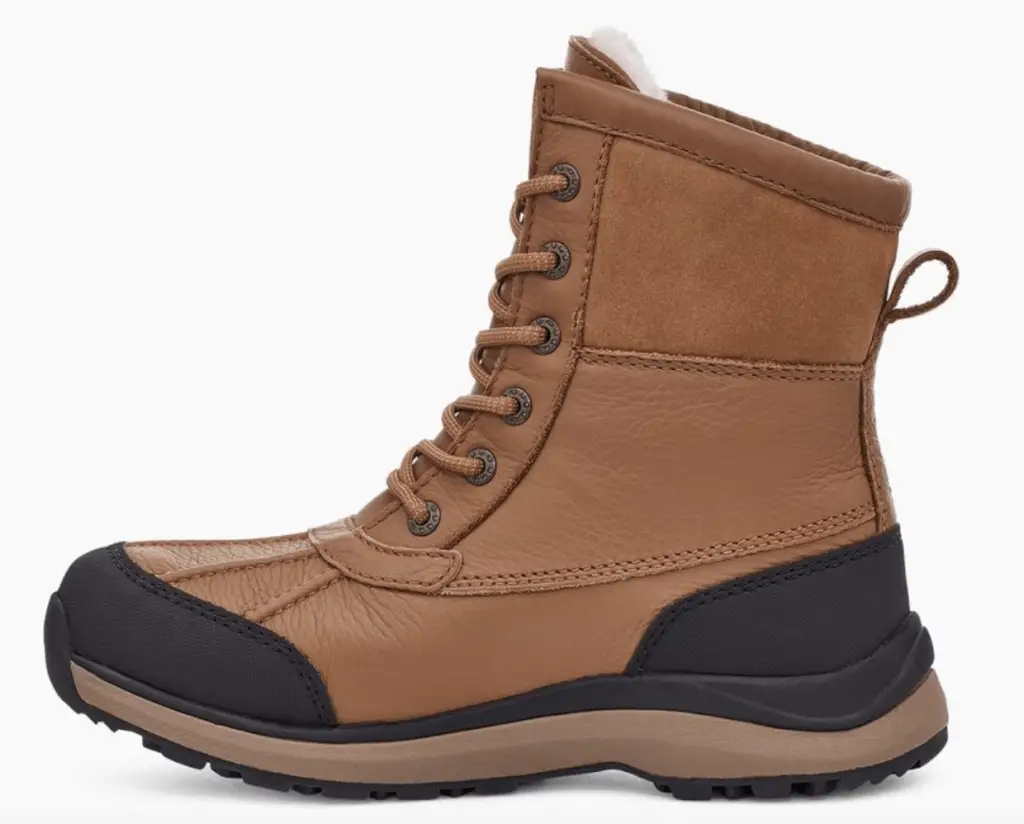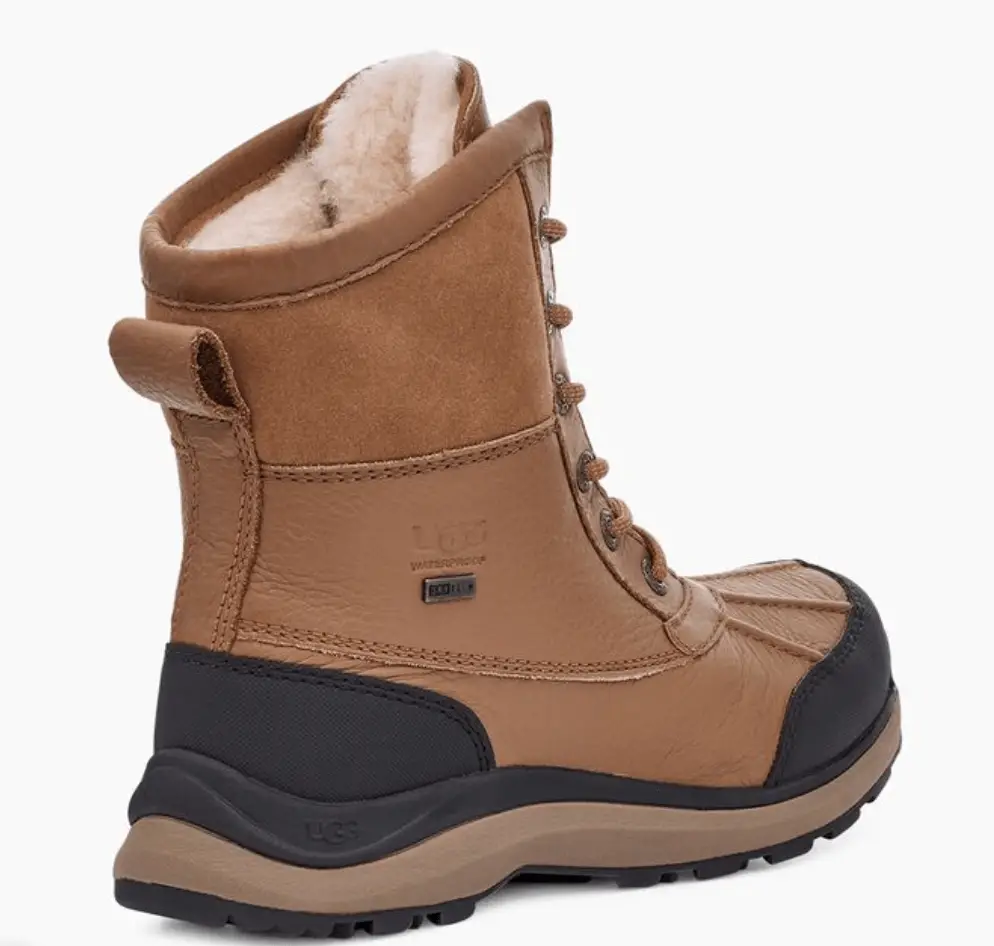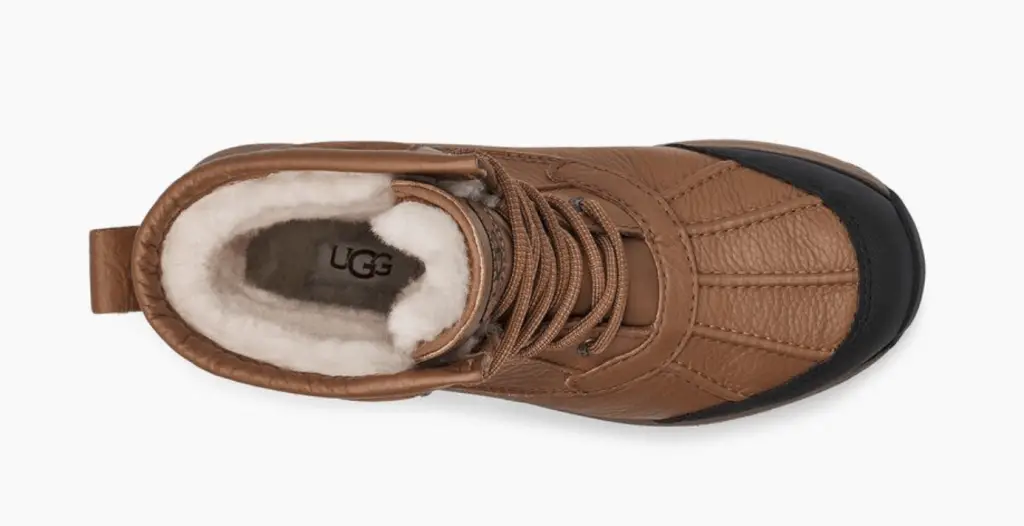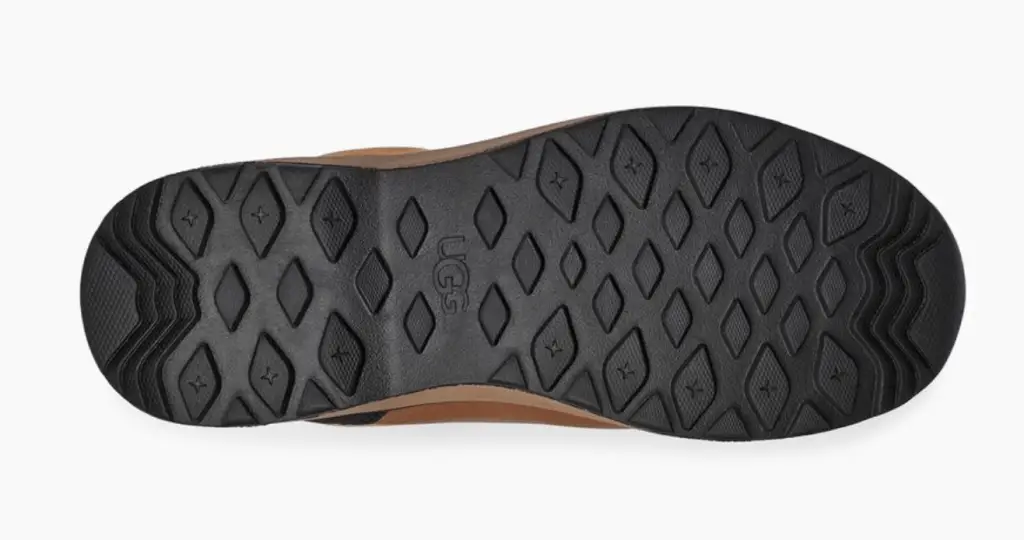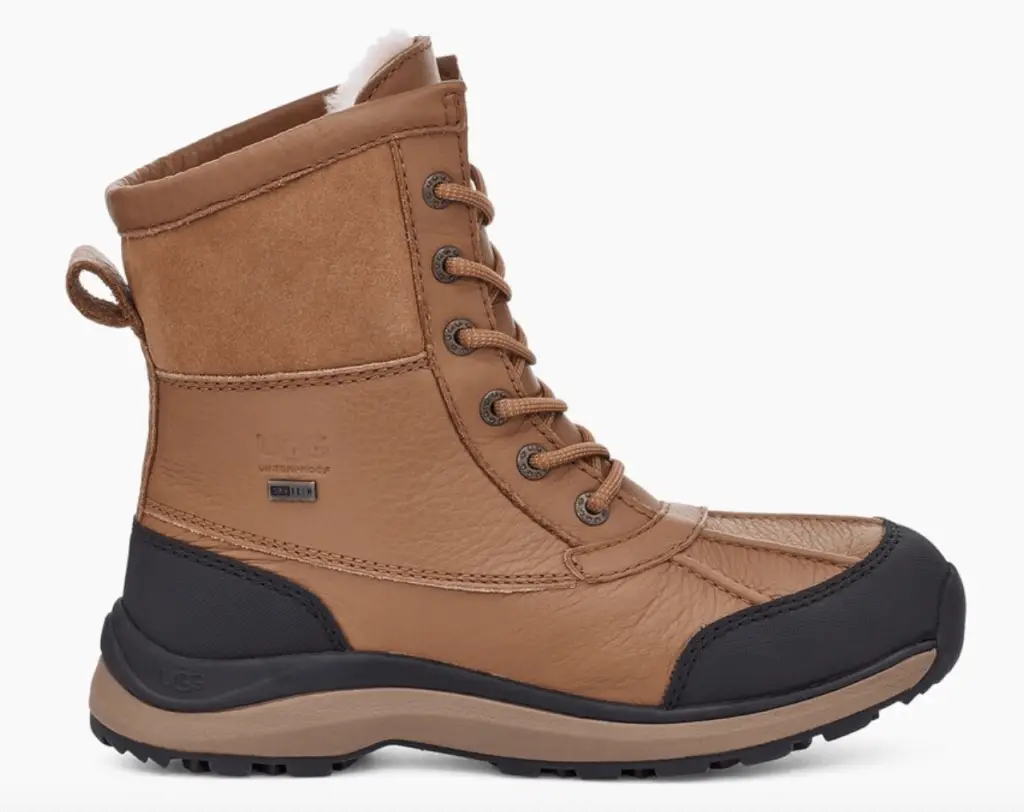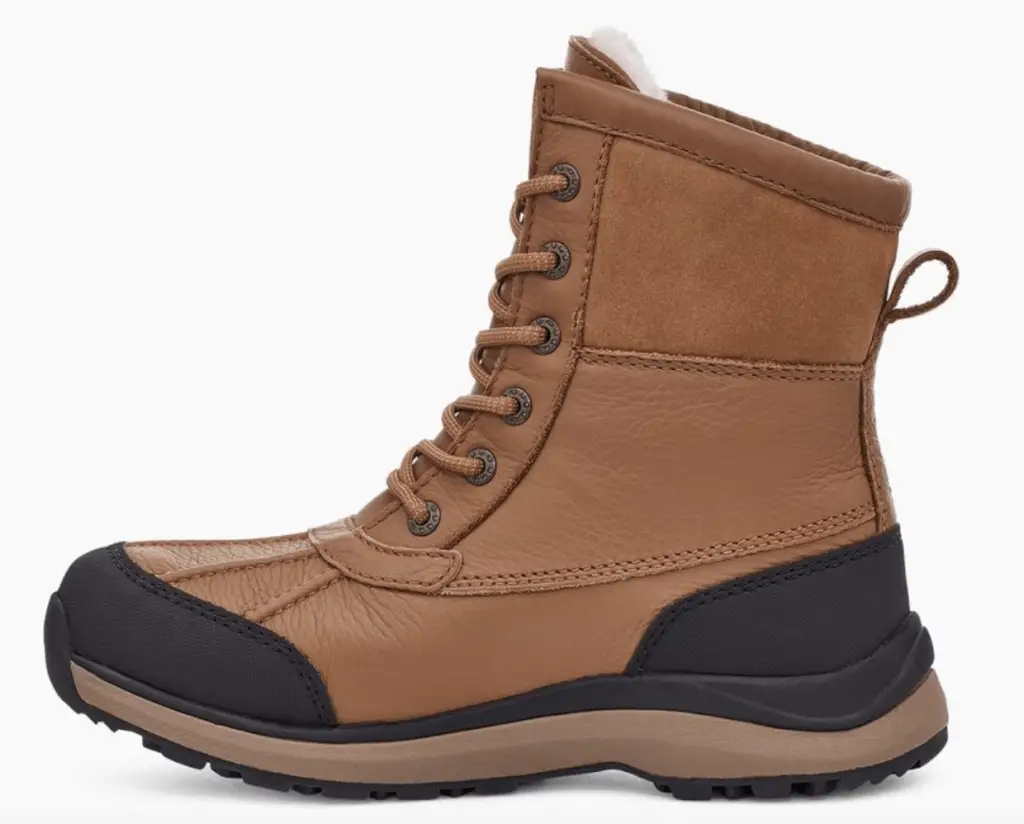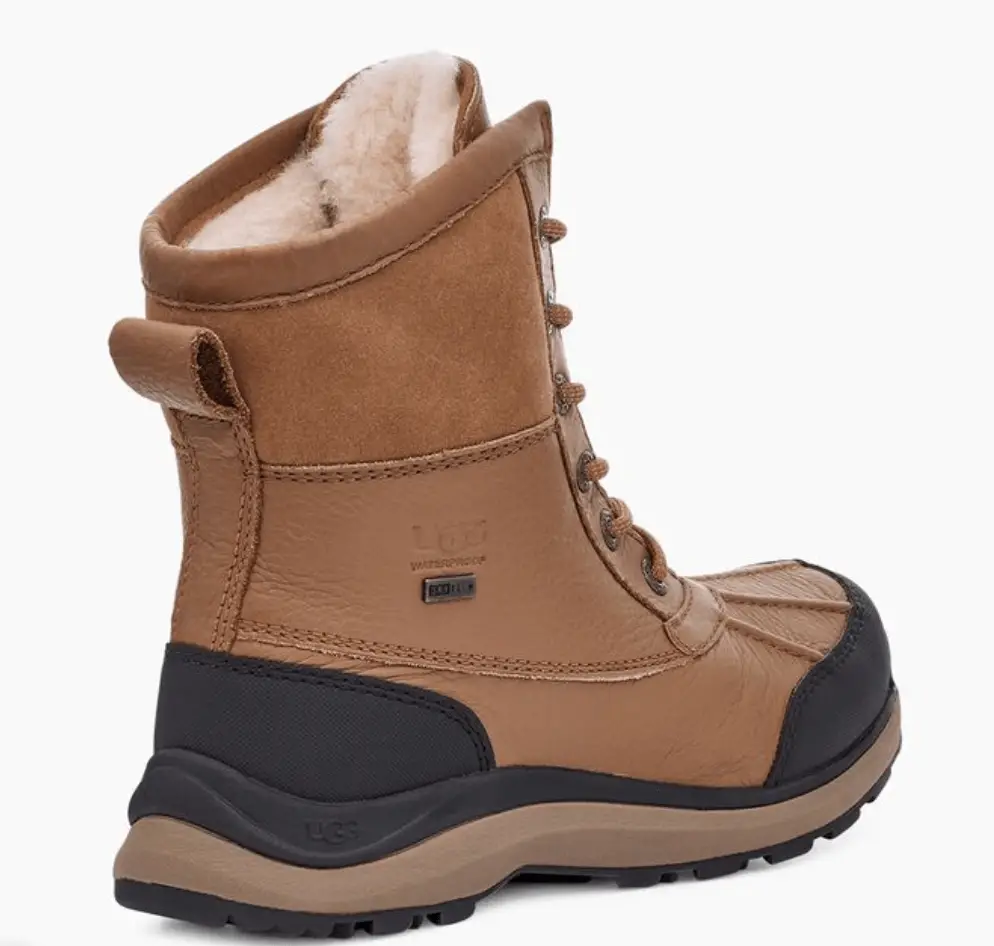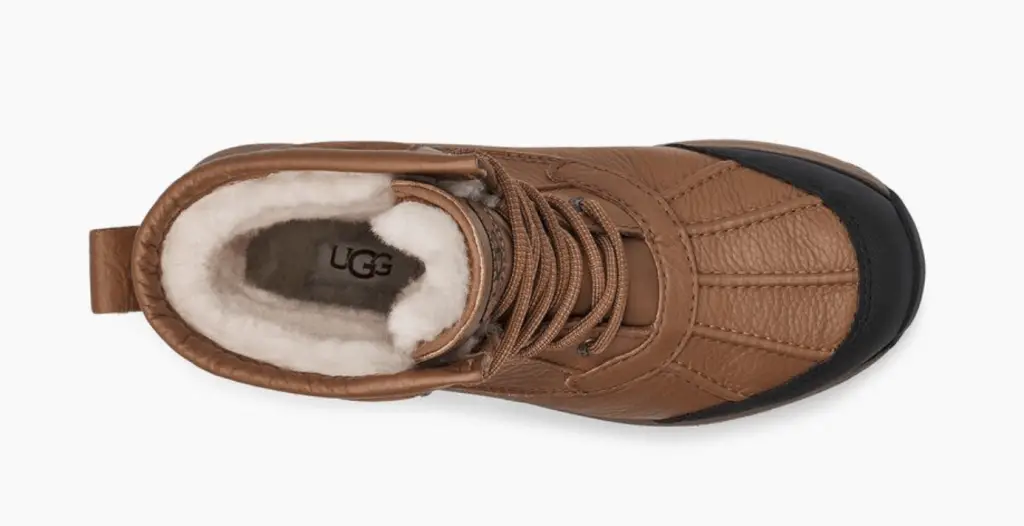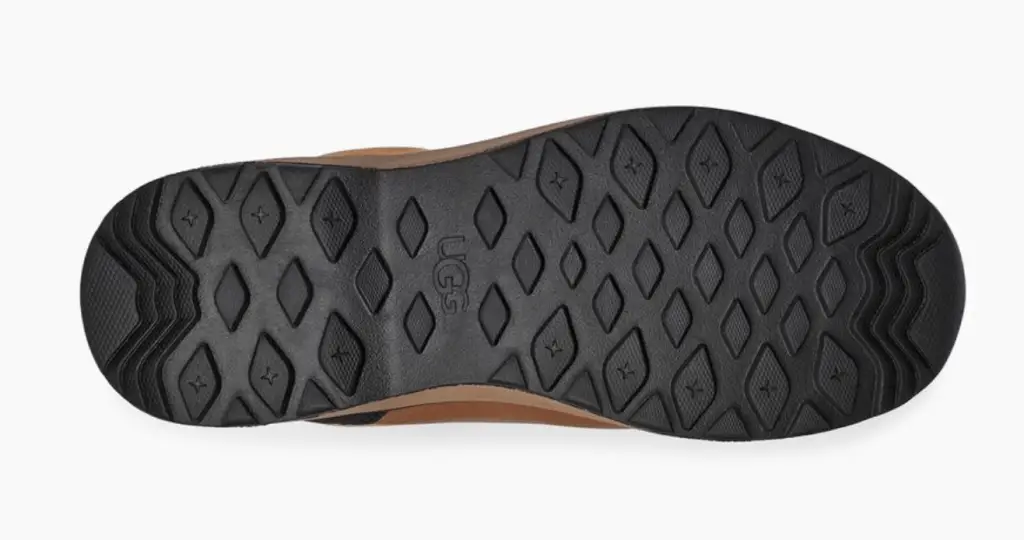 Our Conclusion
While this might not be the first brand that comes to mind when looking for a
winter hiking boot
, you should absolutely give the Adirondack III Hiker a chance.
This versatile boot is weather-rated down to -32 degrees Celsius. It allows you to stomp through snow, puddles, mud, and more without getting your feet wet. It has impressive traction and, after the break-in period, the Adirondack III Hiker is very comfortable.
If you are looking for a "go everywhere" boot in winter, this is a great option. Keep reading to learn about more of the unique features.
Pros & Cons
Easy to put on and take off
Lightweight, considering the warmth
Doesn't offer a lot of stability
Key Features
Key Features
Comfort

Slide your foot right on into this little portable heaven. The EnerG comfort footbed, dual-density EVA midsole, and different additions of insulation work together to create an incredibly comfortable environment for your feet.

There is a mild break-in period, but after that, it's smooth sailing. The Adirondack III Hiker is a great option for running errands around town or hiking through the snowy mountains.

If you need extra arch support, the fur-lined insole is removable and replaceable. Additionally, there are two different ways to wear this boot.

You can lace it all the way to the top, making the shaft about eight inches tall, or you can fold it over, exposing the Sherpa lining. For all of the warmth and features this boot provides, one would expect the pair to weigh more than 2.6 pounds.

Fit

At first, ordering your normal size in these shoes might feel a bit tight. However, with time, the leather loosens, becomes more flexible, and provides a comfortable fit.

If you prefer to wear very thick socks or are between sizes, you may want to order up half a size. These boots are available in sizes 5-12, including half sizes along the way.

As I mentioned before, the shaft height is about eight inches. While this is relatively low for a winter hiking boot, there is a heel tab that makes putting them on very quick and easy.

They are also easy to slide off your feet once you've made it back to the warmth of your home. There are four eyelets on the shaft that allow you to decide how far up and how tight you want to lace them.

Features

One of the most notable features of these boots is their weather resistance. They are weather-rated to -32 degrees Celsius (-25.6 degrees Fahrenheit). They have 200 grams of insulation, 8mm of Sherpa lining, and 17mm of UGG plush (made from 80% wool and 20% lyocell).

The wool in the UGG plush helps to make them breathable as well. Even if things get a little too warm in there, you won't be sloshing around in sweat.

The Adirondack III Hiker is also waterproof. The interior DryTech waterproof membrane allows you to cross small rivers, step in puddles, and trudge through snow without getting your feet wet.

The tongue and gussets are finished with a water repellent coating and the laces are non-wicking, meaning they will not absorb water.

Durability

Made from high-quality materials, there are not many durability concerns. The Adirondack III Hiker is made from leather and suede with a sheepskin lining.

One important thing to note about the durability of these boots is that you need to treat the leather and take care of it to ensure it will last and look good for many years. With orders over $200, an UGG care kit is included if you order directly from the company.

A one-year warranty is also included. It insures the item from material or workmanship defects for up to one year from the purchase date. If something tragic happens to your boots after the one-year mark, UGG will consider your issue and possibly offer repairs.

Stability and Traction

In terms of traction, this boot shines. The outsole is made with White Spider rubber. It is non-marking and provides a great grip on a multitude of surfaces. The small diamond-shaped lugs produce a great bite on wet, dry, loose, or packed surfaces.

The stability aspect of this boot doesn't shine as much. Because the leather is flexible, the eight-inch shaft is not stable enough for people with weak ankles, or people who are generally clumsy.

Comparison to Similar Boots
The North Face Shellista 2
is a slightly stiffer boot that is also waterproof and provides great insulation. This boot has 200 grams of PrimaLoft Silver insulation that doesn't have an exact temperature rating but is very warm.
The shaft is slightly higher than the Adirondack III, at 8.5 inches. The boot is made from Nubuck leather and finished with a soft knit collar. The pair weighs 2.4 pounds or 1,120 grams.
One area that could be improved on the Shellista is the traction. It is made with TNF Winter Grip rubber outsole with Icepick lugs. The lugs are not very deep and therefore they provide less grip. On the other hand, this boot provides better stability than the Adirondack III because the leather is stiffer. Pricewise, these cost about half as much as the Adirondack III.
The
Joan of Arctic boot from Sorel
is another great option for women. These are the heaviest and the tallest of the options mentioned here. They weigh 3 pounds and 14 ounces and have a 12-inch shaft height.
Sorel claims that they will keep your feet warm down to -25 degrees Farhenheit, but many people think that is pushing it. There is a 6mm removable felt insulation bootie and a faux-fur cuff that provide decent warmth, but nothing more.
The Joan of Arctic is made from suede and is waterproof. It should be noted that the laces, however, are not waterproof. The boots are high enough to provide good stability and to keep snow or water from entering the top of the boot easily.
Two major downsides include the overall comfort and how difficult they are to put on and take off (because of their height). For mild winter walks around town, this is a good option, but I wouldn't suggest it in extreme conditions.
Verdict
Overall, the UGG Adirondack III Hiker is a very strong competitor. Not only is it a comfortable boot for errand running, but it is also strong and functional enough to be worn into the mountains. If there is one area for complaint, it would be the stability. However, that won't be an issue for everyone.

It is an expensive boot, but you can often find it on sale at a heavily discounted price. It is a great investment that doesn't go out of style and is incredibly versatile. Try them for yourself today!
Subscribe to our Newsletter