Oboz Bozeman Low Leather Hiking Shoe
Meet the shoe that you are never going to want to take off. These hiking shoes may look like an ordinary trail shoe, but they are anything but.
When you don't want to burden your feet with a heavy-duty walking shoe, the Oboz Bozeman low leather is your best bet.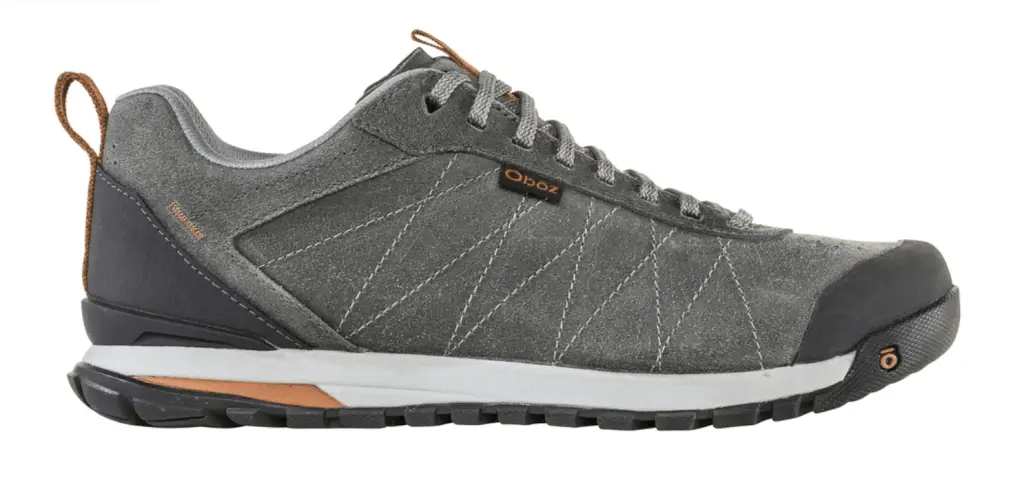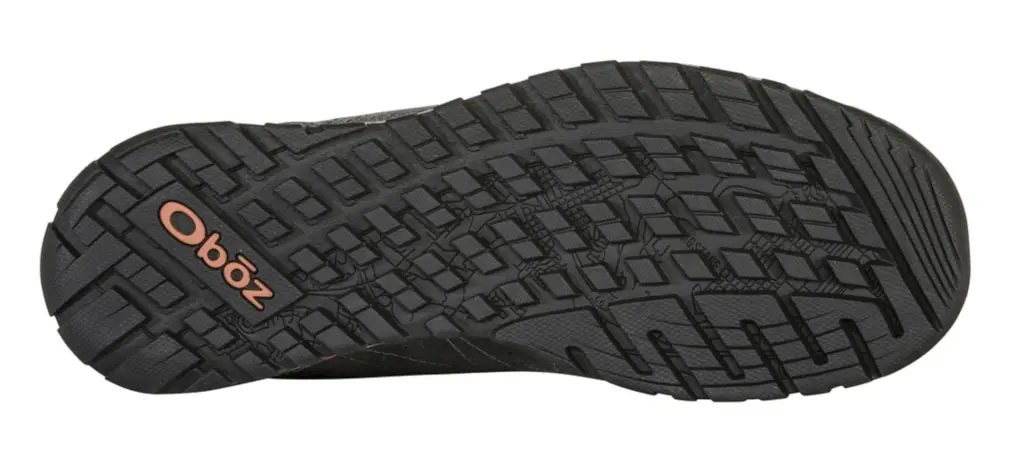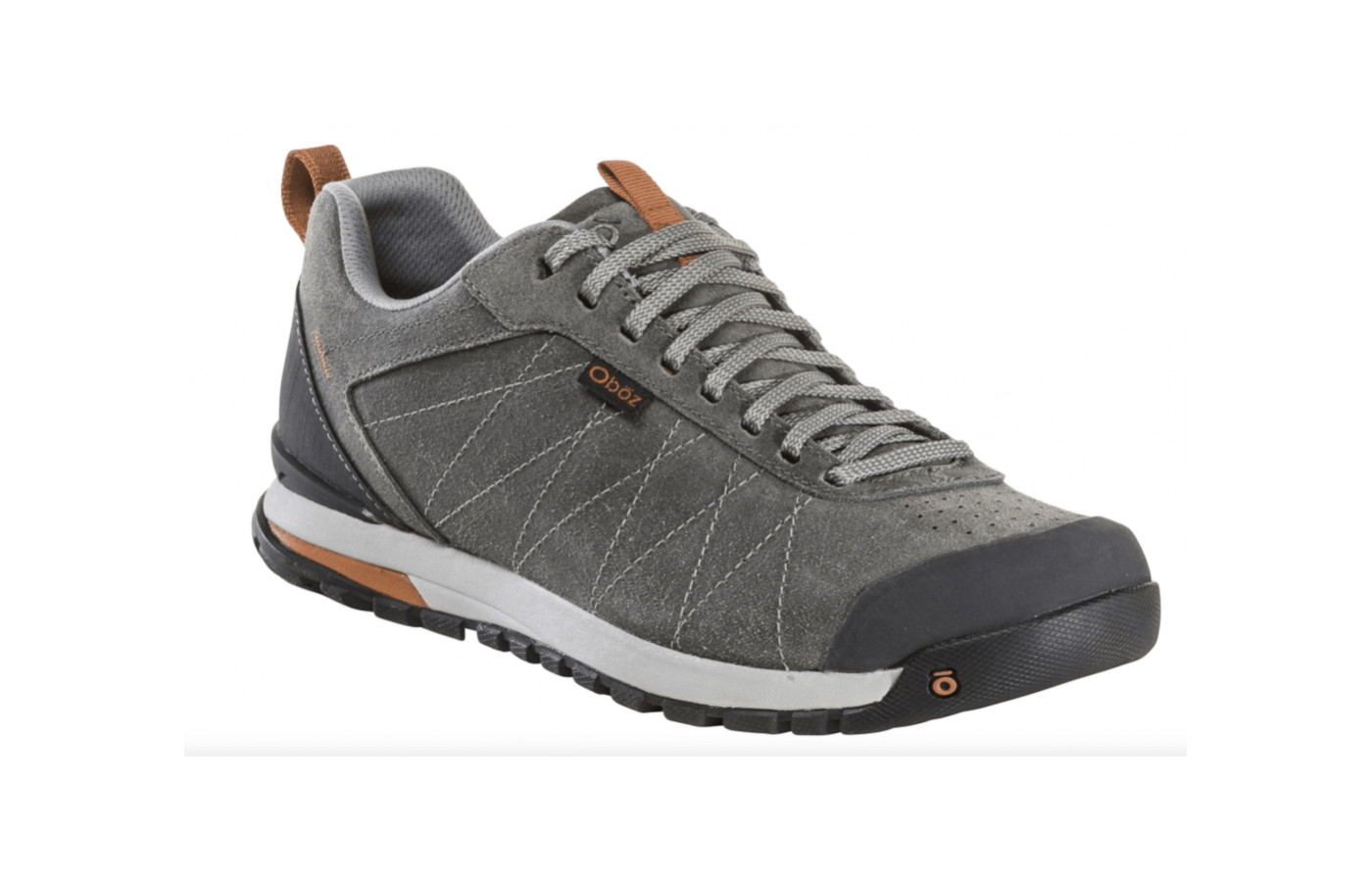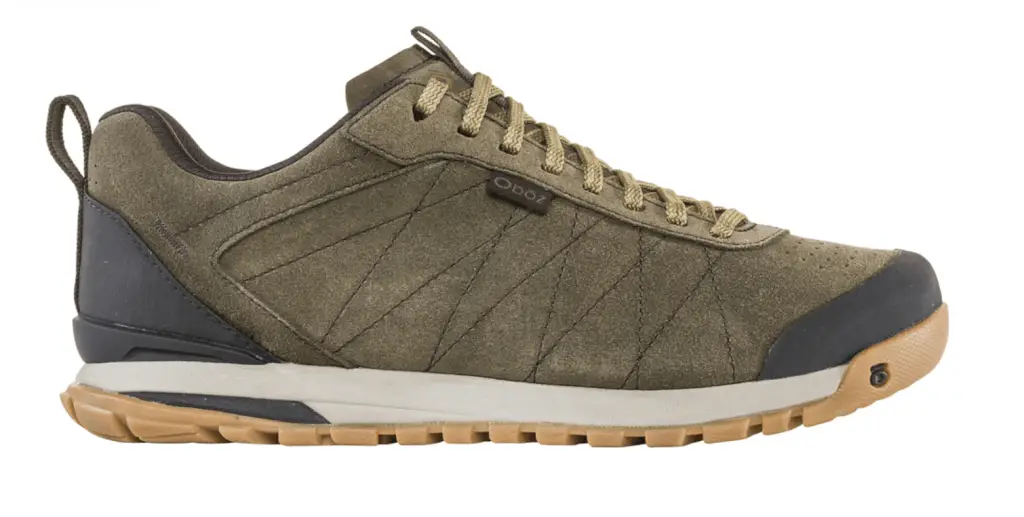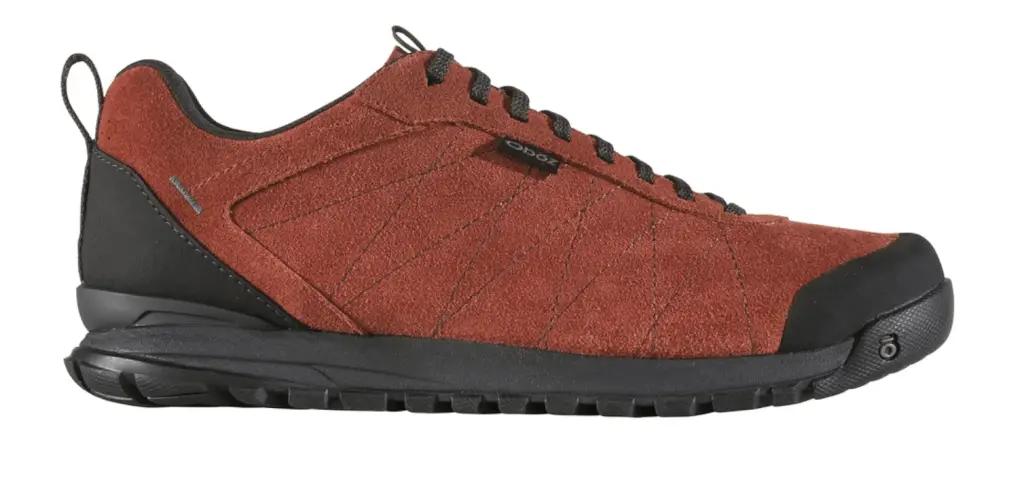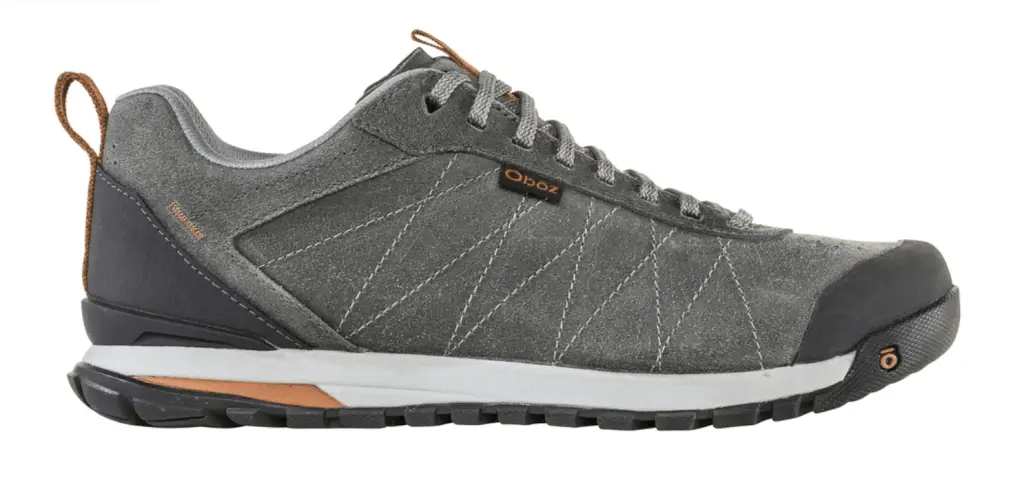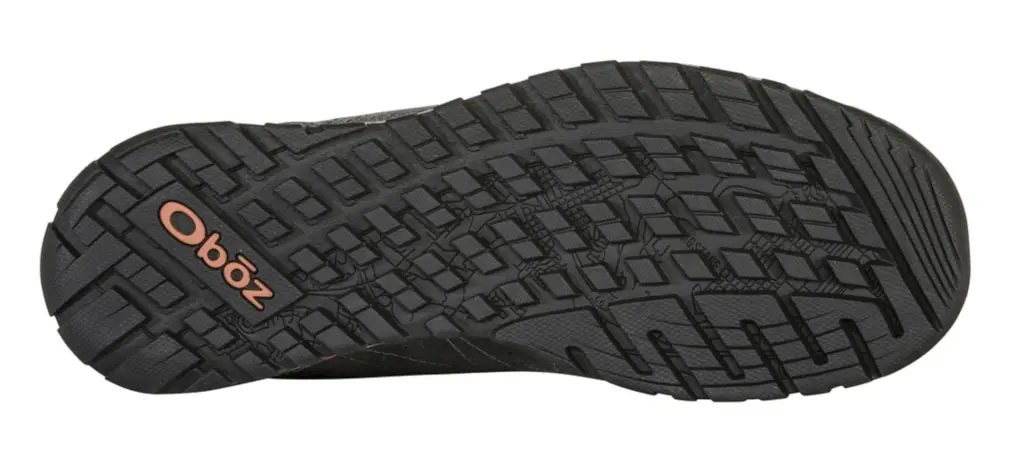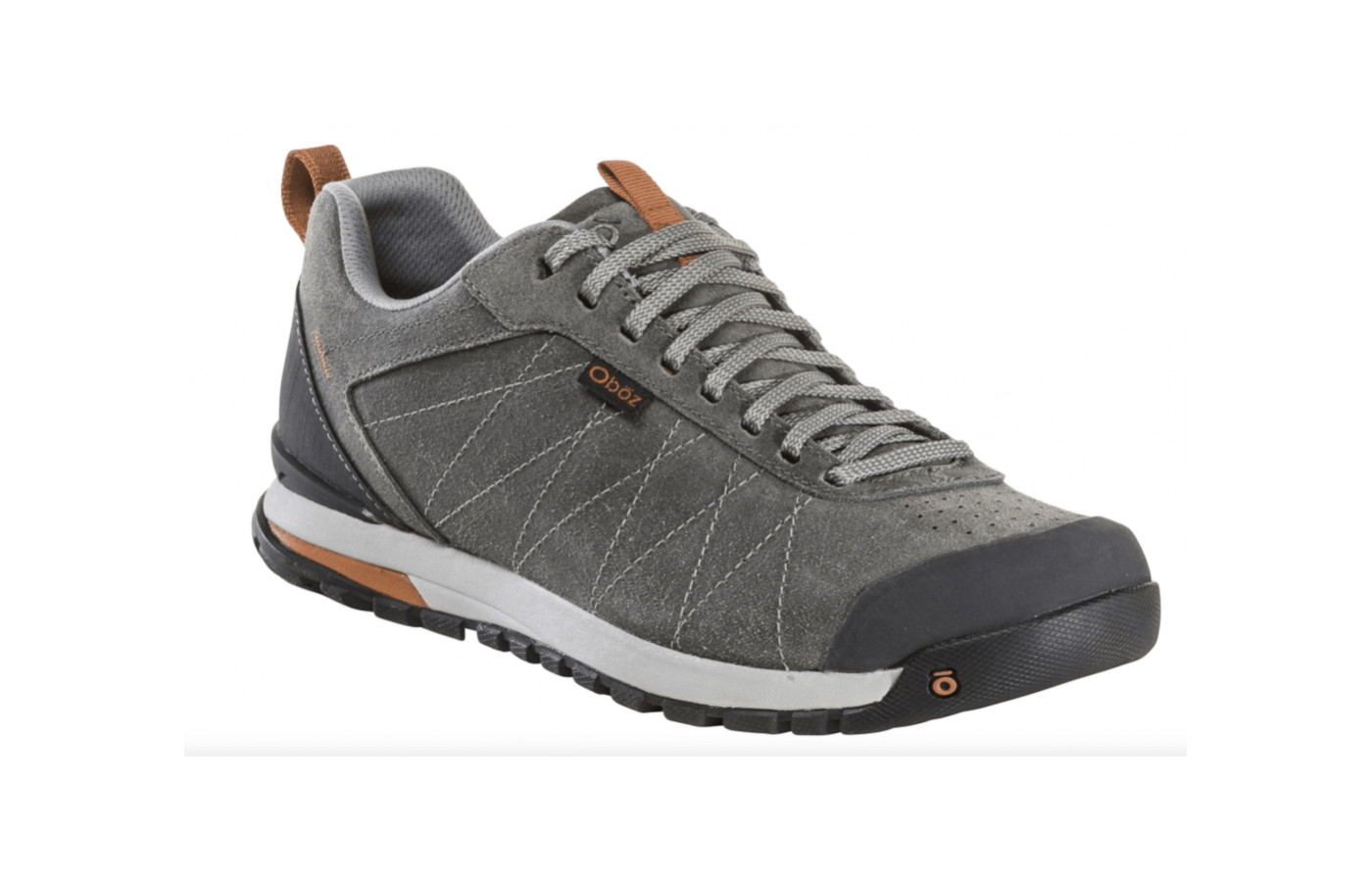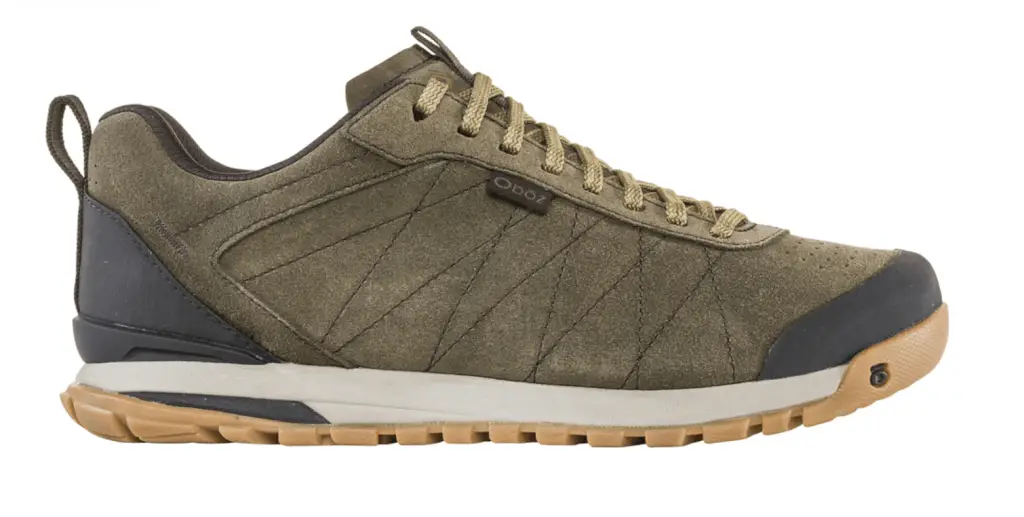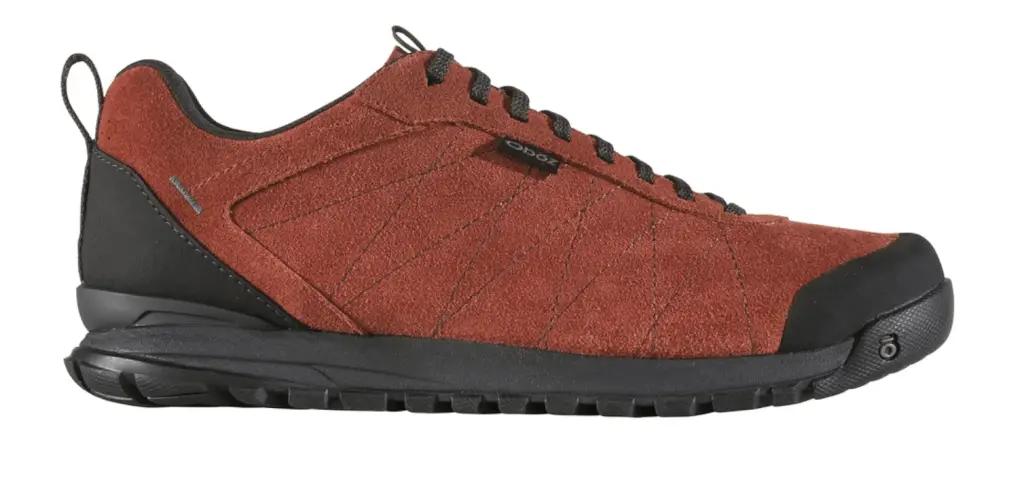 Our Conclusion
As a crazy good cross-shoe that you can wear all the time, Bozeman feels as good as it looks. Its sleek design may hide its incredible comfort, but don't be fooled. This
trail shoe
is one of the most comfortable shoes you'll ever wear.
For the mountain town types, their busy life needs a shoe that does it all. So, whether you fancy a lunchtime hike or some last-minute shopping around town, rest assured your feet are covered by the classic mountain-town look and all-day comfort.
Versatility means popularity. So, whether you're looking for a trail shoe, a sightseeing shoe or just something to walk around town, you won't be disappointed with the performance the Bozeman low leather provides.
Pros & Cons
Men's and women's options
Not suitable for harsh mountaineering or technical terrains
Key Features
Key Features
Design
Being ready for most adventures at a moment's notice is easy with the feature-friendly, performance-ready design of the Oboz Bozeman Low Leather
hiking shoe
.
For example, the Bozeman outsole has a tread that's just the right height for casual use and is aptly suitable for light hikes, urban streets, and mountain towns.
Comprising deep lugs, a less aggressive toe cap, a rounded heel, and sleek, lower-profile construction allow for versatile use. So, whether you find yourself traveling over rocks, grass, river paths, mud or cobbled streets, this outsole has you covered.
Although there isn't a significant amount of arch support for those who need it, you can buy suitable Oboz insoles that provide excellent arch support. In addition, the fit is more relaxed than the more heavyweight Oboz shoes, and the weight is slightly lighter to make it easier for everyday use.
But don't be deceived; the form-hugging heel cup allows you to anchor your heel, while a sculpted mid-foot and broader forefoot & toe box create the perfect, breathable fit for everyday use. Longer laces also make it easy to get a secure cinched down fit or a more relaxed fit, depending on your preference.
Comfort
Hands down, the Oboz Bozeman Low Leather hiking shoes are one of the most comfortable shoes you'll ever wear in your life. I don't say that lightly. With straight out-of-the-box comfort, you'll be on your way in no time. In addition, their sculpted construction allows for a glove-like fit, almost tailored to the individual.
The Oboz Bozeman Low Leather hiking shoes will likely be the only shoe you ever wear due to the roomy toe box, arch support, and heel hugging design, allowing for all-day wear with no fatigue. The arch support is potentially not high enough for anyone who needs extra support, but you can buy excellent Oboz insoles to give you plenty of arch support.
What's more, the Bozeman midsole also allows your feet to adapt to the trail or street due to the firmer EVA foam throughout and softer EVA heel pod, plus gender-specific fit to create individual comfort.
All in all, the high-quality comfort level of the Bozeman brings means you'll have all the comfort you'd need for most outdoor activities. These Oboz hiking shoes will soon be your go-to shoe.
Materials
Some superb and equally ethical materials create this all-rounder shoe. For a start, Oboz shows its commitment to sustainability with the 100% RPET REPREVE® laces and webbing, plus quick-drying recycled natural material lining. Keeping the wearer dry and comfortable is also easy with the PFC-free and water-resistant treated split suede leather.
Choosing suitable materials is one of the reasons these hiking shoes are so incredibly comfortable. For example, the EVA heel pod, firmer EVA foam midsole and TPU supportive heel cup allow for extra comfort and protection when on the move. But what sets these trail shoes apart are insoles comprised of Bloom Algae technology.
This technology uses sustainable algae biomass without ever giving up durability while allowing the insole to create the type of comfort that doesn't exist on the market currently.
Durability
Don't be deceived by this hiking shoe's lightweight and streamlined design. The Oboz Bozeman Low Leather hiking shoe gives the immediate impression of quality.
Using durable materials like split suede leather and a rubber sole already increases the chances of longevity. What's more, the reinforced toe cap not only protects your feet from damage but your shoes also.
Comparison to Similar Trail Shoes
I challenge you to find a hiking shoe more comfortable and versatile than the Oboz Bozeman Low Leather. But if you do want to consider your options, a great alternative could be the
Danner Jag Low 3"
Lifestyle shoe. Coming in either durable suede and nylon or nubuck and nylon, the materials chosen are very similar to the Oboz.
But it also provides excellent value for money and comfort with a cushioning EVA midsole, a new waffle outsole suited to various terrains and a lightweight design. At about the same price, both shoes are a great choice.
Or you could try out the
Merrell Burnt Rock Travel suede hiking shoe
, which is another versatile and comfortable hiking shoe. Durable materials like suede and rubber create a shoe that will last, no matter how many adventures you go on.
So, whether you're in the mood for a walk in the woods or a strut around town, the natural blend of breathable mesh, suede and outdoor-inspired construction means comfortable wear no matter the occasion. Adding the Kinetic Fit Base, EVA foam midsole, and rubber outsole provide everything you need for casual hikes.
Although both of these shoes are great alternative options, I wonder if they'll provide the immense comfort that the Bozeman does.
Verdict
You'll be hard pushed to find a better value, more comfortable, and performance-ready shoe at such a reasonable price. This feature-friendly shoe provides comfort, durability, and versatility, allowing you to instantly go from town to trail.

With a stylish, understated mountain look design, you'll be able to wear these hiking shoes with shorts, jeans, khakis, or anything you think looks good. You can't go wrong with a pair of the Oboz Bozeman low leather hiking shoe.