Best Dry Bags
In a
Hurry? Editors choice: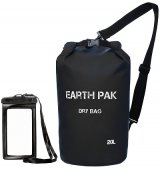 Test Winner: Earth Pak Sack

If you're an adventurous soul, it's always better to be prepared. If your trek through the jungle leads you to a shoulder-deep river crossing or in a heavy rainstorm, how will you
keep your belongings safe
? This is where the brilliance of a dry bag comes into play! These best dry bag models are usually made from PVC, Nylon, Polyester, or a blend. They are designed to keep your belongings safe and dry whether you are
kayaking
, fishing, or just
laying out on the beach
. Some are even strong enough to be submerged! Knowing which of these best dry bag models you can trust and which bags have failed can be time-consuming and difficult. Check out our well-researched list and
never worry about the weather
or oceans spoiling your fun outdoors.
Standout Picks
Criteria Used for Evaluation
Materials
If anyone ever wonders why these best dry bag models are so appealing and what their number one selling point is, it would undoubtedly have to be their ability to protect the inside contents from water. They do go beyond this type of resistance and waterproofness, but this is arguably the first aspect most people think of. Outside of the fabric that the manufacturer decides to utilize, whether strong and heavy-duty 500D Tarpaulin, 500D PVC, polyester trilaminate, nylon, among others, there are specific design elements that prove to you its effectiveness in stopping water penetration.
A couple of examples would be the fabric being highly-resistant to tears and abrasions (preventing water from getting in thanks to a hole), thermal welding at the seams to make it watertight, and reinforcement at the major stress points to provide extra toughness. However, you can also note the closure system and its ability to be submerged in water. With some of these best dry bag models that use a roll-down top design, you may be able to get away with quick submersion. But, anything substantial could prove problematic and your valuables could be exposed to water damage.
Ease of Use
Here is where things can get a little tricky. Unlike the previous section, this one will vary significantly in our best dry bag models list. However, the most common form of carrying and transportation that you will find on this type of bag is via an adjustable shoulder strap. This allows you to either wear it on your shoulder or simply carry it by hand. With it being adjustable, you can properly adapt it for your height and weight. Each person will want a different fit, so this is vitally important. It is also nice when the shoulder strap is detachable, as it may get in the way when you are not using it.
Then, you have the variations with dual shoulder straps, making them gimmick the properties of a backpack. For some, two straps will be significantly more comfortable than one. Of course, you will also run into variations with no shoulder strap whatsoever. Simply, prioritize the style that will suit you best. Through it all, no matter the style, do pay attention to the padding of the strap. This is one of the more common issues with most dry bags, especially on this list, and some will provide discomfort after too long.
Capacity
It is fair to assume that when you come across liters, you have no earthly idea of how to interpret that and how much it will hold. If so, there is nothing wrong with that as it can be hard to comprehend. But, because a best dry bag model has a volume it is measured in liters (as liters is the metric unit for volume). So, instead of going through and explaining how much a specific amount will hold (or coming up with an algorithm) here is a general guideline that you can reference when determining the appropriate size for a best dry bag model.
Anything under 20 liters is best suited for half-day or a couple of hour trips. Do not expect to fill this with three days' worth of necessary equipment, as you will be disappointed. Once you get in the 20 to the 35-liter range, you can then expect to fill a full day's worth of gear. If you do want a dry bag to get you through a weekend, you better get around 40 to 50 liters worth. As you also saw some at 55 liters on this list, anything past 50 is suited for multiple-day trips.
Features
The ideal word to sum up a dry bag is convenient. After all, its main designed purpose is to protect your valuables from any danger. But, the convenience of a best dry bag goes far and beyond just this. For starters, much like any other bag, it is both useful and helpful to have additional storage compartments. Whether this is a zippered pocket in the front that can hold essential items, a mesh pocket to hold snacks and beverages, or an internal pocket for better organization, they come in handy.
Then, how about when manufacturers include additional products with their best dry bag? While this has nothing to do with the dry bag itself, it sure is nice when they include a waterproof phone case or pouch that can fit right inside the dry bag. Of course, sometimes you will see convenient features such as reflective strips on the exterior to allow you to be seen from a distance in emergency situations or attached D-rings for attaching the dry bag to exterior objects. Finally, depending on the weight you store in your bag, some may even float on top of the water. Though this is a lot of information to soak in, keep it at the forefront of your mind as convenience is bliss!