Best Beach Canopy
In a Hurry? Editors choice: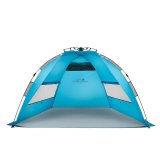 Test Winner: Pacific Breeze

Summertime is fast approaching and being able to be
outdoors
with your family and friends enjoying the weather is very important. Making sure you are covered in shade for apart of the day is very important. While sunscreen is essential, another way to keep yourself safe and cool is through the use of a beach canopy. Whether you are at the beach with family or even out at a park or camping, you are needing an area where you can eat or relax in without the sun shining down on you. A great best beach canopy can offer protection from the
wind
, rain, and other elements, no matter where you are. Making sure it fits your whole
family
or group of friends comfortably inside is very important. Below we have listed the top ten best beach canopies in the market today.
Standout Picks
Criteria Used for Evaluation
Size
Perhaps one of the most important, and easy to ascertain characteristic of the beach canopy is the overall size. In most cases, the size is determined by the footprint created by the structure on the ground, not necessarily the size of the canopy itself when it is opened up. The canopy size is often a few feet less than what is advertised as the overall size. Why is this important? Well, for starters, the overall size will tell you approximately how many adults, children, or pets can fit under the canopy.
Some beach canopies, such as the June and May Beach Canopy can fit two adults comfortably and not much more. The Portable Backpack Tent by Easy Go Products has enough room to fit four people quite easily. Choosing the right beach canopy to fit your needs often starts with knowing how big it actually is once in use.
Materials
The beach is a surprisingly harsh environment. There is usually a constant wind, sand, and salt from the sea beat against your skin and clothes and equipment, and there are plenty of animals and people that can wreak havoc on your beach canopy. That's a way of taking a look at how the canopy is made, and what materials are used is so critical for finding the right one for your next outing. Not only do you have to consider the strength of the material, but it still needs to be made of a material that is light enough to keep the Ease of Use manageable.
Thankfully the examples provided here are great at finding the balance between strength and being light. Ease of Use. The materials used, such as aluminum poles, rip-resistant jersey materials, and strong hinges and sturdy sandbags, all contribute to the balance.
Ease of Use
Whether you use the beach canopy at the actual beach or in the backyard, how easy it is to set up and take down is certainly an important consideration. After all, if you're getting frustrated even before the canopy is in use, chances are your day at the beach won't be much of a picnic. So we took a look at how easy, or hard it was to set up and take down each of these beach canopies. Some of them, like the Rhorawill Pop Up Beach Tent and the Lightspeed Quick Canopy Instant Pop Up Shade Tent, go up easily with a single deployment, while others like the Coleman Instant Sun Shelter may take a little more work.
How easy the beach canopy is to take down is also important. The last thing you want at the end of the day to have to fight with your canopy to put it away. Thankfully, these examples are fairly easy to take down and put away, provided that you follow the manufacturer's directions.
Durability
A quality beach canopy should be designed to not only be easy to use but to be used many different times. The durability of the canopy is a great measure of this ability. While nothing can last forever, many of these canopies can provide many summers of use with proper care and maintenance. By taking a closer look at the materials used, and the quality of the workmanship, we're confident that the examples presented here will last through many summer vacations.
Top Ten Beach Canopys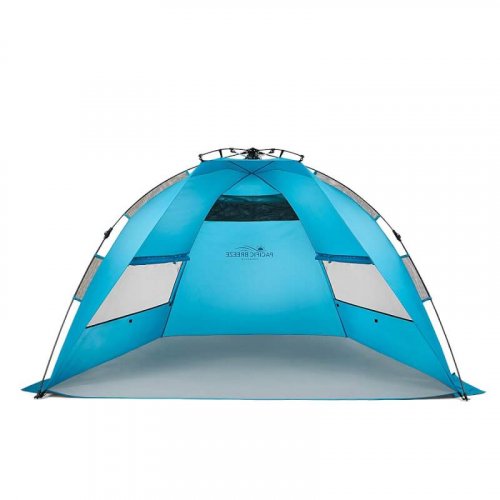 When it comes to finding a truly portable outdoor sunshade and beach canopy that can comfortably fit a small group of people the Pacific Breeze Easy Setup Beach Tent s certainly a viable option. This durable and lightweight tent is 87 L x 47 H x 49 D a provides a spacious interior shelter and has internal pockets to store personal items and keep them safe and dry. It includes a carrying case to keep this tent even more portable than it already is.
Read more
Size
This beach canopy is large enough to provide four average size adults with adequate shade and sun protection and amazingly will fold down to 40 L x 5 W x 5 H for storage. This tent measures out at 87 L x 47 H x 49 D. It weighs only four and a half pounds when packed away, so it can be easily carried by just about everyone.
Materials
This particular beach canopy has fiberglass poles for added stability and strength, but it also offers protection from the hot beach sand through the use of breathable polyester and is water repellent. It also has a water-resistant PE floor makes the beach tent a great outdoor accessory. Add to that the weather resistant, yet breathable canopy, and chances are you, your friends, and even your pets will enjoy spending time in it.
Ease of Use
This beach canopy and a domed tent are fairly easy to set up and easy to clean with a simple water rinse. No need to scrub this canopy to get rid of the dirt and grime from the day – just rinse off and allow to air dry. It is very easy to set up and even easier to take down with its fiberglass frame.
Durability
The materials used in this beach canopy are of good quality, and they are designed to withstand the rigors of normal use. While it's certainly not suitable for use in the scorching desert sand, it is more than adequate for a few summer vacations.

2

. Otentik Beach Sunshade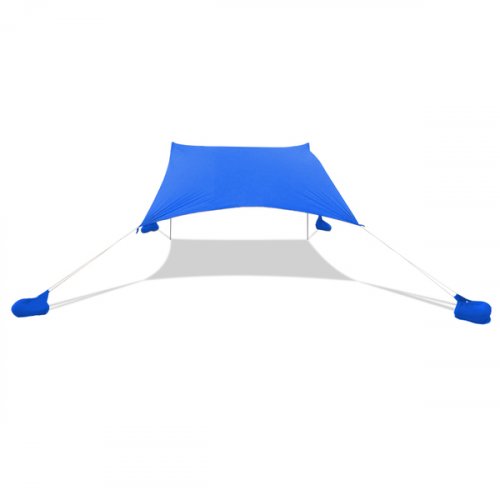 Where the first entry on our list was a lesson in being multi-functional, the Otentik Beach Sunshade shines in its simplicity. There is no doubt that this product is designed to protect the user from the sun at the beach, and a particular beach canopy does it beautifully. Surprisingly given its quality construction, the overall cost of this beach canopy is relatively moderate. While the simple design doesn't have many of the nicer features of some of the other beach canopies on this list, the Otentik Sunshade is a durable and easy to use way to keep the sun out of your eyes at the beach.
Read more
Size
This entry is perhaps one of the more lightweight beach canopies on our list, weighing between 5 and 6 pounds, but down let that fool you. It can provide you and a few friends with ample sun protection, being able to stretch out to cover a respectable 10 x 12-foot area if needed.
Materials
Because the Otentik Beach Sunshade is designed to be able to stretch to fit your needs, the canopy is made of an Italian made Eurojersey material that is lightweight and stretchable. The material also has an Ultraviolet Protection factor of 50, which is one of the strongest in the industry. The fabric is also sand repellent and dries in only a few minutes in the sun.
Ease of Use
While it doesn't pop up in seconds, like some of the other examples on this list, the Otentik Sunshade is also very easy to set up and take down. All that is needed is to place the sandbags around you, secure the tie-downs, and stretch the canopy fabric to the desired size and shape. When the sun moves, you can easily adjust to make sure you stay in the shade easily.
Durability
Because of the relatively simple design, and quality materials used, this beach canopy is fairly durable and will withstand some of the harshest environments that you'd find on the beach.

3

. Easthills Outdoors Instant Shader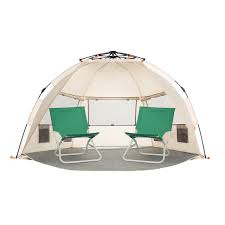 This angled Easthills Outdoors Instant Shader beach shelter needs to be assembled with the lower part of the canopy towards the wind but if no wind it does not matter. This product will keep out 97.5% of harmful UV sun rays of the radiation from the sun which means a lot of protection for adults and children and the ultraviolet protection is second to none as this offers the best possible protection. Assembly is easy and very fast and the canopy is portable and light, the total weight including the durable bag for toting it is only 4.5 lbs / 2 kg.
Read more
Size
Standing at near to 82" W x 47" D x 50" H plus a 43" front porch and offers shaded protection to a family of two adults and around three children, this is a lot of comfortable shaded ground area. This canopy weighs only 5 pounds so getting it around will be easy.
Materials
Constructed from polyester, then coated to block the rays of the sun, the polyester helps when you stretch the canopy to secure it during assembly. This combination is breathable Lycra which is protective against sun, wind, blowing sand particles and water.
Ease of Use
The setup time is incredibly quick and very easy, stretch the fabric, put the poles in place, put the fabric over them and secure with the sandbags at each corner. It takes just 1 minute set up time which is very convenient for if you need the canopy right away when you arrive or if you have kids for less hassle.
Durability
Durability is long term due to the combination of synthetic fabrics, this product will give many years of protection at the beach. It also comes with a 1-year warranty in order to make sure you are happy with the product. This canopy tent comes with 1 carrying bag with shoulder straps, 4 guylines, 1 storage pouch, and 10 plastic stakes.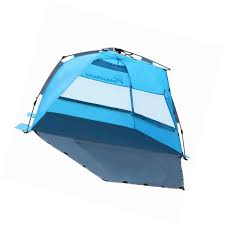 When it comes to quality, versatility, and ease of use, this multi-functional beach canopy from OutdoorMaster Pop Up beach canopy is tough to beat. Add to that the very affordable price, and it's no wonder why this one is at the top of our list. No assembly is required which makes this tent great for being low maintenance. It is very lightweight and compact and protects you from the sun, rain, and wind for all great outdoor activities. You can even use this tent for relaxing on the beach with family or friends or even for having a picnic at the park with friends. This canopy also comes with a 6 months 100% satisfaction guarantee warranty and friendly customer service.
Read more
Size
This beach canopy measures a remarkable (H x W x D): 53 x 95 x 51 inches (135cm x 240 x 130 cm), so there is plenty of room for your family and friends to enjoy themselves. It's inviting enough to set up your favorite beach chair and relax. This canopy weighs in at 8.15 pounds (3.6 kg) so it is easy to carry around with you anywhere. It also packs up to a smaller size of 37 x 8 inches (94 x 20 cm) fitting pretty much anywhere.
Materials
The canopy material is constructed of Nylon, Polyester, Fiberglass material, and the flooring is just as tough being made out of 300D Oxford flooring. It is fully protected with UV SPF 50+ protection. Add to that a very sturdy fiberglass frame, and it is very little at the beach that will bring this canopy down there are also sandbags included to help keep the tent stable or safe from windy days.
Ease of Use
The people at OutdoorMaster certainly know that their fans want something that is easy to use no matter the circumstances, and for the most part, they delivered. The automatic frame system is a breeze for a single person to set up in seconds, and the takedown is almost as easy as long as directions are followed. It is known for being a very versatile tent as there is little to no instructions when it comes to set up. Plus, switching between the different uses is usually as simple as tying back a string or lifting a flap.
Durability
With the quality of the materials being used, it's little wonder that this beach canopy tends to last quite a while with proper care and use. This tent comes with a carrying case as well for you to be able to carry it around easily and makes it extra portable. With no assembly required you really are able to set this canopy up wherever and whenever. It also doubles as a change room if needed as you are able to close the doors so you can sleep or change in private. This pop-up tent is fully protected with UV SPF 50+ protection which makes it a great fit for the beach.

5

. Lightspeed Outdoors Quick Canopy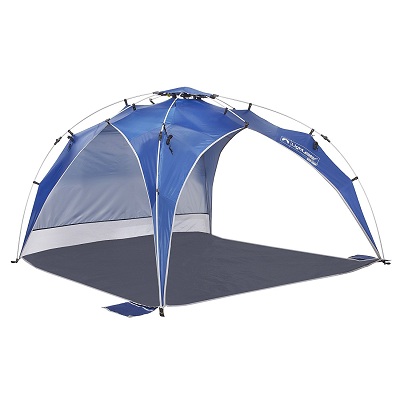 This entry on our list might not be very well known, but that is bound to change once people learn how quickly and easily this beach canopy can be set up and taken down. Add to that the generous size and lightweight construction, the Lightspeed Outdoors Quick Canopy Instant Shade Tent is bound to become a favorite. When you factor in the minor durability issues, this moderately priced beach canopy is reasonably priced, but definitely not a steal compared to other examples on this list.
Read more
Size
When this beach canopy is fully set up, it provides approximately 64 square feet of shade, and measure about 5 feet at its peak. While a large adult male would be hard pressed o stand under it, lounging under it at the beach is no problem at all.
Materials
The material used for this beach canopy is fairly sturdy, being designed to stand up to kids, adults, and pets alike. The umbrella portion is 450 millimeters thick and is rated to offer the maximum UPF sun protection of 50.
Ease of Use
Despite its appearance, this particular beach canopy is fairly easy to set up and take down, provided that the directions are followed. It also includes an over-sized bag for storage and transport, which makes things so much easier in the long run.
Durability
While for the most part, this beach canopy will withstand normal use, the material and the tent poles could be a little bit more strong. This beach canopy is great for someone who goes the beach on occasion, but it is not as sturdy when it comes to frequent use. The Lightspeed Outdoors Quick Canopy Instant Pop Up Shade Tent provides a good deal of shade and protection at the beach for a very reasonable price. It is fairly easy to set up and take down but does have some minor durability issues.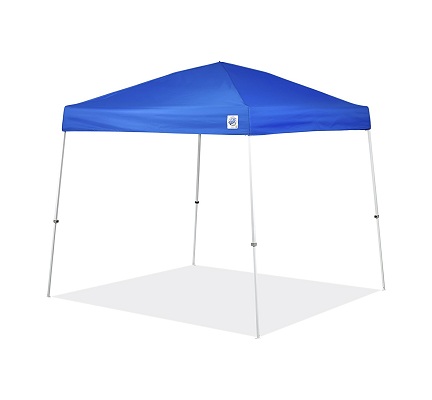 When it comes to the classic looking canopy, whether at the beach or the park, this E-Z Up Canopy is probably the style that comes to mind. Simple and dependable it is a great choice for those who just want a bit of shade. This is one of the more expensive beach canopies on our list, surprisingly enough. While the overall ease of use and roominess make it a great canopy, many of our readers would be advised to wait for a sale for this investment piece.
Read more
Size
The base of this beach canopy measures approximately 10 x 10 feet and offers a little under one hundred square feet of shade. In addition, the eight-foot-high cathedral ceiling makes it easy to stand up in and move around comfortably.
Materials
The steel frame of this beach canopy is well built, and the fabric top not only easily blocks harmful UV light, but it is also fire and water resistant, so just about anything you can throw at it can be handled.
Ease of Use
Because of its relatively simple design, setting up the E-Z SR9104BL Sierra II is an easy process. It usually only takes a few minutes, or even less if you have someone to help. Another great feature that makes set up and take down a breeze is the folding steel frame. No need to search for that other part of the pole, or ropes to tie things down. Just expand it out, and watch out for pinch points.
Durability
While fairly easy to set up and take down, the steel frame and fabric canopy cloth does leave a little bit to be desired when it comes to durability. While it will certainly last through a few summer vacations, the potential pinch points in the framing will lead to the eventual tearing of the canopy fabric after a few years. Set up in the classic beach canopy style, the E-Z Up SR9104BL Sierra II is a great choice for keeping a fairly large ground of people cool at the beach for at least a few vacations.

7

. Coleman Instant Sun Shelter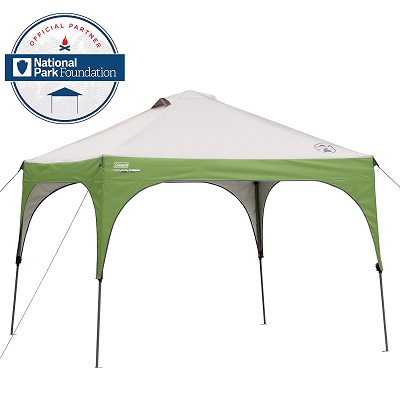 Coleman is a brand that is known for its commitment to the outdoors and quality product. That commitment shines through in this product. This beach canopy is moderately expensive in price, and the overall quality could be improved to match the overall cost. While not at the top of our list, the Coleman Instant Sun Shelter is still a very viable option when it comes to protecting the ones you love from the harmful rays of the sun.
Read more
Size
The base of this beach canopy measures 10 x 10 square, offering nearly 100 feet of shade for you and your companions to enjoy. In addition, the ceiling is vaulted, providing a bit more headroom for those who need it.
Materials
The lightweight canvas materials and poles do leave a bit to be desired in the way of sturdiness, especially when used on a windswept beach, but for the most part, the steel construction and fabric appear to be solidly constructed.
Ease of Use
According to the product description, the canopy can be set up easily in under 3 minutes, and taken down in only a few minutes more. Also, this is one beach canopy that can be used in a multitude of locations from the sunny beach to the asphalt parking lot behind the store.
Durability
The poles used could be made a bit stronger, but other than that, Coleman offers a strong contender for a long-lasting example of a beach canopy.

8

. Easy Go Portable Backpack Tent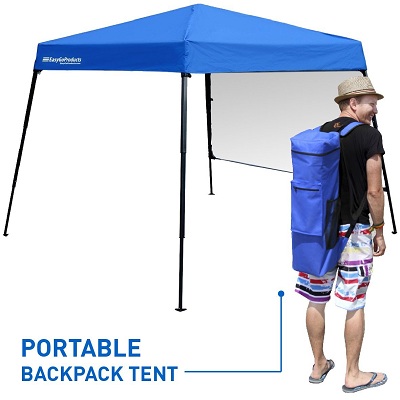 If your trip to the beach has you walking for a short while, this beach canopy may be a great choice. Easy to set up and easy to use, it is also fairly easy to transport via a backpack that one adult person could easily carry. While not as expensive as some of the other entries on this list, the Easy Go Products Portable Backpack Tent's moderately high price might make it a thing to budget for instead of an impulse buy.
Read more
Size
This beach canopy or tent is a moderate size, measuring 6 by 6 feet at the base once everything is said and done. It measures approximately 4.5 feet at the edges and nearly six feet in height at the center, so most adults will have duck down when first entering it. When it is packed away, it weighs around 14 pounds, which makes it fairly easy to carry.
Materials
The legs supporting this beach canopy are made of aluminum, and the steel scissor frame and the nylon top not only protects from the sun it is also rated to be fire resistant.
Ease of Use
The canopy is fairly easy to set up and take down with the help of one or two more people, but where this particular beach canopy shines is in the transportation. The storage backpack is very easy to use, has padded straps, and is lightweight enough that nearly any adult can carry it without breaking a sweat.
Durability
The lightweight aluminum legs have been known to bend in strong winds, but for the most part, this canopy measures up well against normal use during the summer vacation. While not the most durable example on this list, the Easy Go Products Portable Tent outshines the others when it comes to portability, and relative ease of setting up.

9

. Happy Summer Beach Tent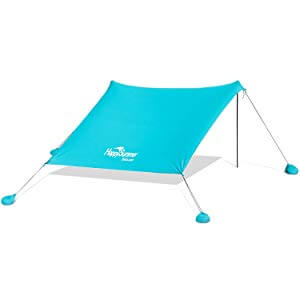 The last entry on our list is by no means a slouch when it comes to protecting your loved ones from the sun. This particular beach canopy is not only fairly easy to use and set up, but it offers superior protection by being UV, sand, wind, and tear resistant. While not the most expensive example on this list, the Happy Summer Beach Tent is moderately expensive given its durability issues and overall materials used.
Read more
Size
The Happy Summer Beach Tent measures 6.5 by 6.5 feet, providing over forty feet of cool space for your loved ones to enjoy. While it isn't as big as some of the others available, it is still a respectable amount of room to enjoy.
Materials
This beach canopy is made with lightweight aluminum poles and a high-quality lycra material tent that easily stretches to accommodate the roominess of the tent.
Ease of Use
Based on the simplicity of the design, and the lightweight materials, the setting up of this beach canopy is fairly easy. While the takedown is a bit more complicated, in most cases a single person can get the job down without any trouble.
Durability
While the beach canopy is easy to use, it does lack a bit in the durability department. The thinner aluminum poles have been known to bend in very windy conditions, but for the most part, they stay true to form through summer after summer. The last entry on this list may not be suitable for all situations and all environments, but it is still as solid contender for your favorite beach canopy this summer. The Happy Summer Beach Tent is fairly easy to set up, provides a fair amount of shade, and easily repels water and sand to keep them from ruining your day at the beach.

10

. June and May Beach Canopy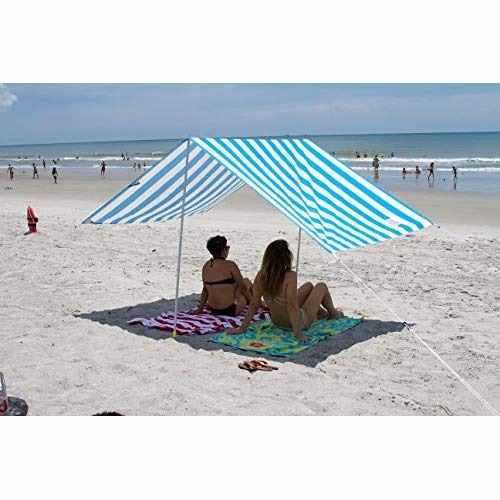 If you're looking for a classic, two-person beach canopy that is designed to keep you protected from the sun without sacrificing your view of the sand and surf, the June and May Beach Canopy should move to the top your list. The price for this beach canopy falls easily in a range of the moderate budget, and is often on sale, making it an even better deal depending on the price.
Read more
Size
Once this beach canopy is fully set up, it measures a respectable ten feet by six feet, making it perfect for two people to sit side by side, enjoying the views and the company. When it's put away, it only weighs around 7 pounds, which makes transporting it a breeze.
Materials
The nylon canopy material and tie downs are both made of quality nylon material that is both water and UV ray resistant, making it easy to protect yourself from the sun and waves if needed. Also, the 9-inch stakes allow for secure placement in nearly any environment imaginable.
Ease of Use
This June and May Beach Canopy are perhaps one of the easiest ones to set up and take down, not because of gadgetry, but because of simplicity. All it takes is to place the stakes and stretch the fabric and tie-downs into place. Chances are, two people working together can be relaxing under this canopy in less than five minutes.
Durability
While very protective against the wind, water, and sun, the nylon fabric leaves a little to be desired when it comes to rips and tears. However, if the user follows the manufacturer's suggestions as to care and maintenance, this beach canopy should last for quite a while. If you're looking for a moderately priced, two-person beach canopy, this is a great choice. While the strength against rips and tears could be improved, the May and June Beach Canopy is still a great choice.

Subscribe to our Newsletter