Best Windshield Wipers
In a Hurry? Editors choice: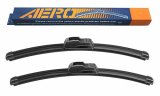 Test Winner: Aero OEM QUALITY

It is something that all
car
owners have to deal with eventually. The instance where the current windshield wipers you are using are junk and they need to be replaced. Some components of your vehicle can be put-off and ignored with no real risk of danger. However, the same can't be said about wiper
blades
because it is simply unsafe to drive in rainy or snowy conditions with poor blade performance. So, you, as the
driver
and the buyer, need to take action. But, maybe you are sick and tired of buying the cheapest blades you can find and having them last maybe a year. Maybe, just maybe, you are ready to spend a little extra dough and finally invest in a high-quality wiper. Then again, there are affordable high-quality options out there; you just need to know what to look for. Well, today, we are going to help you with that endeavor.
Standout Picks
Criteria Used for Evaluation
Durability
To be honest, wiper blades are not going to last very long. But, you still do not want them to break down in mere months.
The design of the blade can go a long way to determining how long it is going to last and here are a few things to keep in mind.
Firstly, there are different types of wipers. You have conventional blades which have been around for decades but you also have beam blades. For the most part, the latter will be preferred as they have no external frame and fewer moving parts to wear down. But, if you go the traditional method, look for frames that are powder coated and protected against the elements. Oh yeah, and you can also go with silicone if you wish. Outside of their performance advantages, silicone models offer superior durability but they do tend to be pricier.
Effectiveness
Performance is everything and when it comes to your safety, it is amplified.
It really goes without saying that all blades, when they are new, will perform at their peak. This section really plays right off of the last one as when wipers break down, their performance significantly reduces. So, it is all about maintaining optimal performance for the extent of the life of the blade. Well, this goes back to the debate between beam blades and traditional ones. Of course, there is not much of a debate besides that beam models are more expensive. In addition to their superior durability, these designs will also have more pressure points and this will deliver a much tighter connection to the windshield. Due to this, they will bead away water more efficiently.
However, this is also where silicone comes back into play. A lot of drivers will prefer silicone as this will better repel water. Additionally, you may also see a hydrophobic coating and this will protect the surface (which would be the windshield in this case) from water and repel it. Oh, and also in regard to the effectiveness, do not forget about the noise. Some consumers will complain about certain models having a squeaking noise and the blades can chatter if they are not perpendicular to the glass.
Features
Consider this section all the remaining important features that have not been discussed yet.
You can make the argument that everything that has been discussed has been in regard to technology and the features of a windshield wiper. Yet, it can't be overstated enough how important the technology is within this design so it seems appropriate to devote yet another section to the technology. Consider this the remaining features that have not been discussed yet. For example, let's start with another advantage of beam blades. Due to the fact that they are designed to be aerodynamic, they are not going to lift away during high speeds. Instead, they will resist high winds and will stay secure.
Size
If the wiper blade you invest in does not fit your vehicle, it will not do too much good, will it?
Oh boy, is this ever critical? In case you do not know, and it is okay if this slipped your mind if you are new to this, your vehicle is not going to be compatible with all the wipers on the market. This is why sellers will design their models in multiple sizes. The main reason why you need to ensure the blade you invest in fits your vehicle is a misfit will not perform up to standard and will not make consistent contact with your windshield. So, the question then beckons, how do you determine the right size?
Well, thankfully, this is made pretty easy. When shopping in most stores, a booklet will be next to the wipers and you can physically look up your vehicle model to see what size wipers you need. Of course, Amazon and other sites will also allow you to choose your current vehicle model to see if the current size selected will fit. Or, if all else fails, reference your owner's manual as it should be in there. Yet, also do not forget that the driver side and the passenger side can have different required sizes.
Value
Everyone is always looking for the best bang for your buck. Well, here it is no different.
Before another word is typed, keep this very important statement in mind. Most of the time, you get what you pay for but in this sense, a higher price does not always indicate higher quality. Pay attention to the aforementioned features above instead of paying attention to the price. This is because there are many high-quality affordable options out there. However, this section also refers to how many blades you receive with one purchase.
If your current vehicle requires the same size wiper blade for both the driver side and the passenger side, you may want to look for a pack of two. But, this can be made difficult if different lengths are required. Of course, you could make two separate purchases if the appropriate size options are available. Also, another note, if you do that, buy two of the same blade that way your driver side and passenger side have the same brand.
OUR TOP PICKS FOR THE BEST WINDSHIELD WIPERS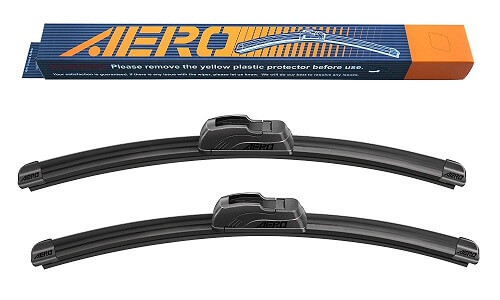 This is yet another bracketless design and one of the best benefits of this design is that snow and ice are not allowed to build up. Of course, the specially blended rubber also helps with performance.
Read more
Longevity
Now, this is made of durable material and is also bracketless (which will prevent snow and ice from building up). With that said, the plastic end caps have been prone to breaking.
Performance
For the record, these are all-season blades and can function in the summer and the winter. Also, the specially blended rubber construction delivers a smooth and clean wipe.
Technology
To better fit, this blade is made with a flexible spine and an arch shape. In addition, its aerodynamic design will reduce noise, drag, and wind lift at higher speeds.
Sizes
Aero knocked it out of the park here. They offer this blade in sizes from 13 inches to 28 inches. But, this comes in a pack and they offer many different blade combinations.
Value
With the vast amount of blade combination sizes that are offered, you are sure to find the correct pair for your vehicle. Not all sellers will do half of what Aero did to satisfy their consumer base, so that is really nice.
Overall
One glance at the positive feedback of this model should have you convinced of its brilliance. While the plastic end caps could have been designed with superior engineering, it is hard to argue with the results here.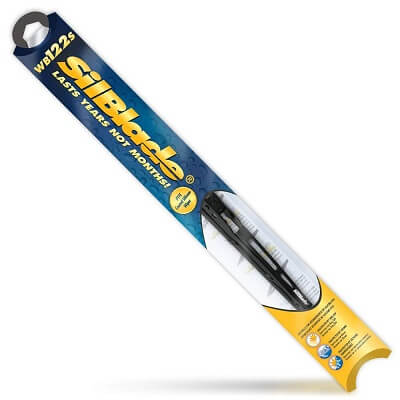 Now, this is not a frameless design and is instead comprised of a high-gauge steel frame. Also, this sports a silicone formulation that has a few key advantages over other designs.
Read more
Longevity
This does have a frame but it is made of high-gauge steel and is powder coated to withstand extreme weather conditions. Speaking of which, this can handle extreme cold and hot temperatures.
Performance
Due to patented PTFE coating, this is allowed to seemingly glide across your windshield. And, even though this has been known to be squeaky loud, the hydrophobic layer of this blade is recharged throughout the life of it.
Technology
As mentioned, this has a silicone formulation and this is going to leave an invisible hydrophobic coating. This is a water-repellent coating that will be activated within 90 days of its first use.
Sizes
The good news is there is a vast majority of size options available from 11 inches to 28 inches.
Value
Silblade packages this in a pack of one. In other words, if you need both blades replaced, you will have to individually buy two of these.
Overall
A lot of reviewers and buyers have been quite fond of this design. Sure, the noise can be a bit of an issue but hey, that is what your stereo is for.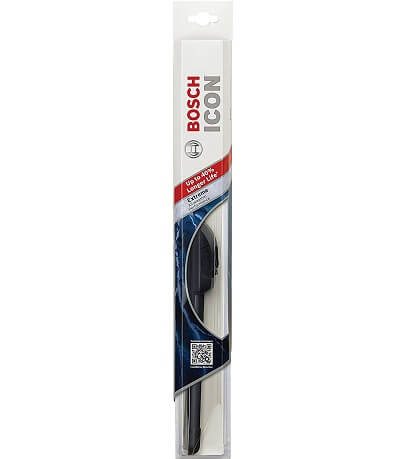 When you talk about the best wipers on the market, it would be a shame and flat-out ignorance not to at least mention Bosch. It just so happens that their ICON series is the pinnacle of this technology.
Read more
Longevity
Due to the exclusive FX dual rubber, the ICON series is going to resist heat and ozone deterioration and will last up to 40 percent longer than other models.
Performance
Even under the worst conditions, the patented beam design and the shielded connector system will optimize your visibility. Also, the combination of the enclosed tension springs and the bracketless design increase wiping performance.
Technology
The aforementioned springs also come into play with the fit here. The spring arcing technology will contour to the curvature of the windshield. Oh yeah, and the asymmetric spoiler will distribute force along the blade and hold it in place during high winds.
Sizes
This specific model is the 26A, which refers to 26 inches. But, there are other sizes available for the ICON series of blades.
Value
Okay, so this is only a pack of one and if you need both blades replaced, you will have to buy more than one. For the quality, though, the price is worth it.
Overall
Due to the integrated technology, it really just does not get much better than this. In fact, when all else fails, place your trust in Bosch as they will probably end up delivering the goods.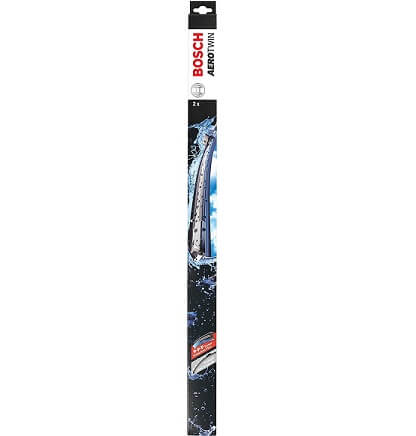 Hey, Bosch secures the top two spots; would you look at that? Bosch proves their brilliance with another top-of-the-line design that will please all types of drivers around the world.
Read more
Longevity
It is claimed that the Aerotwin will last up to 20 percent longer than other premium blades. This is mainly thanks to the design as it distributes uniform pressure along the entire blade.
Performance
There are no hinges or brackets present on the Aerotwin and this will provide superior performance in all weather conditions. Although, some users have claimed that minor streaks can be an issue.
Technology
Much like on their ICON series, Bosch integrated a wind spoiler design on their Aerotwin and it is able to increase the downward force of the blade to prevent lift-off at higher speeds.
Sizes
Both of the blades that you receive, as this is a combo deal, measure 26 inches in length. On Amazon, you can see if it will fit your current vehicle model.
Value
As alluded to, this does come with two blades. Now, they both are the same size so if your vehicle requires different lengths for each side, you can't use them both simultaneously.
Overall
The Aerotwin is almost as great as the ICON but it says a lot about Bosch that they designed them both. While streaking can be an issue here, the overall design is superb.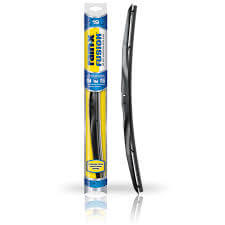 Now, this is one of the most recognizable brands in the business right here. Rain-X is certainly well-known and their Latitude is not flawless but is highly functional.
Read more
Longevity
A few buyers note that this brand does not last quite as long as others. Still, though, by eliminating exposed metal components, the buildup of snow and ice is less likely.
Performance
As a result of the specially blended graphite coated rubber blade, this is able to achieve incredibly smooth and chatter-free wiping. Also, the contoured design ensures even pressure while wiping.
Technology
This is yet another model that sports a built-in aerodynamic spoiler and this is going to significantly reduce the wind lift, noise and drag of the blade.
Sizes
Other manufacturers offer more size options but Rain-X still provides a good variety. From 16 inches to 28 inches, you can choose the appropriate size you need.
Value
It appears that if you wanted to buy in bulk, you could get this model in a pack of five. Otherwise, it is sold individually and not in a pack of two.
Overall
In this case, you sort of put your trust in the brand name. Even though there are superior options out there, it is never a bad thing to settle for a Rain-X windshield wiper.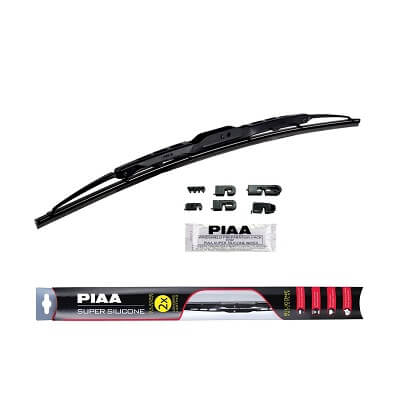 As you can gather from the product title, this bad boy is made of silicone rubber. In addition to this, it sports a zinc-plated and powder coated frame for protection.
Read more
Longevity
PIAA designed a blade that was going to last, let's say that. Not only is it made of silicone rubber which will resist UV damage and general wear but the frame (as mentioned) is also zinc-plated and powder coated.
Performance
Although streaking has been a common issue amongst reviewers, this is excellent when it comes to beading water and will even create clearer vision when the blades are not actually wiping.
Technology
In addition to the fact that the frame is aerodynamically designed to help secure the blade at higher speeds, this will also coat your windshield with water-repellent silicone.
Sizes
You have options here that much is for sure. There are size options from 12 inches all the way up to 26 inches.
Value
As compared to other brands, this is a bit more expensive and it does not come in a pack of two.
Overall
For certain, this is a unique model. Not only is it made of silicone rubber but it also sports a frame that is zinc-plated and powder coated. All in all, it is pretty impressive.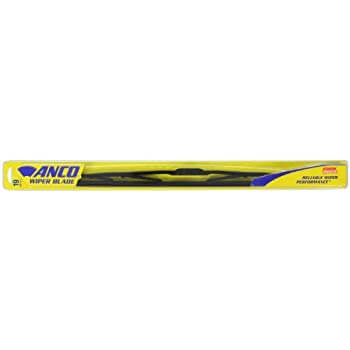 Here is an example of a high-quality option that is also affordable. But, you need to be aware that the Anco 31-Series is not going to compete with the top-end blades on the market in regard to longevity.
Read more
Longevity
Yep, as just mentioned, you should not expect the Anco 31-Series to last as long as top-end designs. It is not cheap, per se, but it is not quite up to par with others.
Performance
No matter the inclement weather outdoors, this wiper blade is going to produce a consistent and clear wipe and this is thanks to the exclusive rubber compound.
Technology
To ensure a superior fit and increased functionality, this has been designed with high-performance polymer and also a vented bridge.
Sizes
Anco provides you with a ton of different length options for their blade. If needed, you can get a 10-inch model or most lengths between that and a 28-inch model.
Value
The value here can't be understated. Anco gives you the option, for some of their sizes, of buying in packs of five and ten if you wanted.
Overall
In theory, you could buy five or ten of these (if the size is right) and be set for quite a long time. Though the longevity is not the best, while it lasts, it is a high-quality blade.

8

. Michelin Stealth Ultra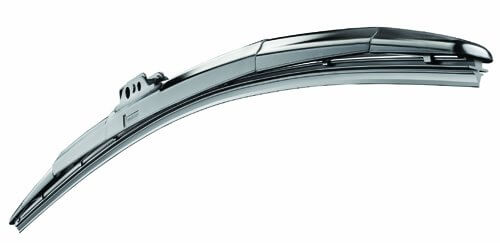 If you know anything about vehicles, you have probably heard of Michelin. While they are probably best known for their excellent tires, they also have dipped their toes into this technology.
Read more
Longevity
Michelin integrated a smart hinge cover on their Stealth Ultra and it protects the blade from getting clogged with snow and ice. Overall, this is built tough and built to endure.
Performance
This is a unique hybrid design. It combines a conventional spring-loaded blade with windshield-hugging features to offer a superior wiping action. But, noise can be an issue.
Technology
What is really nice is the ends of the blade have independent suspension and it allows it to adjust to the shape of your windshield. This will ensure an enhanced grip and fit.
Sizes
The other sizes for this model are not that readily accessible. For the record, this specific design measures 26 inches.
Value
Even though only one wiper is included in your package, the lower price makes it a bit more reasonable.
Overall
Granted the Stealth Ultra fits your vehicle, which could be tough due to the lack of sizes, you should have little to nothing to complain about and given it is Michelin that is not surprising.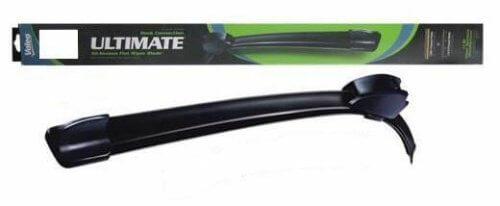 If there is one aspect the 900 Ultimate Series excels at it is low-noise performance. Many drivers have appreciated how whisper quiet this series is but others have touted it as having an average performance.
Read more
Longevity
Due to the combination of the advanced rubber technology and the lack of a metal structure to avoid ice and snow buildup, the 900 Ultimate Series is able to last a long time.
Performance
As mentioned, this is quiet and that is thanks to the 1500-plus pressure points that are present on the blade. But, many buyers feel the overall performance is merely average.
Technology
To increase the contact of the blade to your windshield, this has been engineered with an ultra-flat design. Also, though, the air pressure of the spoiler attributes.
Sizes
For your convenience, there are several size options that are available. From 15 inches to 29 inches, there should be a size for just about everyone out there.
Value
With your purchase, you are only going to get one blade. Keep that in mind if you need to replace both of them for the upcoming season.
Overall
For those of you who can't stand loud and squeaky wipers, this model may be for you. And, it is reassuring to know that the 900 Ultimate Series has been tested and rated one of the best blades out there.




While this model right here lasts, users have raved about the overall performance. Then again, much like the last entry, this is not going to outlast top-end blades.
Read more
Longevity
Now, this model is made of natural rubber and also high-strength steel. But, some buyers have noted that the durability is not the best.
Performance
While this lasts, again, the performance has been raved and acclaimed by users and reviewers. A few have had issues with streaking but that is about it.
Technology
To assist at holding the blade in a secure position, this has been outfitted with a metal frame that has multiple contact points.
Sizes
This specific model is 24 inches in length. If you really admire this model, you may be able to find it elsewhere in different sizes, though.
Value
As you probably expect at this point, this comes individually and not in a pack of two.
Overall
Without question, there are enough redeeming qualities here to warrant at least a close look. Due to its placement on this list, though, you know there are better options.

Subscribe to our Newsletter