Best Travel Kettle
In a
Hurry? Editors choice: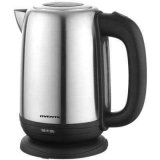 Test Winner: Ovente Electric

Since the dawn of civilization, our ancestors have been traveling around the world. This passion to wander has not really changed and in our modern society, people still continue to visit places. Some travel to discover new places, eat different flavors, learn the language, and discover a new culture. Whether you are
traveling
for adventure or for any other reasons, it is important that you bring with you your everyday essentials, which includes a
travel
kettle. However, finding the best travel kettles can be an overwhelming task since there is a wide variety available in the market today. This buying guide will simplify everything for you since we have narrowed down the choices. Here are the ten best travel kettles that will help you save and prevent you from missing the most important part of your daily routine.
Standout Picks
Criteria Used for Evaluation
Materials
Most travelers prefer to bring with them their kettle for many reasons. One of these is to be able to have access to boiling water that they could use for their coffee or tea. A warm beverage is just a rewarding treat to the body after a day of hiking or walking. One of the important features to consider when choosing this type of product is its material components or its make.
What kind of material makes up your appliance? Is it sturdy that can withstand outdoor elements like rust, water, dirt, and dust? Does it emit harmful chemicals when heated? Will it be able to serve its purpose for a long period of time?
There are different types of material components that make up most kettles today. The most common are stainless steel, plastic, steel, aluminum, or a combination of plastic and metal.
Plastic
Most products in the market today are made of plastics or have some parts that are plastic. They are lightweight, sturdy, and affordable. However, many travelers do not like it because of the harmful chemical that this material contains. Several years ago, it was revealed that plastic contains Bisphenol also known as BPA.
This chemical has created a lot of noise among the health-conscious public. This chemical is believed to have negative effects on the human body. It is considered as one of the substances that has a very high health risk. This chemical can disrupt endocrine and is harmful to reproduction. In the US, however, the Food and Drug Administration dismissed this notion and claims that the level of BPA found in plastic food containers is safe.
Stainless Steel
One of the most preferred make is stainless steel. Aside from being lightweight, this material resists rust and corrosion. It does not contain any harmful chemical that could endanger health. Stainless steel does not break and can withstand harmful outdoor elements such as rain, extreme heat, or snow. The only drawback of stainless steel make is that boiling liquid on it, especially tea or coffee could leave a mark or stain that could be very hard to remove.
Glass
There are some kettles that are made of glass. They have a classy look and feel. However, if you are traveling, carrying this would be an added worry. Glass easily breaks and you would not want your money to go to waste because of mishandling. A glass make is easy to clean and does not leave a residue. You can also be sure that there no stain or mark is left on the glass even if you boil a coffee or tea on it.
Size
Another important criterion that we use to evaluate this product is its size, capacity, or portability. If you like to travel alone or as a couple, choose the product that offers 500ml capacity or less. A 500-ml capacity is adequate for a couple to each have a cup of standard-sized tea or coffee. In traveling, you would like to have everything light.
Since you would like to maximize your space, it will just be a waste of so much space on your traveling bags or suitcase if you are going to pick a bigger kettle. However, if you prefer the one with bigger capacity, you can go for a brand that offers a collapsible model. Overall you want a kettle that will be easy to travel with and will be able to provide you with hot water on demand. Convenience and portability are key.
Effectiveness
Most of us often disregard the wattage of our appliances. While it may seem immaterial and unimportant to some, it is a very crucial factor in selecting the best travel kettle. If you want a product that could give you boiling water in a short period of time, you should try to consider its wattage. It is the number usually found on the packaging of the item. Wattage is the power of a particular appliance.
This means that the higher the wattage, the faster the liquid inside the kettle will boil. A low wattage connotes a longer boiling time. If you are the type of traveler that is always on the rush or strictly follows a travel itinerary, then go for the brand that can give you boiling water in a short span of time. If time is not that essential, then any wattage will do.
Power Source
In addition to the wattage, another important factor that should be considered is the voltage of the product. There are times when you travel to other parts of the world. In some countries, like in Europe, the available voltage for appliances ranges between 200 and 240 volts. In North America, for instance, appliances are hooked to the voltage that ranges between 100 and 127 volts.
Carrying something that will not work will just spoil your trip. You can check this important factor when visiting a particular place. However, if you want convenience, then choose a brand that will allow you to use your kettle in varying voltage. This product feature is also referred to as dual voltage.
Aside from the wattage and voltage, it is very important that you should consider the type of plug that the brand is offering. Like voltage, different countries have varying types of an electrical outlet. Like any other electrical appliance, kettles come with a fix country-based electrical plug. So if you are selecting a particular brand make sure that you can use it in any place that you plan to go to.
For instance, in the United Kingdom, the standard is a three-pin-plug. If you are planning to travel to other countries in Southeast Asia, you might want to bring with you a travel adaptor so you could use your kettle. It would be a waste of time, space, and effort if you bring something that you cannot use because it cannot fit into the electrical outlet.
Subscribe to our Newsletter