Best Solar Lanterns
In a Hurry? Editors choice: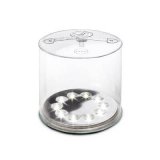 Test Winner: MPOWERD

If you are a freak when it comes to solar-powered devices then you are in for a treat today. What is it about these types of devices that is so alluring? Is it their ability to draw energy from the sunlight or is it the fact that the energy itself is truly renewable?

Or, is it a collection of all of its amazing properties? Either way, you get the point that this type of energy is beneficial and one manner in which you see it integrated is into solar lanterns. A lantern itself is a pretty basic lighting tool but when powered with solar technology, it becomes a revelation. But, you need to know that there are various different styles on the market and factors that separate the bad from the good and the good from the great.
Standout Picks
Criteria Used for Evaluation
Effectiveness
For any lighting source, its lighting capabilities and performance will play critical roles.
When it comes down to it, solar lanterns are like various other lighting sources when it comes to analyzing their performance. There are some key areas to focus on and the first is to assess what types of bulbs are used. Truth be told, the only real answer here is LEDs. You have probably heard it many times before but it really reigns true that LED lighting is one of the most efficient sources available. Two main reasons why are because of its longevity and its efficiency. Most LED bulbs will be rated to last anywhere from 50,000 to 100,000 operating hours. And, they are also incredibly energy efficient and will not draw power at accelerating rates.
Of course, there is more to it than this. You also need to pay attention to the lumen rating. When it comes to lighting, it is all about the lumens. While you may want to look at the wattage to determine the brightness, this is done so with lumens. Now, solar lanterns can range from as low as five lumens to as high as 200 or 300 (or even more). To give you a decent point of reference, 100 lumens of light is considered bright enough to light most walkways. If a particular model is rated to emit low lumens, it is probably better served as an accent or ambient lighting.
Weather Resistance
No, not all models will be weather-resistant. So, you may want to find ones that are.
It would be easy to assume that all models on the market will be weather-resistant but you can't afford to make that assumption. The reality is that the lantern you pick needs to be sealed properly and needs to sport rust-resistant materials. Now, the former is pretty self-explanatory as the interior components need to be protected from water. The latter, on the other hand, will only be an issue if you buy a model that is made of iron (or at least contains it). For models like these, look for coatings to provide protection against rust. Of course, if the design you buy is not rated to handle inclement weather, then keep it inside during downpours.
Now, speaking of ratings, let's talk about the IP rating. This is probably one of the better ways to determine the protection level of any given model. You see, this rating consists of two numbers (the first representing solids and the second liquids). And, the higher the number, the more resistant a model will be. Now, when it comes to water protection, there is a fine line between waterproof and water-resistant. Water-resistant models will be able to handle mild rainfall (depending on their rating) while waterproof designs will actually handle submersion (at limited depths).
Style
Some designs are portable and others are ideal for your home decor. Finding the style you prefer will be key.
Here is the somewhat tricky aspect of buying a solar lantern; there are different styles that can completely make the difference. The best way to elaborate on this is to break down the typical designs that you will see and explain what they are optimized for. Let's start with the models that are suited for travel. These will either be prototypical lanterns (that will be designed with handles to allow them to be hung) or ones that can be "crushed down". The latter is perfect for backpackers who are looking to save as much space as possible.
However, what if you want lanterns to be "installed" in your yard and around your home? Do not worry; there are plenty of options out there that are suitable for that. These are also usually designed to be accent pieces and will oftentimes sport rustic or artistic designs. Basically, you need to buy according to what you need and as long as you do that, you should be good.
Power Source
Yes, all solar lanterns will be powered via solar energy. However, the sun will not always be out so you may want to find models with additional power sources.
Okay, so how exactly does solar energy work? To avoid a convoluted explanation let's break this down as simply as possible. Basically, what happens is the photovoltaic cells that are featured on the panels themselves will convert the energy from the sun to electricity. What this means are the panels need to be in direct exposure to the sun itself. But, what happens on cloudy or rainy days? Well, what happens is the efficiency of the charging is drastically decreased. And, while the panels can still convert electricity on such days, it will take much longer.
As you know, this could be problematic because the sun will not be out from the clouds 24/7. Thus, you may want to look for models that can be charged in different ways. The most common additional method of charging is via a micro USB port. But, some models may even allow you to power them via batteries or even via a crank. No matter what, though, you also need to pay attention to how long they will last on a single charge (assuming it is full). This can vary significantly from model to model and can be as little as three hours to as great as over 10. Also, remember, though, that the battery life of any given model will be affected by how often you leave it on a specific lighting setting.
Features
Some models will have various features to look out for.
Not all solar lanterns out there will be equipped with several features. In fact, some will only be designed to turn on automatically at night and off during the day. Then again, other options may sport different lighting settings. Typically, this will consist of a high, low, and SOS mode. The former two are self-explanatory but the SOS mode is something special to look out for. This is ideal in situations where you need to send out a distress signal.
Past this, highly versatile models will sometimes even double as power banks. Though standalone power banks will be much more efficient, in a pinch, this can be very useful. Oh yeah, though rare, some engineers will even equip protection technology into their designs. This can be to avoid the possibility of overcharging the integrated battery, for example.
OUR TOP PICKS FOR THE BEST SOLAR LANTERNS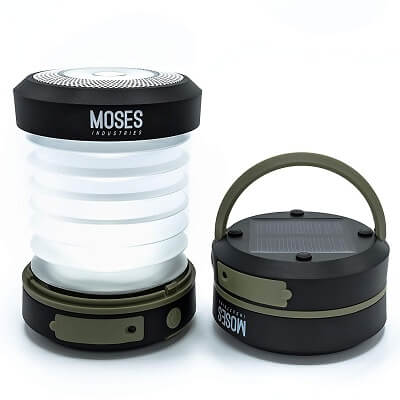 One of the most popular uses for this type of technology is when you are either camping or backpacking. And, perhaps no other model on the market is better for that than this.
Read more
Performance
There are actually different modes that are featured here and when this is in "lantern" mode, it will emit light that spreads out in all directions.
Weather Resistance
Overall, this is definitely made of high-quality materials. However, one specific user did feel that the main casing would tear with nominal use.
Design Style
The main reason why this is ideal for travel is that the entire light folds down compactly. Even for backpackers, this is going to work perfectly due to its compact nature.
Power Source
In addition to being solar powered, you can also charge this via the integrated micro USB port. This comes in handy when the sun is in the clouds. Also, on a full charge, you can expect this to last for around 10 hours (on its lowest setting).
Features
All in all, there are three lighting modes. You have low and high brightness modes and also an SOS flashing mode. Oh yeah, and this can also be used as an emergency power bank.
Overall
While this is not going to light a football field, it is one of the most versatile units on this list. This alone makes it extremely compelling for just about anyone.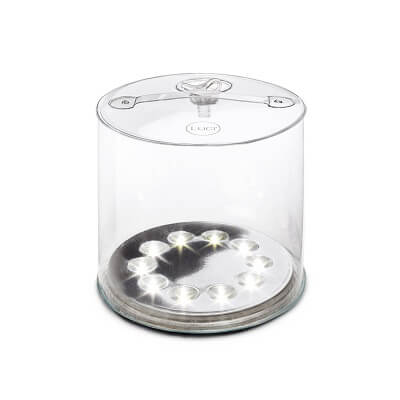 In a world filled with so many great options, this right here could be the most well-known and critical acclaimed of them all. You will quickly see why this is the case.
Read more
Performance
As with the last model, the emitted light here is solid but not astounding. There are 10 white LEDs that are equipped, for the record.
Weather Resistance
What sets this apart is its IP67 waterproof rating. This means that it can be submerged in water for a brief time, making it rugged enough to handle outdoor use.
Design Style
In addition to the fact that this is fully collapsible, it also sports top and bottom straps. For backpackers, these provide a convenient means of clipping it to your backpack.
Power Source
You will 100 percent need the power of sunlight to operate this. If set in direct sunlight for around seven hours, this will fully charge (and then last right around 12 hours). However, a few buyers noted that it can struggle to hold a charge for that long.
Features
Three modes are equipped here. Much like the previous model, two of them are different brightness levels while the other is a one-second flashing mode.
Overall
With its rugged nature and extremely portable design, you can see why this is a go-to for outdoor adventures. The different lighting modes are also a nice touch.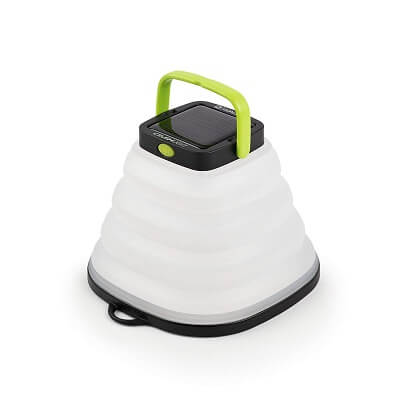 Along the lines of the previous two models, the Goal Zero Crush is another outdoor light that can completely be collapsed for storage and transport. It also sports multiple power sources, which is nice.
Read more
Performance
Outside of the fact that some users have received defective models, the performance of this Crush Light is pretty good with a maximum output of 60 lumens.
Weather Resistance
Even though this is not waterproof, it seems to be water-resistant. It will hold up to rainfall but is not suitable for submersion.
Design Style
If the name did not already give it away, the Crush Light can be "crushed" down. When collapsed, it measures just over half-an-inch in height.
Power Source
Due to solar technology, this does use the power of the sun to charge its battery. However, thanks to the included micro USB cable, you can also charge the battery that way.
Features
With three modes in total (high, low and flicker), there are a few options at your disposal. Also, it is noted in the description that this arrives in demo mode. To exit it, you need to press and hold the power button for 10 seconds.
Overall
Really, this is very similar to the previous two models on this list. It really is a total package and is yet another brilliant option for camping and travel purposes.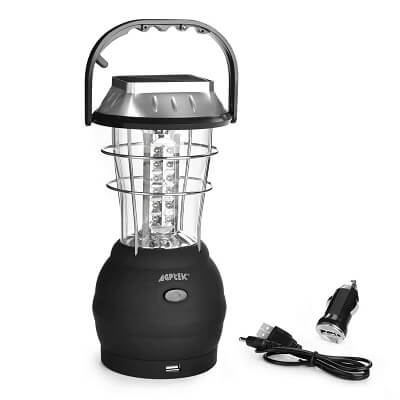 Would you believe it if you heard that this next option can actually be charged in five different manners? While this seems absurd, it is one of the many reasons to love this solar light.
Read more
Performance
On this list, this is one of the more powerful options. At its maximum, it can emit 240 lumens of light and even on low, it can emit bright light. Of course, various users have had longevity issues.
Weather Resistance
You could probably get away with using this outside but when it starts to thunderstorm, it would be advised to protect it as it is not rated to handle such weather.
Design Style
This is a truly prototypical lantern and it even sports a handle that allows it to be hung. Or, it can work great on tabletops.
Power Source
Indeed, there are five different methods of powering this. Past the obvious solar energy, you can also charge it via the integrated USB port, in a car, with AA batteries, or via the crank dynamo.
Features
With two different lighting modes, you can adapt the light to your needs. Also, this sports a USB output and that means it can act as a power bank.
Overall
Does it get more versatile than this? The sheer methods of powering make this option stand out and almost guarantees that it will be accessible at all times.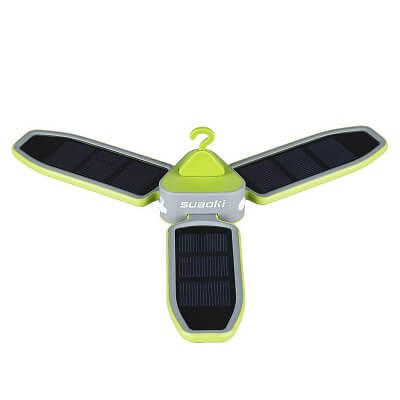 From one unique entry to the next, you can consider this the "ceiling fans" of solar lanterns. Though this seems silly, this design actually sports three different "fan" blades and is very effective when you are camping in a tent.
Read more
Performance
This encompasses 18 LEDs in total and all together, they emit a light that will be sufficient for most of your needs.
Weather Resistance
Here is the deal; not only is this not waterproof but in the manual, it states that it is not applicable for use in high-heat (or high-humidity) environments. It can still get splashed on and be fine, however.
Design Style
As mentioned, due to the "fan" blades (that actually sport the solar panels) this works great as an overhead light source. It is also foldable and portable, for the record.
Power Source
The battery life is, admittedly, not the best here. You can expect right around four hours of battery life on a full charge. Also, this can be charged in less than four hours with the integrated micro USB port.
Features
In addition to the three different lighting modes (high, low and SOS), this also sports a smart protection chip. This will protect the lantern from overcharging and over-discharging (and also over-circuits).
Overall
With improved battery life, this may have landed even higher on this list. While this is a drawback, the design as a whole is well-though-out and solidly executed.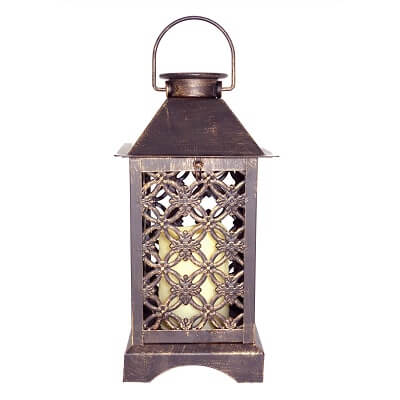 A majority of the options thus far have been ideal for camping but this right here is an excellent model for your home. It offers ambient lighting and also a sense of style.
Read more
Performance
This does use LED lighting but it more so produces a flickering effect. It emits useful light but it is nothing overly substantial.
Weather Resistance
As is stated in the description, this is a weatherproof design. This is thanks to the solid metallic casing on the exterior.
Design Style
Being optimized more for use in your yard, this requires no installation or wiring. Merely place this bad boy in direct view of the sun and you will be good to go.
Power Source
Even though this mainly uses the power of the sunlight, it can also be powered via a standard AA battery (making it suitable for indoor use).
Features
At night, this is going to turn on automatically. So, if used indoors, it will only turn on in darker conditions.
Overall
Really, this is a great choice if you are looking for subtle light and also an accent piece for your outdoor décor. It can hold its own in inclement weather so remember that.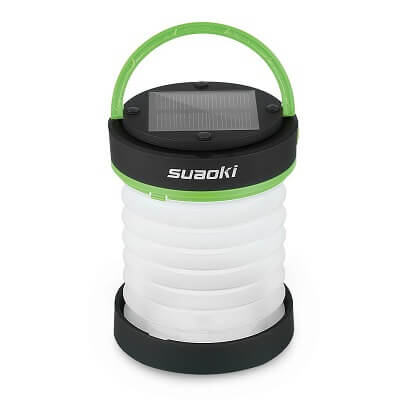 The technology that is integrated here is very similar to that of the previous SUAOKI model on this list. Of course, this is another design that is foldable and portable.
Read more
Performance
With a maximum lumen output of 65, this is not going to light the world up but it can still deliver an adequate amount of brightness.
Weather Resistance
Though the handle is made of cheap plastic, this is not as cheap as it seems. Of course, it is also not waterproof and should be stored indoors during intense inclement weather.
Design Style
This is a lot like some of the previous models on this list in that it can fold completely down for storage and transport purposes. It is actually shorter than an iPhone 6 Plus when done so.
Power Source
On low, you can actually get around 10 hours of use out of this (this is halved if used on maximum brightness). Also, it can be charged via the sunlight or the integrated micro USB port.
Features
The same protection chip that was featured in their last model is also featured here. Additionally, this also sports three lighting modes (high, low and SOS).
Overall
If you are a fan of this type of style then you will probably like this one as much as you would the others. Then again, this is not going to suit everyone's needs.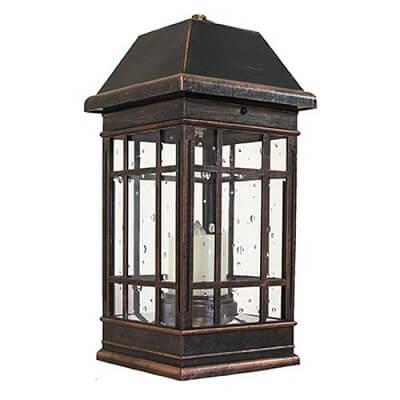 Being built from all-weather poly, this can withstand the elements very well. This is ideal because this could be the next centerpiece of your outdoor décor.
Read more
Performance
While this would not be that optimal as a main lighting source, it will allow you to see better at night. However, a few reviewers have reported that theirs did not last long.
Weather Resistance
Thanks to the combination of the all-weather poly and the seeded glass effect, this has been rated to handle all types of inclement weather.
Design Style
Ideally, you will probably use this as ambient lighting for your garden, deck, or patio. Also, it sports a handle and can be hung from above.
Power Source
After the solar panels have charged the integrated battery, you can expect to get around eight hours of use before the sun will be needed again.
Features
For a warm glowing effect, this actually sports an amber LED bulb. Of course, it is pretty much devoid of any other notable features.
Overall
Some solar lanterns may not emit that much light but are so elegantly designed that they can be used to enhance a certain décor. That is a perfect way to describe this product.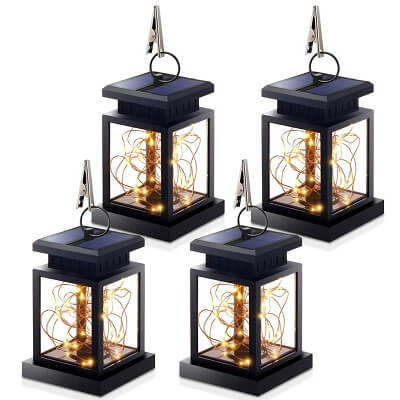 Are you looking to enhance the mood in your back patio at night? This pack of four may for you if you are but do know this, the emitted light is very low.
Read more
Performance
As hinted at, these will not produce that much light. Each one is rated to emit seven lumens and is only going to create a nice ambient for reading.
Weather Resistance
What is nice is each one of these lanterns is rated to be waterproof per IP44 standards. But, do be aware that this makes them water-resistant and not ideal for submersion.
Design Style
Each light is pretty compact and is equipped with a durable circular ring and hanging lamp. This way, you can use them each in different ways.
Power Source
To avoid wasting your time, you need to turn the light on (via the corresponding button) so that it will charge. Otherwise, the battery will not charge via the solar panels.
Features
When you then turn the bottom switch to "AUTO" after the battery is charged, these will light up at night automatically.
Overall
If you need a ton of lighting then you should just pass on this option. The seven-lumen rating for each of the lights will be disappointing to you, after all.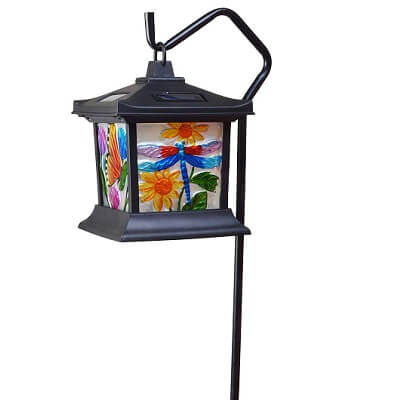 If you are looking for suitable solar lights for your garden or patio then this could be more up your alley. This is thanks to the unique artisanship and the included spike.
Read more
Performance
This is yet another model that provides excellent accent lighting. Ironically, the glass itself blocks a lot of the light that you see, however. Also, some users have complained about the longevity.
Weather Resistance
Due to the nature of the design, this is able to handle inclement weather. It is designed with a combination of metal, plastic, and glass, for the record.
Design Style
Literally, all you need to do is stick this into the ground in an area that is exposed to sunlight. This makes it suitable for your patio, garden or anywhere else in your yard.
Power Source
You will need the power of the sun with this model as there is no other alternative. As for how long it lasts on a full charge, expect up to eight hours.
Features
Overall, this is a really basic design that is devoid of additional features. Merely follow the installation instructions above and watch the sun do the work.
Overall
To be honest, this is probably only going to appeal to a certain demographic of consumers. It is still a well-designed piece no matter what, though.

Subscribe to our Newsletter