Best Landscape Lighting
In a Hurry? Editors choice: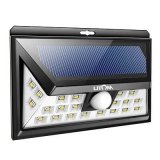 Test Winner: Litom Solar

Everyone may have different reasoning for desiring landscape
lighting
in their yard. Maybe you want to install lighting for security and safety reasons, maybe you want to illuminate your garden at nightfall or perhaps you merely wish to do so for nighttime aesthetics. No matter why you are in the market for lighting, we are here to help. Below we have listed the top ten sets of landscape lighting to illuminate and add some extra flair to your
backyard
or front yard. We have also listed some important things to keep in mind to ensure that you end up investing in the best-suited
landscape
lights for you and your home.
Standout Picks
Criteria Used for Evaluation
Effectiveness
When you are in the market for lighting, and this is not talking about a company installing their own personal system in your backyard, it all comes down to how much light you need. See, there are several different types of lighting. For example, you have path lights, patio lights, floodlights, spotlights, and even security lights. But, the deciding factor for you may just be how much light they can produce. Well, how do you know? One of the ways is to assess how many bulbs are integrated into one light fixture. Now, this will not always insinuate that it can produce more light than another light fixture with fewer bulbs, so you still need to address the lumens.
Lumens, not watts, are the measurement you need to look for when assessing light brightness. The higher the lumens, the brighter the light will be. Some lights, for example, path lights, will typically not produce high amounts of lumens. Sometimes, they will even be as low as 1.2 lumens. Then, you have others that will produce a whopping 400 to 500 lumens. The difference is astronomical but also remember that some lights come in packs of two, three, etc.
Features
Most landscape lights will do more than simply light up your intended outdoor area. In fact, depending on the type you invest in, there are certain design features that you should keep a keen eye on. For instance, how about motion sensitivity? If you are in the market for lighting that can also detect when something walks or runs across it, motion sensors are going to be key for you. Some models will have differing sensitivities and detection capabilities, though. So, one could detect motion from up to 10 feet at 90 degrees while another could do so at 20 feet with a 180-degree range.
Even if you have no interest in motion sensors, how about adjustable features integrated? Perhaps you want the control of being able to switch between differing lighting modes? Or, how about the ability to adjust the light source in the direction you want the light to go? Better yet, for solar lights, how about being able to adjust the solar panel's direction?
Durability
As with anything else you invest in, do you really want to buy a cheap piece of junk? The reality is there are going to be landscape lights out there that are just that, junk. To avoid this, there are two key components to look for. The first would obviously be the light's durability. First off, what exactly is the light constructed of? Is it made of cheap plastic or durable metals such as die-cast aluminum or stainless steel? Speaking of which, just because you see plastic does not indicate it is cheap. As an example, high-impact ABS plastic is actually a good material. No matter, though, most lights will probably not be bulletproof so take proper care of them regardless.
But, the other critical component is their waterproofness. The easiest way to determine this is to assess the IP rating; if one is given. If you see something like "IP65" that is the IP standard. This is a code that is used to determine an object's protection against dust and water. The first number is for dust and the second for water. Clearly, the higher the number the more protected it is. For future notice, an eight for the water protection indicates full waterproofness.
Power Source
The real question for this next section is quite simple, actually. Do you prefer solar powered lights or not? There are a few options you could go with in terms of the light's power source but it really comes down to that question. Before solar power gets addressed though, let's talk about electric power. If you opt to go this route, you need to pay attention to wattage. See, the more wattage the light requires the more power it will consume. Therefore, the higher the effect it will have on your electricity bill.
But, if you choose to go with solar energy there are several key advantages. For starters, it is both cost-effective and unlimited. Gathering all its energy from the sun, solar lights will not cost you anything to run them. Oh yeah, and the sun has unlimited and omnipotent power. But, solar energy is also nice as it requires very little maintenance on your end. All you need to do is clean the lights regularly and the solar panel as that is drawing in your power.
Top Ten Landscape Lighting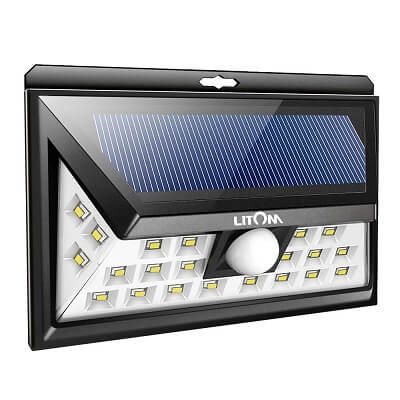 When it comes to outdoor motion sensor lighting, few designs can compete with Litom. Not only is their solar light equipped with 24 high-power LED bulbs, it also has a wide-angle design and sports an illumination range of 270 degrees.
Read more
Lighting Capabilities
Although this is only one light, with options for two or four as well, it has the power to outperform several lights. After all, it is equipped with 24 upgraded LED bulbs and can provide up to 420 lumens of light.
Design Features
Both an upgraded motion sensor and wide-angle design make this bad boy tick. It can provide an illumination range of 270 degrees while also increasing the detecting range by 1.5 times. Also, there are three different lighting modes to choose from.
Build Quality
Not only is this light designed with high-impact ABS material, it is waterproof per IP65 standards. All in all, it can pack a punch and take a punch.
Power Source
Solar energy is what powers the flameproof battery and it does so with the integrated solar panel. This means you better install it in an area that is prone to sunlight.
Ease of Installation
With the provided hardware, which includes the wall plug and screws, you can have this motion sensor light up and running in a few minutes. Again, though, just ensure you do not install it in a shaded area.
Overall
Without a doubt, this solar light is so impressive because of its lighting prowess. Of course, when you take into consideration its build quality and advanced motion sensor, it becomes all that more impressive.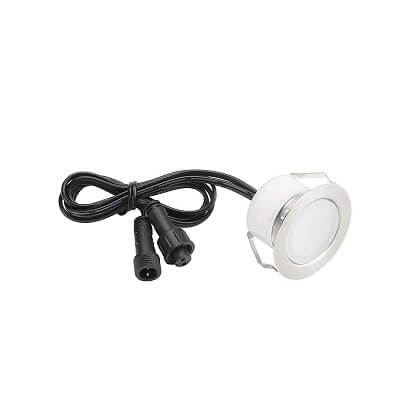 Oftentimes, creating great landscape lighting requires multiple lighting fixtures. Well, with several amounts to pick from, it is safe to say that these lights deliver. Each LED fixture you receive is equipped with six LED bulbs and when added up, can pack some serious brightness.
Read more
Lighting Capabilities
Inside each individual light, there are six LED bulbs that are used to provide illumination. Besides being ultra bright, these lights also do not consume a lot of power when in use.
Design Features
What is neat is besides being able to choose how many lights you want, you can choose the style. For instance, there are options for warm white, cold lights, blue lights, and multi-color lights, just to name a few.
Build Quality
These lights are rated to be waterproof and dustproof per IP67 standards. On top of this, each light is designed of stainless steel and PC for enhanced durability and longevity.
Power Source
A 0.5-meter cable is used to attach the lights together and a 12-watt LED power supply does come with your purchase. Unfortunately, the included cable is a bit short but you can invest in an extension.
Ease of Installation
In any area that you can drill holes, you can install these lights. The trick is to abide by the user instructions that are provided to you as the cables need to be connected correctly.
Overall
The icing on the cake would have been solar energy instead of manual energy but that does not prevent these waterproof lights from walking away with the prize for best landscape lighting. Everything else, for the most part, is just too impressive to warrant that.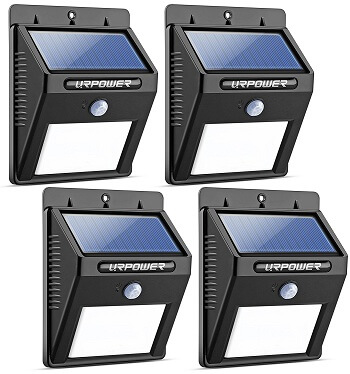 This is one of the several entries on this list to utilize solar energy for power. The URPOWER Solar Lights are also waterproof and heatproof, designed with a motion sensor, and equipped with eight individual LED bulbs.
Read more
Lighting Capabilities
Compared to other designs out there, there are negative and positive pole directions on the bottom of the LEDs. Overall, the eight LED bulbs are very bright for their size. But, the light does not carry very far.
Design Features
The motion sensor on these lights can detect motion up to 10 feet away and delivers a 120-degree sensing angle. Also, to activate the solar power, there is a furnished pin included and it must be inserted in the hole to press the power button.
Build Quality
Being both waterproof and heatproof to IP64 standards, these lights can withstand some of the trouble that Mother Nature will throw their way.
Power Source
The included lithium-ion battery produces its energy from the sunlight. Indeed, there is a built-in solar panel and on a sunny day, it will fully charge the battery in around six to eight hours.
Ease of Installation
Only one hole is engineered on these lights and it is used to mount them. With no wiring required, the installation is very simple and should only take a few minutes.
Overall
Outside of every feature that was just discussed, maybe the most impressive aspect is that four lights are included with your purchase. Talk about bang for your buck, it does not get much better than this.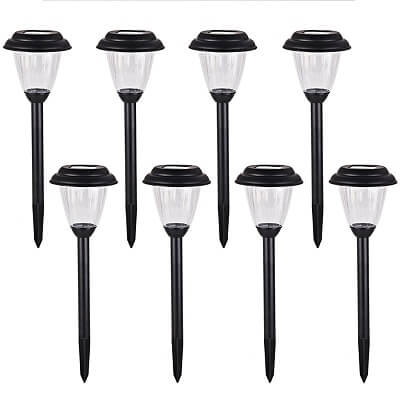 With a pack of eight solar lights that can each output six lumens of light, all you need to do is sit back and glance at your well-illuminated outdoor décor. Heck, when nighttime arises they will activate automatically.
Read more
Lighting Capabilities
Each light can output six lumens of light which is okay. But, when all eight are lit the total lighting actually jumps up to 48 lumens.
Design Features
At dawn, these lights will automatically shut down and then power on at nightfall.
Build Quality
Looking past the stakes which are cheaply made, the stainless steel and clear plastic lens construction will hold up decently to the outdoor elements.
Power Source
This is yet another set of lights that gathers its energy from the sunlight. Solar energy is a beautiful thing, is it not?
Ease of Installation
Before you install the stakes into the ground, you first need to pull out the inverted spike from the tube to ensure that the spiked end is on the bottom. From there, it is a simple matter of staking them in the ground.
Overall
While there are certainly better options out there, these are still high-quality lights that can deliver you with the landscape lighting that you may have been envisioning all along.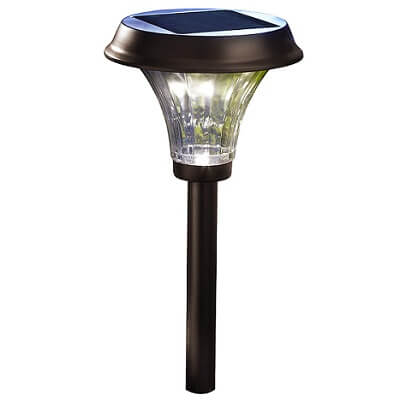 Another great choice for proper landscape lighting is with a spotlight. What is really nice about this design, in particular, is the spotlights can be adjusted. Additionally, they are built to last with die-cast aluminum and protection against the outdoor elements.
Read more
Lighting Capabilities
These spotlights are outfitted with a one-watt LED bulb and can deliver 45 lumens of light. What is nice about the low-wattage is it lowers your energy bill when the spotlights are illuminating.
Design Features
Each spotlight is designed with an adjustable head. Because of this, you can control where the spotlight is directing at.
Build Quality
With the combination of a die-cast aluminum core and a glass lens cover design, these spotlights are both durable and water-resistant. They are protected from most of the outdoor elements.
Power Source
Instead of solar energy, these spotlights are actually run off of an existing power box or transformer that you already own. They also do sport an attachment adapter to connect to a wire that is already connected to the power box.
Ease of Installation
A few buyers have actually experienced a few difficulties with the installation. One noted how the connectors had a tendency to bend and another that the connection box was a pain.
Overall
Being able to manually control where light is illuminated is a convenient attribute and it is one that Moonrays Spotlights have. Of course, their above-average construction also helps.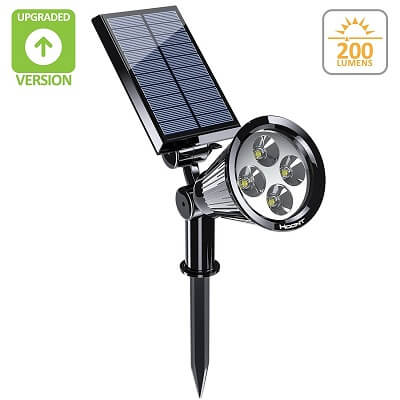 This is another set of lights that are powered via the energy from the sun. However, the design of Hoont's lights are a little different as the solar panel and the LED lights are separate from one another. As such, you can individually adjust the angle of both of them.
Read more
Lighting Capabilities
Four bright LED bulbs are built-into this solar-powered light and they are rated to last up to 50,000 hours. This makes it ideal as an accent light or to illuminate pathways and gardens.
Design Features
Both the light and the solar panel are separated and individually adjustable. In addition to this, there is both a high and low setting for light. Of course, even the low setting emits a fairly bright light.
Build Quality
To withstand years of rain and other outdoor elements, Hoont built their light with solid hard plastic. On top of its durability, it is also waterproof.
Power Source
As this is solar powered, it will only charge during the day. But, when fully charged, the included 1200Mah rechargeable can deliver up to nine hours of illumination.
Ease of Installation
Literally, all you need to do is take it out of the box and stake it in a location where the solar panel will be exposed to direct sunlight for optimal performance. It is as simple as that. Of course, it can also be mounted on a wall if you desire.
Overall
Even by itself, this light can function as a suitable solution to your landscape lighting woes. Then again, can you imagine what your yard would look like with two, three, or four of these installed?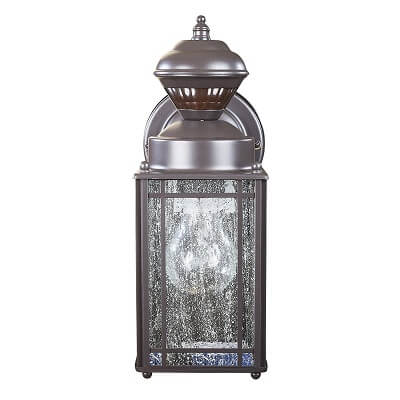 No matter if you require a security light or an old-fashioned motion-sensor light; this next model will do the trick. Besides offering 150 degrees of motion detection, the most notable aspect of this design would have to be its classic oil rubbed bronze aesthetic.
Read more
Lighting Capabilities
Outside of its function as a motion sensor, this light can actually be configured as a lantern, coach light, or even a carriage light.
Design Features
For up to 30 feet, this model can detect motion and does so at a range of 150 degrees. In addition to that, there are three auto modes that you can select from (one, five or 10 minutes). But, a manual override mode is also in order and delivers constant light.
Build Quality
There are two models to choose from, either silver or oil rubbed bronze, but no matter, they are coated with a weather-resistant finish with clear seeded glass.
Power Source
Instead of a superior LED bulb, this actually utilizes an incandescent bulb. Now, some buyers have noted that they have used LED bulbs instead which is preferred because this will consume incandescent bulbs like nothing.
Ease of Installation
While one buyer commented on how easy this was to install, another had a more difficult time. Their issue was with the machine bolts that have to align with the holes of the lamp body.
Overall
This security light is a little different than some of the other landscape lights present on this list. However, this proves that being different can be a very, very good attribute.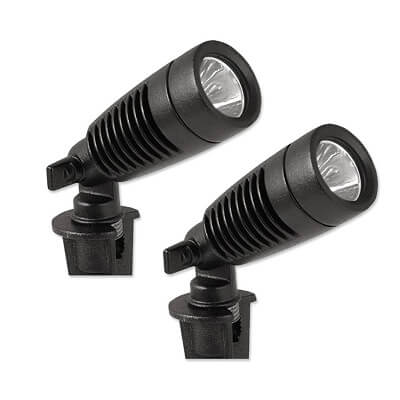 Most path lights do not illuminate the way that these next ones do. It is tough to find versions that will output as much light as Moonrays will. In fact, as opposed to other path lights, these offer up to 25 times the brightness.
Read more
Lighting Capabilities
Each of the two path lights is able to produce 30 lumens of warm white LED lighting. Again, this can be up to 25 times brighter than other path lights on the market.
Design Features
The beam of light emitted from each fixture covers around a 36-inch area as it delivers 120 degrees of light. In addition, the light itself will automatically switch on at dusk.
Build Quality
The elegant ribbed bronze finish and the large glass lens are perfectly fine. However, the metal spike can't withstand much abuse as can't some of the other plastic components.
Power Source
With the integrated NiMH battery within this light, it is able to use the power of the sunlight to gain power. Of course, this means there is an integrated solar panel as well.
Ease of Installation
While the installation is as easy as staking the lights into the ground, the stakes themselves are kind of short. Because of this, it can be difficult to plant it perfectly vertical.
Overall
You may think all path lights are incapable of illuminating any significant amounts of light. Well, this light is here to debunk that thought process as it produces an extraordinary amount of light for a solar path light.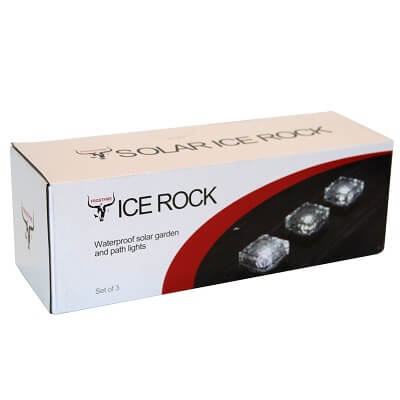 Now, this just might be the most unique model on this entire list. As the product name indicates, these are ice rocks and they are actually powered via solar energy. With a top coating of thick glass, they will add both lighting and a sense of style to your yard.
Read more
Lighting Capabilities
As one user documented, these ice rocks are not meant to light up the world. Instead, they will illuminate the small area around them and are work much like path lights do.
Design Features
On the ice rocks, there is an on/off switch on the bottom to activate them. But, as a side note, they will still gather energy from the sun whether on or off.
Build Quality
In terms of durability, the hard plastic base and thick glass top ensure they can handle abuse. The primary issue is that the rocks are not sealed the best and as some buyers reported, water was allowed to enter inside and corrode the battery.
Power Source
A full day of sunlight should be all these ice rocks need to illuminate throughout the darkness. But, you need to place them in direct access to the big ball of fire in the sky.
Ease of Installation
Wow, this is as easy as it ever gets. With no wires, electrical components, or even stakes to worry about, you just need to set these rocks in direct exposure to the sun.
Overall
Because these are not waterproof, you will probably need to protect them when rain is in the forecast. This is the biggest drawback to these rocks but when rain is not an issue, they fit the bill quite well.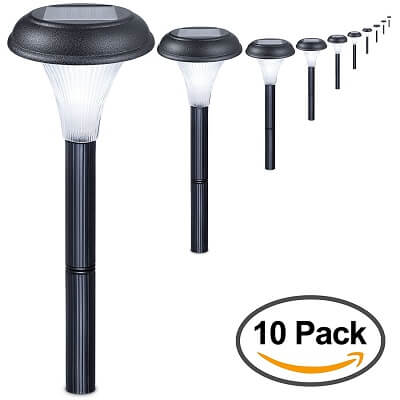 More path lights are next but the beauty of GardenBliss's model is it is double-sealed to withstand all different kinds of inclement weather and also features a height that can be adjusted to your preferences.
Read more
Lighting Capabilities
The manufacturer's goal when designing their solar lights was to make the brightest outdoor solar lights on the market. To do so, they created the lights larger and implemented longer-lasting batteries.
Design Features
Much like other solar lights, these are designed to automatically illuminate at night. In addition, as previously mentioned, you can adjust the height to either have them be eight inches or 12 inches above the ground.
Build Quality
On one hand, the build quality is a little disappointing as the longevity of the plastic shafts is not ideal and it is easy to damage as a whole. However, the premium quality polycrystalline solar panels are nice as well as the double-sealed waterproofness.
Power Source
Via the integrated solar panels, these lights are able to gather and store energy from the sun into their NiMH batteries. The result is lights that last longer.
Ease of Installation
Right out of the box, everything is needed for you to assemble these lights. While a bit of assembly work is required, it should still take under 10 minutes.
Overall
Certain design integrations, such as double waterproof sealing and NiMH batteries, are huge plusses. Yet, others draw some red flags such as the build quality. But, the positives do outweigh the negatives.

Subscribe to our Newsletter