Best Bicycle Lights
In a
Hurry? Editors choice: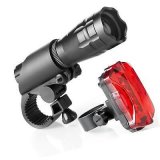 Test Winner: TeamObsidian

Cycling is one of the most popular activities of the summer season and some of us enjoy cycling so much we try to get it in on a daily basis no matter the weather. If you are an avid cycler than you know the most important piece of
gear
is obviously the bicycle, but after you have invested in a durable and smooth bicycle to get you around, you will want to start adding an extra
gear
to help you in different terrains. One of the most important pieces of gear you can add to your bicycle, especially if you are going to be riding your bike at night is a bicycle light. A
bicycle
light is an affordable piece of gear that will illuminate your path if you find yourself riding at night, so be safe and check out the guide below!
Standout Picks
Criteria Used for Evaluation
Use
Your purpose for buying the bicycle headlights has to be at the very top of the list as the first and arguably the most important criterion. Depending on where you plan to ride and therefore use your bicycle headlights, your needs will be different. For example, if you are going to be riding in the woods, forest areas and such similar places, then you will likely require extremely bright headlights to be able to navigate. However, the same lights if used within the city in regular traffic will cause problems for the other vehicles. Overly bright light can temporarily blind oncoming traffic, therefore be very careful and cautious. The brightest headlight is not the one that you should always buy.
It is also imperative that you have an idea as to how long you will need the bicycle headlights to be on. For example, if you need it to be on for 3 hours on a particularly dark stretch, then a bicycle headlight which lasts only 2 hours will be unsuitable for you. Even accounting for the fact that most modern bicycle headlights are rechargeable, there are a few that are not and also a few that are not USB chargeable. Therefore, it is very critical that you know all this.
Water Resistance
A lot of bicycle headlights have an IP65 rating with respect to water resistance. This means that they can withstand a considerable amount of water and rainfall. However, it must be noted that such bicycle headlights must not be allowed to be submerged in water as they cannot withstand it. A distinction must also be made with respect to bicycle headlights which are water resistant and bicycle headlights which are totally waterproof. Typically the latter have an IP68 rating or better. Again, you must factor how much water resistance do you really require. If you live in a place which does not receive a lot of rainfall or if you plan on only riding in the summer when it does not rain, then you do not need a bicycle headlight with great waterproofing qualities. In such a case, water resistance would do. Of course, the converse holds true as well. If you live in an area which is prone to lots of rain, then a bicycle headlight with minimal or no water resistance qualities could be potentially dangerous in the event it malfunctions midway through the journey. With that being said, a good bicycle headlight should have at least some water resistance. Even if there is little to no rainfall, there is always the chance that some splashes of water fall on your bike. Therefore, this is a criterion that one has to factor while buying a bicycle headlight.
Value
Price is an indispensable criterion when buying virtually anything and everything and it is no different here. You do not want to shell out exorbitant prices for headlights that are clearly not worth their price tag. Equally, you also need to be cautious of manufacturers trying to sell very bright bicycle headlights at very low costs. These are generally made using very cheap material. Not only do such products have a low shelf life, but there is also the danger of them overheating and causing trouble. To surmise, be prudent about the price. Do not buy overly pricey bicycle headlights that are not worth it; but at the same time, be suspicious of products that seem to be too cheap. As a rule of the thumb, if something is too cheap to be true it probably is not a quality product.
Battery Life
Bicycle headlights which come with USB rechargeability are much more convenient than those that have to be recharged with batteries. The option to charge via a USB by just plugging in will make life much simpler for you. Rechargeable batteries also tend to be more cost effective and if you are the kind that takes environmental protection seriously (as we all should!), then rechargeable batteries are better for that as well. Finally, if your bicycle headlights work on disposable batteries and they suddenly run out as you are on your way back home on a secluded and dark street, it could spell trouble. You are always better off with the ability to recharge via a USB cable.
Overall you want a reliable light that will be able to provide you with light whenever you need it. What good is a bike light if it does not last long or when you need it most, it is not working because it is dead and needs a recharge. Make sure to read the customer reviews to see how reliable the charge and battery life is on the light you are interested in is. This way you know you will be getting a reliable light and you will not have any issues.
Subscribe to our Newsletter