Best Bicycle Lights
In a Hurry? Editors choice: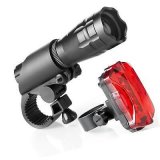 Test Winner: TeamObsidian

Cycling is one of the most popular activities of the summer season and some of us enjoy cycling so much we try to get it in on a daily basis no matter the weather. If you are an avid cycler than you know the most important piece of
gear
is obviously the bicycle, but after you have invested in a durable and smooth bicycle to get you around, you will want to start adding an extra
gear
to help you in different terrains. One of the most important pieces of gear you can add to your bicycle, especially if you are going to be riding your bike at night is a bicycle light. A
bicycle
light is an affordable piece of gear that will illuminate your path if you find yourself riding at night, so be safe and check out the guide below!
Standout Picks
Criteria Used for Evaluation
Use
Your purpose for buying the bicycle headlights has to be at the very top of the list as the first and arguably the most important criterion. Depending on where you plan to ride and therefore use your bicycle headlights, your needs will be different. For example, if you are going to be riding in the woods, forest areas and such similar places, then you will likely require extremely bright headlights to be able to navigate. However, the same lights if used within the city in regular traffic will cause problems for the other vehicles. Overly bright light can temporarily blind oncoming traffic, therefore be very careful and cautious. The brightest headlight is not the one that you should always buy.
It is also imperative that you have an idea as to how long you will need the bicycle headlights to be on. For example, if you need it to be on for 3 hours on a particularly dark stretch, then a bicycle headlight which lasts only 2 hours will be unsuitable for you. Even accounting for the fact that most modern bicycle headlights are rechargeable, there are a few that are not and also a few that are not USB chargeable. Therefore, it is very critical that you know all this.
Water Resistance
A lot of bicycle headlights have an IP65 rating with respect to water resistance. This means that they can withstand a considerable amount of water and rainfall. However, it must be noted that such bicycle headlights must not be allowed to be submerged in water as they cannot withstand it. A distinction must also be made with respect to bicycle headlights which are water resistant and bicycle headlights which are totally waterproof. Typically the latter have an IP68 rating or better. Again, you must factor how much water resistance do you really require. If you live in a place which does not receive a lot of rainfall or if you plan on only riding in the summer when it does not rain, then you do not need a bicycle headlight with great waterproofing qualities. In such a case, water resistance would do. Of course, the converse holds true as well. If you live in an area which is prone to lots of rain, then a bicycle headlight with minimal or no water resistance qualities could be potentially dangerous in the event it malfunctions midway through the journey. With that being said, a good bicycle headlight should have at least some water resistance. Even if there is little to no rainfall, there is always the chance that some splashes of water fall on your bike. Therefore, this is a criterion that one has to factor while buying a bicycle headlight.
Value
Price is an indispensable criterion when buying virtually anything and everything and it is no different here. You do not want to shell out exorbitant prices for headlights that are clearly not worth their price tag. Equally, you also need to be cautious of manufacturers trying to sell very bright bicycle headlights at very low costs. These are generally made using very cheap material. Not only do such products have a low shelf life, but there is also the danger of them overheating and causing trouble. To surmise, be prudent about the price. Do not buy overly pricey bicycle headlights that are not worth it; but at the same time, be suspicious of products that seem to be too cheap. As a rule of the thumb, if something is too cheap to be true it probably is not a quality product.
Battery Life
Bicycle headlights which come with USB rechargeability are much more convenient than those that have to be recharged with batteries. The option to charge via a USB by just plugging in will make life much simpler for you. Rechargeable batteries also tend to be more cost effective and if you are the kind that takes environmental protection seriously (as we all should!), then rechargeable batteries are better for that as well. Finally, if your bicycle headlights work on disposable batteries and they suddenly run out as you are on your way back home on a secluded and dark street, it could spell trouble. You are always better off with the ability to recharge via a USB cable.
Overall you want a reliable light that will be able to provide you with light whenever you need it. What good is a bike light if it does not last long or when you need it most, it is not working because it is dead and needs a recharge. Make sure to read the customer reviews to see how reliable the charge and battery life is on the light you are interested in is. This way you know you will be getting a reliable light and you will not have any issues.
Top Ten Bicycle Lights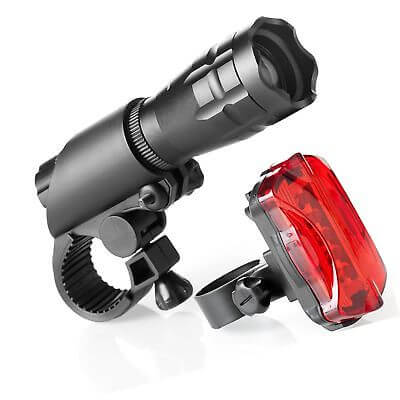 This bike light is not only constructed with aluminum to ensure that this will be the last bicycle light you will ever need but it also comes with a bright light to ensure you can see where you are going and that oncoming traffic can see you. If you are in the market for a new bicycle light, this is defiantly one to check out.
Read more
Use
There are 3 modes available with this piece namely, high, medium, and flash mode.
Water resistance
This light will work and hold up in any weather condition you throw at it.
Value
It is quite affordable and worth the price for a great quality light.
Battery life
This light takes 5 AAA batteries so it is hard to pinpoint how long the batteries will last depending on the type of batteries you use.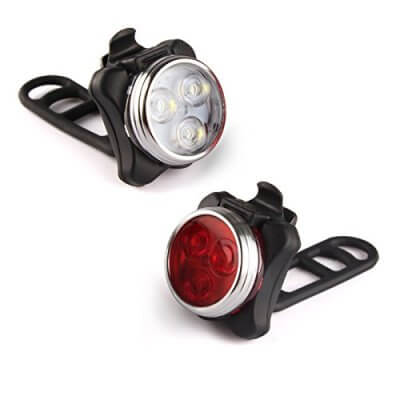 This bike light not only comes with a front light but also a rear light as well to ensure you have maximum visibility and also to ensure that traffic can see you clearly and keep you safe on your next night ride.
Read more
Use
The front light comes with 4 modes of brightness namely, flashing, low brightness, medium brightness, and high brightness. It can be used for myriad outdoor activities, it is not just a bicycle light. You could use it during your outdoor activities or simply as a flashlight.
Water resistance
The bike headlight is rated with an IPX4 water resistant rating. It can withstand splashes of water and a decent amount of rain.
Value
It is very decently priced. It is value for money when you consider the features that come along with it.
Battery life
Its USB rechargeability makes for convenience in use.

3

. Stellar Lights Aircraft Aluminum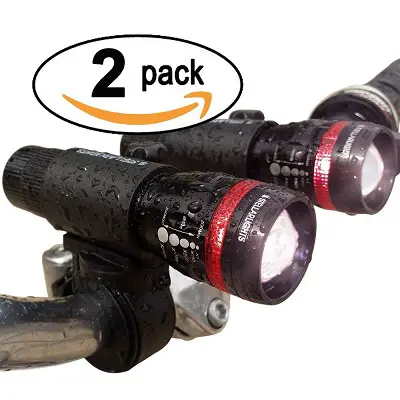 This compact product from Stellar Lights is ideal if you do not need too much brightness and if your budget is on the lower side. The ease with which you can install this makes it an attractive proposition
Read more
Use
You can manually adjust the brightness from 80 lumens to a maximum of 240 lumens. The light is so handy and compact that it fits right into your pocket. This has been designed keeping anti-theft measures in mind.
Water resistance
It is water resistant and can withstand a decent amount of rain.
Value
It for Stellar lights 2 pack is a very reasonable deal. This is one of the best low budget bicycle headlights you will see, therefore if money is your primary criterion go for this without too much thought.
Battery life
This light takes 3 AAA batteries so it is hard to tell how long these batteries will last. A rechargeable battery is always ideal as you can always ensure you will have light, but the AAA should last quite sometime before having to be changed.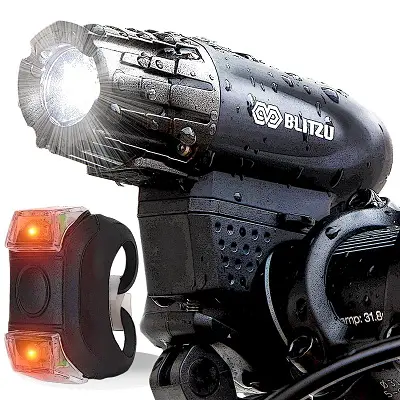 If you are looking for bicycle headlights at an affordable price that is easy to install, Blitzu's Gator 320 rechargeable bike light is one of the best options you must definitely consider.
Read more
Use
This is one of the most remarkable aspects of this bicycle headlight. It can spin and rotate in virtually any direction making it incredibly useful in conditions with bad light or low light. It is much more than just a bicycle headlight. You could use it as an emergency flashlight or in lieu of a lamp while outdoor activities such as hiking or camping.
Water Resistance
The bike headlight is water resistant. Please note that water resistant does not mean 100% waterproof, but it is adequate enough for a few splashes of water.
Value
It is quite decent considering all the features available. it comes to you at a price of around $15.
Battery Life
It takes only a remarkable two hours to be fully charged. The best part is, once fully charged it will run for more than two hours at the highest and brightest setting there is.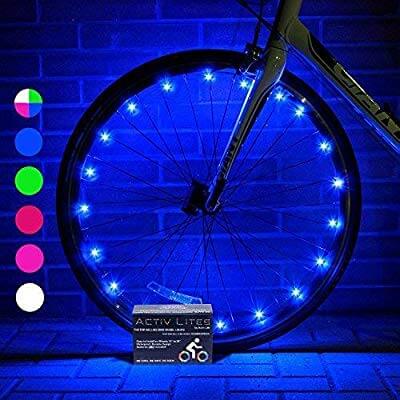 These bicycle lights are a unique design which not only illuminates in the front of you but also allows your whole bicycle to be illuminated which will keep you safe as you ride to where you need to during the night.
Read more
Use
These bicycle lights are highly rated and that is due to the fact that they will illuminate your complete bicycle so that you are safe against oncoming traffic or any other vehicles that are also sharing the road with you during your night cycle. You can choose from 7 colors and three illumination modes to ensure you are visible during the night.
Water Resistant
These lights are fully waterproof and will have no problem if you get stuck in some wet weather. The reason they are waterproof is due to the lights being contained in a silicone tubing which connects to your tires with ease.
Value
These lights are not only fun and will keep you safe during a night cycle but they also come to you at an affordable price of around $15. That is a great price for you to completely illuminate your bicycle and keep you safe.
Battery Life
These lights come with a rechargeable battery, so you do not have to change the batteries ever with these lights. The battery also comes with a three-year warranty to ensure you will have working lights on your bicycle for quite some time.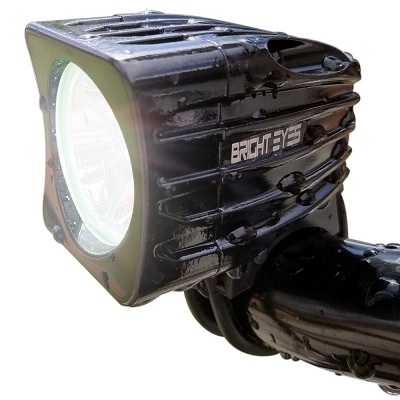 This is slightly higher priced than the ones we have seen so far but this is totally worth it. If brightness and quality are your top two priorities then you cannot possibly go wrong with this. You will also get a lot of add-ons free of cost as you will see below.
Read more
Use
Many of the cheaper headlights tend to dim as the battery drains out, but not this one. You will have consistent output in terms of brightness till the time the battery is fully dead. You can get a staggering 3000 feet of visibility and 500 feet of brightness. It comes with 3 modes of brightness namely, low, medium and high. The brightness for each is 1200 lumens, 800 lumens, and 350 lumens respectively. There is also the strobe or flashing mode.
Water resistance
The power 6400 mAh battery is waterproof, so you can ride without worrying about your headlight in wet weather conditions.
Value
It is not the cheapest or the most expensive bicycle headlight that you will find. For the sheer quality of this headlight, the price is totally worth it.
Battery life
The external battery can be mounted wherever you find it easiest and most optimal. The battery lasts an impressive 4 hours on the highest level and up to 24 hours on the lowest level.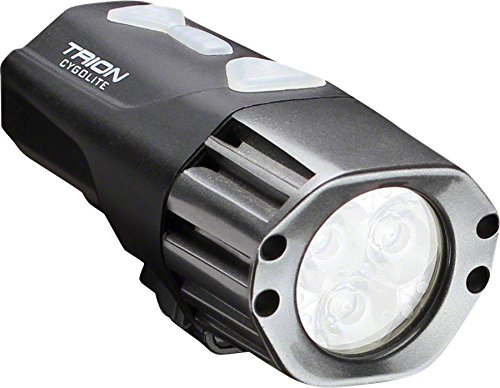 As with the Volt 1600, this is somewhat of a high-end bicycle headlight (by no means the highest or even close). If you are willing to shell out a few extra dollars then you cannot go much wrong with the Trion 1300.
Read more
Use
At 1300 lumens, the Trion 1300 will ensure that every path you ride on is well lit and that you never face issues with navigation due to poor light. This is one of the features that separates the Trion 1300 from many others on this list. It has an incredible 8 modes of brightness. These are – ascending order of brightness - walking, slow flash, day flash, steady pulse, low, medium, high, boost. While some may feel that many of these modes may not even be required, the more experienced bikers will tell you that it is extremely important to have as many quality brightness modes as possible.
Water resistance
Go ahead and bicycle in the rain with your lights flashing at the maximum level. Trion 1300 has quality water resistance which will ensure that your headlight is not damaged one bit as a result of impact with the water.
Value
The price is on the higher side. While there are plenty of options available for much cheaper, in terms of quality you will not get much better in this price range.
Battery life
It would be an understatement to say that the battery capacities are high. Its Li-ion batteries have very high capacity and work with Cygolite's 7.6v external batteries.
As with the Volt 1600, you will not have to worry about being caught unawares by a low battery.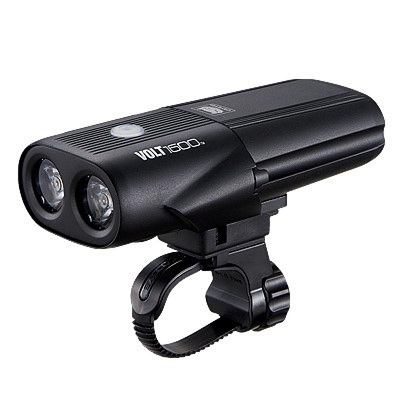 This rather high-end bicycle headlight is one of the best options available if the budget is not really a concern. Its high intensity LED is comparable to the best in the world. Its opticube lens technology is amazing with regards to visibility, particularly in low light conditions.
Read more
Use
With an impressive brightness of 1200 lumens, the Volt 1600 is adequately bright and the white light is easy on the eye. You do not have to make do with limited options when it comes to light modes. The Volt 1600 has as many as 5 brightness modes namely, low, medium, high, hyper constant and flash mode. The opticube lens ensures maximum visibility. Your safety is ensured even in conditions where there is minimal light.
Water resistance
This light will work great in wet weather and will hold up if you get stuck in some nasty weather conditions.
Value
Yes, the price is on the higher side, to say the least. However, the CatEye Volt 1600 is an absolute masterpiece and worth every dollar. Your investment will not go in vain should you opt for this.
Battery life
The Volt 1600 provides a staggering 100 hours of battery charge. This is one of the features that really make it worth the money. 100 hours of battery life will ensure you have enough for virtually any trips, hikes and camps that you can think of.
There is a useful battery indicator which will light up to ensure that you are never caught unawares with a low battery for company.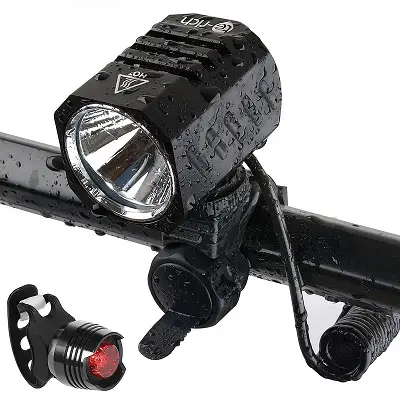 If you like your headlights really bright and you do not want to burn a hole in your pocket for it, then Te-Rich's Super Bright 1200 Lumen Bicycle Headlight is a great choice. As an added bonus, it is extremely simple to install as well!
Read more
Use
It comes with 3 modes of brightness. The first mode is low brightness, which is a quarter of the full capacity, the second mode is medium which is 50% of full capacity and the final mode is high which is the maximum capacity(100%). This is one of the most impressive features of this product. The brightness is really impressive for the price.
Water Resistance
The front light is waterproof, so you can breathe easy even if it is raining heavily.
Value
It is not the lowest price you will find on this list. However, given its brightness and other features, it is not an unreasonable price by any means.
Battery Life
It lasts a very impressive 4 hours at the highest setting. At 8 hours and 12 at the medium and low settings respectively, the battery has an excellent capacity.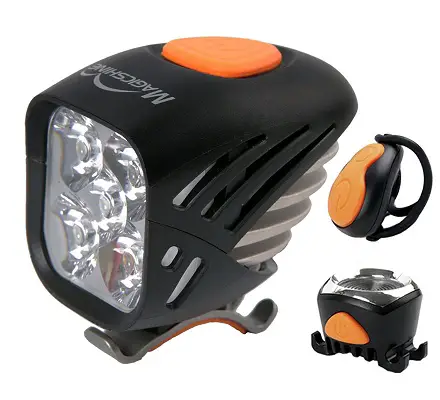 Magicshine is quite literally magical. One of the best bicycle headlights has been saved for last here. Without further ado let us have a look at its features.
Read more
Use
The MJ906 is designed for off-road biking. 5000 lumens is extremely bright, to put it mildly. The MJ906 has 4 different modes(20%, 50%,75%100%) of brightness in addition to the flash mode. The MJ906 comes with intelligent overheat protection, which means the headlight will never heat up enough to be any cause for concern. There is an aluminum alloy which facilitates cooling.
Water resistance
This light is water resistant which means it will last if caught in some nasty weather.
Value
Again the same caveat, you will find cheaper bicycle headlights; but all things considered, this headlight is great.
Battery life
The battery will last 7 hours on flash mode, 10.5 hours on 20%, 5.5 hours at 50%, 3.5 hours at 75% and 2.1 hours at 100%. All things considered, that is fairly adequate.

Subscribe to our Newsletter