Best Underwater Drones
In a Hurry? Editors choice: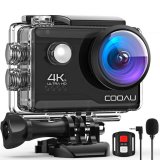 Test Winner: COOAU 4K 20MP

Drones are still a fairly new hobby for the general population but in the last few years, we've seen great strides in the technology used to create these fun little automated fliers. It's no surprise that we're now heading in the opposite direction and
taking to the seas
(or lakes, pools, and rivers) to explore with drones. Read on for our top ten list of best underwater drones! You may have seen on nature documentaries how giant, expensive drones are used to search for artifacts and sunken ships. The Titanic was found this way and filmed with the use of a
drone-like device
! We've spent hours researching the options out there for enthusiasts who want to take a drone exploring underwater, searching for cool fish, hidden treasure, and more.
Standout Picks
Criteria Used for Evaluation
Features
When deciding which electronic device best fits your needs, you'll often find the answer in the features. Depending on what or when you are expecting to film, the camera quality becomes important. However, a higher quality camera often comes at a higher price. No matter what you are exploring, the wider the view, the better. It's like not having peripheral vision. Can you imagine? Another factor that will affect your live view or filming quality is light. Does the device have brightness control? How many lumens is the light? Also, having the ability to zoom in on a certain point is a great camera feature to have.
Other features that may sway you in one direction or another include the speed and overall independence of the device. Some devices can be sent to brave the waters with no strings attached, while others are connected by a tether. Certain models only have the ability to move forward and backward, while others can move in all directions. Additionally, some devices have "arms." These are especially great for use in the ocean. With these accessories, you can put bait in the arm of the drone to attract fish and get a great close up view.
There are hundreds of different features that are available for these amazing machines. However, you can think of this section as an introduction to learn and think about which types of features would be most useful to you. Knowing this before you invest can help to save you a lot of time, money, and frustrations.
Accessories
The right accessories can really add to the value of a drone. Drone accessories seem to be pretty important and not so much simply "extras" given that they often include things like waterproof casess, tethers, and extra batteries. We paid close attention to what the manufacturers packaged together for the best bang for your buck. Nearly all of our choices had apps, save the smaller toy-like products. The app you connect to can be just as important as the drone itself because most of them use both the app and/or the separate remote controller to access all of the functions. Live feeds especially will likely use the product's app. If sharing images is important, check and see how easy you can do this with the different options' apps. Is the app user-friendly? Can you download the app before purchase and learn more about your product before purchasing? Most apps are available for both iOS and Android these days but it wouldn't hurt to check, just in case, your machine's app hasn't rolled out yet.
Battery Life
Battery life is important for any battery-run device but drones really rely a lot on that length of time. Divers who explore under the surface of the ocean don't want to have to head back to the boat every 30 minutes for a new battery or to recharge their drone. A good battery will also ensure that users don't miss the chance to capture the moment they discover something amazing.
If you're going to be putting your drone into the ocean, choppy lake waters, underneath boats, in rocky rivers, etc. you want a product that can handle physical contact from more than just the water around it. Check for industrial-strength outer casing and waterproof shells with really good seals. Keep your product in its designed case or invest in a good hard case to store it in. Especially if you invest in one of the higher-end choices, you'll want to do everything you can to get the most life out of your purchase. The last thing you want is to get an awesome dive shot and then have your product fall apart before you even get to share your images.
Water Resistance
Water-resistance is arguably the most important criteria when researching and reviewing underwater drones. If they're not able to work underwater, there's no point. We considered things like good seals, maximum depth, and movability in calm and moving waters. Some users might not need maximum depth of hundreds of feet so we tried to include quality choices with a variety of water abilities.
Ease of Use
A drone should be user-friendly.
Ease of use is always important when we do research and reviews. A drone can have a million wonderful features but if typical users of that type of machine can't figure out how to make them work, it's a useless device. We included products for beginners and pros.
Top 10 Picks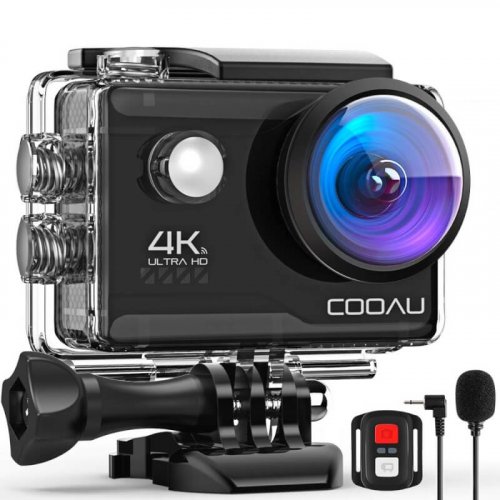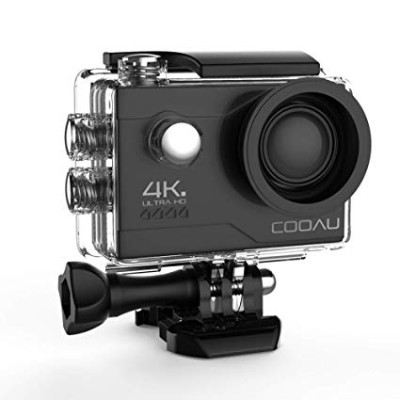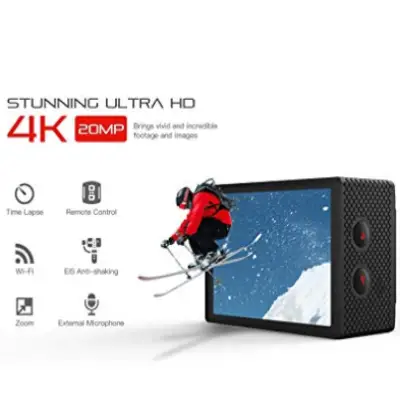 The COOAU is a 4k camera with video. It's waterproof and comes with remote control. While it's great for getting cool underwater shots, you can consider this little camera an all-inclusive adventure cam! Use it for getting great shots while hiking, camping, or just hanging out with friends.
Read more
Features
It is a 20-megapixel camera so you're going to get high-quality pictures. The seven-layer optic lenses allow for rich, ultra HD 4k images and video. The electronic image stabilization in the chip's anti-shake technology makes this a great choice for adventures above and below water. The light balance sensors, 170-degree wide-angle shooting, and time-lapse feature allow you to make the most out of your favorite captured moments. Easy wifi lets you share those shots with everyone you wish was with you.
Accessories
This choice comes with 20 accessories! Our favorite is the wrist remote control that allows you to catch yourself in those sweet action shots or get better use underwater.
The two included rechargeable 1200mAh batteries let you shoot for longer without surfacing for a recharge.
Other accessories include multiple mount types, a strap, bike, and helmet mounting pieces, and another favorite of ours, the external microphone.
Another great thing about the accessories is that they're compatible with many other cameras, including much more expensive brands!
Battery Life
Depending on use, a full battery can last up to a few hours. Include is a second rechargeable battery so with both you could spend most of the day playing with this camera before having to recharge.
Water resistance
This remote control camera has a really durable acrylic case that makes it waterproof up to 40M underwater. It has even been left in a bucket of water overnight, forgotten about, and still worked perfectly the next day. It's important to note that the microphone does not work with the underwater case.
Ease of Use
The camera is pretty easy to use, even if you're not a camera expert. It comes with an app that really helps you get connectivity set up so you can easily share pictures and videos with friends and family.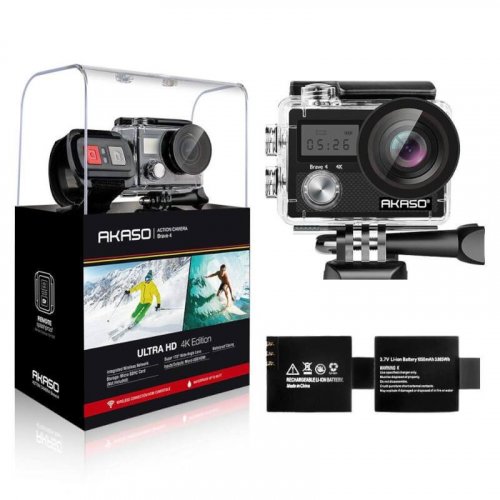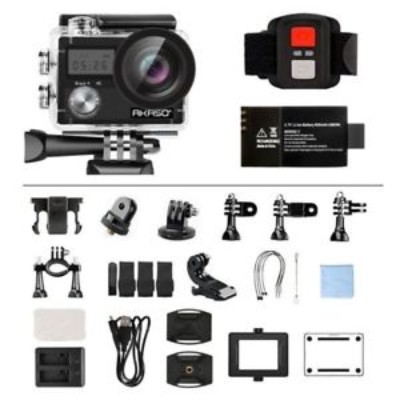 This is such a close second to our first choice! The only reason it's not tied for first place is that it's only waterproof up to 30M. Otherwise, this is a really solid choice when it comes to remote control adventure cameras.
The AKASO Brave is a very steady shot with a lot of features like wifi, 4k HD, and mounting hardware. If you're looking for a little camera you can take on vacation and get sweet underwater shots with, this is a good one to check out.
Read more
Features
The AKASO Brave has 4K, 24fps video resolution and will give you crystal clear HD shots (with up to 5x zoom!) with a steady image due to the internal gyroscope feature.
The included waterproof case lets you dive down and get shots up to 30M underwater.
Accessories
This product comes with 19 accessories that not only work great with the AKASO but are compatible with many other big-name cameras of a similar style.
Some of our favorite features include Two 1050mAh batteries, a remote control wrist mount that can be used up to 10 meters away, and mounts for helmets bicycles.
Battery Life
This option comes with two 10x50mAh batters. Each battery, depending on things like what features you're using and temperature, will get you up to 60 minutes of use time.
Water Resistance
The AKASO has a case that makes it waterproof up to 30M, which is just 10M off from our top choice. So jump in and dive down to 100ft, knowing you're going to get some great underwater shots. Preview your underwater shots with the 2" screen.
Ease of Use
There's nothing too tricky about this one and it doesn't really have a very steep learning curve. If you do get stuck, it comes with a handy manual.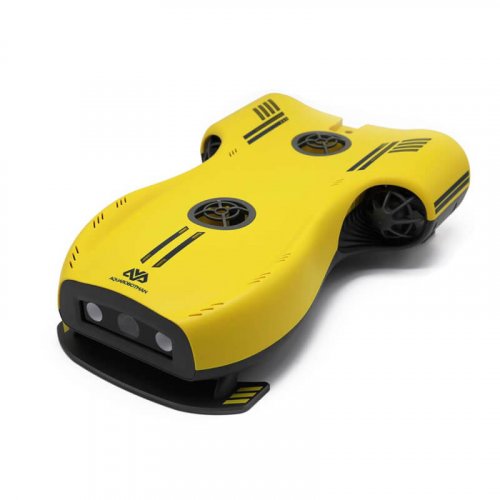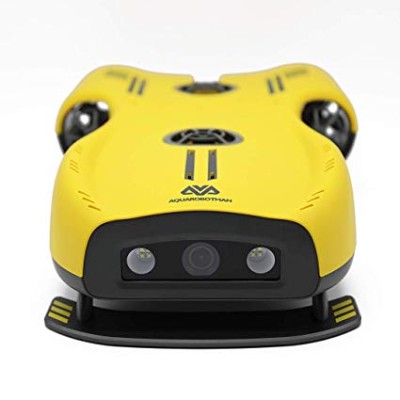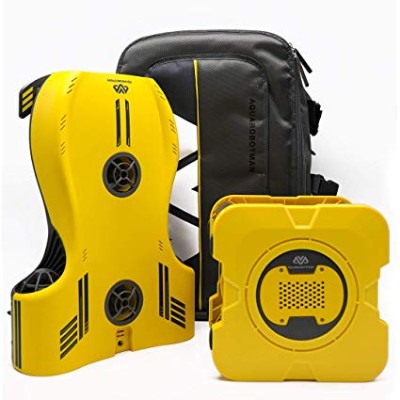 Welcome to the future. You can buy a personal robot, throw him in the water, and wait for him to show you what's down there, all from the safety of your boat or the shore. If the ASAKO or the COOAU is not what you're looking for, and you want a more traditional drone experience like what you get with a flier, then start here with the Nemo.
Read more
Features
The Nemo is a slick-looking drone with a 4k Ultra HD, 30fps camera stabilized by a 4-duct system for a super steady image. You're going to get really clear, high-quality shots with this one underwater. It has its own private connection to wifi and an easy app for viewing real-time what the Nemo captures below the surface. And it's going to capture a lot because it features a light rig that really illuminates the surroundings due to the 8 LED lights.
This underwater drone swims with speeds up to 2 meters per second.
Accessories
The Nemo comes with a wi-fi station and station battery, Nemo's own battery, a reel, a Kevlar zero buoyancy line, and a Nemo-branded backpack for carrying all of your cool accessories.
Battery Life
The included c-hyper helix battery gets you about 3 hours of life, depending on use and temperature. It's a rechargeable battery and it seems to charge super fast. So, if you have backups you show downtime much downtime and you can get back to your adventure quickly.
Water Resistance
The Nemo can dive as low as 328 ft below the surface and comes with a tethered cable (of that length) that is also completely waterproof.
This is a good depth for checking for fish, hunting for treasures, looking for lost items, or checking out the hull of your boat for maintenance and repair needs.
Ease of Use
If you've ever flown a flying drone, you should have no issues with the Nemo underwater drone. Once you get used to pitching it forward so it submerges and starts its dive, the rest comes pretty naturally.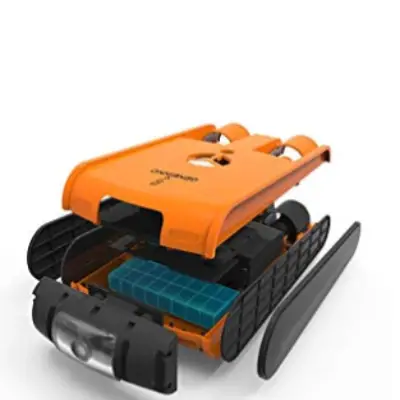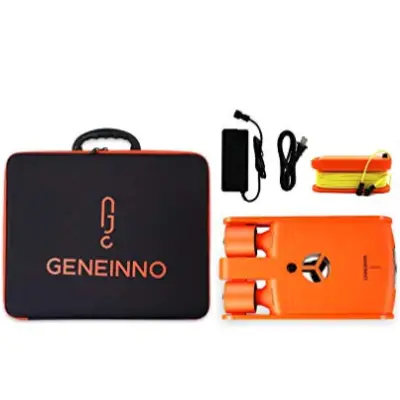 The Geneinno Poseidon has a lot of the same features as the AquaRobotMan Nemo at a slightly lower price. However, it's tether, at 164ft is quite a bit shorter than the Nemo's. What it does well is photo quality. It has a great stabilizer and can get shots from slightly deeper than the Nemo, though you have to take up the missing tether length by diving. If you're looking for a camera for diving primarily, this might be a good choice for you.
Read more
Features
The Poseidon's HD 1080p 30fps camera has a 120-degree wide-angle mode which is really important when trying to get those big underwater shots. You'll be able to see a lot with this guy.
It's small and lightweight enough to be a breeze to port around and it's even TSA approve so you can take it along on faraway vacations and adventures.
It's made of industrial-grade rubber and plastic and has a really durable, rugged outer shell. This is good for when the drone bumps up against underwater rocks, coral, or boats, or...sharks?
Accessories
With this purchase, you get a Poseidon drone, a buoy, an adapter for your charger, two balancing weights, your 328-foot tether cord, and a rugged suitcase that makes it really portable. You'll also get an easy-to-use app for iOS or Android.
Battery Life
This product comes with a 9000Amh battery and charger. With one full charge, you should get up to 5 hours of life. This is pretty good compared to other similar options.
Water Resistance
The Poseidon can handle depths of up to 398 feet, which is slightly deeper than the Nemo. However, the tether is only 164ft, so to get to the max depth, you're going to have to dive. There is the option to pay for a higher-priced package that comes with a 328 ft tether.
It's very mobile and agile in the water due to its triple thrusters and multi-directional design.
Ease of Use
There's not much of a learning curve to this drone. The app is easy to install and will help you with each step. The agility of the drone also helps with ease of use.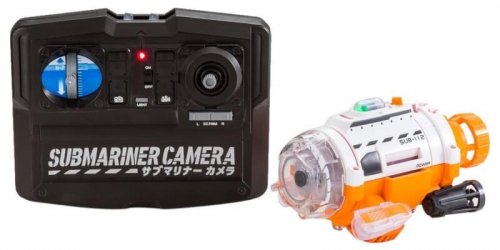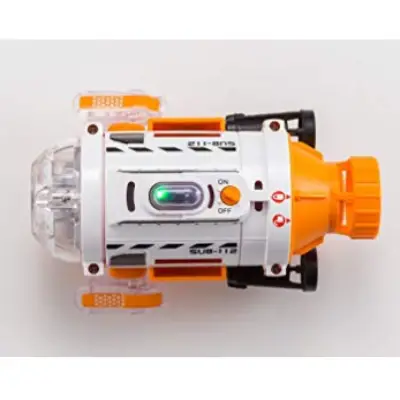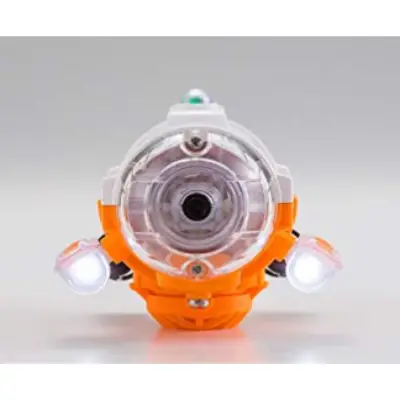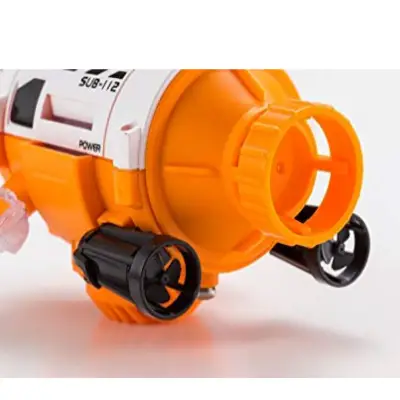 Just starting out with underwater drones or want one as a gift for a younger person? The Sea Peep Submariner might be the best choice for you. This drone is about as cute as its name. It's a tiny little thing weighing well under 2 pounds. It has a remote control and a pretty decent 30m camera and if you're looking to use it in fairly still waters, it should give you pretty good shots.
Read more
Features
This little drone features a lot for its size and price point. It has a 30mp camera mounted to it and can be rotated left and right. The built-in 256MB memory (other drones might require a card) is pretty handy, too.
Users love using this on in shallow ponds, fish tanks, and pools. You can operate it from just under 2 meters.
Accessories
The Sea Peep comes with a handy remote control.
Battery Life
The Submariner and its remote control use 6 AA batteries. It doesn't use a ton of battery life but it's also easy to replace, especially if you use inexpensive rechargeables.
Water Resistance
This isn't a deep-sea drone by any means but if you're looking to explore your fish tank or turtle pond, it will work fine. It does best without much of a current.
Ease of Use
This is incredibly easy to use. It's easy enough for younger kids to use.

6

. Power Vision PowerRay Wizard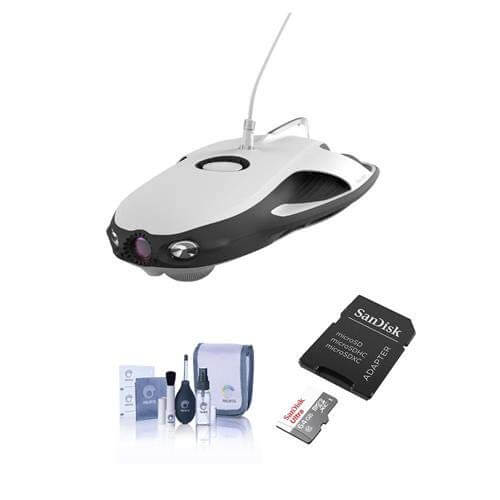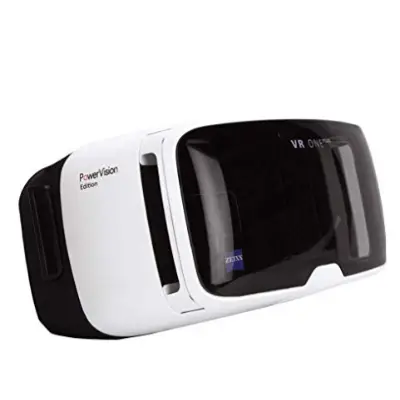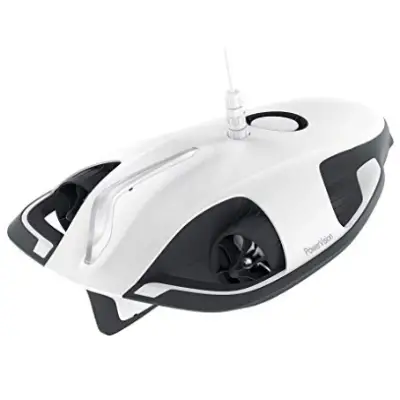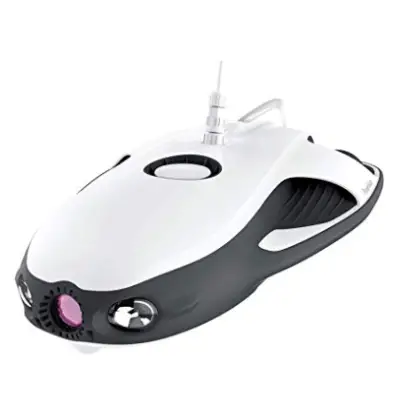 First of all, the Power Wizard looks really cool. This is a good choice for the avid fishers because of its crisp pictures and really cool magnetic bait drop! If you're ok with a 98ft max depth drone, and you like to fish, keep reading. We have a lot to say about the Wizard.
Read more
Features
The Power Wizard can dive down to 98 feet below the surface and has a pretty long 230 ft tether.
The camera is 4k UHD, 12MPS, and has a burst mode feature. You can sync up with your phone, like most drones allow, and watch the feed from the Wizard live.
Accessories
We love the accessories that come with the Power Ray Wizard! You'll get a 64gb sd card, a fish finder sonar with magnetic bait drop, a wheeled carrying case that's super rugged and durable, and our favorite part? You get a set of VR goggles designed to work exclusively with the Power Ray drone.
Battery Life
This product has a 6400mAh battery and is rechargeable for lasting use.
Water Resistance
This one can dive up to 98ft max and has a tether connection that reaches 230ft.
Ease of Use
This drone has a bit more of a learning curve because of all of its features. The good news is it has a huge fan base and there are a ton of user tutorials out there.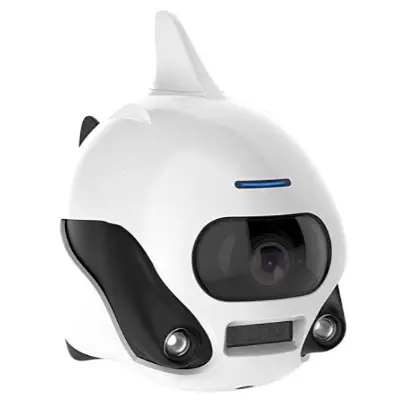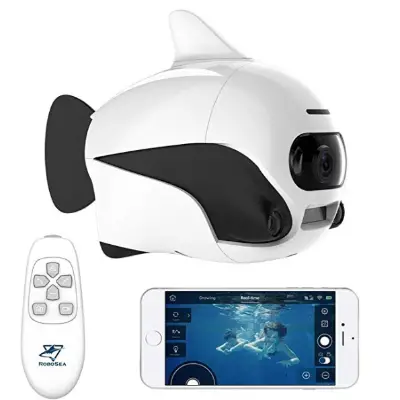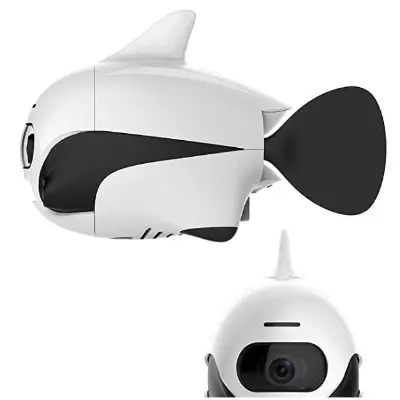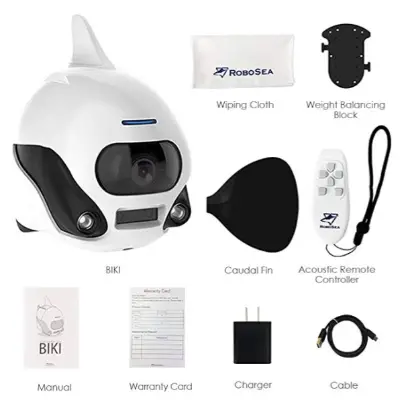 The Biki is an adorable device that looks like a robot fish. Once you attach the plastic fishtail, this little guy can swim on a guided route or with your live-motion controls. Reaching depths of down to 196-feet, you'll discover things you have never seen before.
Read more
Features
If you choose to guide this device from outside the water, you will need to download the app for IOS or Andriod. From here, you can control everything from speed, direction, depth, photos, videos, and light. With the app, you can control the device from up to 164-feet away. Additionally, you can create a specific route for the Biki and send it on its way. There is no live-view but you can check out the footage when Biki returns.
If you want to guide the Biki from the water, you must place the remote in the water to send the signals. With the remote, you can control the device from up to 32-feet away. Unless the device comes into contact with a hungry predator (although it does feature an obstacle avoidance feature), you never need to worry about losing it. It has a built-in GPS so that you can always track it.
The camera of the Biki has a 150-degree lens and a 4K camera. There is 32GB of internal memory.
Accessories
Included with your Biki, you will also receive a few accessories. You will receive the Biki, of course, a wiping cloth, a weight balancing block, a caudal fin, an acoustic remote controller, a charging block and cable, a manual, and a warranty card.
Battery Life
The batteries are built into both devices, the Biki and the remote. To get a full charge on each item, it takes about two hours of charging. From there, the batteries last between 90 and 120 minutes, depending on the settings.
Water Resistance
This device is shaped like a fish and swims like a fish. It can be guided to dive to depths down to a maximum of 196-feet. It is temperature, weather, crash, and corrosion-resistant. To make the Biki dive, you will need to be sure to attach the included weight to the bottom.
Ease of Use
For this most part, this device is simple to use. There is an included manual and the app and remote are straight forward. The device is still fairly new to the market and has its kinks. One thing to point out is that the Biki does not follow directions well in moving waters, such as the ocean. It functions without a tether and weighs 2.65-pounds.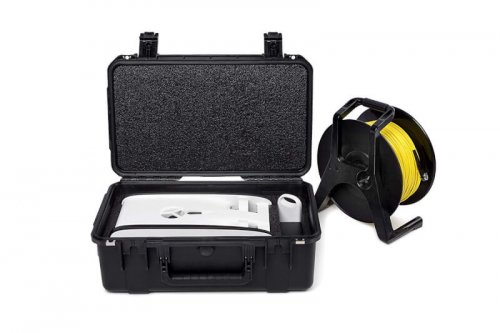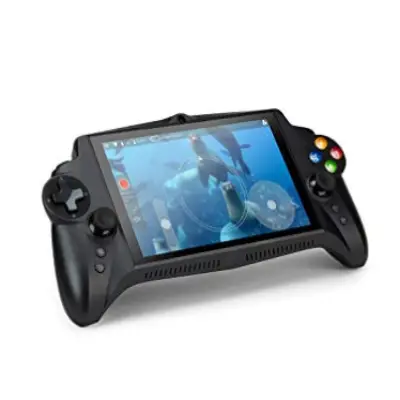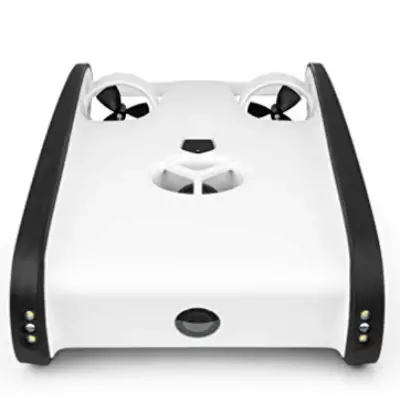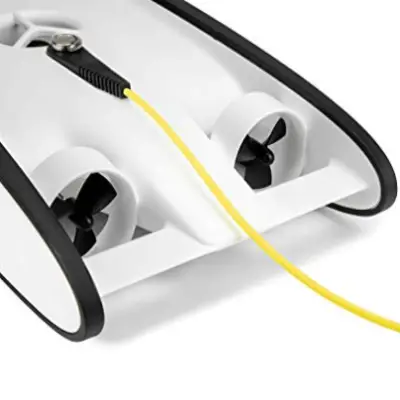 The Trident is a higher-end product that works really well in the water. The makers say it "flies" underwater and it really does move well.
Read more
Features
The Trident goes deep at a max diving depth of 328 feet. It has wireless control and is really, really agile in the water with a cool autopilot feature. It moves at around 2 meters per second. The camera is 1080p and 30fps with a scratch-proof sapphire window. The camera works well in low light waters.
Accessories
It comes with a durable case, a 100-meter tether, and an android tablet controller. You can also buy a wide variety of additional accessories from Trident.
Battery Life
You can get up to 3 hours of battery life on this product. It takes a little under 2 hours to fully recharge the battery.
Water Resistance
This product is waterproof up to a max diving depth of 328 feet or 100 meters.
Ease of Use
It's built to be easy to use and you can pretty much get it started as soon as you open it and charge it.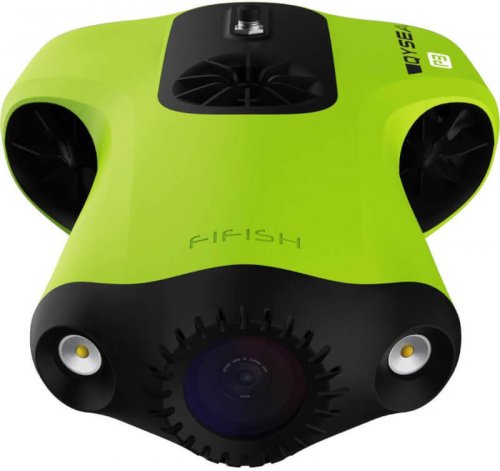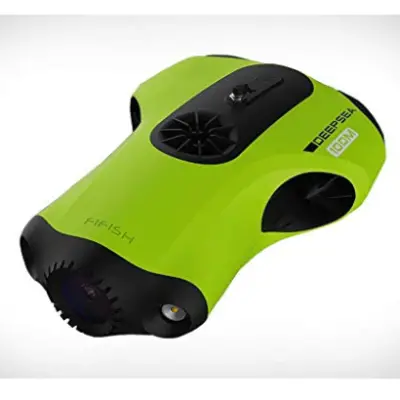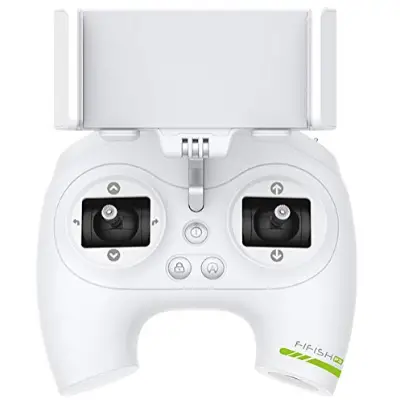 The FIFISH is the priciest on our list but it comes with some really great features. If you're willing to invest in a drone that will give you excellent video quality and fantastic movement underwater, this could be the one for you.
Read more
Features
The FIFISH is a remote control drone that has a max depth of up to 328 feet. The camera is 4k with a really wide 162-degree angle and high-tech lens features. Great for low light waters due to its double 2k lumen led lights and 8 levels of brightness control. Can be controlled with smartphones and tablets with ease.
Accessories
With your FIFISH drone, you'll get a remote control that will feel super comfortable in nearly all hands and very familiar if you've ever held a gaming controller. You'll also get an AC adapter and a long tether cable.
Battery Life
You'll easily get 4 to 5 hours on the battery and it will take a couple of hours to fully charge.
Water Resistance
The max depth for this one is 328 feet. It can move at up to 3 knots in calm waters and moves well with two horizontal and one vertical thruster.
Ease of Use
This one is a little more complicated than some others on our list, mainly because it has so many features. There is a handy manual included and the Qysea website and customer service staff are extremely helpful.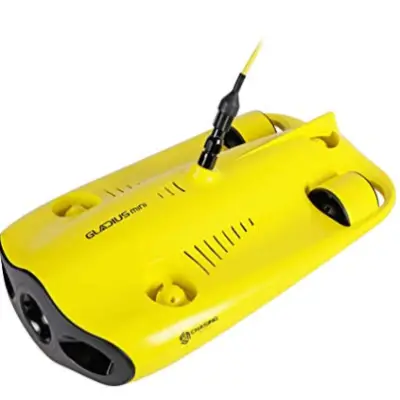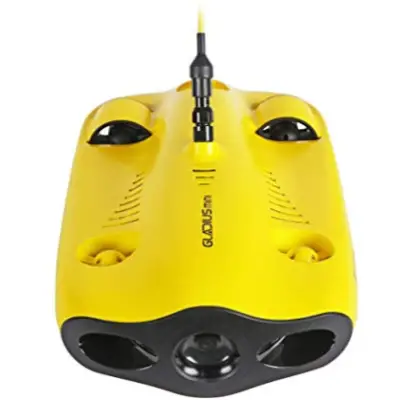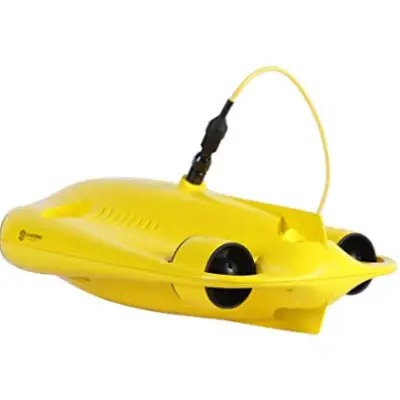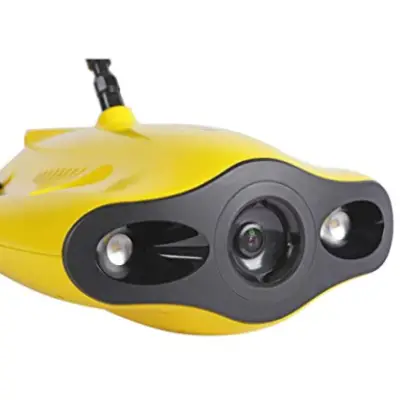 The Gladius mini is a great device that allows you to live stream from your phone as the device explores the depths. Depending on the length of the tether, the device can reach depths down to 330-feet. While this device has plenty of impressive features, it is not our most user-friendly option.
Read more
Features
The Gladius Mini provides you with a real-time view of its adventures. It can reach speeds of four knots, or two meters per second when traveling horizontally. When ascending or descending, the speed is slightly slower at one meter per second. There are five thrusters on this machine and a 95-degree view. Additionally, there are two adjustable headlights of 1,200 lumens. The app for IOS or Andriod makes it simple to upload and share your videos or photos on social media.
In clear water or on land, you will likely be impressed by the clarity of the camera. However, as expected, in murky waters, the footage quality is less than desirable. The Gladius Mini shoots video is 1080p and has a 4K UHD camera that takes photos in 12mp.
Accessories
The amazon bundle gives you the option to choose between a 50-meter tether or a 100-meter tether. Also included is the base station, wireless controller, batteries and chargers, and a 32GB memory card.
Battery Life
The drone itself has a battery life of about two hours, depending on the settings. The base station has a battery life of six hours and the remote has a battery life of five hours. The device uses a 5,000mAh, 5.5wH battery.
Water Resistance
The device itself can reach depths down to 330-feet. However, the device will only go as far as the tether allows it to. With a tether of 50-meters, it can reach 165-feet. With a tether of 100-meters, you can reach all the way down to 330-feet.
Ease of Use
This is where this device could use some improvement. The directions are not very clear and the bundle as a whole, including the app, is not very intuitive. Once you spend a few days fiddling with it, the processes seem to become easier.

Subscribe to our Newsletter