Best Underwater Lights
In a Hurry? Editors choice: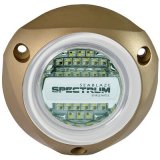 Test Winner: Lumitec SeaBlazeX

The world is just a better place with lighting, right? Yes, that is a very broad and obvious claim but it really personifies why
underwater lights
are so useful. It also is one of the several reasons you have stumbled upon this guide today. But, why would you ever need underwater lighting? It is not as if you live down there. Well, it can come in handy in a lot of ways. For example, specific models
can be used to light up
your aquarium, can be mounted on your boat, or even be used in your backyard pond. But, some models will be tailored to a specific use so you need to be cautious and conclude why you want one, in the first place. However, as you will see, there are plenty of other decisions you will need to make so let's get this bad boy rolling.
Standout Picks
Criteria Used for Evaluation
Effectiveness
It all comes down to the brightness, ladies and gentlemen. And, when you talk about the brightness, you have to talk about the lumens.
Throughout this guide, you have come across the word "lumens" quite a few times and there is a reason for that. Simply put, a lumen is the best way that the brightness of light can be measured. Without going into the exact definition of what a lumen is, all you need to know is that it is the most efficient way to determine the lighting efficiency of any light source. Another popular measurement for lights is wattage but that is not a good way to measure the brightness. Although the watt rating is ideal to see how much energy is being used, it is not accurate when it comes to brightness.
So, with that out of the way, what is a good lumen rating? Well, it all depends on what you need the light for, quite frankly. In this sense, talking about underwater lights, you are going to want a pretty substantial lumen output. Whether you are using them for fishing or simply for aesthetics, they will probably need to illuminate a great distance. To give you a decent depiction, a standard 60-watt bulb is going to produce around 700 to 800 lumens. So, when you see anything higher than 3000 to 5000 lumens then you know that light is incredibly bright. You probably want to shoot for at least 1000 lumens. But, again, it does come down to how the light is being used.
Style
There are several different styles out there and you need to buy according to your needs.
Is there one design style that reigns supreme over all the others? No, and, quite frankly, that is not what this section is about. It is difficult to even give individual ratings for each product because this almost entirely comes down to your preferences. But, you need to be aware that there are several different types and styles of underwater lights on the market. Some are highly versatile in their applications and some are one-trick ponies (though they may perform that one-trick better than any others). To give you a better idea of what you may find, let's list some of the most common types.
For starters, there are several models out there that are tailored for fishing. Some underwater lights will be designed to be mounted on your vessel, while others may simply be portable units that can be dropped in an area of water to illuminate the area. Of course, you also have options that will work perfect for your backyard pond and maybe even as an aesthetic in your home. Along the same line, there are models that are specifically designed to light up home aquariums. Indeed, there are loads of different styles out there.
Water Resistance
This one is quite obvious but not all models will be the same in this category.
It should not come as a surprise that this criterion is as important as it is. After all, underwater lights should be protected against water. Ironically, this could be seen an unnecessary as all models will be waterproof by default, right? Not if you are talking about home aquarium lights which may be designed to be mounted on the side of the glass. Other than that, though, yes, most models will be waterproof. However, not all of them will have the same level of waterproofing. The term "waterproof" is not as simple as you may think. Two items can both be waterproof but one can end up being vastly superior. So, you need to look for a few features.
For instance, it all starts with the housing. The housing is going to encompass all the electrical components and LED bulbs and protect them from the water. The best housings offer full seals and are made of high-quality materials (such as naval-grade bronze). Also pay attention to the silicone O-rings, though, as they should be thick enough to prevent any water from seeping through.
Features
What color of light do you want emited and do you want color options? Answering these questions will be useful for you.
Though there is not a vast array of features to cover in this section, it still holds its importance. To be honest, it all comes down to the colors. There are some underwater lights out there that will be equipped with a full array of colors. Some of them will even allow you to select between said colors. For example, look at the top model on this list. It utilizes the full-color RGB spectrum to provide a nearly endless amount of color options.
Even if all the light does is toggle from on or off, though, the lone color it will emit can be important. If you are planning to invest in a model that is used for fishing, then the color is going to matter. For bugs and bait fish, it has been claimed that the best LED colors are green and white. Due to the short wavelength and vibrant lighting effect in nighttime water, blue is also a nice color choice.
Value
This is mostly in regard to the efficiency of the bulbs and the power draw.
There is probably a strong chance that you have heard your family members or friends rave at the efficiency of LED lighting. Or, perhaps you have done some research on the technology and fully understand its greatness. Although advanced technologies will continue to emerge as time goes on, LED lighting is always going to be an efficient means of lighting. Why else do you think that virtually every top-end model on this list is designed with LEDs? LEDs have been known to save tons of money as it uses less energy and lasts much longer than other lighting sources. Most are even rated to last 50,000 hours.
Also, in regard to the efficiency, look for models that do not draw much power. You can gauge this by analyzing the amount of wattage the lights draw (or the amperage).
OUR TOP PICKS FOR THE BEST UNDERWATER LIGHTS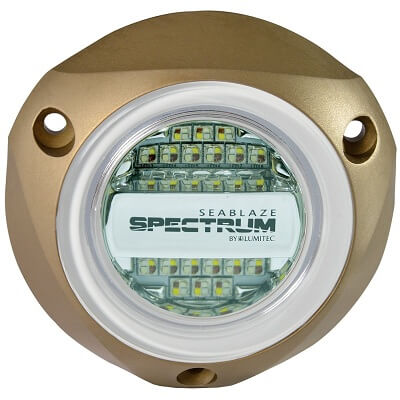 The pinnacle of this technology is here before you. Now, the SeaBlazeX is a boat light that is designed to mount on your existing boat. When doing so, the results are stunning.
Read more
Lighting Efficiency
3000 lumens is the official rating here and as one buyer mentioned, this will illuminate 30 feet behind your boat. To say that this is impressive is an understatement.
Design Style
You really need to be aware of what you are doing as this model is designed to be installed on your boat. So, you will need to drill through your transom to mount it.
Water Protection
The housing of the SeaBlazeX is arguably the most impressive feature. It features naval-grade bronze as the main material and this is universally recognized as one of the most durable marine-grade metals out there.
Features
With a simple toggle of a switch, you can switch between different color modes. In fact, this system utilizes the full-color RGB spectrum so your options are nearly limitless.
Efficiency
When using 12 volts of DC power, this is going to draw five amps. However, at 24 volts of DC power, this will only draw 2.5 amps of power.
Overall
The price point is going to scare some of you off. However, if you are looking for a lighting system to mount to your boat, then look no further ladies and gentlemen.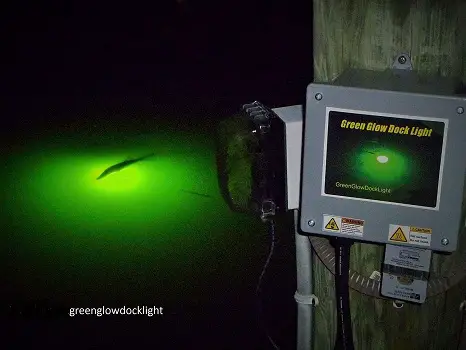 Much like the top pick, this model right here is a mount and is not a portable design. With that said, it is a highly efficient device if you are looking to fully illuminate a certain area in the water.
Read more
Lighting Efficiency
Being rated to emit 7900 lumens of brightness, it is safe to say that this is able to fully illuminate any underwater area that you use it in.
Design Style
As opposed to the previous model, this is not portable. Instead, it is a mountable system that can light up your boat dock and seawall. For the right buyers, this will be an extremely handy device.
Water Protection
Yeah, let's just say that this is waterproof. First off, the HID bulb will prevent any barnacles from growing on the glass. Secondly, each individual lamp has been handcrafted using a state-of-the-art sealing process.
Features
Due to the built-in photocell, this system is able to be turned on/off automatically at night. It is completely automatic and in addition to the self-cleaning bulb, it is all but maintenance-free.
Efficiency
Now, the seller claims that the light bulbs are rated to last around four to five years if used on a nightly basis. However, a few users have not even gotten close to that lifespan.
Overall
In spite of the longevity issues that a few buyers have had, this is a brilliant option that will be perfect for the right demographic. It is not extremely versatile, though, so it will only appeal to certain buyers.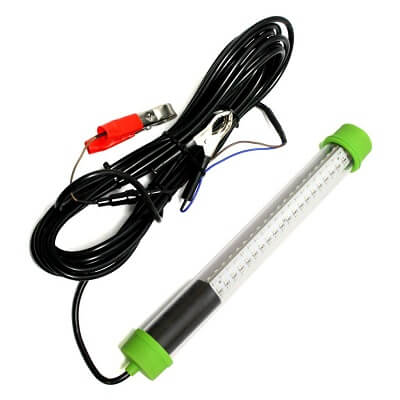 Now, this design is a little different and is merely a submersible fishing light. It is not for indoor use and uses 180 LED lights to fully illuminate an area to start a natural food-chain reaction.
Read more
Lighting Efficiency
Indeed, 180 LED lights have been integrated into this design. Let's just say that brightness should not be an issue for even the strictest of customers.
Design Style
This is a portable light and it can be powered via a 12-volt battery source. It is not intended for indoor use and comes equipped with a 20-foot cord. Admittedly, the cord length should have been longer.
Water Protection
Do not worry about submerging this model as it is designed to do so. It is sealed and 100 percent waterproof for a reason, after all.
Features
In execution, this is a fairly simple design here. It merely shines a bright green light and this will start a natural food-chain reaction. But, it is pretty much devoid of any other features.
Efficiency
Again, using any 12-volt battery source, you can power this bad boy. Now, when doing so, this is designed to not drain whatever battery you are using (which is a nice bonus).
Overall
No matter how you want to slice it, this is an incredibly impressive design that will come in handy in more ways than one. Due to its portable nature, it can also be taken with you virtually anywhere.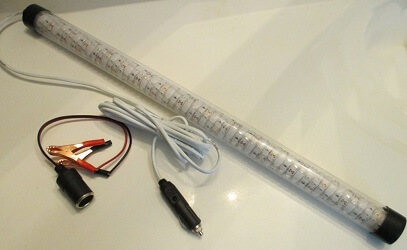 What is most amazing about this fishing light is the fact that it emits lighting that reaches 10,000 lumens. That is almost hard to fathom and when you factor in its industrial-grade design, it is clear this is a top choice.
Read more
Lighting Efficiency
As mentioned, this is able to deliver 10,000 lumens of brightness. If that is not exaggerated then that is about as astounding as it gets.
Design Style
Equipped with this model is a 15-foot power cord and also brass battery clips. Also, this is fully weighted and designed to sink when you place it in water.
Water Protection
Now, this can be used in both saltwater and freshwater. Yet, it may not be a bad idea to add more silicone to the seals to err on the side of caution.
Features
As you can see from the photos, not only does this emit a bright green LED light but it also does so in a 360-degree view. This completely enhances the overall illumination.
Efficiency
Most LEDs are rated to last up to 50,0000 hours and the LED bulbs that have been integrated here are indeed designed to perform just that.
Overall
As is, the silicone sealing is a bit on the cheaper side. If you do not mind adding a bit more silicone to provide enhanced sealing, you can buy a light that emits an amazing 10,000 lumens of brightness.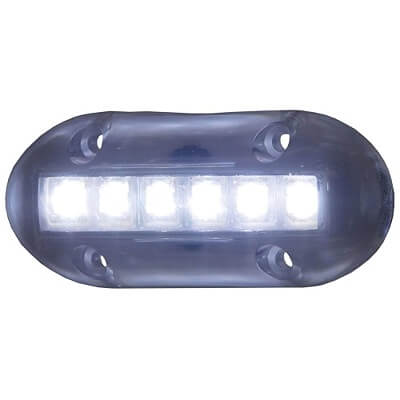 It is clear that TH Marine wanted to create an underwater boat lighting system that was both affordable and high in quality. It is safe to say that they managed to do just that.
Read more
Lighting Efficiency
All in all, there are six super bright LEDs that are packed into this unit. While the brightness is fairly impressive, the lighting is only bright in one direction which is a bit disappointing.
Design Style
Do note that this is a very small unit that is designed to deliver lighting to boats. Now, as it needs a 12-volt system for power, it does not have to be used in this manner.
Water Protection
The plastic housing that encompasses the LEDs is adequately sealed and is suitable for submersion. However, the included screws are not marine-grade stainless steel and will rust if exposed to water.
Features
Truth be told, this is pretty much devoid of any features. It is a very simple design through and through.
Efficiency
LEDs are highly efficient, to begin with. But, the ones that are built-in to this unit are rated to last an astounding 100,000 hours. Also, this unit draws low amperage when you use a 12-volt power source.
Overall
Simple, yet effective. Without question, that is the best way to describe the model before you. It is not necessarily flashy but granted you have a 12-volt system for powering it, you can enjoy its efficient lighting.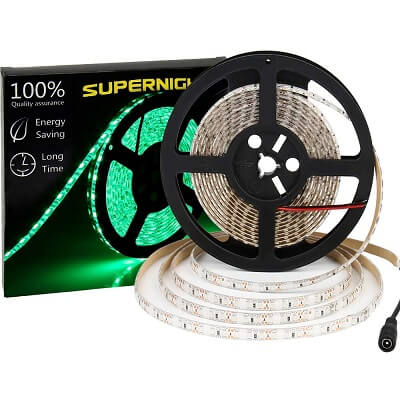 Talk about unique? It does not get much more unique than this. This is literally rope that has been made with LEDs and features self-adhesive tape that is used for installation.
Read more
Lighting Efficiency
In the entire strip, there are 600 LEDs that have been built-in. If there is one thing about this model, it is that it delivers bright light.
Design Style
Although this can merely be used for decoration, this LED rope can also be functional. Admittedly, though, the self-adhesive tape on the back is not very strong.
Water Protection
It is noted that this is backed by an IP rating of IP65. While this is marketed as waterproof, it is not the highest IP rating that can be achieved so actual submersion should probably be avoided.
Features
Overall, there are not too many features to speak of. However, this does include both DC and wire connectors.
Efficiency
In addition to the low-temperature and the low-power consumption, this rope also sports LEDs that are designed to run for 50,000 hours.
Overall
To say this will not be in the wheelhouse of everyone is an understatement. Not too many of you will be looking for waterproof LED rope but for those who are, you will be surprised at the usefulness of it.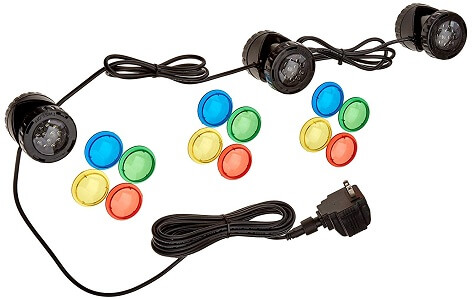 In concept, this is a brilliant design. The execution could have been better, admittedly, but props go to the idea that Jebao came up with for their model.
Read more
Lighting Efficiency
Each individual light in this string is designed with 12 LEDs that will emit ultra-bright lighting.
Design Style
As alluded to, this is sort of a combo set and it includes a string that sports three individual lights. It also includes an outdoor 12VAC UL transformer for power. And, while each light can be adjusted to point in different directions, they will not stay when you place them in your pond. So, you will need to adjust them in the pond.
Water Protection
The water protection is adequate but not great. Each unit is sealed by a thin silicone O-ring and a cap that does not screw on (instead, it just snaps on).
Features
There are 12 different lenses that come with your purchase (three colors in total) and these can be used to change the emitted light. The included colors are red, blue, green and yellow.
Efficiency
In the product description, it is noted that these generate 4.8 watts of power. That is not a lot of power at all.
Overall
If the designers had to do it over, they would probably make some improvement to their underwater lights. They are nowhere near bad, per se, but could have been better (though they are still very good).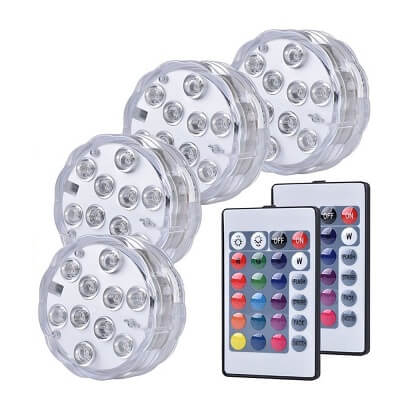 No matter if you are interested in something like this you have to admit that the design here is really fascinating. You receive four lights and two remote controllers that can be used to vary up the lighting.
Read more
Lighting Efficiency
Inside of each individual light, there are 10 ultra-bright LEDs equipped. Given this is a pack of four, that is quite a lot of bright light that you are talking about.
Design Style
Some of the options on this list are functional but this is more for aesthetics. You receive four individual lights and each one of them can be submerged in any water-filled container.
Water Protection
It is noted by the manufacturer that, while each unit is waterproof, you need to ensure that the caps on each model are securely tightened (as they sport rubber O-rings on the inside).
Features
The sheer array of lighting modes is nothing short of fantastic. On each remote, you have 16 different static colors and four dynamic color changing modes.
Efficiency
There had to be a kicker. As many users have alluded to, these underwater lights literally eat through batteries. The advertised time is 10 to 12 hours but most users did not get anywhere close to that. Oh yeah, each unit requires three AAA batteries.
Overall
If not for the horrendous battery life, these could almost be considered flawless lights. As it stands, though, they are non-efficient but mesmerizing visual underwater effects.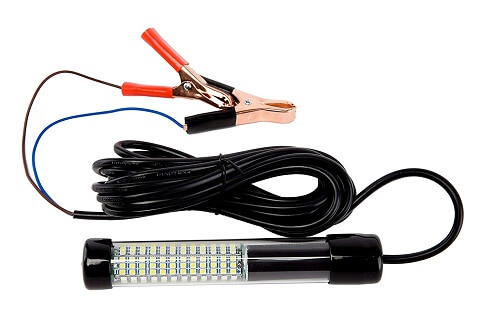 If you are willing to implement some modifications then this can be a very suitable option. However, some of you will scoff at the idea that modifications should be necessary and that is fair.
Read more
Lighting Efficiency
With its 900-lumen brightness rating and its 180 LEDs, this underwater light can definitely deliver the goods.
Design Style
There are many ways you could utilize this model as it is extremely versatile. For example, it can be used to light up a fishing net, in a small pond, or even for the transformation of large fishing vessels.
Water Protection
Before you submerge this in water, you need to seal it with silicone glue. As many buyers have reported, as is, this will leak slightly. Is it ludicrous to release a waterproof light that leaks? Perhaps, but at least you can fix it relatively easy.
Features
A green light is emitted from this model but other than that, there are no features to speak of.
Efficiency
Above everything else, this draws very little power. The official power consumption draw is less than one amp and it only uses 10.8 watts.
Overall
Due to the price and the functionality, further sealing this with silicone glue does make it worth it. Again, however, it is understandable if you believe otherwise.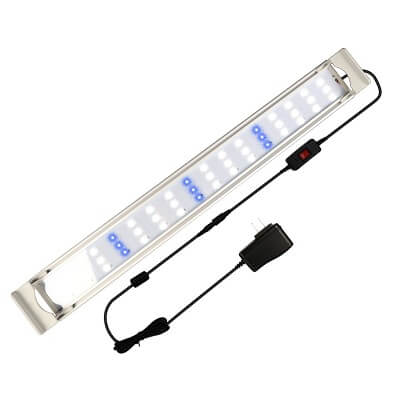 Perhaps you are simply looking for a convenient means of illuminating your aquarium? If that is the case then this model may be perfect for you. Do note, though, that this is not waterproof.
Read more
Lighting Efficiency
The designer combines 10,000K white LEDs with 460Nm blue LEDs to provide a lighting source that can emit 1100 lumens of brightness.
Design Style
As mentioned, this is specifically designed for aquariums. And, although it is not waterproof, it is designed to fit most freshwater and saltwater aquariums (24-inch models, to be exact).
Water Protection
Yep, this is one of the few models on this list that is not waterproof. It is not sealed and if you drop it in the water, quickly retrieve it and turn it upside down.
Features
Now, although this combines blue and white LED lighting there is no way to manually switch between the two. There is only a switch that turns the unit on and off.
Efficiency
The LEDs that have been integrated into this model are designed to last for up to 30,000 hours.
Overall
If you are looking for a way to light up your 24-inch aquarium (though there are other size options available that will fit different sizes) then this is as good of an option as there is.