Best Fishing Lures Reviewed and Rated
In a Hurry? Editors choice: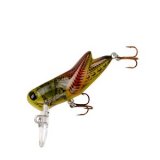 Test Winner: Rebel Lures Crickhopper

Some fishermen are lure guys and some are
bait
guys. Personally, I am one of those lure guys. The best fishing lures, in my mind, are most times better than bait. Fishing with lures brings out the
sport
in fishing. It's one thing to lure a fish to your bait for an easy meal. It's a lot more fun to try to trick a fish into eating your lure and catching him that way.
Fishing with lures isn't always easy, there is a bit of a learning curve. Once you have mastered using lures to catch fish, you will have opened up a new door to reeling in your favorite fish. You will no longer need to worry if your bait store has any bait left in stock! When you fish with lures, you always have what you need to catch fish right in your
bag
.
Standout Picks
Criteria Used for Evaluation
Top 10 Picks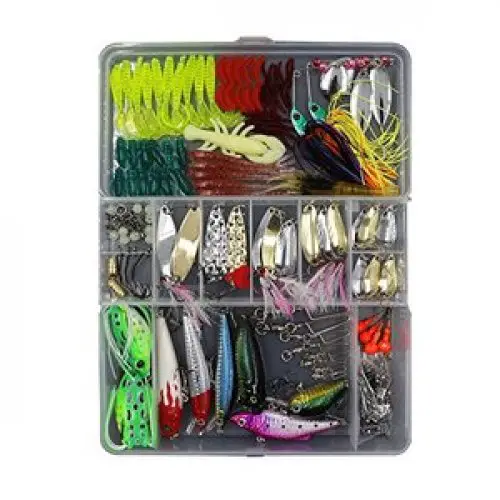 If you are just starting out fishing or are getting your child their first set up, then you can't go wrong with this set.
This set has just about every type of lure you need to get out on the water.
Read more
Everything you need to get started
Starting a fishing hobby can be daunting when you think about what you need to have. That's why this Threemart fishing lure set is a great way to get into fishing. It has all the essentials.
From soft lures like curly tails and paddlefish that can catch pretty much anything. To the hard lures like spinners and crankbaits. It's all there and then some.
Some of these lures will work in fresh as well as saltwater. The spoons can be used in salt, especially if you are targeting bluefish or mackerel as they can't resist the spinning, shiny lure.
The others are mainly for freshwater. The soft lures are great for catching panfish and the crankbaits will land you a nice bass or pike.
Decision Time
You may not catch the fish of a lifetime with these lures. They're mainly too small to catch anything big. But you can have a lot of fun catching many varieties of fish.
The lures look realistic and the designs have been proven to catch fish. Many of them are all-time classics that fisherman have been using for decades.
It will take some trial and error to find the lures that work best for you since you may just be starting out. That's a big part of the fun when fishing. Learning how to trick the fish is something that provides a lot of satisfaction.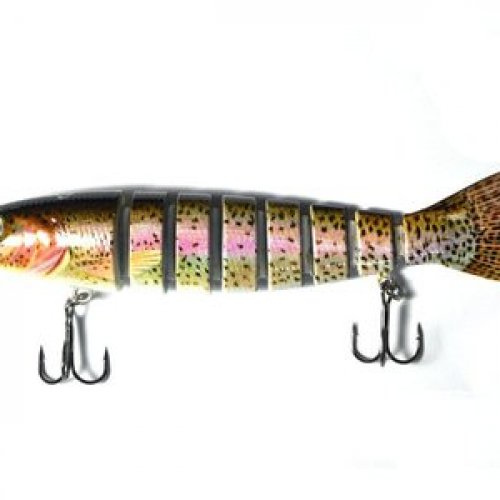 These jointed, segmented fishing lures look as close to the real thing as you can get with a hard lure.
Read more
Realistic fish in distress
There's nothing a predator likes better than a fish that seems to be injured. As I have stated many times, they love an easy meal.
This multi-jointed swim lure looks as realistic as a real fish and with some twitches of the tip of the rod, will look like it is having trouble swimming. Perfect for attracting that big one looking for some fast food.
A slow retrieve works best for this lure to keep it just under the surface. Let it sink into the depth where you think the fish are and slowly work it in. A twitch and then a pause works great. When the fish starts to sink as if it doesn't have the energy to swim anymore, it wriggles very realistically.
If you notice the fish are feeding closer to the surface then a fast retrieve will also work. Just make sure to give the lure some action. If you don't, the lure will look and swim like a real fish, but it will look like a perfectly healthy fish.
Decision Time
There should be a spot in every tackle bag for a multi-jointed swimming lure like the Supertrip. The versatility is amazing.
It can be fished in salt or fresh water and at different depths. Find the depth where the fish are and you will find them hitting that lure. And hitting it hard!
This lure works best in close and in shallower water since it won't cast very far. The one downside with the jointed swimmer lures is that they aren't very aerodynamic and catch the wind very easily.
If you are fishing in close then you don't have to worry about how far you are casting anyway.
This lure will fool even the best-sighted fish out there. The 3D eyes and shiny finish are super realistic. The action on the lure is deadly.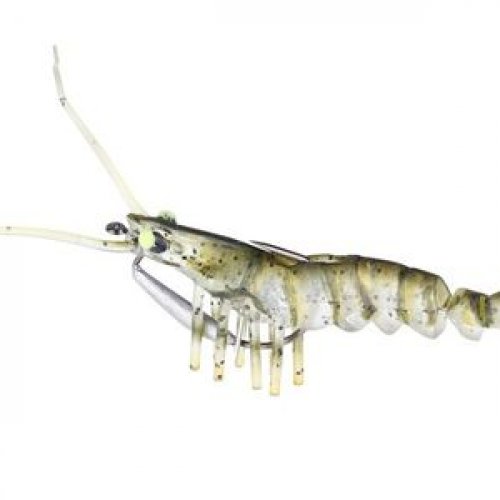 Jointed swim lures are not just for fish. Even shrimp are getting the treatment and to great effect!
Read more
Tough as nails and keeps on ticking
For a lure that is not all that big and is semi-soft, it seems like it would get chewed up pretty fast. That is not the case at all. The nylon mesh tail is specifically designed to avoid getting damaged from short bites or toothy hookups.
And it will take a beating even if you are fishing it all day. If you are in an area where the primary bait is shrimp then you will find yourself catching a multitude of different species.
The shrimp lure is very realistic looking due to the 3D scan of a real shrimp that helped design it. The joint and design of the tail gives that distinctive kicking motion that shrimp naturally do. And the paint job perfectly mimics a real shrimp.
The hook is weighted which makes it great to cast and can get it down in the water column. Let it sink to the bottom and then begin the retrieve. Start slowly bringing it up in the water column. The hook is a basic Texas rig so the sharp tip is on top. That makes it a very weed resistant lure since it won't get caught up.
Decision Time
As I noted, this is not the cheapest lure out there. When you consider how long lasting and efficient it is at catching fish, then if you are like me, you won't mind paying a few extra bucks.
This lure looks and behaves even better than a real shrimp! The fish just can't resist it.

4

. Rebel Lures Crickhopper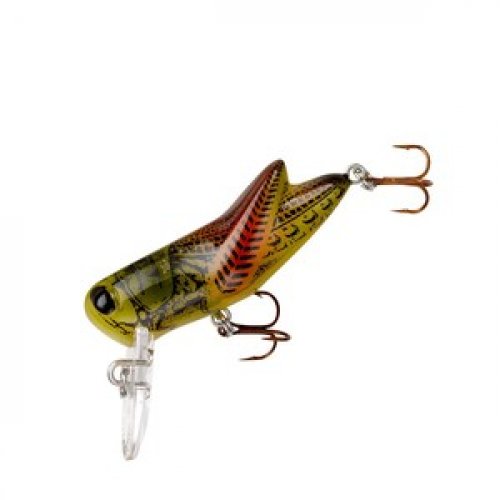 Fish don't just eat other fish. They love bugs too. If your favorite fishing spot has some nice tree cover over it, then you are likely to hook up with this lifelike grasshopper lure.
Read more
Fish can't resist a juicy grasshopper
When a fish is looking up to the surface of the water and see a bug, they know they are in for an easy treat. When a bug hits the water, it is the end of the road for him. He's not likely going to be able to fly away. The fish knows this and darts there as fast as possible since he knows every other fish in the area is thinking the same thing.
Once the lure hits the water, it already has the fishes attention. The lure has a lip on it so when you start your retrieve, it makes a lot of commotion. Just like a real grasshopper struggling in the water would. All you have to do is give it a few twitches while you reel it in slowly.
It's a nice hard lure that will hold up to many hookups with some nice fish. The paint is lifelike, but I am not sure it even matters. I don't think the fish have much time to notice before they have the hook in their mouth.
Decision Time
You may have fished your favorite spot on a pond or lake and caught many of the same kind of fish. Thinking it was a great spot for that one fish you were happy with it all the same. As long as it produced.
Try this lure and see how many other types of fishing have been lurking under there unbeknownst to you. This lively lure will bring many different fish up to the surface and they will pound it.
The only downside to this lure is that you may want to swap out the treble hooks as they are a bit small. You might miss some hookups with some of the larger fish because of it.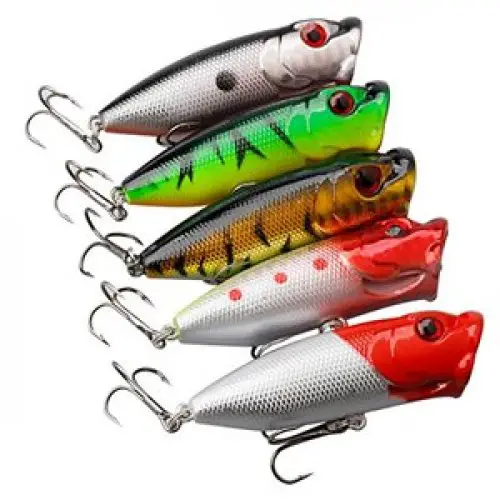 When the bite is happening at the surface, it's time to bring out the floating poppers. These are great at making a commotion and enticing the fish to follow and attack.
Read more
They make a racket, in a good way
When the fish are finicky and hard to convince, having a popper is a great way to get them active.
Poppers make so much noise and disrupt the water so much, that the fish all take notice and simply can't resist. These poppers are great at mimicking an injured baitfish that might be getting chased by another fish. Big fish don't like competition so they will try to catch the lure before the imaginary other fish.
That's one of the reasons I love fishing poppers. You get that great hook up when a fish slams the lure. Think of those fishing videos when the big fish jumps clear out of the water with the lure in it's mouth. That's the kind of reaction you get with these lures.
Not only do they displace a lot of water, but they have some ball bearings in them that rattle when the lure wobbles. Give a few twitches to increase the action and you will hear the rattle yourself.
Decision Time
I love versatile lures like these poppers. You can use them any time of year. They work great in the salt or freshwater. Wherever there are fish, you will find them with these great poppers.
They're so easy to give action to, also. Since they will float on the surface when you aren't retrieving, you can pretty much use any speed retrieve you think will work. The faster the better in my opinion, but it does depend on the fish you are targeting.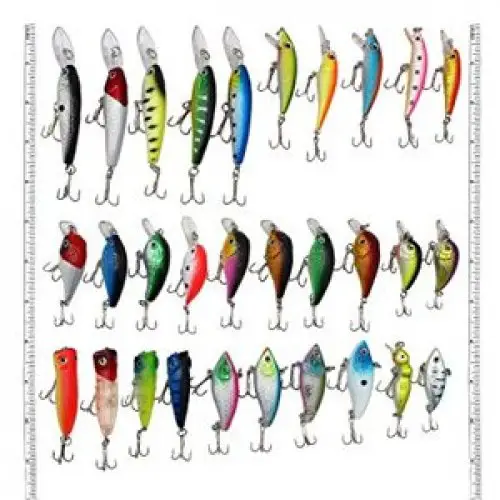 With all the different types of crankbaits in this set, you are really good to go with whatever fish you happen to target. There is one for all conditions as well.
Read more
A lure for all occasions
Crankbaits are great lures since there are so many ways you can use them. Included in this set are diving lipped crankbaits as well as floating poppers, and rattlers.
You can fish the topwater, just below the surface and dive deep. Wherever the fish are in the water column, you will find them.
The construction on these lures is very solid. They are tough enough to stand up to the the toothiest of fish. The hooks are very sharp and the split rings are durable.
The paint job has a nice holographic finish for added realism. I'm not sure how much the paint jobs work in fooling the fish, but I believe that it never hurts for them to have it.
Decision Time
It's great to have a set like this that has you prepared for just about any scenario. They're great for any season that you can fish in.
I love the poppers and the rattlers for when it's hard to get the fish to bite. The minnow is a nice diving lure that gets to where the fish are in the water column. And the crankbaits are perfect when you are after bass in the freshwater.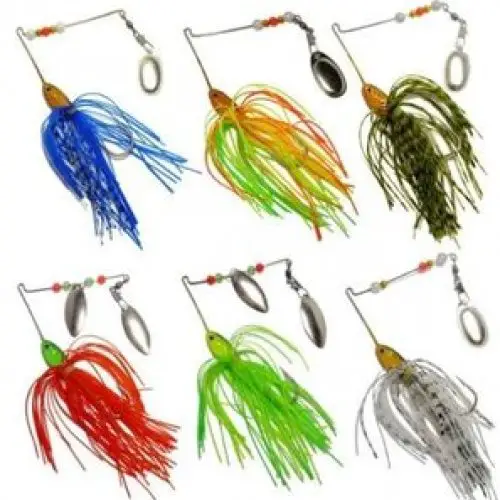 If you fish the freshwater, I am sure you have used one of these spinnerbaits before. If you're like me you have probably got a few in the bag that haven't been used in a while because you get shiny object syndrome and need the newest type of lure every year. Make sure you go back to this old standby as they work extremely well.
Read more
Catch big fish in all conditions
Wherever the baitfish are, there will be bigger fish like bass around. These sneaky little spinners do a great job at imitating the bait.
Though the full sun works best to catch the metal and imitate the shiny scales of a small fish darting around, these lures are shiny enough to catch any small bit of sunlight.
It doesn't even matter what time of year you are fishing. If it's open season where you are then you should really be trying these lures out. Summertime is when they really surpass the other popular lures.
While the other fisherman around are trying to take the weeds off of their lures in the heat of the summer, you are taking the fish off yours. These work well in weedy conditions. The design works great in getting through those pesky weeds.
There's something about the vibration caused by the spinning leaves that fish react to. It's irresistible to them.
Decision Time
Go with a proven winner and make sure you are fishing these wonderful spinnerbait lures. For the price, there is no reason not to.
As I said, I am sure many of you have fished with these types of lures in the past and had great success. If you give them another shot you are sure to be pleased with the results.
This is a great set not only because of the price, but the variety of colors and blades. There are a couple of lures included with double blades and the shapes and sizes of the others vary.
You're sure to have some success with any of these since you can change them to suit the conditions.

8

. Storm WildEye Swim Shad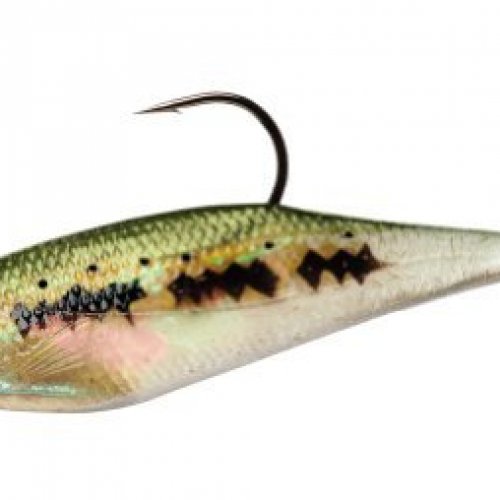 Whether you are in fresh or salt water, you will love these swim shads by Storm. The paddle tail and the holographic finish make for an impressive and realistic looking fish. As they say in their ads, they are so realistic you will want to take a bite yourself!
Read more
Beauty in the details
When you want to "match the hatch", there is a variety of hyper-realistic looking baitfish. From shad, to bunker, to bluegill, there are 7 different baitfish designs that will be sure to trick any fish.
The way they move is incredible. Even just holding it in your hand it kind of flops around in a way like a small fish would.
The paddle tail has a unique design to it that allows the lure to swim through the water with a wiggle that's both realistic and distressed at the same time. You want to match the hatch but you also want your lure to stand out. Playing around with the action will test how the fish are biting and what they are looking for.
The 3D eyes catch the light just right and will give off that shine that every predator is looking for.
Decision Time
Price-wise these are a great middle of the road swimbaits. You could spend a lot more for a lure that isn't nearly as effective.
They are priced low enough that you should really take advantage of the variety of colors and styles. Have a few in your tackle bag. You never know what will be happening when you get out on the water, so it's best to be prepared.
They are so easy to use. Not just in the sense that you can easily give the lure some great action. But, also because there is no rigging involved. Just tie the lure on and you're good to go. I find that loop knots work best, but experiment yourself and see what you think.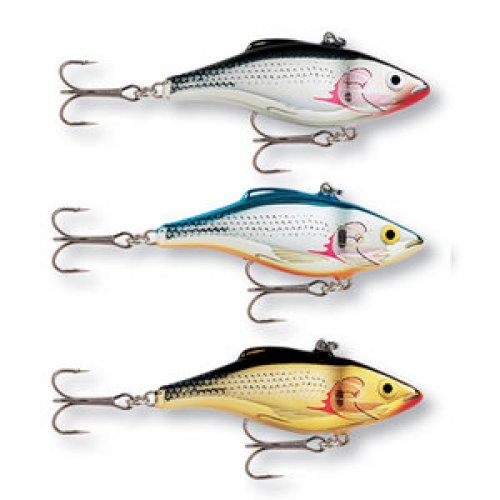 Big fish love the sound these Rapala rattlers make. They are extra loud as far as rattling lures go. That doesn't scare the fish, however, it attracts them.
Read more
In tune with nature
This lure uses the same type of ball bearings that rattle around in the chamber as other lures do. The difference is the science that is involved in the sound. Rappala researched which sounds work best and replicated the pitch.
In addition to the unique sounds produced, they are very, very loud. Fish can't resist investigating what the sound is coming from. Once they get near, they will strike at the very realistic looking lure.
Rappala lures have a very distinctive wobble that seems like an exaggerated injured bait. Seeing this, the fish figure it's an easy meal and go right for it.
There are many ways to use this lure which makes it a must-have in your tackle bag. Fish it fast for a wild and loud ride. Or fish it slow and let it sink a bit to where the fish are lurking. If the fish are around they will take notice of this lure.
Decision Time
Look into any fisherman's bag right now and you are sure to find at least one Rappala Rattler in there. For good reason. Rappala has used science to make the ideal lure for just about any situation.
They are so versatile, they can be fished in so many ways that they are an indispensable tool that has a place in every level of fisherman's repertoire.

10

. Rose Kuli Multi Jointed Life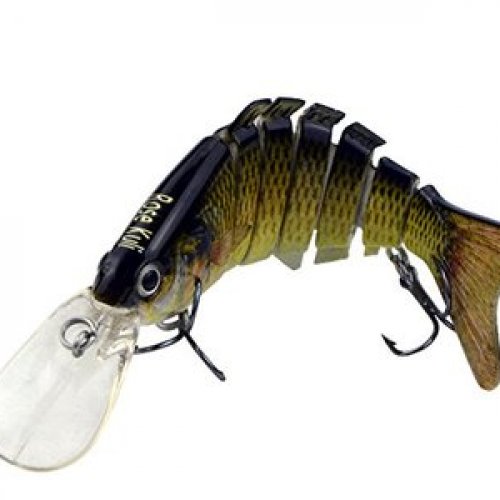 When you don't care about what brand name a lure is, you just want to catch fish, the Rose Kuli is for you. It's a new player in the hardbait market, but they are producing quality lures that catch fish.
Read more
5 joints
Most multi-jointed lures have one to three joints at most. This one has 5. The range of motion given by the five different joints really adds to how lifelike this hard lure is. The colors are very convincing and will mimic whatever bait are out there at the moment.
There are 21 different varieties and each one is perfectly suited to catch the fish that are looking for the particular bait they are imitating.
Fish it slow and it will sink a bit, maybe to 3-5 feet below the surface. Give it a fast retrieve and you will find the fish around the surface giving it chase.
Decision Time
Don't let the new name fool you. These are proven winners even if you have never heard of the brand before.
One look at the lure out of the package and you will already be thinking about the possibilities for when you get it out on the water.
The hooks that it comes with are very sharp. If your target are panfish or smaller catfish then they will work great. If the fish you are looking for are a little bit bigger, you may want to swap out the hooks for something a bit stronger. These might bend on you.