Best Tackle Boxes
In a
Hurry? Editors choice: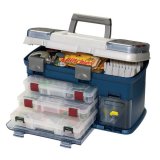 Test Winner: PLANO TACKLE SYSTEM BOX

Summertime is coming up and many of your favorite hobbies are coming up. Fishing is a very popular hobby that you get the opportunity to enjoy with your family or friends. Whether you are fishing off a dock or even a
boat
it is important to have all of your gear organized and nicely put together. When it comes to
fishing
there is so much gear needed such as bait, tackles, to accessories needed. It is a great idea to get yourself a tackle box to combine and store all your gear, so you know where everything is on your next fishing trip. So for your next trip, you will be able to solely focus on your next catch. Below we have listed the top ten best tackle boxes in the market today including details for each product to help you decide which one suits your fishing needs best.
Standout Picks
Criteria Used for Evaluation
Durability
Fishing is one of those hobbies that can either be very relaxing and meditative or exciting and somewhat dangerous. It really all depends on the situation. That's why having a durable tackle box is so very important. You never quite know what is going to happen. So having a tackle box that can take a few drops, kicks, and even splashes into the water without being too damaged as a result is a good thing.
While we wouldn't suggest throwing your best tackle box from this list into the lake, all of them can certainly take some normal fishing-related abuse.
Also read about best bootfoot waders
Portability
When you're considering buying one of the best tackle boxes available, one of the first things to consider is how easy it is to carry to your favorite fishing spot. After all, you'll want to have all the gear you want nearby to catch that big one that got away last time. Some tackle boxes, like the Okuma Fishing Nomad Tackle Rolling System, offer a wheeled alternative, which can make for much easier transportation of your tackle in some cases. Others offer a more simple approach offering just a secure handle to hold.
In the case of the tackle boxes on this list, most were found to be designed to make carrying the fishing tackle easier overall.
Size
One of the most frustrating things about fishing on a lake or river is not having the room to bring what you want in your tackle box. Let's face it, most of the time the one that got away didn't escape just because the angler decided to be generous. Often, it was also a matter of not having the right gear in the right situation. With ample storage, you really don't have to worry about that anymore.
And have a good amount of available storage doesn't just mean overall volume. It also means that the individual compartments are large enough to hold the various bobbers, fishing lures and other tackle that makes the fishing trip more enjoyable. Thankfully in the case of these choices, the compartments were generally well sized. While we would have liked to see some larger compartments in some cases, overall you won't be disappointed with what you find here.
Ease of Use
In a way, fishing is about having the right tool at the right time. Different fish prefer different bait or lures, so the ability to change things out quickly while fishing is an important consideration to take into account when looking for a new tackle box. The best tackle boxes often have easy to open compartments that are made of transparent material that is strong enough to withstand a few drops or kicks.
For the most part, a fisherman won't have to worry about gaining access to his tools or fishing tackle with these boxes. Not only are most of them easy to open, but they provide sturdy compartments that are easy to look into. That way, you'll know at a glance that you're reaching for exactly what you need.