Best Ice Fishing Bibs
In a Hurry? Editors choice: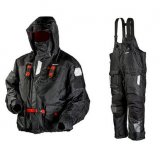 Test Winner: Frabill I-Float

It really goes without saying that
ice fishing
is an activity that requires you to embark on some frigid conditions, which is why you need ice fishing bibs. After all, it entails the fishermen to literally fish on ice. What this means for you, the buyer and the individual who is either interested in this activity or is shopping for someone else who is is that there are certain garments that will be preferred. One of those garments is undoubtedly an ice fishing bib. No, this is not alluding to bibs that are used to combat messy babies when they eat. Instead, these are literally garments that can provide water protection, heavy insulation, and storage pockets for your accessories. When preparing to endure a chilly day out on the ice, you will be thanking yourself for taking the time to buy this product.
Standout Picks
Criteria Used for Evaluation
Water Resistance
You are sure to encounter inclement conditions and slushy surfaces when you go ice fishing, so having waterproof bibs is essential.
In reality, this is more so waterproof as it is water-resistance. Because, indeed, there is a massive difference between the two terms. When it comes to ice fishing bibs, you want them to be nothing short of waterproof. In order for this to be the case, a lot of features have to be in play. For starters, you want to ensure that the model you choose has a waterproof shell. Now, this shell can either be single-layered, double-layered, or even triple-layered. The more layers the better, clearly, but you need a waterproof shell, regardless. Of course, it does not end there. You also need should lookout for some sort of waterproof coating. Oftentimes, this is can be either a hydrophobic or a hydrophilic coating that will help to wick away moisture from your skin.
There is also something else that you can't afford to overlook and that is the design of the seams. Without question, the seams need to be 100 percent sealed. Popular methods of sealing can be blind-stitched, for example, and this is important as water can seep through the seams if they are not properly sealed.
Insulation
Out in the frigid cold, you need to stay warm so look for adequae insulation and windproof properties.
The only proper way for anything to capture heat (or even cold air) is with insulation. In order to trap all of the heat and ensure it does not leave, your bib needs to be properly insulated (or at least block the wind well). When it comes to looking for insulation, there are several different types out there and most of them will work very well. For example, you have Thinsulate and Thermadex insulation. There are many others and what you really need to look for is the amount of insulation and its effectiveness (which can be gauged by looking through customer feedback).
But, as important is how well they will block the wind. Ideally, look for 100 percent windproof designs that, once again, have fully taped seams. Along the same line, do not overlook the importance of the cuffs. They should be elastic to better trap the heat. Now, what happens if a model does not have insulation? Well, that means it better block the wind well and come with closed cuffs. Also, it means you will need heavy-duty base layering. But, they can still work for ice fishing.
Size
No matter what article of clothing you ever buy, the sizing and fitting will always be crucial.
No matter what type of garment you ever spend your hard-earned money on, the sizing and subsequent fitting will always be top priorities. In regard to the sizing, that is not too complicated here. Most of the time, these types of bibs will run large. Whether designers do so to better accommodate base layers or not is up for debate but be aware of this, regardless. However, some of them will be overly bulky (even at your normal size) and this can be a bit of a nuisance. Yet, you should still order based on your normal pant inseam. If you are in-between sizes, you may then want to go a size up.
Okay, so what about the fitting? There are actually a few key features that you can look for and they both focus on adjustability. First up are the shoulder straps. Much like with a backpack, it is ideal that the shoulder straps be adjustable as everyone has a different height and comfort level. But, the inseam will also be adjustable on select models and this is very convenient. Furthermore, the ability to adjust the ankle cuffs can also pay dividends.
Durability
Everyone wants a high-quality product so why should this be any different?
Not a single one of you enjoys investing in products that are cheaply made, who would? So, no matter what you are in the market for, you know that the durability needs to be top-notch. Well, in regard to this product, and any other garment quite frankly, one of the best ways to ensure that is to look for high-quality fabrics. Two of the most popular are nylon and polyester (with nylon being stronger). It is hard to go wrong with either fabric but the denier is as important a part as any. Denier is simply a unit of measurement that is commonly used to describe the thickness of the fabric. The higher the denier, the stronger and thicker a fabric is going to be.
But, it is not just the materials that matter as much as where they are implemented. In other words, there are heavy-wear areas of bibs that deserve special attention (such as the knees, pant cuffs, and seat). With these areas, some designers will implement heavier-duty fabric to provide additional reinforcements. You may even see them use Cordura fabric, which is highly resistant to tears, scuffs, and abrasions.
Features
It can only be considered a bonus if the model you pick has plenty of storage compartments.
Okay, so is this next section mandatory? No, in no way, shape, or form can this be considered an absolute must-have. At the same time, though, you often see models that have integrated pockets and storage compartments and this is not a coincidence. You are sure to have some accessories and items that will need to be stowed away (or even in quick access when you are ice fishing). So, this is why you will see models with roomy cargo pockets and zippered chest pockets. In addition, most models will sport D-rings and you can use these to attach certain items to them (much like keychains).
OUR TOP PICKS FOR THE BEST ICE FISHING BIBS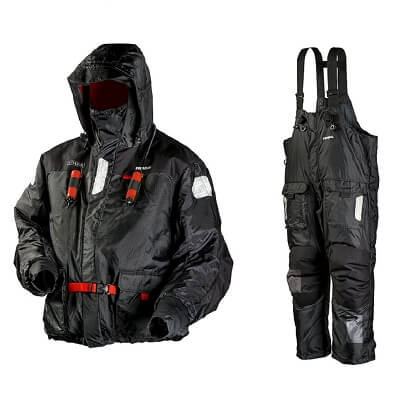 What is interesting here is this is actually a combo deal with the bibs and a jacket included. You can find the I-Float without the jacket but this really puts it over the top, honestly.
Read more
Water-Resistance
Both of these garments are waterproof but the bibs themselves have been made with a double-layer 200-denier nylon ripstop shell that sports a Durable Water Repellent.
Insulation
The interior lining of the overalls is a comfortable and smooth nylon taffeta that is over USCG foam insulation. Yeah, in short, they seal-in warmth.
Sizing and Fitting
It seems that the jacket is very large so you may want to order a size down (if you do not want an extra baggy jacket). As for the bibs, they are nice and spacious.
Durability
For the price of admission, the durability better is impressive. It is safe to say that with Cordura fabric implemented and reinforced at heavy-wear points is achieved.
Storage Compartments
In addition to the D-ring tool attachments, the overalls also sport roomy cargo pockets. As for the jacket, it includes handwarmer pockets.
Overall
The overalls themselves are worth the purchase alone. But, when you throw in the excellent jacket then you have a combo that is tailor-made for ice fishing.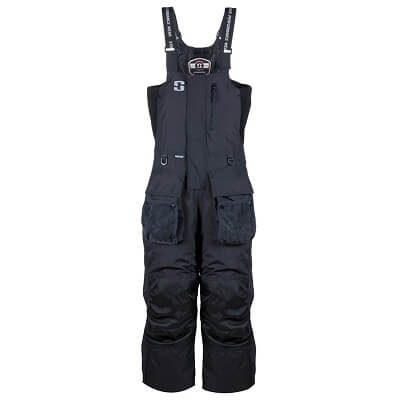 Without question, it is not going to get much better than this. While you will pay the price for this "gold standard", every single penny you pay will be worth it, count on it.
Read more
Water-Resistance
Striker designed their model to be both waterproof and breathable. They did so with quality seams and overall attention to detail that few designers have been able to match.
Insulation
A removable Thermadex lining has been designed into this garment and it provides the warmth that you are looking for. This insulation does so without adding excess weight, also.
Sizing and Fitting
A major selling point here is the exclusive infinite-adjust inseam system that allows you to adjust the length to your liking. However, some users have noted that these are a bit bulky.
Durability
One reviewer noted that even after two years of heavy use, these were still going strong and were still in excellent shape. That seems to be the general consensus overall.
Storage Compartments
On each side, there are fleece chest pockets that provide you with a convenient means of storing some of your fishing accessories.
Overall
If ice fishing is more than just a leisure activity to you and is something you take very seriously, then you need to spend a lot of time considering this investment right here as this is the best of the best.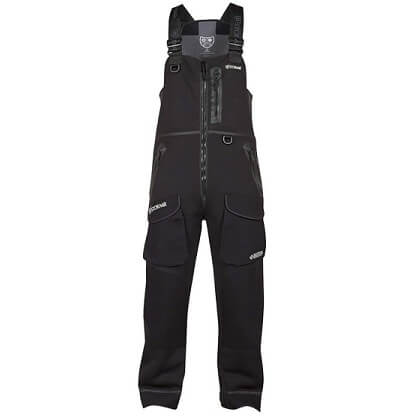 This is the third consecutive entry that is going to hurt your wallet. However, the Strykr from Stormr is the personification of premium and it goes to show that your money is sometimes well spent.
Read more
Water-Resistance
Arguably the most impressive aspect of this design is the glued, blind-stitched and thermal taped seams. The included zipper is also splash-proof and non-corrosive, which helps.
Insulation
Not enough can be said about the insulation that this provides. Even during the coldest of climates and harshest of winds, the Strykr is going to keep your body warm.
Sizing and Fitting
Okay, so the sizing chart can be a little deceiving and these can be quite heavy for a full day of activities. With that said, to assist with the fitting, included are adjustable shoulder straps and ankle cuffs.
Durability
At both the knees and the seat of the Strykr, Stormr has integrated reinforcements to make both areas abrasion-resistant.
Storage Compartments
There are many compartments for you to utilize here including two splash-proof exterior pockets and two cargo-style gear pockets that sport Velcro closures.
Overall
Honestly, each and every one of these top three models are excellent choice. The Strykr may not have taken home the gold but it still should be a serious threat to steal your money.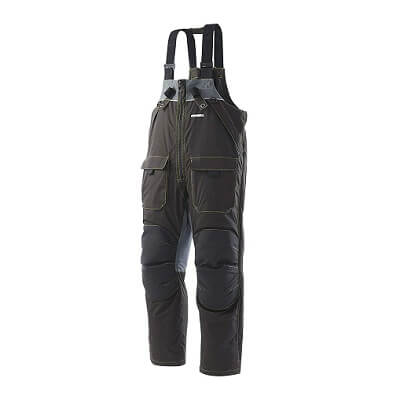 Frabill is right back on this list and this time their I3 model comes to the fold. It is actually a bit cheaper than the previous three but to say it is a drop in quality is a stretch.
Read more
Water-Resistance
The I3 has been designed for a breathable, yet waterproof, 300-denier nylon Taslan shell. In addition to this, the I3 is also 100 percent seam sealed to keep water out.
Insulation
To add a bit of warmth into their design, Frabill included 150 grams of 3M Thinsulate insulation into their I3. Also, this is lined with 230-thread Taffeta.
Sizing and Fitting
As some users have expressed, the fitting of this particular model can be weird. Most agree that the fit is really wide. What is nice, though, are the fully elastic, adjustable shoulder straps.
Durability
In addition to the shell, the I3 is also equipped with 500-denier nylon fabric in the higher-wear areas (the knees and the pant cuffs). Oh yeah, this is also double-layered fabric.
Storage Compartments
Frabill engineered their bibs to be suitable for storage and that is why they integrated multiple cargo pockets into their design.
Overall
The cheaper price of this model could almost be seen as a gift. The main reason is the quality is not that far off from the top-end options on this list.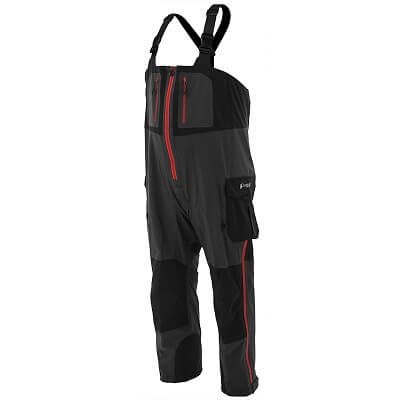 What is important to note about the Pilot II is that it is the first entry on this list that does not sport insulation. However, these bibs have been specially outfitted to allow for base clothing.
Read more
Water-Resistance
Nearly every buyer has only had positive comments in regard to the rain protection of the Pilot II. Even during the worst of downpours, this is designed to keep you dry.
Insulation
It was just alluded to and yes, there is no insulation present here. But, thanks to the ability of the Pilot II to block the wind as well as it does, when combined with base layering, this can still seal in the heat, if you will.
Sizing and Fitting
Frogg Toggs probably intentionally intended for their ice fishing bibs to run large. Due to this, there is no limit to the amount of base layering that you can wear. What is also nice, though, is the internal waist adjustment system.
Durability
Not too many complaints have been issued to the durability of these overalls. They seem to hold up pretty well.
Storage Compartments
One thing is for sure; there is no shortage of storage compartments here. Included are zippered chest pockets, expandable cargo pockets, and multiple accessory D-rings.
Overall
It is understandable if some of you will accept nothing less than a pair of bibs that feature heavy-duty insulation. Be aware, though, you can still easily make these work for ice fishing.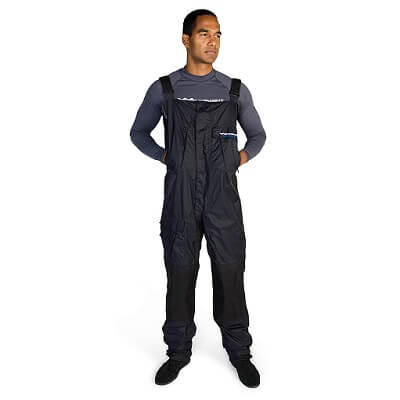 It is not difficult to see how much time was exerted with this next design. However, it is another option that does not offer insulation so you'd better wear some thermal base clothing.
Read more
Water-Resistance
WindRider designed this gear with a two-layer laminate fabric and this ensures both breathability and waterproofness.
Insulation
There is a thin lining that is integrated but that is not really classified as insulation. You will need some base layers with this model, on colder days that is.
Sizing and Fitting
Given the lack of insulation, you should order one size up so you can account more for base layering. In fact, the manufacturer recommends that very thing.
Durability
On top of being made with high-quality materials, WindRider also reinforced the knees, butt, and hem of their model. They did so with Cordura fabric.
Storage Compartments
All in all, there are six pockets included. Two of them are at the thigh, two are fleece-lined hand warming pockets and the remaining two are chest pockets.
Overall
A lot of credit needs to be given to WindRider for the design that they have put forth here. No, not a lot of insulation is provided; but you can make up for that with base layers.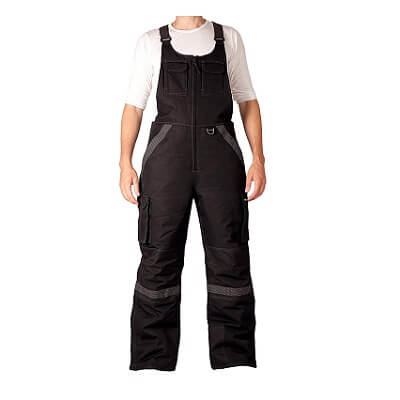 This here is living proof that you can find affordable products that still offer exceptional results. Now, these bibs fail in a few different areas but are fantastic otherwise.
Read more
Water-Resistance
Arctix designed its model with a high-tech outer shell and this is what gives it the ability to keep you dry all day long.
Insulation
Being equipped with advanced insulation that sports heat-trapping microchambers (known as ThermaTech insulation) and a middle material that wicks away body moisture, it is safe to say this will keep the heat in and take the moisture out. However, there are no cinch straps to tighten up the bottoms.
Sizing and Fitting
Available in sizes from small all the way up to 4X-large, there are plenty of choices out there. Of course, most users concur that these are quite bulky.
Durability
To better hold up to daily wear and tear, Arctix ensured that heavy wear areas (such as the ankle, scuff and hem guards) were reinforced with 600-denier ballistic material.
Storage Compartments
There is certainly no shortage of areas to store any accessories that you possess. Integrated here are dual cargo pockets, hand-warmer-style pockets, belt loops, and D-rings.
Overall
With its excellent combination of quality and affordability, it is not hard to see why this model is so popular. Though there are superior designs out there, it is hard to beat this price.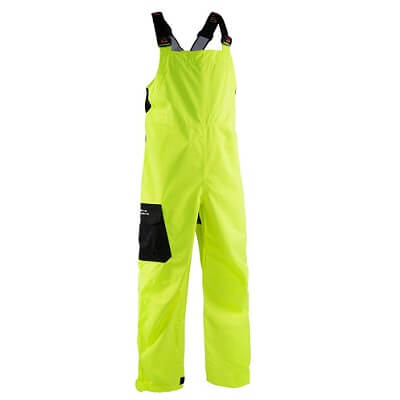 Again, this is another model where a lot of thought was put into the design. It features a waterproof breathable barrier and fully taped seams to ensure moisture will never get in.
Read more
Water-Resistance
In addition to the waterproof-breathable barrier that has been integrated here, Grundens also applied a Durable Water Repellent finish to their garment.
Insulation
Now, this is another example of a model that is devoid of physical insulation. The fully taped seams and adjustable ankle cuffs keep the wind at bay but you will need some thermal base layers.
Sizing and Fitting
The good news is these tend to run big. So, this means you can use that extra space to pack on more layers as you will need them in frigid conditions.
Durability
Being made of 420-denier nylon material that has been outfitted with an Oxford weave, this has been optimized for both comfort and durability.
Storage Compartments
Though there are not a ton of storage compartments integrated, you do have both a right-leg cargo pocket and an interior zippered chest pocket.
Overall
With some additional layers underneath, there is no reason why these trousers can't be your go-to pair for ice fishing. If the conditions get really bad outside, though, you may want to go with an insulated design.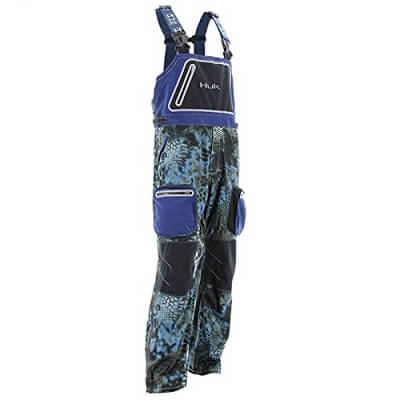 It may surprise you a little bit that this expensive of a model caps off this list. But, for the price of admission, some of you may feel this is not worth it. Still, it is worthy of recognition.
Read more
Water-Resistance
The claim is that the Nxtlvl is an all-weather model that is waterproof. However, some users have noted that during all-day downpours, they have gotten drenched. For the record, the seams are welded, though.
Insulation
Wind is not going to be a factor, let's just say that. Although, despite that, on extremely frigid afternoons, you may want to add more layers underneath this to enhance the warmth.
Sizing and Fitting
It is quite common for these bibs to run large and this appears to be the case with the Nxtlvl pair, as well.
Durability
This is really where you spend the money as the high-quality materials and reinforced articulated knees ensure these will last many seasons to come.
Storage Compartments
There are a few zippered pockets on the exterior and you also have an internal mesh chest pocket that you can store items in.
Overall
For the most part, user experiences have been great with the Nxtlvl bibs. Those few users who are on the opposite side of the spectrum, however, do cast some doubt on the quality as a whole.

10

. White Sierra Toboggan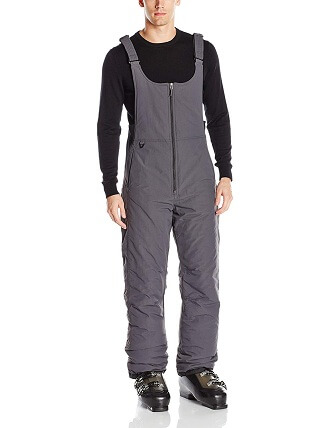 Wow, could it be two products in a row that will not break the bank? Indeed, this is another one of those models and it is designed with polyfill insulation and waterproof fabric.
Read more
Water-Resistance
It is mentioned that waterproof fabric was used to craft this model. The good news is there has not been much negative feedback in regard to the ability of these to block water entry.
Insulation
First off, the gaiters feature elasticity and that means that you can keep the snow out. As for the insulation, these are designed with 120 grams of polyfill insulation.
Sizing and Fitting
This is probably the area that needs the most improvement. One buyer noted that the mid-section was too tight while the bottom section was too loose. Of course, this is designed with adjustable shoulder straps so that is a bonus.
Durability
The shell is comprised of 100 percent nylon faille coated woven material while the lining sports 100 percent polyester taffeta woven material. Not a bad combination all things considered.
Storage Compartments
With a D-ring at the waist and a leg pocket that sports a zippered closure, there are a few locations to store your personal items. However, the Velcro pockets are cheaply made and do not offer a sense of security for your items.
Overall
If you are willing to deal with some of the hiccups of these ice fishing bibs then you can get great use out of them. That is the result you get when you want to save a little money.