Best Fishing Knives Reviewed and Tested
In a
Hurry? Editors choice: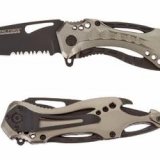 Test Winner: TAC Force TF-705 Series

There are a variety of reasons that people enjoy fishing. Some enjoy it because of the
relaxing
atmosphere it provides. Others enjoy being surrounded by nature and taking in the tranquility of it all. Some others like to perform some
hunting
in a low-stress environment. And then there are some who enjoy going out to catch as many fish as possible so they can fill their freezer and enjoy
fish
for many moons. In order to do this, though, one of the most important tools you will need is having a top-notch fishing knife.
Standout Picks
Criteria Used for Evaluation
Use
When it comes to picking out the material for a blade, you need to consider how often you will be using the knife, as well as the type of water you fish within. If you do not fish that often, then you can choose to go with a lower quality of blade, as you don't need to sink a lot of money into a knife. However, the more often you fish, the higher grade of blade you want, because you do not want to be buying a new knife nearly every time you go out fishing.
Also read about best waders
Materials
The first actually affects the material your blade is made out of. The major determining factor you need to take into consideration is the type of water you typically fish within. Freshwater has a vastly different effect on your blade compared to what fishing in saltwater will do. Saltwater can eat up blades which are not protected from the corrosion that being around salt will do. The price of a knife does not mean it will or will not be protected from salt – you must ensure the material is corrosion resistant. Even stainless steel will have some corrosion if exposed to saltwater for too long. No matter what kind of knife you have, you should always wash your blade as quickly as you can after use.
Features
A higher quality knife is going to be made out of a steel material, not aluminum or a hard plastic material. The lighter weight the blade, the easier it will be for it to break while you are cutting into a fish. The scales along the fish are not that easy to cut into, and therefore you need to have a blade which will easily penetrate the scales and be able to fillet a fish as needed. A higher quality knife will also have an edge which does not have teeth, but rather a smooth or serrated blade from top to bottom. There are different kinds of edges of knives, which all have the strength and weaknesses:
Hollow Grind – The two edges curve into each other until they meet, which gives you an edge that is razor sharp. However, the edge tends to dull easier compared to other edges.
Asymmetrical Grind – This is when the two sides of the blade have different styles. As an example, you could have a curved edge on one side and an angled bevel on the other side. This allows you to have a knife which can give you multiple uses, but you can really only use ½ of the knife at one time.
Flat Grind – The grind of the knife starts right away from the spine, which allows you to have a very sharp edge, but it is not durable and it's hard to sharpen.
Compound Bevel Grind – The grind within this family is one that gives you a combination of a hollow grind, as well as bringing in a concave design to it. This double grind feature means your knife will not chip or break very easily, as the base of the blade is quite strong; however, it is not as sharp as other knives.
V Grind – The grind of this knife doesn't start until it is close to the edge, meaning you do not have to take long to sharpen and allow it to keep its shape, which you will have to do often because it does not stay sharp for very long.
Convex Grind – The grind of this blade is more of a curve/convex, and doesn't start until it is closer to the edge of the blade. This allows the blade to be very durable and hold its shape for a long time; which is good, because it is very hard to sharpen due to is shape.
Chisel Grind – This type of grind is flat on one side, and has an angle on the other side. This angle starts around the middle of the blade, and looks very similar to what you would find on a chisel (hence the name). This kind of angle on the blade means it is very sharp, but it does dull quickly.
Comfort
When it comes to the material that makes up the handle, there is a large variety to choose from. The material matters a little bit concerning durability and the long-lasting quality your knife will have, but not nearly as much as the right blade does. The handle is not affected much by the type of water, the sun or any other weather elements. Whether you have a handle made out of wood, hard plastic, a rubber material or something else, it should hold up under most conditions.
Therefore, the important decision you need to make is how does the handle feel within your hands. The only way to figure this out is to actually hold each one, and see what feels best. Do you want a smooth handle, or one that has ridges in it for your fingers? Do you like to have a handle which is skinny, or one that is wider? Do you want a handle that is longer, or one that is shorter? When it comes to the handle, it is all based on personal preference, so get out there and start holding some knives to see what fits best within your hands!