Best Sharpening Stones
last updated:
Feb 07, 2020
No matter who you are, every single homeowner in the world should have a good reason to look into buying a sharpening stone. But, why? Here is the reality of the situation; as great as knives and blades are, over time, they will dull. When this happens, their performance will be greatly depreciated. But, they can also become a safety hazard as a dull blade can cause you to over-exert yourself and therefore mishandle the dangerous object. Instead of merely replacing all your old knives and blades, why not just sharpen them? Well, if you are in for the ride, you will soon learn how to buy the tool that allows you to accomplish this.
In a Hurry? The test winner after 18 hrs of research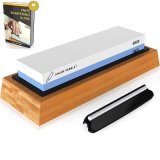 Sharp Pebble
Why is it better?
It is very stable in operation
The 1000-grit side is very effective
Extremely user-friendly and easy to use
In a
Hurry? Editors choice: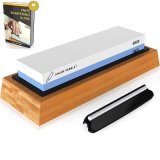 Test Winner: Sharp Pebble

13
Researched Sources
2.5k
Reviews Considered
18
Hours Researching
17
Products Evaluated
Materials
Safety Hazards
Ease of Use
Durability
By Default
Criteria Used for Evaluation


Materials
For this section, we are going to break down the most common types of sharpening stones that you will find. In general, you will either see oil, water, or diamond stones. Starting with the latter, these generally are the most expensive and may not be ideal for the average consumer. As for the other two, oil and water, they are two very popular types in the world today. Starting with oil, these are the models that most consumers will be accustomed to. They are typically either made of aluminum oxide, silicon carbide or novaculite. Oil stones remain popular due to their strong overall performance and generally lower cost. Yet, the downside to oil is that they sharpen at a very slow rate. In fact, they are the slowest amongst the main types.
Now, let's talk about water stones which have gathered a cult following. You will either see them in synthetic or natural materials with the former being much more readily available. The clear advantage to them is their fast sharpening capabilities. But, due to their softness, they do tend to wear down quicker and will need to be flattened from time to time.


Safety Hazards
It goes without saying that sharpening knives can be a dangerous task. After all, even when they are dull, blades can still puncture through the skin and cause a lot of damage. Due to this, no matter what, you always need to take extra precautions when you are doing sharpening them. But, there is also something that manufacturers can do to improve their overall safety. While the onus ultimately falls upon you, the user, keep an eye out for designers who sell their model with some sort of base. As you noticed in this guide, a bamboo base is a very popular choice.
What a bamboo base, or any similar base, is going to do is stabilize the whetstone to ensure it does not slip while you are sharpening your knife. The reason why you will see bamboo a lot is due to the properties of the material. Bamboo itself is a block of wood and is actually a bit harder than oak and ash. Even for flooring, it adds stability and that is exactly what you are looking for to prevent any slippage.


Ease of Use
To be honest, sharpening blades is more of an art form than anything. There is a reason why there are so many online tutorials and guides that explain how to do it. The most important thing to remember is this; you can incorrectly sharpen a blade. Doing so can damage the blade and leave you in a worse spot than what you were initially. Unless you have experience doing this and really have a knack for it, you will most certainly want to look for models that include instructions or access to online guides (or an eBook).
Also, some sellers will include an angle guide with their model to make it easier to achieve an optimal angle. You see, this is where most people fail. Instead of running your blade up and down the sharpener stone, you need to angle it correctly. Most manufacturers will recommend anywhere between 18 to 22 degrees so check with them.


Durability
We just got done explaining the difference between water-based stones and those based with oil. Well, this last section also plays a role in determining which style you prefer. But, either way, it is not as if there is a clear-cut loser in this case. The reality of the situation is this; sharpening stones need to be lubricated because if they are not, they will lose their effectiveness and will not be as efficient. But, the manner in which they need to be lubricated is going to be different between the different types of stones.
For example, with Waterstones, they will need to be soaked in water before you use them. Most manufacturers will recommend you do this for at least 10 minutes, in tepid water. When you leave them in water, you will notice that bubbles will begin to rise to the surface, just for your information. As for oil-based stones, these need to be lubricated with some sort of oil. Now, it is advised to avoid cooking oils such as vegetable and olive oil. When doing so, also remember that a little goes a long way. You will only need to apply a small line of oil and simply spread it in afterward.
Expert Interviews & Opinions
Most Important Criteria
(According to our experts opinion)
Experts Opinion
Editors Opinion
Users Opinion
By Default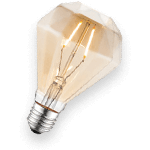 Arkansas Stones
A few times in this guide, you have been witnessed to Arkansas stones. As you probably know by now, these are not Waterstones. Still, users have begged the question of whether or not water can be used in place of oil. For the most part, most manufacturers will advise against using water in place of oil for these types of stones. The reason for this is actually due to the issue of using water as a lubricant. You see, with oil, when you apply it for the first time, some of it is going to remain on it. So, even while in storage, it partially contains oil and then the next time you need it, you will not need as much. With water, it is merely going to dry out and when you go to lubricate it again, a generous amount is going to be needed.
Other Factors to Consider


Effectiveness
When you are first beginning to learn about this technology, one of the terms you need to familiarize yourself with is grit. You do not need to necessarily remember the literal definition of it. But, you need to understand that the amount of grit a whetstone has goes a long way in determining its performance. Most notably, each grit amount can be used in different situations. Take note that the lower the grit is, the coarser or less fine it is. So, if you have extremely dull blades that need to be brought back to life or ones that are damaged, go with grits less than 1000. As for 1000-grit itself, this can be considered the standard and is a good starting point for most knives that have simply lost their edge.
Yet, you need to be careful with 1000-grit as it can wear your knives down. This is where grits that range from 2000 to 3000 come in handy as they can be used for regular sharpening. If you want to fine-tune the edges, then you are talking 4000, 5000 and higher grits. The higher you go, the finer it will be.
Frequently Asked Questions
q:

Can't a Very Fine Stone Just be Used?

a:

This is a trap that a lot of new users fall into because it seems logical. To an average person, it would indeed seem logical that a fine stone could merely be used to sharpen a blade instead of a coarse one. The logic is that instead of switching between grits, you simply use the fine one to achieve a finer and more polished edge. But, with blades that are dull, you should never simply skip the coarse stone.

What everyone needs to realize is the finer the edge, the longer it will take to achieve a polished edge. With a knife that is really dull, you would be wasting a senseless amount of time. Not only this but you would also overstress the fine stone unnecessarily. In fact, this is the main reason why manufacturers design their models with two-sided grits.
q:

Do Arkansas Stones Lose Their Flatness Over Time?

a:

You remember back when the differences between oil and Waterstones were discussed? Well, that comes back into play a little bit right here. Another common question that consumers have about Arkansas stones is if they will ever lose their flatness. You see, with Waterstones, they are a bit softer and will become uneven after successive uses. But, due to the fact that Arkansas sharpening stones are harder, they will not flatten at the same rate. In fact, you may or may not ever need to flatten them. Yet, this does depend on how frequently you use it.
q:

Why Do You Need a Flat Whetstone?

a:

All this hubbub about flatness is great and all but why does it matter? As was just pointed out, especially with Waterstones, they will become uneven over time as you sharpen with them. The reason why you should never use them if they are uneven is that achieving a straight cutting edge that way is all but impossible. When you sharpen blades, you want the cutting edge to be straight. Thankfully, all you need to do to flatten a stone is to invest in a flattener (which some sellers provide for you).
q:

Are Dull Knives More Dangerous than Sharp Knives?

a:

This is a question that technology has no bearing on the type of model you choose. But, it does give you an idea of how important it is to ensure that all your knives are properly sharpened. Do you believe it is asinine that dull blades are more dangerous than sharp blades? Well, if you really stop and think about it that is exactly the case. Now, if a dull blade and a sharp blade both landed on your foot accidentally, the latter would cause more damage. But, dull blades are more dangerous in this sense.

With a dull blade, you will need to apply more pressure and force. Due to this, the chance of slippage is greatly enhanced as chances are, your control will not be as safe. Because sharper knives require more pressure, you can control them more.
q:

How Do Knives Become Dull in the First Place?

a:

Okay, so how do knives become dull, in the first place? Is there any way to prevent them from becoming dull? Well, the answer to the second question is no. The only step you can take it to regularly fine sharpen your knives to ensure they always remain in tip-top condition. But, the natural design of the knife itself ensures that sharpening is always going to be necessary. Here is the deal; when you use a knife for any sort of cutting or chopping task, the edges of the blade are going to begin to bend and fold away. Eventually, these same areas are going to break off and then you are left with dull edges.

In regard to how you can tell if a knife is dull because oftentimes dullness is hard to see with the naked eye (depending on the severity) if it stops cutting as proficiently as it once did, it is dull.
Subscribe to our Newsletter