Best Sharpening Stones
In a Hurry? Editors choice: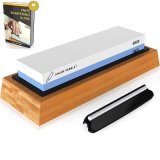 Test Winner: Sharp Pebble

No matter who you are, every single homeowner in the world should have a good reason to look into buying a sharpening stone. But, why? Here is the reality of the situation; as great as
knives and blades are
, over time, they will dull. When this happens, their performance will be greatly depreciated. But, they can also become a
safety hazard as a dull blade
can cause you to over-exert yourself and therefore mishandle the dangerous object. Instead of merely replacing all your old
knives and blades
, why not just sharpen them? Well, if you are in for the ride, you will soon learn how to buy the tool that allows you to accomplish this.
Standout Picks
Criteria Used for Evaluation
Materials
For this section, we are going to break down the most common types of sharpening stones that you will find. In general, you will either see oil, water, or diamond stones. Starting with the latter, these generally are the most expensive and may not be ideal for the average consumer. As for the other two, oil and water, they are two very popular types in the world today. Starting with oil, these are the models that most consumers will be accustomed to. They are typically either made of aluminum oxide, silicon carbide or novaculite. Oil stones remain popular due to their strong overall performance and generally lower cost. Yet, the downside to oil is that they sharpen at a very slow rate. In fact, they are the slowest amongst the main types.
Now, let's talk about water stones which have gathered a cult following. You will either see them in synthetic or natural materials with the former being much more readily available. The clear advantage to them is their fast sharpening capabilities. But, due to their softness, they do tend to wear down quicker and will need to be flattened from time to time.
Safety Hazards
It goes without saying that sharpening knives can be a dangerous task. After all, even when they are dull, blades can still puncture through the skin and cause a lot of damage. Due to this, no matter what, you always need to take extra precautions when you are doing sharpening them. But, there is also something that manufacturers can do to improve their overall safety. While the onus ultimately falls upon you, the user, keep an eye out for designers who sell their model with some sort of base. As you noticed in this guide, a bamboo base is a very popular choice.
What a bamboo base, or any similar base, is going to do is stabilize the whetstone to ensure it does not slip while you are sharpening your knife. The reason why you will see bamboo a lot is due to the properties of the material. Bamboo itself is a block of wood and is actually a bit harder than oak and ash. Even for flooring, it adds stability and that is exactly what you are looking for to prevent any slippage.
Ease of Use
To be honest, sharpening blades is more of an art form than anything. There is a reason why there are so many online tutorials and guides that explain how to do it. The most important thing to remember is this; you can incorrectly sharpen a blade. Doing so can damage the blade and leave you in a worse spot than what you were initially. Unless you have experience doing this and really have a knack for it, you will most certainly want to look for models that include instructions or access to online guides (or an eBook).
Also, some sellers will include an angle guide with their model to make it easier to achieve an optimal angle. You see, this is where most people fail. Instead of running your blade up and down the sharpener stone, you need to angle it correctly. Most manufacturers will recommend anywhere between 18 to 22 degrees so check with them.
Durability
We just got done explaining the difference between water-based stones and those based with oil. Well, this last section also plays a role in determining which style you prefer. But, either way, it is not as if there is a clear-cut loser in this case. The reality of the situation is this; sharpening stones need to be lubricated because if they are not, they will lose their effectiveness and will not be as efficient. But, the manner in which they need to be lubricated is going to be different between the different types of stones.
For example, with Waterstones, they will need to be soaked in water before you use them. Most manufacturers will recommend you do this for at least 10 minutes, in tepid water. When you leave them in water, you will notice that bubbles will begin to rise to the surface, just for your information. As for oil-based stones, these need to be lubricated with some sort of oil. Now, it is advised to avoid cooking oils such as vegetable and olive oil. When doing so, also remember that a little goes a long way. You will only need to apply a small line of oil and simply spread it in afterward.
Top 10 Picks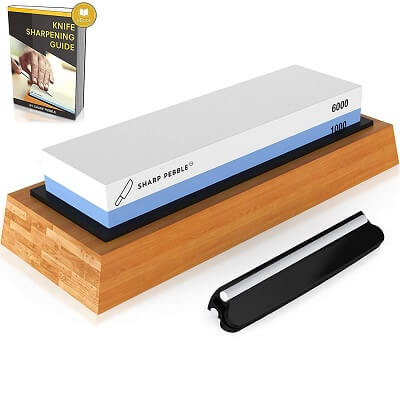 When a product compiles as many positive reviews as this top model has, one can't help but recognize it. However, even though the vast public approves, does this really live up to the acclaim it has received?
Read more
Provided Grits
This is a double-sided model. One side consists of a 1000-grit which is ideal for dull blades. Meanwhile, the 6000-grit opposite side is much finer to put the finishing touches on the blade.
Main Materials
Thanks to the fact that Sharp Pebble manufactured their sharpener with professional-grade aluminum oxide (corundum), it is highly durable and long-lasting.
Safety and Stability
In addition to the stone, you also receive a non-slip bamboo base that is used to stabilize it. This allows everything to be fixed in one place to enhance safety.
Ease of Use
With your purchase, you will receive a detailed eBook that can be accessed on your technology devices. Also, this comes with a sharpening angle guide.
Maintenance
There is no need for expensive honing oils with this knife sharpening model as all it requires for preparation is submersion in water. Also, it is extremely easy to clean.
Overall
Well, it looks like the positive reception here is well warranted. Even though the finer side of this model is a bit weak, having both 1000-grit and 6000-grit sides is convenient.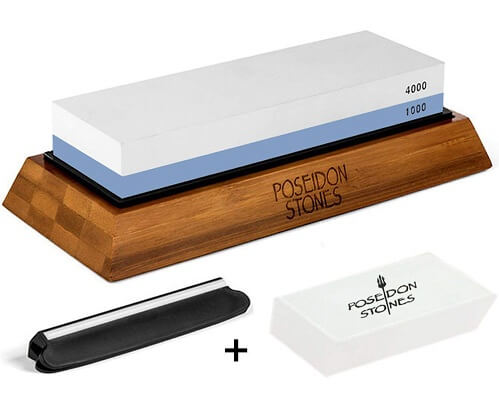 This almost looks like a carbon copy of the previous sharpening stone model but, this Japanese style model is made by Poseidon Stones. Plus, it sports a 4000-grit side, as well as a flipside of 1000-grit.
Read more
Provided Grits
Indeed, the two grits that you are provided are 1000 and 4000. This gives you an ideal combination for bringing dull blades back to life and for putting finishing touches on them.
Main Materials
Poseidon Stones also decided to design their model out of high-quality aluminum oxide. The result is sharper blades in your kitchen and shed.
Safety and Stability
While you should avoid storing this on the included bamboo stand, as this can lead to molding, the non-slip bamboo base does add necessary stability during operation.
Ease of Use
For your convenience, with this purchase, you will also receive an angle guide. What this will provide is an optimal angle for you when sharpening. In addition to this, you also receive a bonus eBook.
Maintenance
There really is no clean-up process afterward as this does not require messy oils. Instead, you just need water to be used as your lubricant.
Overall
Once again, this is another entry that provides you with an ideal combination of grits. Of course, the superb stability and extra features certainly help improve the overall value.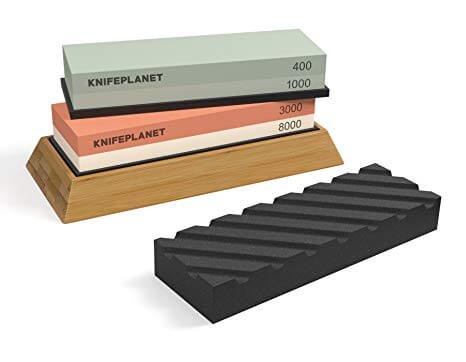 Perhaps you are looking for a coarser grit than just 1000. If so, this set should be up your alley. Of course, with four grits in total, the versatility is glowing.
Read more
Provided Grits
Again, there are four grits in all. One stone is equipped with a 400/1000-grit and the other with a 3000/8000-grit. The lowest, at 400, can be used for really dull or chipped blades, which is nice.
Main Materials
Each whetstone is made of different materials but these are synthetic water whetstones. The coarser one is made of green silicon carbide and the finer of white aluminum oxide.
Safety and Stability
To keep both of the whetstones in place while you are improving your blades, there is a high-quality non-slip bamboo board that is included with your investment.
Ease of Use
As KnifePlanet points out, when you purchase their model, you will gain access to their online learning material. This consists of articles and videos that will guide you in improving your technique.
Maintenance
Once again, no oil or additional lubricant is needed. Instead, allow each stone to be submerged in water for 10 minutes beforehand and you will be good to go.
Overall
Possessing four different grits is certainly convenient when you are dealing with blades of differing dullness. But, as these are synthetic, they are a bit soft, so keep that in mind.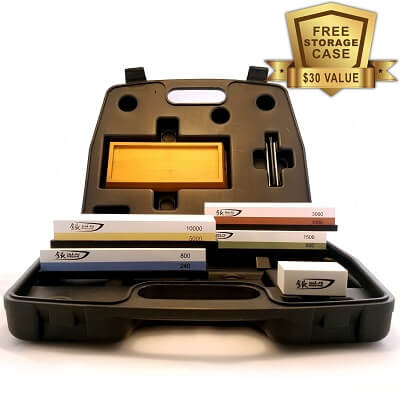 You want to talk about sets, how about this one from Sha-Pu Whetstones? Not only do you get four double-sided whetstones (totaling eight grits) you also receive a storage case and a flattener.
Read more
Provided Grits
All in all, as mentioned, you get eight different grits here. You receive grains of 240, 600, 800, 1000, 1500, 3000, 5000 and 10000.
Main Materials
To ensure long life and exceptional durability, the manufacturer decided to design all their whetstones with premium quality corundum.
Safety and Stability
In addition to everything else that you receive, you also get a non-slip bamboo base that will stabilize everything while you sharpen. Talk about bang for your buck.
Ease of Use
You receive both instruction guides and also an angle guide to help make the sharpening process go smoother. But, do note that the flattener is a bit small and can be a pain to use.
Maintenance
Unlike some other models, none of these whetstones are going to need oil for lubrication. Just simple submersion in water is going to do the trick just perfectly.
Overall
It really is hard to complain about the value of this purchase. You get four double-sided stones, a bamboo base, an angle guide, a flattener and instruction guides.

5

. Dan's Genuine Arkansas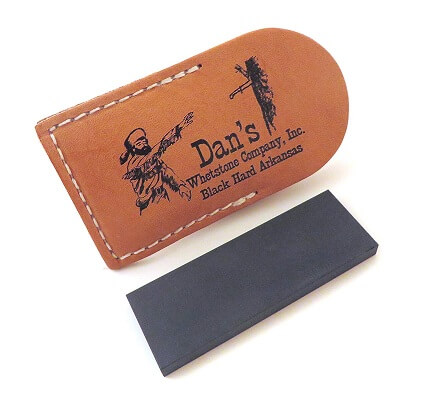 Two points are really interesting with regard to this entry. Firstly, it is an Arkansas stone which is a little different. Secondly, the grit is an ultra-fine 5000.
Read more
Provided Grits
To be honest, with a 5000-grit, this is probably going to be better suited for blades that are not extremely dull. This is because, with dull blades, it is going to take a long time to sharpen them.
Main Materials
Of all the Arkansas stones, this is actually the hardest. In addition to that, it is genuine and 100 percent quarried in the Ouachita Mountains of Central Arkansas.
Safety and Stability
This model actually does not come with a stand and is a little smaller than what some consumers may be expecting. As such, be extra cautious and careful when using this.
Ease of Use
If you know nothing about sharpening blades, then you will want to do some research beforehand. One tool that will help here is a magnifying glass, though, as it can allow you to see the correct angle better.
Maintenance
As opposed to the previous entries on this list, this does work best with a light mineral honing oil. Due to this, it may be a little messier than water.
Overall
Let's just say that this model is not going to be for everyone. In addition to its super-fine grit, it also requires oil for lubrication which some of you may be looking to avoid.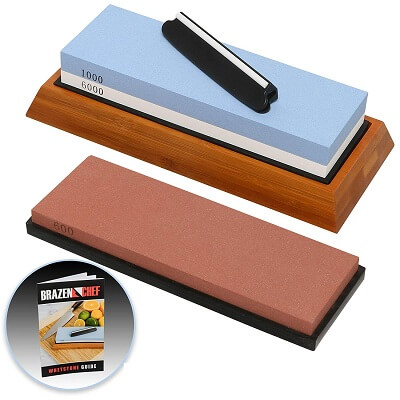 We go from Arkansas right back to aluminum oxide whetstones, once again. These stones from Brazen Chef are a lot like some of the others on this list, quite honestly.
Read more
Provided Grits
All in all, this sharpening stones kit provides you with three different grits. You have coarse, at 600, medium, at 1000, and fine, at 6000.
Main Materials
Even though one buyer noted how the 600-grit whetstone gets hollow rather quickly, the aluminum oxide makeup of all of them is high in quality.
Safety and Stability
As you have become accustomed to at this point, a non-slip bamboo base is included with your purchase. Due to this, sliding and potential accidents should be minimized.
Ease of Use
To ensure you are using this correctly, Brazen Chef includes an instructional guide with your purchase and also access to their support website.
Maintenance
What is nice is these whetstones arrive ready to use. Also, when you are finished with them, all you need to do to clean them is to rinse them underwater.
Overall
We are hitting a point where you almost know what to expect from these entries. Considering the quality that is present here, that is certainly not a bad thing.

7

. Smith's TRI-6 Arkansas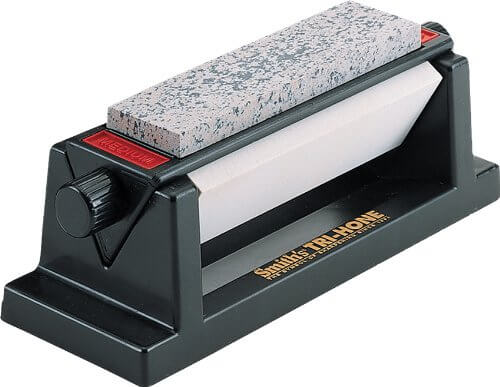 Now, this is a pretty unique entry on this list. Not only does it come equipped with a rotating molded plastic base it also features an Arkansas stone.
Read more
Provided Grits
In total, there are three different grits that can be used. You receive 400-grit, 600-grit and 1000 to 1200-grit with your purchase.
Main Materials
Though the advertising can be misleading, this actually comes with two synthetic stones and one Arkansas version. The fine grit is the latter, for the record.
Safety and Stability
Instead of the traditional bamboo stand, this comes with a rotating molded plastic triangle. What is nice about this is it allows the separate stones to easily be rotated.
Ease of Use
To help you achieve the correct angle, which is essential when you sharpen blades, this comes equipped with an angle guide.
Maintenance
For the fine grit whetstone, you are going to want to use an oil-based lubricant. But, you do not need a lot of it as a small amount goes a long way.
Overall
Some consumers may take issue with the two synthetic whetstones but all things considered, this model is good for all the right reasons. Plus, the innovative base is a nice touch.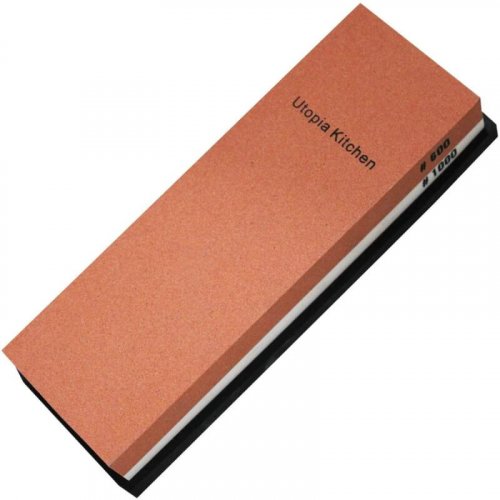 The ergonomic design of this next model makes operation as a whole much more convenient. It also does not hurt that it is also equipped with a silica gel base.
Read more
Provided Grits
While there is only one whetstone that comes with your purchase, it is a double-sided model. One side is 600-grit, while the other is 1000.
Main Materials
To ensure the best results possible, this carbon steel grade is made out of corundum. Also, as the designer notes, this sharpening stone works best with serrated and edged knife blades.
Safety and Stability
Thanks to the fact that this is equipped with a silica gel non-slip base, the bottom is going to stabilize the whetstone when you begin to sharpen your blade.
Ease of Use
While it certainly would be nice if some sort of instruction manual was included, it is nice how this is ergonomically designed. Due to this, complete control and comfort are easily achievable.
Maintenance
Literally, all you need to do to use this is to soak it in water for around five minutes beforehand. Doing this will avoid damaging the whetstone.
Overall
One important note to make is that some consumers have alluded to the fact that this stone is not the flattest (requiring a flattener to even it out). This issue aside, this is an excellent, low-budget option.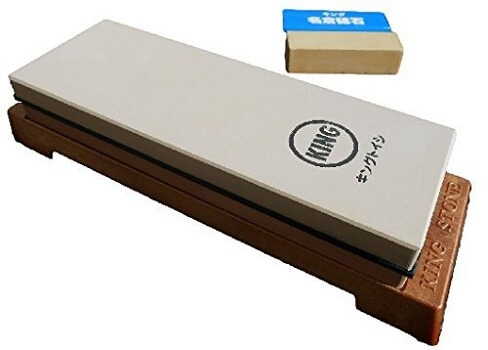 Most notable about this next model is the fact that it comes with a Nagura stone. But, for whatever reason, several buyers have reported that the packaging is abysmal.
Read more
Provided Grits
King uses a combination of 1000-grit on one side with the other side being 6000-grit. This is an ideal combination for achieving optimal sharpening results.
Main Materials
The Nagura stone that is included is one of the most popular accessories for finer whetstones. Not a bad gig, all things considered.
Safety and Stability
Included with this is a plastic stand and it is able to add the stabilization that you will need during the performance.
Ease of Use
There is no mention of any guides that come with this knife sharpener model. So, you may need to perform some research beforehand to ensure you know exactly what you are doing.
Maintenance
Per the manufacturer's recommendations, you should drip water on this whetstone and then rub the Nagura on top of it. This will speed up the polishing process.
Overall
Granted you do not receive a damaged product, which has been a major issue amongst consumers, you can enjoy a very compelling design here.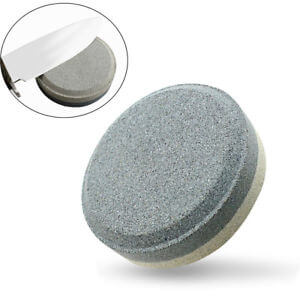 This list ends with a very different design; let's just put it that way. Instead of what you are accustomed to, this is a compact and condensed tool sharpener.
Read more
Provided Grits
Even the finer side of this is very coarse. One side is 120-grit, while the other side is 280-grit. So, do not expect a truly fine edge to be achieved.
Main Materials
Due to the design, this is going to be ideal for blades on your lawnmower or perhaps even axes or shovels. For knives, it may simply be too coarse.
Safety and Stability
Be aware of this blade sharpener model as it is intended to be held in your hand. But, it can be a little small for people with larger hands. Yet, the contoured shape does make it easier to grip firmly.
Ease of Use
Granted you can get a good grip, which is not hard thanks to the details listed above, the shape of this allows it to easily adapt to the shape of certain tools (such as axes or tomahawks).
Maintenance
While it is not mandatory for this model, you can apply a few drops of honing oil. If so, though, note that it can be a little messier.
Overall
As an all-purpose sharpening stone, this certainly is not ideal. With an extremely coarse grit and a compact shape, it is fantastic, though, for outdoor tools and such.

Subscribe to our Newsletter