Best Steak Knives
In a Hurry? Editors choice: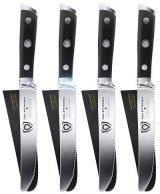 Test Winner: Dalstrong Gladiator

There are just certain items that need to be present in every kitchen in the world. As you can probably gather from this opening, one of those is a steak knife. Of course, you might as well say steak knives because it is never a bad idea to have multiple. If you have any interest at all at cooking and preparing meats such as beef, chicken, and steak, then you are going to need a high-quality knife, period. Have you ever attempted to cut meats with a low-quality one that would struggle to cut flesh? Yeah, it is not only a pain but it can also be a safety hazard as you exert more force which can lead to accidental slippage. So, now that you have been convinced (or should have been convinced) that you need a high-quality set, how do you go about buying one? Well, stick with us kids and we will show you the way.
Standout Picks
Criteria Used for Evaluation
Effectiveness
Answer this; what is the point of a knife with a poor blade?
The effectiveness of any type of knife lives and dies with its blade, it is as simple as that. The blade is the element of the tableware that will be doing all the performing, when you think about it, so it does make sense. When it comes to steak knives, though, there are some important factors you should know about the blades. Firstly, while straight-edge blades work in this case, most of the time you will want to go with serrated blades. But, with serrated blades comes the decision of whether you want small serrations or large serrations (as there is a difference).
It is a simple difference, though, as small serrations are simple small gaps within the teeth of the knife and large serrations are large gaps. The benefit of the latter is they will not dull as quickly but smaller serrations are also well defined. Also, do not forget about the material of the blade. Most commonly, this will either be stainless steel or high-carbon steel. While stainless steel is usually always the go-to, in this case, if you want to go with the best, go with high-carbon steel. Oh, lastly, do yourself a favor and go with a blade that is full-tang. What this means is the blade runs all the way through to the bottom of the handle and this enhances the overall strength of it.
Comfort
The handle is the second most important feature of a knife, enough said.
Well, deciding which material and which method are the best is a bit difficult as a lot of it boils down to personal preference. For example, let's take knives that feature handles that are simply forged of steel. Typically, these models will be one big piece and the handle will be connected to the blade. One nice aspect of this handle design is it will never fall off as it is one piece and is fused with the blade.
However, most of the time you will see blades with either a wooden or plastic handle at the end. Each of these materials has their advantages. For instance, many of you will prefer wooden handles for their appearance and elegance. Others will actually prefer some sort of composite blend as it may offer an enhanced grip. Speaking of grip, either way, you go, shoot for a handle that is ergonomically designed and one that will fit comfortability in your hand.
Value
Most models will come in sets and you need to buy according to your needs.
As you noticed throughout the entirety of this list, most steak knives will not be sold individually. Most sellers will sell their model in a pack (with it being six a majority of the time). Two questions then beckon and the first is why would you need more than one? For the record, it is not so you will have backups in case some of them break. Remember, this tableware is not just for prepping meats but also for eating meats. If you have a family of four or five and are making steak for everyone, everyone is going to desire a high-quality knife for cutting.
So, deciding how many you need in a pack is really going to be based on your needs. Some sellers will include four, some six and other times you may see sets of eight. Base your decision on how large the dinner party is that you plan to serve on a regular basis (in situations where a steak knife would be required for all members).
Accessories
While you do not need to worry about a ton of accessories, there is one major one that comes to the forefront.
At its core, a steak knife is a very simple tool that is all but devoid of any extra features. But, this brings us to a very important part of this buying guide. You see, something you need to think strongly about is how you plan to store the knives that you receive. While some people will be content with stowing them away in a kitchen drawer, others will accept nothing less than a customized box or storage compartment from the seller.
Yes, this is the primary accessory that you should be keeping an eye out for (if it matters to you that is). Some sellers will even go over the top and provide you with a storage box or compartment that is made of real wood that sports an extravagant finish. Then again, others may just send you their knives in a foam container with specific placements for each knife (which is still nice). Of course, not all sellers will do this so it is important not to assume that they all will.
Ease of Use
Proper care of your knife is crucial but some can be more strenuous than others.
For those of you who were waiting to read about the advantages that stainless steel has over high-carbon steel, your wait is over. While nobody will deny that high-carbon steel is the preferred material for this technology, there is one keen advantage that stainless steel has and that is its maintenance (most of the time). The nice thing about this steel is rust is pretty much going to be a non-issue and, if you wanted to, you could toss it in the dishwasher (although this will be discussed in a bit). Of course, you will need to sharpen it more than high-carbon steel but this will only really be a concern with straight-edge blades.
As for blades made of high-carbon steel, however, they need to be hand-washed and dried immediately to prevent any staining or rust buildup. Also, they should never be placed in the dishwasher. Speaking of dishwashers, you pretty much want to avoid them entirely. Yes, it was just claimed that stainless steel blades would probably be fine in the dishwasher but to be safe, you may want to avoid it altogether. This machine has agitation that can cause damage and also uses harsh detergents that can cause spotting on the blades.
OUR TOP PICKS FOR THE BEST STEAK KNIVES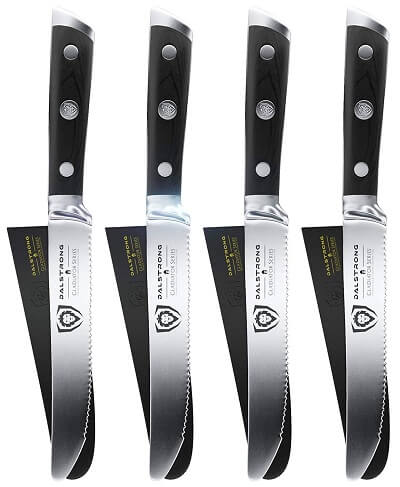 Not enough can be said about the level of craftsmanship that was exerted when this set was designed. The attention to detail here is legendary and while some feel these do not cut that well, they are expertly designed.
Read more
Blade Design
This is a mouthful here. Each blade is full-tang, incredibly sharp, engineered with serrations at 14 to 16 degrees per side, heat-treated, tapered for improved hardness, has a rounded tip for enhanced piercing, and made of high-carbon German steel.
Handle Design
While one user thought the handles were too small, each is made of pakkawood and is triple-riveted. Plus, their grips are able to ensure comfort and stability.
Value
Most sets on this list will include six or eight knives but this set only includes four. Due to the craftsmanship, though, this is not too big of a deal.
Accessories
Dalstrong includes individual protective sheaths with your purchase. Not too many sellers will provide sheaths so this is a really nice bonus.
Maintenance
Here is the deal; with this purchase, there is documentation that claims that these are robust enough to be cleaned in the dishwasher. But, doing so is not recommended as hand washing is a much safer way to wash.
Overall
Even the best set on this list has its small issues but it is hard to argue with its placement here. There will be naysayers, sure, but just pay close attention to the quality here.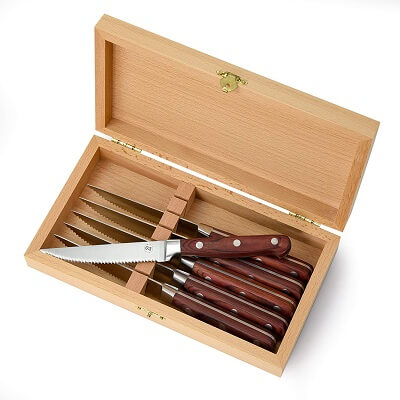 This six-piece set comes with a case that has been crafted of wood. Ironically, this is the only issue with this set because the knives themselves are brilliantly designed with stainless steel serrated edges.
Read more
Blade Design
These are restaurant quality tableware and are incredibly sharp right out of the box. Also, they sport serrated edges and are made of stainless steel.
Handle Design
What is nice is the handles on this set have been inspired by those used in steakhouses around the globe. As such, they are made of dark pakkawood and ergonomically designed for comfort.
Value
With this set, you receive six pieces of tableware that have all been made with quality in mind.
Accessories
While it is nice that a wooden box is provided with your purchase, it has one major issue. As buyers have alluded to, the lid does not close correctly and is a nuisance.
Maintenance
Washing these by hand is not going to be too daunting of a task and is recommended by the seller. Just avoid dishwashers and dry them quickly and you should be good.
Overall
Some users will simply throw the included wooden box away. It is a bit of a shame as the steak knives you receive are brilliant. But, you can't help to feel underwhelmed a bit by the lid of the wooden box.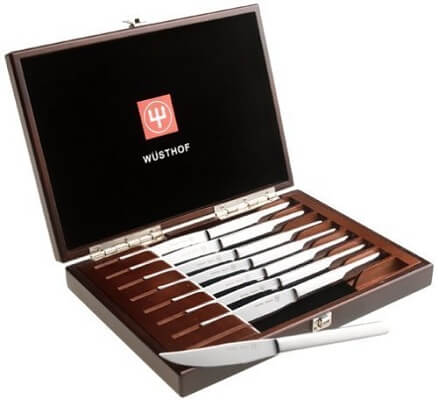 As opposed to some steak knives out there that will be equipped with a wooden or plastic handle, this set is engineered with nothing but stainless steel.
Read more
Blade Design
Each of the blades of this set has been made of high-carbon 18/10 stainless steel and is serrated. Plus, they have been precision-forged. Yet, some buyers have still claimed they are just "okay".
Handle Design
Indeed, this set does not come with plastic or wooden handles. Instead, it comes with designs that feature stainless steel handles that are polished.
Value
While most sets will come with six, this actually comes with eight which is pretty phenomenal for the price of admission here.
Accessories
It really is fantastic that Wusthof includes a presentation box with your purchase. This box has also been coated with a mahogany stain for a fantastic appeal.
Maintenance
As with most of the models on this list, it is advised that you hand wash these and do so with mild detergent. Also, dry them right away and then store them properly.
Overall
Look, some buyers have gone on record and claimed that this set is nothing more than average. It does depend on your standards, though, because most have found this set more than sufficient.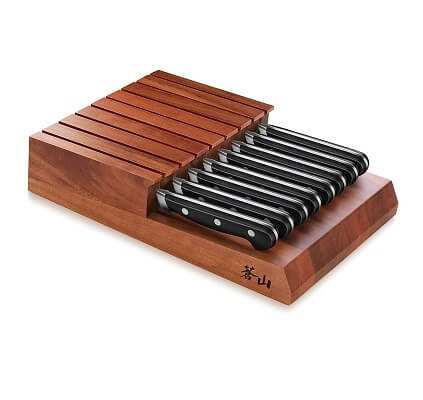 To say this is a complete set is a bit of an understatement. Each knife in this set sports a blade that is made of German steel and also a classic handle that features a redesigned bolster.
Read more
Blade Design
As mentioned, each blade utilizes German steel. In addition to this, each blade has a sharp edge and has endured a six-stage heat treatment process to be of the highest quality.
Handle Design
Adding on to the redesigned bolster of the handles, they are made of a composite material and resemble many other brands. While not amazing, they are good.
Value
Cangshan actually gives you the option of different types of sets. You can either get a two, three, four or eight-piece set, which is a nice bonus.
Accessories
What comes with your purchase is a cutting-edge designed Acacia wood block. And, while it is handcrafted and made with quality in mind, some users have received it chipped or broken.
Maintenance
In order to prevent these from staining, you need to wash them right away. But, again, avoid doing so in the dishwasher as it will only take a few moments to clean them by hand.
Overall
With the amazing mix of durability and hardness that these German steel blades possess, it is no wonder why this set has been praised by so many consumers.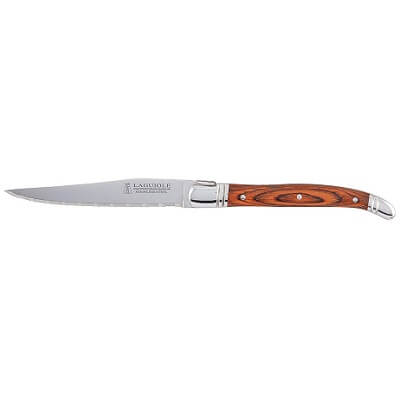 This right here is another design that utilizes pakkawood handles. But, they also have stainless steel full-tang blades that are razor sharp. Not bad; not bad at all.
Read more
Blade Design
To retain all the flavorful juices of your favorite meats, these blades have been designed of razor sharp stainless steel and do not add extra pressure to the meat. Also, they are serrated and are full-tang.
Handle Design
Each of the handles has been hand-stamped and made of pakkawood. This type of wood is known most for its moisture-resistance, strength and appeal.
Value
Nothing out of the ordinary here as you receive six models with your purchase and each of them has a blade that is 4.25 inches in length.
Accessories
Though this is described as coming with a handsome gift boxed, one user claimed that they were not happy with the packaging. As they claimed, for a gift, everyone could see what it was.
Maintenance
Per the manufacturer, they advise against washing their set in a dishwasher and instead of doing so by hand, which is not much of a surprise.
Overall
Some buyers have taken issue with the fact that these are not authentic Laguiole knives and, instead, are merely inspired by them. But, all you need to do is open your eyes and see the quality here.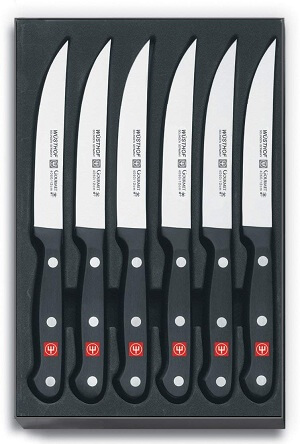 Coming right back to Wusthof, this is their gourmet set and it features blades that are stamped from high-carbon steel. But, the blades have been known to rust.
Read more
Blade Design
In addition to the fact that the blades are made of high-carbon steel, which was documented, they are also precisely tapered from the base to the tip.
Handle Design
Yes, the handles of this design are plastic. But, it is not some ordinary plastic as synthetic polypropylene has been used and has been triple riveted for durability.
Value
With your purchase, you receive six knives that have blades that measure 4.5 inches in length.
Accessories
As can be seen from the photos, this comes with a special compartment that can hold each of their knives (although it is nothing too special).
Maintenance
As was mentioned, it is a common complaint amongst reviewers that these blades tend to rust. So, you need to hand wash them right away and dry them just as quickly.
Overall
This is not a cheap set of steak knives, let's just say that. In fact, some buyers have felt the quality should be even better for the price. Overall, though, this set is riveting.



Being made by Victorinox and being expertly made in Switzerland, you know that this set is designed with quality in mind. Outside of some slight issues with the handle, this is certainly the case.
Read more
Blade Design
Though the handles have issues, the blades do not. This is because they have been engineered with high-carbon stainless steel for maximum edge retention. Also, they have been stamped and have bolstered edges.
Handle Design
Okay, so the rosewood handles certainly look amazing and are ergonomically designed. Yet, there are two main issues. One, many users have reported issues with the smell and two, some feel the texture is too rough.
Value
Per the usual, for the most part, this comes in a set of six and each one of the blades is straight-edged.
Accessories
While these are tucked in a press-fit storage box during shipping, there is nothing too extravagant to speak of when it comes to included accessories.
Maintenance
Interestingly enough, these knives are dishwasher safe. This is said because Victorinox actually advises against placing these in the dishwasher as damage can result.
Overall
With just a few minor fixes to the handles, this could have landed in the top three of this list. But, with exceptional blades, this set is still more than worth picking up.

8

. J.A. Henckels International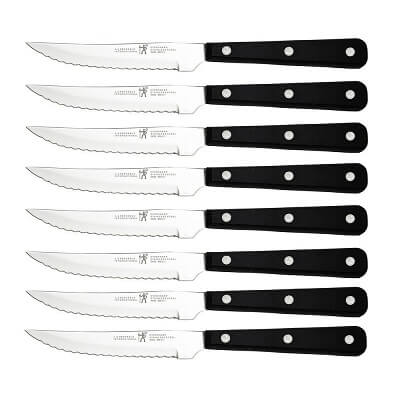 If you can live with the fact that this set may be a bit cheaper in quality than top-end sets, you can enjoy knives that can still provide sharp cuts and overall efficient results.
Read more
Blade Design
Yes, the blades included here do tend to bend rather easily. But, they are stamped and feature large serrations that contain smaller serrations to enhance the sharpness.
Handle Design
To enhance the strength and longevity of the handles, these have been triple-riveted. However, the issue is the plastic that is used can be a bit uncomfortable and the corners are not rounded.
Value
Each set comes with eight models and if you happened to want more, you can actually buy a set of two (which is nice).
Accessories
All that comes with your purchase is a mere plastic clear box. For storage purposes, you will probably want something more substantial.
Maintenance
Yep, this is another instance where, technically, you could place these in the dishwasher. But, for proper care, hand washing is always going to be the recommended option.
Overall
You know, it is what it is. That is the best way to describe this option because if you are looking for top-end quality, there are superior options. But, for most users, this will more than suffice.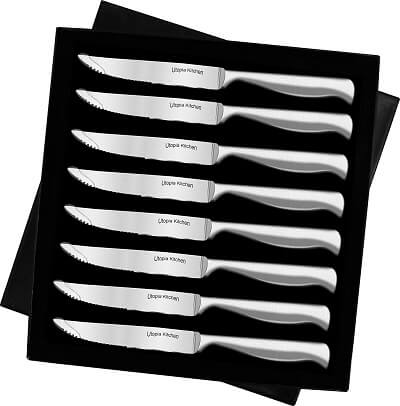 As you can probably garner from the price tag of this option, its value is completely through the roof. But, it does not take a wise man to know there is a bit of a reason for the cheaper price.
Read more
Blade Design
The blades are made of 420-grade stainless steel and also sport micro-serrated edges that do not need to be sharpened. Overall, they are tarnish and rust-resistant.
Handle Design
Okay, this is another instance where the handles are also stainless steel. In fact, each steak knife is one solid piece of steel. And, while the handles have a hollow feeling, they are ergonomically designed.
Value
For the price tag, you really can't go wrong here. With eight knives included in total, this is a steal of a deal, for sure.
Accessories
Do not get your hopes up here as the cardboard storage box that this comes in is nothing special. But, hey, it certainly is better than literally nothing.
Maintenance
To put it lightly; these are high-maintenance models. As soon as you finish hand washing them (avoid using the dishwasher), dry them right away and do not let them air dry.
Overall
Most of you out there will adore the one-piece stainless steel design of these models as you never need to worry about the handles falling off. But, there are better options out there, admittedly.

10

. Victorinox Swiss Classic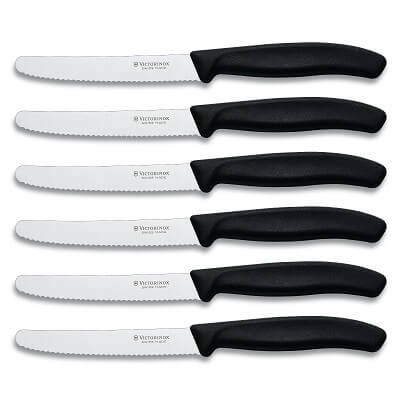 Victorinox is back on this list, to cap it off, and the really nice thing about this set is the blades are equipped with rounded tips. In addition, the handles are ergonomically designed.
Read more
Blade Design
Even though the tips of the blades are rounded, the serrated blades are made of low-grade stainless steel. So, they will not hold an edge as long as other blades out there.
Handle Design
As mentioned, the handles on each of these knives are ergonomically designed. Overall, they are made of molded plastic and are also slip-resistant for more control.
Value
You can either get this in a set of six or a set of two. Not all sellers will give you this option. So, it is nice that it is provided here.
Accessories
Nothing too substantial is included with your purchase here. You will need to account for storage space yourself that much is for sure.
Maintenance
Once again, these are dishwasher safe. Yet, if you have been paying attention, then you know what the deal is here.
Overall
Consider this a good starter option for new chefs in the kitchen. The blades are not amazingly impressive but they still will get the job done most of the time.

Subscribe to our Newsletter