Best Pocket Knives
In a Hurry? Editors choice: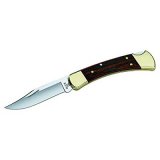 Test Winner: BUCK KNIVES FOLDING HUNTER

For everyday use, a great pocket
knife
is always great for you to carry. Some pocket knives have different purposes or even a variety of features for you to look out for. They all come with different types of blades and can be used for several different things. A great pocket knife to look for is one that is a multi-purpose pocket knife that can be used for several things such as around the house,
fishing
, wood carving, hunting,
outdoor
activities, to even glass breaking. If you are looking to upgrade from your previous pocket knife but are getting overwhelmed with the variety of options on the market, then you have come to the right place. Below we have listed the top ten best pocket knives in the market today including details for each knife to help you decide which one suits your outdoor and everyday needs best.
Standout Picks
Criteria Used for Evaluation
Materials
At their core, pocket knives are designed for instances where a blade can be utilized. Amidst all the other features, without a proper blade, they are rendered practically useless. But, the handle is also important as you are not going to handle a blade with the sharp edges in your clutches. Thus, when it comes to both of them, they need to be designed with the best performance and durability in mind. Speaking of handles, they are less of a concern because they do not experience the wear and tear that the blades do. Meaning, most designs will suffice and last for a long time. Such as being constructed from aluminum, a smooth synthetic, a genuine bone or a G-10 material.
The blade design, on the other hand, is probably the most critical criterion to analyze. It does not just stop at what manufacturers decide to construct it from, either, as the way they make it and how they coat it also come into play. Most blades are constructed from stainless steel; which is a tremendous material that is resistant to corrosion, fire, and heat, easy to clean, and visually appealing to look at. Past this, it is also important to keep an eye out for the way the blade is serrated. Speaking in general, serrated blades tend to stay sharper for longer periods of time and provide a faster cut. However, non-serrated blades will provide you with a cleaner cut.
Then, there is the way the blade is coated. Without a doubt, the versions that are finished with a DLC (Diamond-Like Carbon) are the best. This material has a high amount of hardness, is resistant to corrosion and abrasion, has a gas barrier, is anti-reflective, and has low friction. So, a stainless steel blade coated with DLC will provide an unreal amount of protection to the blade.
Weight
Even though pocket knives are designed to be carried around in your pocket, some models can be bulkier and heavier than others. It depends on the design, but some are meant to be used for everyday purposes; while some are meant for more extreme circumstances and to be used as a reliable cutting tool. The only true reason you need to care is some will feel very heavy in your pocket and be uncomfortable to carry around for several hours. As you probably noticed, many of the knives on this list altered quite a bit in terms of weight. Some were only a few ounces while others were several.
Just keep in mind if a heavier version will eventually become a nuisance; if so, aim for a lightweight model. Outside of the mass, the overall length is also a factor you may want to pay attention to. The length of the blade itself will not be too much of an issue, but the length of the pocket knife when concealed could sway your decision one way or another. Much like the weight, will a longer pocket knife be annoying to hold in your pocket? If you can honestly answer no to this question, then you will never have to worry about this. If not, be wary that some models can take up an excessive amount of room.
Features
Safety Features
This section can be a little tricky to assess as the subject at hand is pocket knives. But, with something as dangerous as sharp blades it is critically important that designers implement some sort of safety features. However, they can't guarantee that they are 100 percent safe because they can't predict who will be possessing them and how the safe they will be doing so. All the safety features in the world will not do any good if you are not safe yourself. After all, you are dealing with an intensely sharp blade that can easily cut human flesh and cause serious injuries to you and others.
But, there still needs to be safely implemented to minimize the risk of potential accidents while using a pocket knife. Thankfully, many manufacturers do design their blades with safety in mind. One key feature is what is known as the SpeedSafe assisted opening. This allows you to easily and safely open the blade with one hand by a simple push of a button, as opposed to manually touching the blade to open it. However, the danger truly begins when the blade is exposed. Thus, some will come equipped with a liner lock that will safely secure it in place while it is opened. This prevents it from accidentally closing while your fingers are on the handle. Finally, some will have a pocket clip that allows you to carry it in a safer manner.
Now, not all brands will have these types of safety features. For the blades that are extremely lightweight, the concern is lessened, though. Through it all, just remember to be as safe as possible when you are using a pocket knife.
Extra Features
This is where the fun stuff comes into play. No matter what type of product you are searching for, most will come with additional features. These are not necessarily needed to properly utilize what the product is designed for, but for extra uses to make it accommodate for more situations. When it comes to pocket knives, as you noticed throughout this list, there are a plethora of models that have additional, convenient features. Most notably, let's start with the versions that have more than one blade for you to exploit.
Outside of the traditional blade that comes equipped, some will also come with additional types of blades (such as a chip, spay, clip, pen and sheep foot blade). In an instance where a different blade would work better than your pocket knife, it is nice to have those blades right at your fingertips. These different types of blades can be useful for carving, detail work, everyday tasks, etc. Then, you have some designers who will present you with several ways to use a traditional pocket knife. Such as, including the blades/material to use as a pair of scissors, toothpick, screwdriver, nail file, key ring or toothpick.
One last key feature some present to you is the bottle opener located on the handle. This is purely for aesthetics, but it can be useful as long as you are careful with it. To actually use the bottle opener to its fullest ability, you will have to leave the blade exposed. If you are careless with it, the blade could whip around and cause serious injury.
Style
Almost everything that has been addressed thus far has been critical in your decision process. Not to say this next section is not, but this will vary from person to person. More importantly, this is where your input will be the most beneficial. Outside of yourself, there is not another person that can inform you what color/design option you should prioritize. Unless the manufacturer only offers a one color/design, which unfortunately does happen from time to time, you have a variety of options you can choose from.
For some of them, the options reach into the '20s and '30s. They typically account for nearly every color option that you could think of. This includes standard colors such as black, blue, green, white, yellow; to more creative colors such as chestnut bone, whiskey, American flag, and Emerald. At any given time, though, you do have to account for some options being out of stock.
Some designers will also allow you to choose what type of blade you want and the size of it. Say you prefer stainless steel over chrome vanadium, some will give you the choice of selecting between them. In terms of sizes, it is nice to be able to select from small knives to larger ones. Sure, you could simply look elsewhere if you wanted a differently sized pocket knife. But, what if you fell in love with the model you were looking at and did not want to sway away from it? Then, you could get the size you wanted in conjunction with the model you had your eyes on all along.
Top 10 Picks
1

. BUCK KNIVES FOLDING HUNTER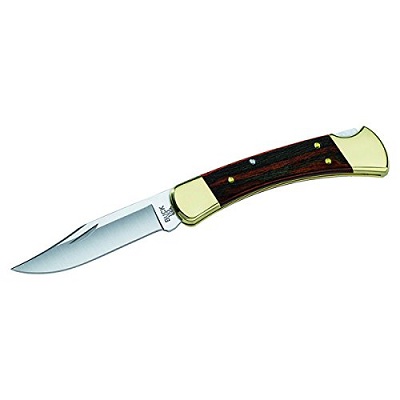 As the name implies, this knife is made for hunters. But, non-hunters can find just as much use out of it, as well. This Buck Knives 0110BRS 110 folding hunter knife is known for its razor-sharp ended blade that has durable strength and is corrosion resistant. It comes with a leather carrying case that is a belt loop for you to be able to carry it and use it whenever needed quickly. This Buck Knives 0110BRS 110 folding hunter knife has a lifetime warranty and a price value of below $50.00 which makes it an excellent deal.
Read more
Materials
The handle has molded brass bolsters and a Dymond wood design, while the blade is satin finished and made from 420HC stainless steel.
Weight
Closed and concealed, it measures 4-7/8 inches (with the blade being 3-3/4 inches). Being for hunters, it is heavy-duty and weighs 7.2 ounces.
Features
With its implemented lock back design, you are promised the ultimate safety and strength.
Including with the knife is a genuine leather sheath that can be used to carry the knife on your belt.
Style
While there are no other color options at your disposal, the lone color design is very stylish. You really can't go wrong with this blade, just know that it does weigh more than you may imagine.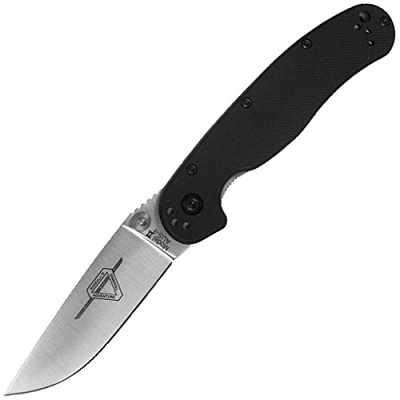 For pure quality purposes, the Ontario 8848 Folding Knife is fantastic. But, the plain design might not be appealing enough for some people.
Read more
Materials
The blades are made from AUS-8 steel and are satin finished; while the handle is made from ergonomic nylon.
Weight
At five ounces and 4.5 inches when closed, the size is standard for most models.
Features
For easy one-hand opening, there is a thumb stub. Meanwhile, the liner lock will secure the blade in place when opened. Complete with a four-way position pocket clip, there are different carrying options you can utilize.
Style
Unfortunately, there are no other color or size options and the lone-design is rather plain. If the plain design is not an issue, then this is a fantastic choice as it does a splendid job of performing what it was designed to do.

3

. TAC-FORCE TF-705 SERIES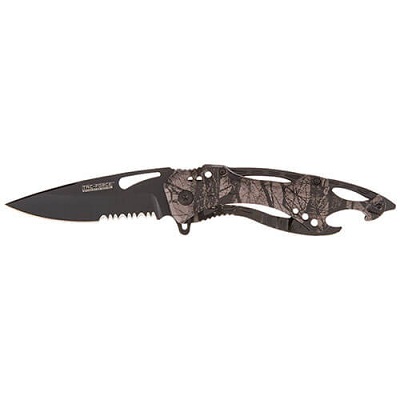 It was a really close call, but the TAC Force TF-705 Series is the best pocket knife on the market. Soon, you will see why.
Read more
Materials
The blade is coated with black stainless steel and is half-serrated; which comes in handy for cutting ropes and branches. The handle is made out of aluminum and has an ultra-stylish design.
Weight
The blade itself measures 3-1/4 inches, when closed it measures 4-1/2 inches and it weighs six ounces.
Features
The implemented spring assist mechanism allows you to open it with safely with one hand. In addition, while in use, it will lock securely with the liner lock and has a pocket clip for safe carrying.
The aluminum handle has a bottle opener and glass breaker, along with a screwdriver.
Style
There are several color options available; including black, pink camo, fall camo, grey, rainbow, and red camo. Not only is this a nearly perfect knife but it also can be used for other tasks. For the money, there really is not one better.

4

. KERSHAW KEN ONION BLUR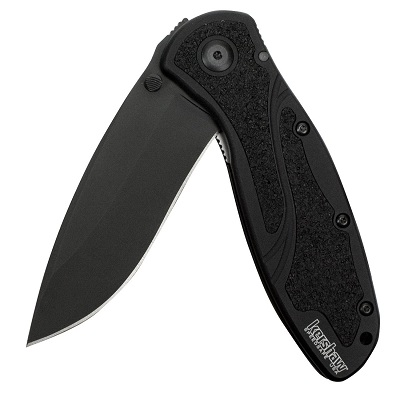 The Kershaw Ken Onion Blur pocket knife missed the top spot by a hair, but through no fault of its own. It was so close, you could have flipped a coin.
Read more
Materials
The blade is constructed with Sadnvik 14C28N Steel, as well as DLC (Diamond-Like Carbon) coating. The handle, on the other hand, is made from 6061-T6 anodized aluminum.
Weight
Overall, it measures 7.9 inches (with the blade being 3.4" and the handle being 4.5 inches). A little lighter in nature, it only weighs 3.9 ounces.
Features
The SpeedSafe design allows you to open it safely and quickly every single time; while open, the liner lock will secure it in place. To enable different carrying options, there are reversible pocket clip holes in the handle.
Style
A few color options are available, including jet black, olive drab, and tactical black. This blade should take a backseat to nothing, but the competition is beyond fierce!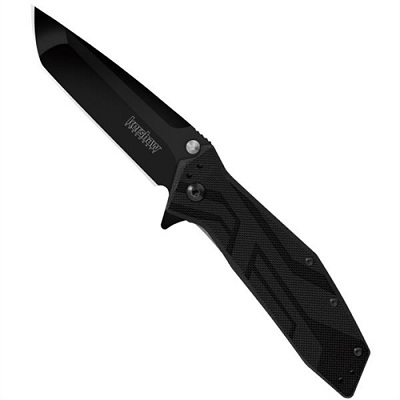 Kershaw makes their way back on this list and while their 1990X Brawler is not quite as great as their Ken Onion Blur, it still possesses a lot of the goods.
Read more
Materials
Coated with black-oxide and produced from 8Cr13MoV steel, the blade is superb. It has included swedge adds to its piercing power. As far as the handle, it is made from glass-filled nylon.
Weight
It weighs in at 3.9 ounces and has a closed length of 4.1 inches.
Features
All the safety features are implemented: the SpeedSafe assisted opening, liner lock to secure the blade and the flipper for easily moving the blade. Also included is a four-position pocket clip that allows for multiple carrying options.
Style
No other options are present, just the jet-black design. It is really difficult to find many gripes with this blade, it just so happens there are so many amazing models out there.

6

. MTECH USA BALLISTIC MT-A705


If you are on a budget, the MTech Ballistic Series is perfect. However, do not think for one second that because it is cheaper in price it is in nature.
Read more
Materials
An aluminum handle and a Ti-coated half-serrated stainless steel blade combine to make a stellar design.
Weight
When closed, it will measure 4.5 inches with a weight of 4.25 ounces.
Features
When open, the blade will lock securely with the liner lock. To open it, the spring assist will make it easier; thus, making it safer. The handle has a bottle opener located on it and can easily cut cords and break the glass.
Style
Quite a few options here, including black, black and blue, blue and silver, gold and silver, and gold. While not as heavy duty or fancy as other versions, this pocket knife is absolutely fantastic considering its normal price.

7

. CASE AMBER BONE CV TRAPPER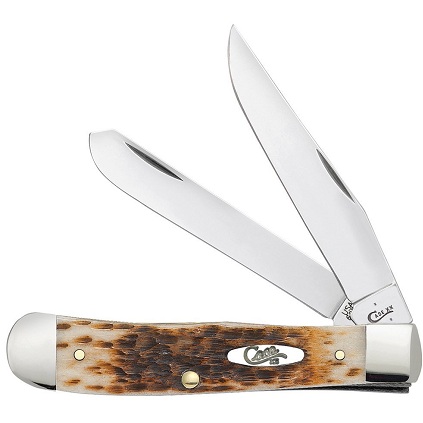 Much like Kershaw, Case lands another version on this list. That is a sign that they know how to make excellent pocket knives.
Read more
Materials
The choice is up to you; either the blade can be made from chrome vanadium, stainless steel, or 154-CM. But, for all the handle remains made from a genuine bone.
Weight
It measures 4.13 inches and weighs 4 ounces flat.
Features
There is no safety clip present, but there is a slip-joint trapper that adds safety.
This is a multi-blade pocket knife; coming equipped with a chip and spey blade.
Style
Outside of being able to choose the blade design, there is a vast majority of colors. Such as yellow, chestnut bone, dark red and whiskey. Even the last entry on this list is stunning, which says a lot about the quality of pocketknives available.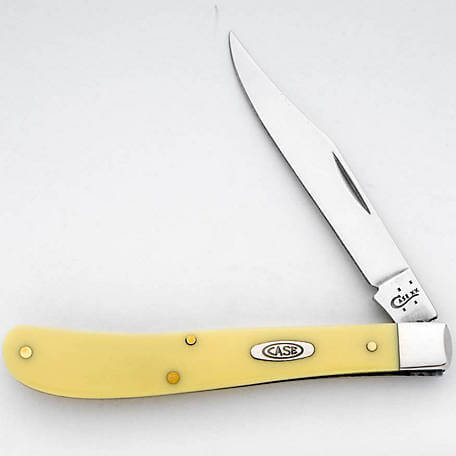 A multi-purpose pocket knife in its own right, the Case Yellow Knife model is as good as it gets. The case is a very well known company that handcrafts high-quality pocket knives in several different sizes, colors, and materials. Some materials include bone, exotic woods, stone, stainless steel, synthetic, to Chrome Vanadium. This Case Yellow Knife is known as a trapper knife which is great for hunting and skinning animals, for outdoor use such as camping, and even just simple work around the house. This knife is also at a great price value for just under $40.00 and is currently on sale. This knife comes with two blades and one is a clip blade and one is a spey blade. Spey blades are specifically great for skinning animals and can be best used for anything that needs a very sharp blade.
Read more
Materials
The handle is constructed from a smooth synthetic and the blade from Tru-Sharp surgical steel blade; which provides more durability than conventional steel. This Case Yellow Knife has a synthetic yellow handle that gives you great grip and is very durable allowing for this knife to have a long lifespan. It is a handcrafted knife.
Weight
Being very lightweight, it is only 4.13 inches long and 4.0 ounces. Making this pocket knife very portable and will allow you to carry it in your purse or even use the clip to attach it to your pants for easy access.
Features
While there is no locking mechanism to secure the blade while open, there is a strong back spring that will hold each blade and prevent it from accidentally closing. On this model, there are two blades: a clip and a pen blade. The clip blade is used for detail work and the pen blade is ideal for everyday tasks. This pocket knife is great for around the house use, for outdoor use such as cutting rope or opening things, for fishing to cut your fishing line, or even for hunting to help cut anything open when needed or to skin an animal with the spey blade.
Style
There are a few additional size options, medium and large, that will enhance the length and weight of the pocket knife. In addition, there is only one color option that is yellow. Once again the price for such a durable knife is very good as it is less than $40.00. For its chrome material and its limited lifetime warranty you really are getting a wonderful deal. This Case Yellow Knife is known for having great blade strength as well as being resistant to corrosion.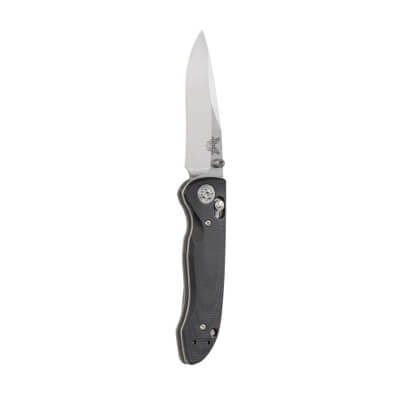 Benchmade is known for making cream of the crop pocket knives, and this 940 is a prime example of this. It's worth mentioning that this knife is quite an investment financially, but what one can keep in mind, is the overall supreme quality of this particular knife. This knife is made of premium aluminum, stainless steel, and it offers exceptional safety with the lock. Furthermore, if you want something that comes with a lifetime guarantee, this is the knife to go with. Find out why we chose it below.
Read more
Materials
The blade of the 940 is made with CPM-530V Stainless Steel that offers excellent edges that are highly rust resistant. The handle is made of aluminum that excels in solid function and form without weighing it down.
Weight
This knife's weight is 7.87 inches, and its length is 4.47 inches closed (7.87 inches open). This knife only weighs 2.9-ounces.
Features
The blade stays firmly in place on the Benchmade 940 with an Axis lock, so you don't have to worry about it in your pocket. This foldable knife has a reversible pocket clip so that it is easily accessible. The blade system in this is a reverse tanto blade, which is awesome for everyday use. A huge perk of this Benchmade 940 knife is that it comes with a lifetime guarantee. This means that if your blade needs any repairs, sharpening, or replacement, the company will take care of it for you.
Style
Depending on where you buy this knife, there are different color options. However, it's the blade that shines in this model. It comes in different edge styles and finishes to suit any specifics you might be looking for.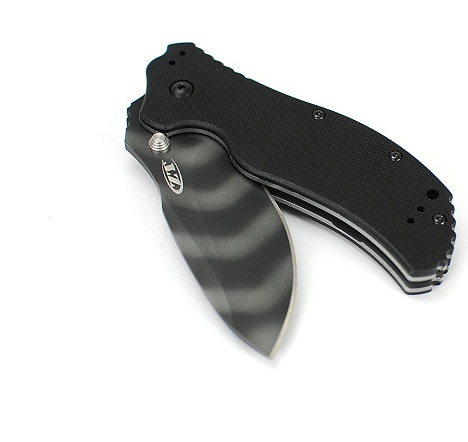 Through every sense of the word, the Zero Tolerance G10 Blade is ideal for serious pocket knife enthusiasts. This Zero Tolerance 0350 Folding Pocket Knife is known for its great performance and durable materials including being made from S350V stainless steel. It is corrosion resistant, weather and wear resistant, and has a recurve blade. Nearly perfect in every way, except for its above-average price.
Read more
Materials
Not only is the blade non-serrated it is also designed with an extremely visually appealing tiger stripe finish. On top of that, it is constructed from S30V stainless steel with a DLC coating. The handle is textured with a matte black G-10 material.
Weight
The blade itself measures 3.25 inches, but when it is closed the entire pocket knife is 4.6 inches. As far as weight, it measures 5.6 ounces.
Features
The SpeedSafe design ensures you can open the blade with one hand and be safe every single instance.
An included quad-mounting system allows for multiple carrying options (tip-up, tip-down, etc.)
Style
The tiger-stripe finish is the one and only design choice.

Subscribe to our Newsletter