Best Knife Sharpeners
In a Hurry? Editors choice: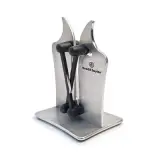 Test Winner: BROD & TAYLOR

Did you know that a sharp knife is actually safer than a dull knife? While this guide is not being presented to you to go in depth about this factoid, it really sets up why you are here today. You see, even the best knives are going to dull over time and the more you use them, the quicker this will happen. And, when they get to the point where they can't efficiently and effectively cut food items, they become potential safety
hazards
as you exert more force to try to get the job done (which oftentimes means you lose the control you have over them). Now, there are several different tools that can be used to sharpen them but this guide is going to put an emphasis on both manual and electric knife sharpeners. So, if you are ready for the ride, let's get started.
Standout Picks
Criteria Used for Evaluation
Effectiveness
Seriously, what good would one of these do if it could not sharpen your knives?
The entire purpose of this tool is to sharpen your knives, right? Well, would it not then make sense that you need to prioritize how effectively any given mode does just that? This is really not rocket science and when it comes down to assessing this, you really need to pay attention to the materials. Do note, this is alluding to the materials that will actually be used to perform the sharpening (not the housing). In the world of knife sharpeners, there are four that stick out. The two most effective are carbide and diamond flecks. Both materials are commonly used as abrasives for this type of a tool but many people actually believe that diamond is the superior of the two. While this is not set in stone, diamond does seem to create less friction which can lead to softer and more precise sharpening.
The other two are actually steel and ceramic but these two materials are better suited for honing. Essentially, the process of honing is merely cleaning up the edge of a blade and is ideal for blades that are already semi-sharp. Of course, looking past the materials, you also need to be aware that most options out there will be designed to run in two or three different stages. For example, this could start with an abrasive sharpening section, then to a fine one, and then finish with a honing section.
Ease of Use
Look for models that are optimized for simplicity.
The types of knife sharpeners that were displayed in this guide specifically omitted whetstones. And, quite frankly, this right here is the primary reason as manual and electric models will simply be more user-friendly to use. Now, as you also saw on this list, there are honing and sharpening rods that are available. But, for the most part, the two most popular are manual and electric knife sharpeners. Clearly, the primary difference between the two is in their operation. But, is one easier than the other?
To be honest, both types are tailored to be easy to use so this question is not that relevant. After all, manual models will typically use guides to achieve the perfect cutting angles and then all you need to do is slide the blade through in a sweeping motion. The same concept applies to electric models, yet they will be equipped with either sharpening discs or belts. These will then move on their own and will lessen the work for you. Technically, they may be the easier of the two. Oh yeah, and it is also never a bad idea to look out for sellers that include well-written instructions with their models.
Features
Most of the features you need to look for come down to the safety of any one model.
Whenever you are dealing with sharp objects that can penetrate inside your body, you need to be careful. It has probably been drilled into your head since when you were a kid but knives are sharp people, and they can hurt you and hurt you bad. Outside of actually looking for some key features, which will be touched on momentarily, the most important thing for you to remember is to always use precaution when you go to sharpen any type of blade. If you handle it with care then you should be fine.
However, if a knife sharpener is not optimized for safety, in the first place, then accidents can be more prone to happen. This makes it essential to look out for stabilizing features. Most models on the market that are designed to rest on countertops will be equipped with non-slip bases. Either that or they will integrate rubber feet and either way, they need to remain stationary while in use. Along the same line, for models that need to be held, look for ergonomic and non-slip handles.
Materials
For the record, this is in regard to the external materials that are utilized.
You may be wondering why this is a section when the materials were already covered in depth earlier. Well, as was mentioned before, the first section was used to talk about the materials that actually perform the sharpening or honing but this is in reference to the external materials. In other words, the external housings are what we want to focus on here. This is more than just a durability check, also, as certain materials naturally look better than others.
In the world of any type of kitchen appliance or tool, two of the most common materials you will see are plastic and stainless steel. Not too many of you are going to disagree that stainless steel is usually going to be the preferred choice due to its elegance, build quality, and aesthetic appeal. But, if you do happen to go with a model that has a plastic housing, ensure that the plastic is still high in quality (such as ABS plastic).
Size
Ideally, you probably want to save as much counter space as possible.
Why would you want to deal with a knife sharpener that is oversized and bulky? Would you not rather opt for a model that is compact? To follow up on this question, at least to the point of it being still usable? The reason we say that is some models are actually really, really small and will probably be hard to work with if you have larger hands. But, back to the point at hand, most models on the market are going to be optimized for travel and storage so that is a good thing.
This is especially important if you plan to store your new model in your kitchen as compact designs will allow you to do so in a wide range of areas. And, just to make it clear, this means you will want to be looking out for the physical dimensions (height, depth, and width) of any given model.
OUR TOP PICKS FOR THE BEST KNIFE SHARPENERS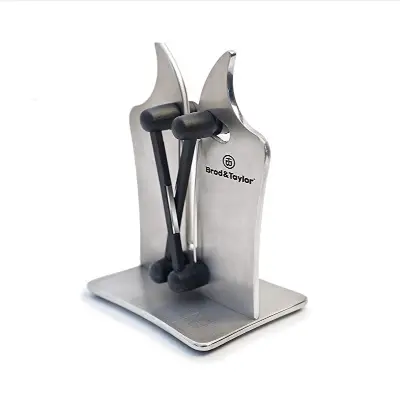 To say this is a premium model is an understatement. In addition to the fact that it is incredibly user-friendly, it also sports Austrian-made tungsten carbide sharpeners which are designed for longevity.
Read more
Effectiveness
As mentioned, this does sport tungsten carbide sharpeners and these will auto-adjust to the right blade angle between 12 and 20 degrees.
Ease of Use
This design is really tailored toward anyone due to its simplicity. In fact, all you need to do is press harder for sturdy chopping blades and lighter for slicing blades.
Safety Features
Due to the nature of the design, the safety comes in the handles of the knives themselves. The base is very stable, though, so that does help quite a bit.
Materials
In addition to the tungsten carbide sharpeners (which are Austrian-made as mentioned), this is also equipped with nearly two pounds of solid stainless steel.
Compactness
At only six inches in height and three inches in depth, this is about as compact as it gets and will easily sit in your kitchen counters or in your cupboards.
Overall
The rugged nature of this model combined with its simplicity and effectiveness all allow it to take its rightful spot at the top of this list.

2

. PRIORITYCHEF DIAMOND-COATED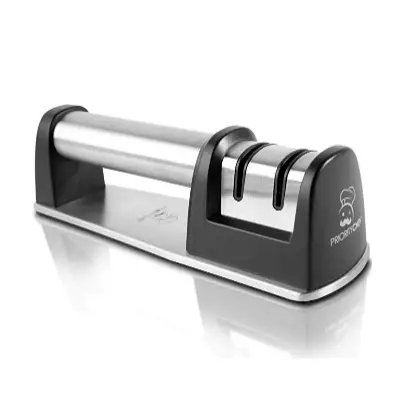 As can be garnered from the title here, this top-end option uses a diamond-coated wheel to shape the angle of the knife while it is sharpening. Among other things, this is what makes this model stand out.
Read more
Effectiveness
Yep, the diamond-coated wheel is the most talked-about feature here as the diamond itself will sharpen even the hardest of metals. Also, a ceramic honing wheel will finish off the job with some polishing.
Ease of Use
All you need to do here is pull the blade from the base to the tip through the diamond wheel. Of course, a full instructional video does come with your purchase in case you need some direction.
Safety Features
There are two important safety features to speak of here. Firstly, this is stabilized via its firm and cushioned base. Secondly, this is equipped with an ergonomic handle for enhanced control.
Materials
When it comes to any sort of kitchen appliance, you can never go wrong with stainless steel. In addition to its durability, it is also a stunning material to look at.
Compactness
Much like the last option, you should have little to no issues when it comes to storing this. It is small enough to fit in virtually anywhere in your kitchen, count on it.
Overall
At this price point, you are not going to find a superior model on the market. Some may think otherwise but most buyers and consumers will agree with that.

3

. WARTHOG V-SHARP CLASSIC II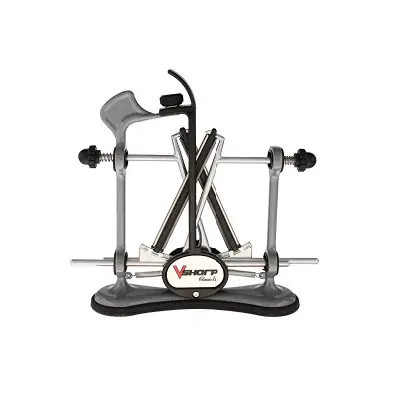 Not only is this equipped with a stunning gunmetal finish, but it is also capable of sharpening both sides of your knives at once. Oh, it also features a non-slip rubber base for stability.
Read more
Effectiveness
Looking past the fact that this can indeed sharpen both sides of your blades at once, it also features adjustable angles that can be set with the blade guide.
Ease of Use
The aforementioned guide makes this very easy to use and even if you are unsure, this does come with an instructional DVD that can help you out.
Safety Features
Being equipped with a non-slip rubber base, this is not going to move on you while you are sharpening your knives. Also, this also features a thumb grip for increased control.
Materials
Overall, this is built with heavy-duty materials such as the steel frame (that is coated with a gunmetal finish). Yet, various users have claimed the stones can wear down quickly.
Compactness
Though this may not be the most compact model out there, it is only about eight inches in height and eight inches in width. It is still not that bulky.
Overall
From the photos, this may seem complicated but it is actually really straightforward. When coupled with the ruggedness and performance, it makes for a lethal combination.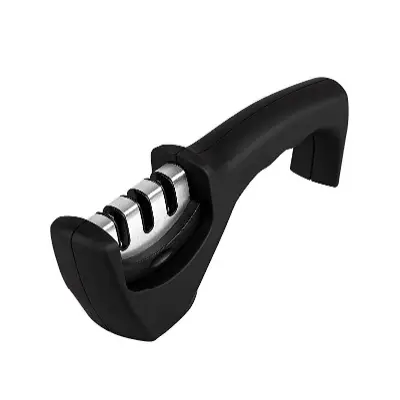 One of the best aspects of this sharpening unit is the fact that it is extremely versatile. It can handle all sorts of blades (both ceramic and steel) and also all sorts of sizes, which is nice.
Read more
Effectiveness
The three-stage sharpening system that is implemented here can be done in just a few pulls and sharpens just about every type of blade out there. Then again, this unit does not provide super sharp edges.
Ease of Use
As one user noted, this was the easiest knife sharpener that they had ever used. It really is as simple as it sounds.
Safety Features
Not only does the convenient handle keep your free hand far away from the blade but rubber base also provide enhanced stability to prevent the entire unit from moving.
Materials
This combines ABS plastic, high-grade diamond, ceramic rod, and tungsten carbide into one highly durable design. Good luck with finding a better combination of materials.
Compactness
Whether you want to leave this on the counter or fit it into your cupboards or utensil drawer, you should be able to do so with relative ease.
Overall
Really, what is there not to love about this unit? Sure, you could say that it does not provide amazingly sharp edges but it certainly will enhance the sharpness of your knives.

5

. WUSTHOF ELECTRIC SHARPENER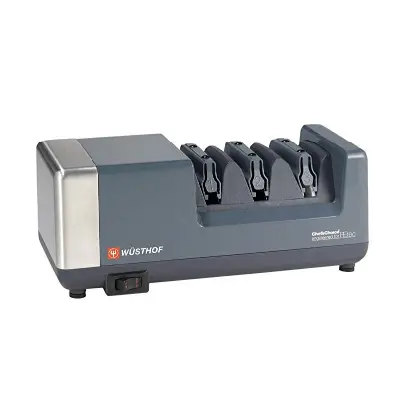 This is yet another model that equips three different stages to achieve the best sharpening possible. Of course, the advantage of this design is the fact that it is fully electric.
Read more
Effectiveness
Now, this actually works for serrated knives and also implements a three-stage system to provide fantastic results. However, it may also cause small lateral scratches on your blades.
Ease of Use
Here is what is nice; even if you literally do not know a thing about sharpening knives, the included directions are very clear, precise, and easy to understand.
Safety Features
Granted you are careful yourself, you should be safe with this unit. Due to its rubber feet, it will remain stable on your countertops or tables.
Materials
As great as this is, it is worth noting that the guides themselves are made of plastic. For a model at this price point, this comes as a bit of a surprise.
Compactness
With a 12-inch length and five inches of both width and depth, this is a little larger than other options but is nowhere near immense in size.
Overall
You definitely have your good and your bad here. Of course, the former outweighs the latter so that is always a good thing. Just know, though, that there are some flaws present here.

6

. SUNRISEPRO KNIFE SHARPENER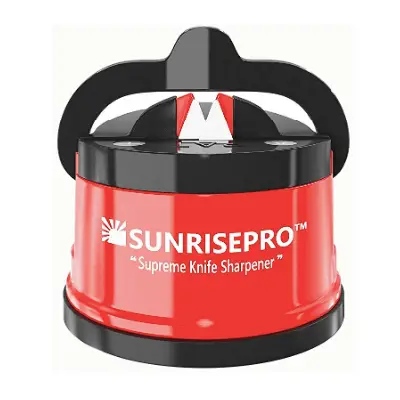 Sometimes, you just need to appreciate a product due to the sheer amount of positive feedback that it has received from its user base. Well, it is safe to say this is the case here but does this model live up to the hype?
Read more
Effectiveness
Even though the angle is not adjustable with this model, it does utilize the power of tungsten carbide technology and this allows it to meet the demanding tasks of sharpening.
Ease of Use
It is almost pushed down your throats how simple this is and, for the most part, all the claims are accurate. All you really need to do here is make three swipes with the blade you need to be sharpened.
Safety Features
All sorts of features are implemented here and all of them enhance the safety of this unit. You have the non-slip suction base for stability, ergonomic safety handle for enhanced control and top side suction pad that provided additional stability.
Materials
As opposed to hardened steel, this right here utilizes tungsten carbide, which is a natural Earth element that is going to last much longer.
Compactness
Okay, so this is really, really small. It may even be too small if you have larger hands. Of course, on the flipside, storing this will be as easy as it will ever get.
Overall
That last point could be the game changer here. Even though this is very stable, it is also incredibly small and is simply not going to be optimal for all of you.

7

. PRESTO ELECTRIC SHARPENER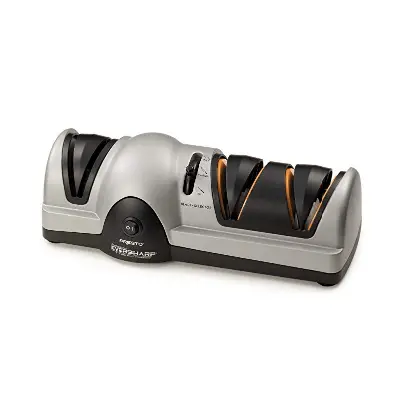 In addition to the fact that this is another electric model, it sports interchangeable guides and these allow for the most optimal sharpening angles possible. Of course, the main housing here is made of plastic.
Read more
Effectiveness
All the different adjustments can account for thick, medium, standard, and light blades, which is really nice.
Ease of Use
Thanks to the integrated blade guides, all the guesswork has been taking out. These same guides will hold the knives at the perfect angles so you do not have to worry about it.
Safety Features
No, this is not an unsafe design but the guards that adjust the angle can be pushed out of the way too easily. So, just be aware of this "issue".
Materials
The good news is it is not as if you will be roughhousing with this unit. So, though it sports a plastic housing, it should be fine. Then again, if dropped from a noticeable height onto tile or wood flooring, it may not survive.
Compactness
When compared to the other options on this list, this is definitely one of the bigger units. It certainly is still pretty compact but you will need some room for it.
Overall
In many consumers' eyes, this will be a great option thanks to its electric operation and adjustable blade selector. Of course, the external housing could have been made of superior materials.

8

. CHEF'S CHOICE MANUAL MODEL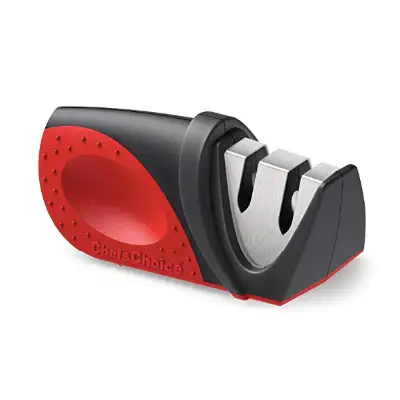 For the price of admission here, there is very little to complain about. Now, this is not merely present on this list just due to its cheap price as it is also extremely easy to use and pretty effective.
Read more
Effectiveness
All in all, this is a two-stage design that both sharpens and hones blades. Overall, it performs as advertised and that is all you really can ask for.
Ease of Use
This is about as easy as it is going to get, yet again. Chef's Choice definitely optimized their sharpener to be as user-friendly and simple as possible.
Safety Features
The end of this unit is designed with a convenient soft touch handle that can be used with both hands. It also features indents that allow for superior comfort.
Materials
With ceramic and tungsten carbide sharpening elements, the lower price of this is not indicative of the quality of the materials used.
Compactness
One reviewer described this as being "comically tiny" and at the end of the day, it can be seen as such. Looking at the glass half-full, finding a location for it will be pathetically easy.
Overall
Arguably the most appealing and compelling feature of this design is its simplicity. It may look like a child's toy but it certainly is effective at what it does.

9

. CHEF'S CHOICE 100-WATT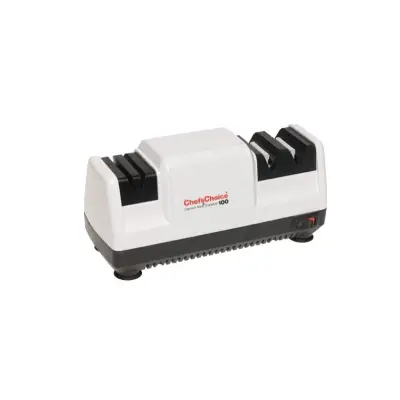 Back-to-back models from Chef's Choice here except the difference with this one is it is electric. And, although it does not handle smaller knives all that well, it does pretty well with larger ones.
Read more
Effectiveness
Looking past the fact that this electric model handles larger blades better than smaller ones, it is another design that integrates a three-stage sharpening system.
Ease of Use
It is actually advertised that this is incredibly simple to use. Yet, some previous buyers have noted that it can take a bit of time to get accustomed to using this bad boy.
Safety Features
First off, this does sport rubber feet that prevent it from slipping. Additionally, there is a location in the middle where you can safely place one of your hands if you need to.
Materials
The honing and the sharpening slots use 100 percent diamond abrasives for hardness and as was mentioned earlier, diamond is an ideal material for such.
Compactness
At under a foot in length (nine inches) and less than four inches in depth, this is very compact and easy to both store and travel with.
Overall
The combination of the electric operation and the magnetic guides, this is one of the most convenient options on the entire market. Just give it a minute and you should have the basics down.

10

. WUSTHOF SHARPENING TOOL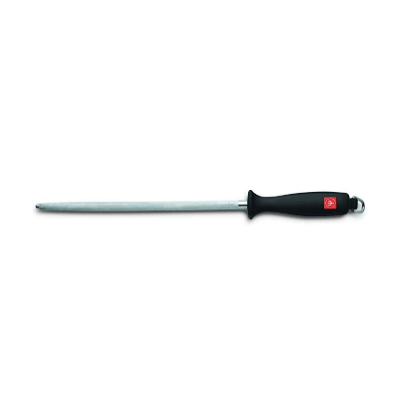 Out of all the options on this list, this one probably requires the most effort. This is simply because it is merely a sharpening steel rod that is connected to a rubber grip handle.
Read more
Effectiveness
The steel that is present here is going to refine your knives but it is probably not going to save super dull blades.
Ease of Use
This is not an automatic option but the square handle that is integrated does make it easier to hold. You will want to know how to operate this type of tool, though, so you may want to reference online videos.
Safety Features
The same handle that was just mentioned is also slip-resistant for enhanced grip and safety. However, the rubber utilized is not exactly top-end.
Materials
Looking past the mediocre rubber, the entire rod here is made of magnetic steel and is going to attract metal fibers.
Compactness
In addition to the fact that this can actually fit inside most knife blocks, it also features a hanging loop on the end.
Overall
For a lot of you, this right here will simply not be worth the effort. Much like an old-fashioned sharpening stone, this will require a fair amount of skill.

Subscribe to our Newsletter