Best Knife Sharpeners
last updated:
Feb 07, 2020
Did you know that a sharp knife is actually safer than a dull knife? While this guide is not being presented to you to go in depth about this factoid, it really sets up why you are here today. You see, even the best knives are going to dull over time and the more you use them, the quicker this will happen. And, when they get to the point where they can't efficiently and effectively cut food items, they become potential safety hazards as you exert more force to try to get the job done (which oftentimes means you lose the control you have over them). Now, there are several different tools that can be used to sharpen them but this guide is going to put an emphasis on both manual and electric knife sharpeners. So, if you are ready for the ride, let's get started.
In a Hurry? The test winner after 2.5 hrs of research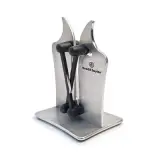 BROD & TAYLOR
Why is it better?
Sports nearly two pounds of stainless steel
Built with precision tungsten carbide sharpeners
It is very compact in size
In a
Hurry? Editors choice: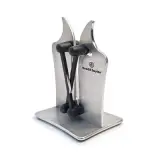 Test Winner: BROD & TAYLOR

4
Researched Sources
28
Reviews Considered
2.5
Hours Researching
18
Products Evaluated
Effectiveness
Ease of Use
Features
Materials
Size
By Default
OUR TOP PICKS FOR THE BEST KNIFE SHARPENERS
Criteria Used for Evaluation


Effectiveness
Seriously, what good would one of these do if it could not sharpen your knives?
The entire purpose of this tool is to sharpen your knives, right? Well, would it not then make sense that you need to prioritize how effectively any given mode does just that? This is really not rocket science and when it comes down to assessing this, you really need to pay attention to the materials. Do note, this is alluding to the materials that will actually be used to perform the sharpening (not the housing). In the world of knife sharpeners, there are four that stick out. The two most effective are carbide and diamond flecks. Both materials are commonly used as abrasives for this type of a tool but many people actually believe that diamond is the superior of the two. While this is not set in stone, diamond does seem to create less friction which can lead to softer and more precise sharpening.
The other two are actually steel and ceramic but these two materials are better suited for honing. Essentially, the process of honing is merely cleaning up the edge of a blade and is ideal for blades that are already semi-sharp. Of course, looking past the materials, you also need to be aware that most options out there will be designed to run in two or three different stages. For example, this could start with an abrasive sharpening section, then to a fine one, and then finish with a honing section.


Ease of Use
Look for models that are optimized for simplicity.
The types of knife sharpeners that were displayed in this guide specifically omitted whetstones. And, quite frankly, this right here is the primary reason as manual and electric models will simply be more user-friendly to use. Now, as you also saw on this list, there are honing and sharpening rods that are available. But, for the most part, the two most popular are manual and electric knife sharpeners. Clearly, the primary difference between the two is in their operation. But, is one easier than the other?
To be honest, both types are tailored to be easy to use so this question is not that relevant. After all, manual models will typically use guides to achieve the perfect cutting angles and then all you need to do is slide the blade through in a sweeping motion. The same concept applies to electric models, yet they will be equipped with either sharpening discs or belts. These will then move on their own and will lessen the work for you. Technically, they may be the easier of the two. Oh yeah, and it is also never a bad idea to look out for sellers that include well-written instructions with their models.


Features
Most of the features you need to look for come down to the safety of any one model.
Whenever you are dealing with sharp objects that can penetrate inside your body, you need to be careful. It has probably been drilled into your head since when you were a kid but knives are sharp people, and they can hurt you and hurt you bad. Outside of actually looking for some key features, which will be touched on momentarily, the most important thing for you to remember is to always use precaution when you go to sharpen any type of blade. If you handle it with care then you should be fine.
However, if a knife sharpener is not optimized for safety, in the first place, then accidents can be more prone to happen. This makes it essential to look out for stabilizing features. Most models on the market that are designed to rest on countertops will be equipped with non-slip bases. Either that or they will integrate rubber feet and either way, they need to remain stationary while in use. Along the same line, for models that need to be held, look for ergonomic and non-slip handles.


Materials
For the record, this is in regard to the external materials that are utilized.
You may be wondering why this is a section when the materials were already covered in depth earlier. Well, as was mentioned before, the first section was used to talk about the materials that actually perform the sharpening or honing but this is in reference to the external materials. In other words, the external housings are what we want to focus on here. This is more than just a durability check, also, as certain materials naturally look better than others.
In the world of any type of kitchen appliance or tool, two of the most common materials you will see are plastic and stainless steel. Not too many of you are going to disagree that stainless steel is usually going to be the preferred choice due to its elegance, build quality, and aesthetic appeal. But, if you do happen to go with a model that has a plastic housing, ensure that the plastic is still high in quality (such as ABS plastic).


Size
Ideally, you probably want to save as much counter space as possible.
Why would you want to deal with a knife sharpener that is oversized and bulky? Would you not rather opt for a model that is compact? To follow up on this question, at least to the point of it being still usable? The reason we say that is some models are actually really, really small and will probably be hard to work with if you have larger hands. But, back to the point at hand, most models on the market are going to be optimized for travel and storage so that is a good thing.
This is especially important if you plan to store your new model in your kitchen as compact designs will allow you to do so in a wide range of areas. And, just to make it clear, this means you will want to be looking out for the physical dimensions (height, depth, and width) of any given model.
Expert Interviews & Opinions
Most Important Criteria
(According to our experts opinion)
Experts Opinion
Editors Opinion
Users Opinion
By Default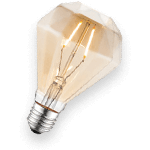 Effectiveness
As simple of a concept that it is, it is literally amazing how much it matters here. Of course, this is referring to the fact that the option you go with needs to be able to effectively sharpen the knives that you have. While this means you will need to look for premium materials, you also need to ensure that your knives will be compatible (most will but if you have serrated blades, this can be a different story).
Ease of Use
Possibly one of the reasons that you constantly put off sharpening your blades is because you are afraid you will ruin them because you do not know how to do it. This may be an issue with regular and traditional whetstones but with these types of models, most of the guesswork will be taken out of the equation. Then again, you also need to conclude if you want the manual or electric operation.
Features
Look, you do not need to be informed that knives can be dangerous tools if they are misused or mishandled. While that would appear to be of no relevance here, it is actually the complete opposite. Even when you go to sharpen the actual blades, things can go awry and accidents can happen. Thus, it is important to look for knife sharpeners that will limit the chances of that happening.
Frequently Asked Questions
q:

Will these repair knives that are extremely dull and damaged?

a:

Answering this question deserves a closer look because it really depends on how you are looking at it. For example, these types of tools could repair badly damaged knives in order to sharp and hone them. However, at the same time, they are probably not going to remove any deep nicks and gouges that are present. Then again, it all depends on the type of model that you invest in and its particular effectiveness.
q:

How do knives become dull anyway?

a:

It was actually mentioned earlier that all knives are going to dull as they are used but you may actually be wondering why it happens. After all, they do not simply magically just lose their ability to be cut. Instead, what happens is the edge of any blade that is used to cut or chop is going to bend and fold away. Then, what happens is these areas will simply break off and then you are left with a dull edge. The key then becomes to hone the blade to avoid them falling off, in the first place. Of course, if they do, then the blade will need to be sharpened.
q:

What is the best way to clean knife sharpeners?

a:

The good news is deep cleaning is probably not going to be necessary. But, casual cleaning will certainly be recommended over time. Of course, doing so is going to differ with the type of model that you have. For most models, though, you should probably stick with a small soft brush to dust off any residue that builds up on the sharpening elements themselves. These will typically not be very easy to reach so you need to get a tool that can. As for the body, you can wipe that with a damp towel and then dry it with a soft cloth.
q:

Will these work as well as sharpening stones?

a:

Well, would you look at that? This is yet another question that is pretty difficult to answer because it really comes down to who is theoretically using a sharpening stone. To elaborate, if a skilled craftsman who has spent years using traditional Japanese water stones is behind the wheel then they will probably achieve a better edge than you would use by using of the tools in this guide. Again, at some point, you just do not need knives to be "that" sharp.
q:

Will these tools damage your knives?

a:

In theory, one of these tools could very well ruin your knives. Want to know what the somewhat ironic part is? Speaking for most, the only way it will is via user error. What does this mean? It is quite simple, really. If you do not follow the instructions and try to sharpen a knife that is not compatible with the specific model you have (say a serrated blade, for example) then you could damage it. Along the same line, you need to let the tool do the work.
q:

Okay, so how often does sharpening need to be done?

a:

To better answer this question, let's assess how frequently you should hone blades. And, the answer to that question is very frequently. In fact, depending on how often you use them, you may even want to do so every day. Ironically, doing so could prevent the need for you to ever sharpen them. But, let's be realistic, most consumers are not going to hone their blades and knives every single day. Subsequently, it would then be recommended to sharpen them when you notice them struggling to perform.
Subscribe to our Newsletter