Best Tools From Leatherman
In a
Hurry? Editors choice: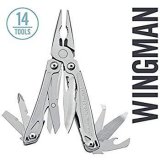 Test Winner: LEATHERMAN WINGMAN MULTI-TOOL

Whether you are camping,
hiking
, working on your house, or even fishing a multi-purpose tool is just what you need to help at any point in time. The idea of combining multiple tools into one easy-to-handle package is great especially when they are so compact and fit practically anywhere. Leatherman is a very durable company that is known for making high-quality multipurpose tools since 1983. The best tools from Leatherman are truly a cut above the rest in regards to practicality, durability, and longevity. They are like a Swiss Army knife but on steroids, as they offer a variety of tools in one, and they are portable in case you need to complete a quick fix on the go. Below we have listed the top ten best Leatherman
tools
in the market today and included details for each product to help you decide which one suits your needs best.
Standout Picks
Criteria Used for Evaluation
Ease of Use
In truth, if a tool is difficult to use, it won't be used. Therefore it's important to look at the factors that dictate how easy it is to use in a given situation. Are the implements in the multi-tools easy to deploy? How hard is it to get to the tool that you need? Is the handle comfortable in the hands? These are all questions that we asked when looking for the ten best tools from Leatherman.
Not surprisingly, the tools on this list had a number of design features, such as having a one-handed operation or the tools being accessible from the outside that increased the ease of use dramatically. While there were still some exceptions for individual tools, for the most part, each one of these multi-tools can be opened and used without too much of a hassle.
Accessories
Every situation demands different things, and having the right tool for the job is extremely important. That's what makes multi-tools so popular in a way. It's nice to have a collection of tools in your hand to use at a moment's notice. However, sometimes having too many tools, or even the wrong tools can be more of a hindrance than anything else.
Thankfully, these tools from Leatherman have some of the most used and practical tools in their arsenal. Items that the avid outdoors enthusiast or even someone working around their home would use. Things such as the hex wrenches included in the Trend Bracelet, or the needle nose pliers that are pretty much standard in the rest of the list.
Size
These tools from Leatherman are designed to be carried on the person and to be handled by the individual.  So it's important to consider their overall size and weight when thinking about making a purchase.  The last thing you want is to have a multi-tool that is useless because of its size.
Durability
Of course, these multi-tools need to be sturdy. The people using them will certainly be putting them through quite a bit. While not every entry on this list is cut out for the most rugged of adventures, for the average user, these tools fit the bill quite well. Not only are the implements made from high-quality stainless steel, but they have protective handles and an overall design that is made to withstand a great deal of abuse.
Subscribe to our Newsletter