Best Tools From Leatherman
last updated:
Feb 05, 2020
Whether you are camping, hiking, working on your house, or even fishing a multi-purpose tool is just what you need to help at any point in time. The idea of combining multiple tools into one easy-to-handle package is great especially when they are so compact and fit practically anywhere. Leatherman is a very durable company that is known for making high-quality multipurpose tools since 1983. The best tools from Leatherman are truly a cut above the rest in regards to practicality, durability, and longevity. They are like a Swiss Army knife but on steroids, as they offer a variety of tools in one, and they are portable in case you need to complete a quick fix on the go. Below we have listed the top ten best Leatherman tools in the market today and included details for each product to help you decide which one suits your needs best.
In a Hurry? The test winner after 19 hrs of research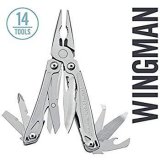 LEATHERMAN WINGMAN MULTI-TOOL
Why is it better?
25-year limited warranty
Compact size and lightweight
It is equipped with 14 tools
In a
Hurry? Editors choice: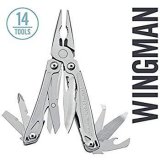 Test Winner: LEATHERMAN WINGMAN MULTI-TOOL

16
Researched Sources
2.1k
Reviews Considered
19
Hours Researching
18
Products Evaluated
Ease of Use
Accessories
Size
Durability
By Default
Criteria Used for Evaluation


Ease of Use
In truth, if a tool is difficult to use, it won't be used. Therefore it's important to look at the factors that dictate how easy it is to use in a given situation. Are the implements in the multi-tools easy to deploy? How hard is it to get to the tool that you need? Is the handle comfortable in the hands? These are all questions that we asked when looking for the ten best tools from Leatherman.
Not surprisingly, the tools on this list had a number of design features, such as having a one-handed operation or the tools being accessible from the outside that increased the ease of use dramatically. While there were still some exceptions for individual tools, for the most part, each one of these multi-tools can be opened and used without too much of a hassle.


Accessories
Every situation demands different things, and having the right tool for the job is extremely important. That's what makes multi-tools so popular in a way. It's nice to have a collection of tools in your hand to use at a moment's notice. However, sometimes having too many tools, or even the wrong tools can be more of a hindrance than anything else.
Thankfully, these tools from Leatherman have some of the most used and practical tools in their arsenal. Items that the avid outdoors enthusiast or even someone working around their home would use. Things such as the hex wrenches included in the Trend Bracelet, or the needle nose pliers that are pretty much standard in the rest of the list.


Size
These tools from Leatherman are designed to be carried on the person and to be handled by the individual.  So it's important to consider their overall size and weight when thinking about making a purchase.  The last thing you want is to have a multi-tool that is useless because of its size.


Durability
Of course, these multi-tools need to be sturdy. The people using them will certainly be putting them through quite a bit. While not every entry on this list is cut out for the most rugged of adventures, for the average user, these tools fit the bill quite well. Not only are the implements made from high-quality stainless steel, but they have protective handles and an overall design that is made to withstand a great deal of abuse.
Expert Interviews & Opinions
Most Important Criteria
(According to our experts opinion)
Experts Opinion
Editors Opinion
Users Opinion
By Default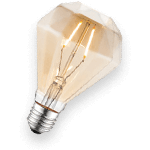 Consider Tool Type & Variety
Remember to keep in mind the variety of tools that you want to be part of your Leatherman, and narrow down the tools from there. Once you have a Leatherman tool in your arsenal, you will know you have a tool you can always rely on. Also as it is an all-in-one product you can easily have all the tools needed on hand at all times.
Guarenteed for life
All of these Leatherman tools have a 25-year limited warranty ensures that your Leatherman will give you many years of dependable service. They will gladly repair or replace it at their discretion with one that is of equal or greater value within the 25-year warranty limit. They also have a 10-year guarantee for Leatherman branded lights.
Other Factors to Consider


Use
It's important to consider your overall lifestyle when thinking about what type of Leatherman tool to buy. There are quite a few options available, and not all of them will be the best fit for your needs. It's best to ask yourself – how will I most likely use this tool? If you see the need to be able to open an oxygen tank, then the Trend Bracelet or the OHT Multi-tool may be good options for you. If however, you really only see using the Leatherman as a set of pliers, or for stripping a few wires, The Sidekick or the Freestyle Models will be more than enough.


Portability
This may sound like a silly thing to consider, but it really is an important factor. Where are you planning on carrying your new Leatherman tool? If it's in your back pocket, you may want to consider something that is a little slimmer, such as the Skeletool CX, or the Freestyle Multi-tool. Both of which can easily fit into the back pocket of your jeans, or even in the pocket of your coat.
If you're comfortable having something attached to your belt or in a bag or purse, a more robust choice like the Surge or the Super Tool 300 would be easy to keep on hand.
Frequently Asked Questions
q:

It seems that almost all of the tools are made of 420 high carbon steel. What is that?

a:

The stainless steel used in these tools is a very specific type of metal that contains specific additives to make it stronger and more resistant to rust. Specifically, 420 High Carbon steel is a version of 420 steel that has a higher percentage of carbon added to it, which in turn provides more strength to the metal by distorting the metallic lattice just a bit, making it harder to break.

The 420 steel that the carbon is added to already had at least 12% chromium added to it. The chromium provides a measure of protection against rust and deterioration, making the steel stainless steel.

So combining 420 stainless steel with the right amount of carbon allows the Leatherman company to create a tool that is not only resistant to corrosion, but also very durable. With proper care and maintenance, the knives of your Leatherman tool should remain sharp, and the tools should remain usable for the foreseeable future.
q:

How should I care for my Leatherman Tool?

a:

While it may seem that your new Leatherman tool will never rust because of the material used to make it, without proper care, it will. Stainless steel isn't rust proof or corrosion proof. It is merely rust and corrosion resistant.

In order to maintain your Leatherman tool correctly, it is important to clean, dry, oil the parts and implements on a regular basis. Also, it's important to sharpen any blades as needed.

How you clean your tool also depends on how it became dirty. If your tool is regularly used in a salty environment, such as a marine one, it's important to rinse it thoroughly with fresh water, dry it, and make sure that all the joints and moving parts are lubricated with an oil such as WD-40. If there is debris or sticky substances, be sure to wash it gently with mild soap and water. And of course, rinse it thoroughly and dry it before re-oiling it.
q:

What should I do if I think my Leatherman Tool is defective?

a:

First, don't try to fix it yourself. Chances are you might do more harm than good, and you could very well void the warranty by doing unnecessary work. The best course of action is to contact the Leatherman company and in good detail describe what the problem is. They can be contacted by phone, email, regular mail, and in some case Internet chat. Once they have been made aware of the problem, they'll either instruct you to send it in for repair and maintenance, or they may instruct you in how to fix the problem yourself. It really all depends on the situation.

The bottom line is that the best thing for you to do in this case is to contact your local Leatherman representative and discuss the options available to you.
q:

Where does the name for the Leatherman Company come from?

a:

Not surprisingly, the Leatherman Company is named after the company's founder Mr. Tim Leatherman. Mr. Leatherman developed the first modern multi-tool in the early 1980s, and he hasn't looked back since.
q:

The more expensive the Leatherman tool, the better, right?

a:

When looking at investing in a Leatherman tool, do not think the more expensive the Leatherman tool the more durable or better quality it will be as that just is not the case. The best thing to do when looking for a durable Leatherman tool to last you years to come is to look at the material and also the reviews to see how the tool has held up for other consumers that have put them to the test. Do not solely be swayed by price as you may end up with an expensive Leatherman tool that will not hold up, make an educated purchase and do the research before buying.
q:

Can I bring a multi-tool on a plane?

a:

When it comes to traveling on a plane especially bringing items on your carry on, any sharp item is not allowed and is prohibited while traveling. As they are considered to be used as a weapon. You are able to pack them in your check-in bag no problem. Multipurpose tools that feature scissors less than 4 inches may be placed in carry-on bags. If you have any other questions you may want to call your airlines to see what they would suggest as well as they may have different policies when it comes to where you are traveling.
Subscribe to our Newsletter