Best Water Shoes for Hiking
In a
Hurry? Editors choice: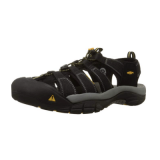 Test Winner: Keen Newport H2

When you are out in the woods, and you are
trekking along
on your hiking adventure, you never know what you might stumble across. There could be small creeks preventing you from moving along or even small
puddles that you accidentally step in
. And, this isn't even the half of it.
So, to wrap this all up, when you decide to go hiking, you may want to tag along with a pair of water shoes for hiking with you. Regular old hiking shoes will be excellent for the most part. But, if they are not built with
efficient drainage systems
and breathability, they can be a detriment before too long.
While not all water shoes will work best for hiking, some will. Of course, this list is focusing on the best water shoes for hiking so if you are ready, let's get started.
Standout Picks
Criteria Used for Evaluation
Fit
It does not matter what type of footwear you buy, it needs to fit, period.
With any footwear, you always need to start your search with this factor. Of course, this is referring to how the footwear fits you. After all, talking about water shoes for hiking in this case, do you want to wear shoes that are too loose or too tight?
Now, a difficulty presents itself when you are ordering online (presuming you are). Because you can't see them physically for yourself, you can't try them on to see if they fit. This makes it utterly crucial to do your research beforehand to know how a particular option is going to fit you. After all, not all options out there will be optimized to fit true-to-size.
Okay, so what research do you need to conduct? Thankfully, Amazon takes care of that for you with some footwear. On their website, they have an extremely convenient section where they poll how a particular option fits consumers.
Depending on how many users have left their remarks, you can often gauge how a particular option will fit your feet with this poll. Do note, though, that not all Amazon products will have this feature. Past this, also, you may want to look for models with quick lacing systems (as you may want to take them off and put them on quickly and easily).
Comfort
Do not expect next level support or cushioning from water shoes. But, they should still be comfortable.
It is obvious to say but it is going to be said regardless, do you really want to buy a pair of water shoes for hiking that is uncomfortable to wear?
Now, there are many different layers here, so to speak, to assess. For starters, you want the pair you buy to be generally comfortable to wear. This means the pair should not be made with abrasive fabrics and painful interior craftsmanship. But, what about their support?
You see, this may or may not have that much importance to you. On the one hand, if you intend to wear your pair extensively then you may want an option with adequate arch support and support around your ankle.
At the same time, however, this may not be as crucial if all you need your pair for is to cross small creeks and such. All in all, either way, these shoes will typically not offer the support you will see in running shoes.
Lastly, let's talk about the footbed (or the insole) and the midsole of the water shoes for hiking. These two components can offer cushioning and shock absorption to any shoe. And, one of the most prominent materials you will see then made out of is EVA. Of course, much like with the support, this type of footwear will generally not be packed with thick midsoles and footbeds.
Traction
You never know what type of terrain you will stumble upon when hiking.
It is actually pretty easy to analyze how much traction a particular pair of water shoes will provide for you when you go hiking.
As with any other type of footwear, the provided traction all comes down to the design of the sole. Otherwise known as the outsole, this is the portion of the shoe that is on the bottom and it makes direct contact with the ground. If it is not optimized to provide you traction then you will not receive any; it really is as simple as that.
But, this begs the question, what makes a good sole? Well, to start, it probably is going to (and should be) be made of rubber.
In addition to this, it should be designed with some sort of pattern (one that implements lugs is typically good to go with) to optimize its traction. At the same time, the sole does not need to be so rugged and heavy that it makes the shoe uncomfortable to wear and walk in.
As far as a good example of a type of sole to look out for, how about Vibram soles? Though not all models will implement these types of soles, they offer superb traction when you walk on slippery rocks and slimy terrain.
Durability
Are you buying a pair to last or do you just want them to last a few months?
Depending on the price you pay for certain footwear, you generally do not want to buy replacements every year or every two years (and so on and so forth). We say "depending on the price" as if you pay $20 to $30 on a pair, you may not be expecting them to last very long.
Now, this is not insinuating that the price is the biggest factor here because it is not. But, on the flipside, if you pay $100 for shoes you expect them to last. The question is, how do you know if they will? Well, for starters, you need to know that any type of footwear can break down in several areas.
Each section that comprises them (the uppers, midsoles, insoles, soles, etc.) needs to be made with high-quality materials and craftsmanship. In addition, the fabric, stitching, and general construction should be able to withstand general wear and tear.
Of course, it is inevitable that any pair of water shoes for hiking you buy will end up ripping and tearing eventually. However, you would ideally like that to be avoided as long as possible. As with the fitting, it is always a good idea to take some time to see what other buyers have had to say about the durability and longevity of any given option on the market.
Breathability
In addition to their drainage systems, these should also be breathable in general.
Oftentimes, you will see the term "breathability" linked to other terms such as "waterproof" and "water resistance".
It makes sense because fabrics and garments that are soaked in water or moisture will be less breathable than those that are not. And, most water shoes on the market will offer above-average breathability.
So, this must mean that they are waterproof, right? Wrong, as they are the farthest thing from it. In reality, they allow water to enter inside which means your feet will become soaked. Where their design comes into play, however, is their drainage system. You see, unlike other footwear, they will be engineered with drainage holes to allow the water to escape rather quickly.
But, they will still be drenched from the water and this means that they must be designed with quick-drying materials. If they are not, you will be left with wet feet and shoes and who on earth wants that? And, to bring this section to a close, you may also want to look for options that implement mesh uppers. Mesh itself is a material that allows air to pass through it. You can see why such material is ideal for designing breathable products.
Our top picks for the Best Water Shoes for Hiking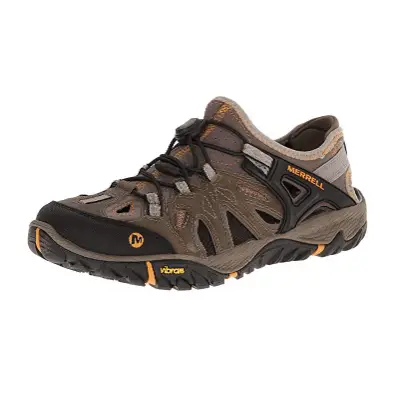 In addition to a whole bunch of other features, one of the aspects that take these over the top of the list of water shoes for hiking is their Vibram soles. With this small addition, these offer fantastic and reliable traction on a variety of terrains.
Read more
Fitting
The majority of previous buyers agree that these run true-to-size. Also, the bungee lacing system that is implemented into each shoe allows for quick and easy adjustments.
Comfort
Overall, these are comfortable due to the UniFly midsoles. However, there is very little arch support provided and virtually no padding.
Traction
As alluded to, these are designed with Vibram outsoles. If you are unfamiliar with Vibram outsoles, they deliver unparalleled traction and grip on a wide variety of surfaces.
Durability
Let's just say that these are not cheaply made and the waterproof leather and Lycra neoprene uppers are proof enough of that.
Breathability
When water does get inside of these, it is going to run right out due to the design of them. Also, antimicrobial treatment has been applied to each shoe.
Overall
Even though these may not be optimized for running on hiking trails, they are extremely well-designed for general trekking and water encounters.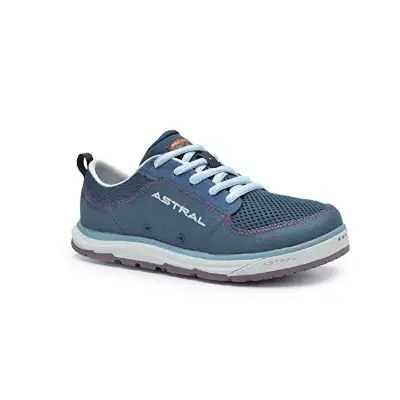 Even though this pair of sneakers does not offer much arch support, they are water ready and are also designed with vegan materials. For those who it concerns, no animal parts were utilized.
Read more
Fitting
Okay, so these can run small. Yet, one of the best features of them is the fact that they have been optimized with wider toe boxes. These will offer more breathing room for your toes.
Comfort
As mentioned, these offer little to no arch support. On the plus side, though, they are extremely lightweight (you may not even notice they are on) and comfortable to wear.
Traction
Due to the fact that high-performance rubber outsoles have been integrated, these are able to deliver a sticky grip on virtually all surfaces. The divided lugs also help with this, additionally.
Durability
While there was one buyer who experienced longevity issues after a few months, these do sport low durometer construction. Essentially, this type of construction conforms to the ground and this can result in improved abrasion resistance.
Breathability
With the mesh materials and drainage holes that are implemented in both the front and back, let's just say breathability is not an issue with these.
Overall
Yeah, there is a lot to love about these water shoes. For some, what puts them over the top, though, is the fact that these are vegan-friendly. That is just the icing on the cake.

3

. Columbia Drainmaker IV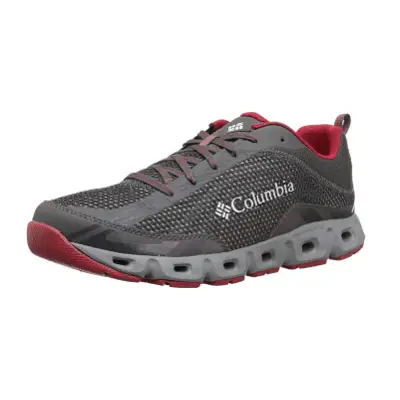 Something that you can overlook is how infrequently footwear will actually fit you true-to-size. And, what stands out with the Drainmaker IVs is the fact that they do.
Read more
Fitting
In addition to the fact that dozens of previous buyers have raved about how these have fit how they were expecting, they also sport shoelaces that help achieve optimized fits.
Comfort
Though Techlite midsoles are implemented into each shoe, one buyer went as far as to say that neither one of them had any noticeable cushioning (or arch support, for that matter).
Traction
The Omni-Grip does wonders to improve the provided traction of this footwear. No matter if you are on wet, dry, or icy surfaces, the grip can be achieved.
Durability
Being designed of rubber outsoles and synthetic uppers, these are not cheaply engineered and it does show when you use them for your hiking adventures.
Breathability
Thanks to the drainage ports that are included, these will not hold in water. At the same time, though, these holes do allow small rocks and debris to get inside. Oh yeah, and the mesh material also enhances the overall breathability.
Overall
These are designed by Columbia so it should not be too much of a surprise to how good they are. Now, with that said, they are great but not flawless.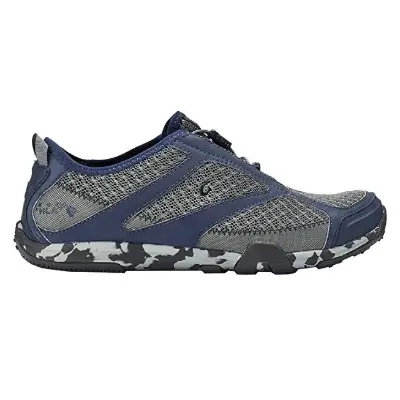 In virtually every single area, this footwear is off the charts of water shoes for hiking. However, they do tend to run small and narrow so it may be in your best interest to order a size or two up.
Read more
Fitting
Indeed, these run small and you need to account for it. Some users have recommended ordering a half-size larger than you normally would but, quite honestly, you may need to go with a full size.
Comfort
With each of the dual-density EVA footbeds in play, each foot is provided with decent support and cushioning. Also, each shoe has been designed with a synthetic exoskeleton for enhanced support.
Traction
In addition to the fact that these sport rubber outsoles for improved traction, these same outsoles are also engineered with a rounded traction pattern.
Durability
Overall, these are well built and it certainly shows. One of the primary reasons why is they feature ballistic nylon, which is known for its incredible strength and durability.
Breathability
The combination of lightweight and quick-drying materials does wonders for these shoes. Oh, and the open mesh and drainage holes also help enhance the breathability.
Overall
While it is rather unfortunate that these were engineered to not fit true-to-size (for the most part), they are brilliant water shoes. And, you can adjust to the fit a little bit (by buying a different size).



For all-day hiking, you may not want to wear these the entire time. While they work great as water shoes for hiking, they are not quite optimized for such heavy-duty use.
Read more
Fitting
What some of you will adore about this lightweight footwear is the fact that the laces are elastic. As such, they do not need to be tied and can be slipped on much more comfortable.
Comfort
Do not get it twisted; these are lightweight shoes that are very comfortable to wear. However, the soles will allow some small pebbles and rocks to enter inside, which can be annoying.
Traction
Due to the Water Grip outsoles of each shoe, you are less likely to fall and slip on wet terrains than you would with ordinary footwear.
Durability
If nothing else, you can take comfort in knowing that these are exceptionally crafted. They are not going to break down in a few weeks from regular use, let's say that.
Breathability
With the open mesh that has been integrated on the uppers and the drainage holes in the soles, you will never need to worry about water being trapped inside these shoes.
Overall
The ironic aspect about this option is the drainage holes are both good and bad. They perform what they were set out to do but can make it more uncomfortable to walk on rocky terrain.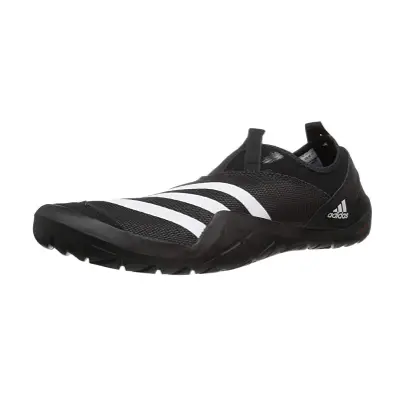 As water shoes, these are utterly superb as they are designed with a fantastic drainage system and optimal breathability. However, they do not offer much padding, admittedly.
Read more
Fitting
Even though these are designed to be true-to-size, previous buyers have complained about their tightness. As such, you may or may not want to order a size up (if available).
Comfort
As with most models out there, do not expect a superb amount of cushioning and support with these shoes. But, the EVA footbeds do at least provide a suitable amount of comfort.
Traction
The outsoles that have been engineered here are optimized for the water. After all, they utilize premium rubber that provides a significant level of traction.
Durability
Do note that there was one user who commented on the lack of durability with these. They claimed that there were some quality control issues in regard to the sewing.
Breathability
In addition to the breathable uppers, the Adidas Drainage System has been implemented into each shoe. This combination provides excellent breathability overall.
Overall
Where these truly excel is in their provided traction and breathability. And, the provided comfort is not exactly non-existent, either, so that helps.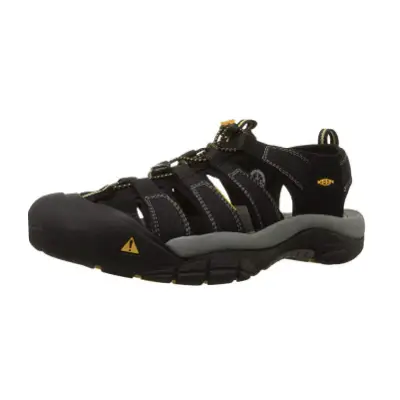 In spite of what you may think, yes, sandals can also work great for hiking but not all of them will, clearly. The Newport H2 Sandals from Keen, however, are a bit special and unique.
Read more
Fitting
It is claimed by the seller that these run a ½ size small. But, what is nice is they are equipped with metatomical footbeds which actually conform to the shape of your feet.
Comfort
The same metatomical footbeds do enhance comfort, as well. However, in general, the soles of these sandals are not very forgiving (in regard to their flexibility).
Traction
Each of the rubber outsoles is brilliantly designed as they combine multi-directional lug patterns with razor siping. This combination provides superb traction on both dry and wet terrain.
Durability
Unfortunately, a common issue has persisted with previous buyers here. Many have claimed that the stitching comes apart right at the ankle area over time.
Breathability
As these are sandals, there are various openings that allow your feet to breathe. However, they are also designed with breathable mesh linings.
Overall
It is a shame that so many previous consumers have had longevity issues with these sandals as they really are tremendous. But, while they last, they are just phenomenal.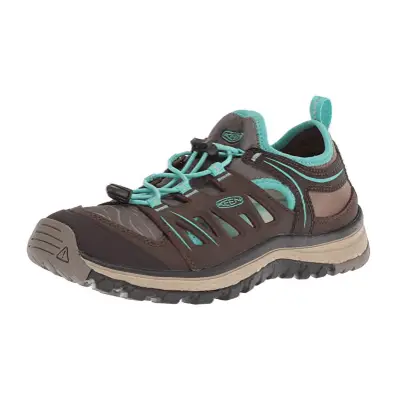 For those of you who are fans of 100 percent leather footwear, you may be appealed to this next option. While not flawless, the Terradoras are certainly well-designed and practical.
Read more
Fitting
For the women's version, specifically, various buyers have noted that they can run small. Additionally, they seem to be tight in the toe box areas, so keep that in mind.
Comfort
The good news is each shoe comes with a metatomical EVA footbed. The bad news, though, is neither one offers much when it comes to supporting.
Traction
With the non-marking rubber outsoles, you will be provided with suitable traction when you need to walk on wet or somewhat slick surfaces.
Durability
For the record, these are made up of 100 percent leather. However, one buyer reported that they only were able to wear these a little over a dozen times before the shoelaces came unsewn.
Breathability
In addition to the ventilation holes that have been integrated into each shoe, each one has also been equipped with breathable leather lining. Both of these features drastically enhance breathability.
Overall
While not perfect, it is difficult to say that these are not compelling. And, at the end of the day, have you ever seen a consumer product that was not flawed in some respect?

9

. Salomon Techamphibian 3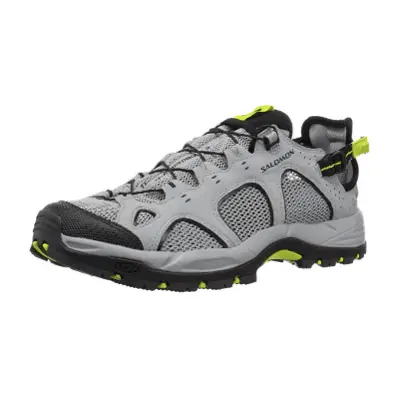 You may be looking at the brand name of this option and scratching your head. But, as the company points out, the name of this option (Techamphibian 3) actually sums up the shoe pretty well.
Read more
Fitting
For starters, this footwear runs small and narrow. Now, to address the good news, the Salomon quick lacing system has been raved about by several former buyers and users.
Comfort
This one is a bit rough, literally. To echo the comments of so many other reviewers, these are simply not that comfortable. It is a bit unfortunate and if you intend to wear your water shoes all day, you may want to look for other options.
Traction
In spite of the lackluster comfort, you will be provided with suitable traction from this footwear. This is thanks to the Contragrip outsoles that have been engineered.
Durability
Also, on a positive note, these are constructed really well and not too many consumers out there will disagree. You do get your money's worth in this respect, at least.
Breathability
The Techamphibian 3s are much like other models in that they sport mesh uppers that dry very quickly.
Overall
"Techamphibian 3" is indeed an appropriate name as these really are both technical trail and water shoes. But, you really just need to accept their lackluster comfort if you want to try them out.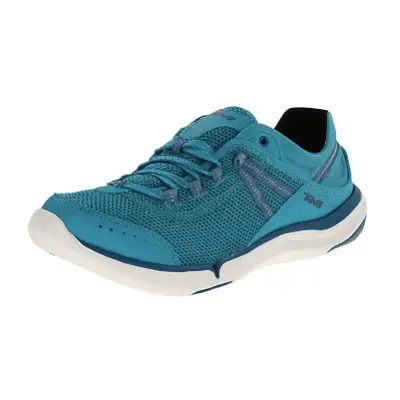 There is a lot to love about the Teva Evos. But, then again, many consumers will also say there are things to loathe about them. You just have to take the bad with the good here, it seems.
Read more
Fitting
It seems that the sizing is just generally inconsistent here with the Teva Evos. As one buyer reported, they ordered the same size for three different styles and all of them were different.
Comfort
The new heels that are present on these have a strange feeling to them. However, the molded IMEVA midsoles are a bright spot and provide suitable shock absorption and support.
Traction
Even though the non-marking spider rubber outsoles are not perfect, they will improve your traction on wet terrain (though they are still somewhat slippery).
Durability
Overall, these are built well but there was one consumer who felt otherwise. According to their review, these ended up developing holes within a few months.
Breathability
Thanks to the synthetic and mesh uppers of the Teva Evos, they allow your feet to breathe fairly well.
Overall
Perhaps if the sizing was a bit more consistent the Teva Evos would have ascended even higher on this list. As is, though, extra research will be needed to achieve the right size for you.

Subscribe to our Newsletter