Best Plantar Fasciitis Night Splints
In a Hurry? Editors choice: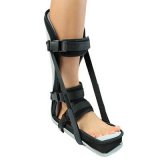 Test Winner: Vive Night

Anybody who is required to stand on their feet for excessive amounts of time is no doubt aware that
plantar fasciitis
is one of the worst ailments to have. It is a common cause of heel pain and it feels as if your heel and the arch of your foot are aching. Simply put, having plantar fasciitis is not on anyone's bucket list. The pain at night can be even more excruciating with how hard it can be to sleep or get comfortable. There is hope, however, and while there are other remedies for this ailment, one of the best is using night
splints
. We present to you the top ten best plantar fasciitis night splints in the market today with detailed review criteria for each product to help you decide which one suits your medical needs best. The specific versions highlighted in this guide are aimed to relieve pain caused by
plantar
fasciitis.
Standout Picks
Criteria Used for Evaluation
Comfort
The entire purpose of a plantar fasciitis night splint is to stretch your plantar fascia ligament while you are sleeping. To do so, the brace needs to attach to your foot, ankle, and lower leg. However, this does mean that you need to sleep with it to achieve your desired results (which would be to alleviate your pain and recover from the ailment). Because of this, you clearly do not want the night splint to be unbearably uncomfortable. Not getting a good night's sleep, as everyone knows, makes the following day much worse. In order to ensure that a night splint is comfortable, there are a few design features that you can look out for.
For example, you want an optimal amount of padding and cushioning throughout. Clearly, if your shin and foot are resting on hard plastic, that will not be a pleasant night of sleep. As such, padding also needs to be integrated between the straps and your foot. Even if the interior is properly padded, not having enough cushioning here can add unnecessary discomfort.
Breathability
On top of being comfortable, you also do not want to sleep with a foot that is drenched with sweat. Even if you sleep with your foot and the brace exposed, if it is not designed to be breathable then the experience will be worse regardless. The question is what makes a night splint breathable? Even though some of them are cumbersome and bulky, they still remain breathable. Two ideal ways they achieve this is by utilizing a breathable foam liner and possessing several openings throughout.
The latter is quite obvious as heat is going to build up and if there are no means for it to escape, it will cause your foot to sweat at a much more alarming rate. Yet, the liner is also important. With your foot resting on a liner that is designed to be breathable, it will not feel as clammy during the night. Of course, if you ever experience issues with breathability then there are a few things you can do. For one, direct a floor fan to hit your foot to provide it with some airflow. Or, if it is cold enough, crack open your window to cool the room down (or turn on an air conditioner in the summer).
Fit
When it comes down to it, there are two major factors that affect whether or not a night splint is going to properly fit your foot. One is the size options that are offered by the manufacturer. Typically, they will come in normal sizes such as small, medium, and large and account for both men and women. Each size will adapt to a certain range of foot sizes and to ensure you get the right size, you can always reference the manufacturer's sizing chart.
But, the adjustable straps are also vitally important. Not only how many there are but where they are placed. Some will have three straps, often located near the shin and ankle, and this allows you further customization. Finding the right amount of tension is key to alleviating the pain caused by plantar fasciitis; which is why the sizing and fitting are so critical.
Size
A very important decision that you need to make beforehand has actually not been addressed in-depth yet. The reason for this is it fits perfectly with this section in regards to the bulkiness of night splints. There are two main design types and the vast difference of bulkiness between them is apparent. These include dorsal night splints and a boot splint (sometimes referred to as a posterior splint). Unfortunately, one of the biggest downsides to boot night splints is their cumbersome nature. No matter the design, it will take time for you to adjust to sleeping with a massive boot brace on. For some, it will never work. But, this is where dorsal braces come into play as they are not nearly as clunky as boot braces. As such, many people will prefer this design as it aids in an easier sleep. Yet, they tend to not offer as much stretch as boot splints; which is a notable downside.
Top 10 Picks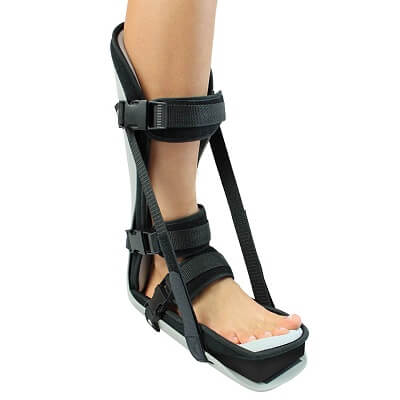 This is the first of the two night splints from Vive that will make an appearance on this list. While this design can be tedious when you are adjusting the straps, it is built-to-last and equipped with a breathable foam lining.
Read more
Comfortability
Inside of this night splint, there is not only a soft lining that manages to prevent abrasions, blisters, and any skin irritation, but also comfortable padding throughout to minimize discomfort.
Breathability
The foam lining in the interior is what creates a breathable core. The fact that it is light in nature helps but at the end of the day, your feet will generate less heat because of the liner.
Fitting
There are three adjustable straps that are integrated into each-sized night splint (with options for small, medium and large). On top of this, each individual strap has a buckle which eliminates the need to adjust them every night.
Versatility
The dual-tension straps add enough versatility on their own but once you account for the two padded stretch wedges, it is enhanced further. In addition, this can fit on either your right or left foot.
Weight and Bulkiness
To be honest, the weight and bulkiness are what you would expect from a boot night splint. It is going to take some time to get accustomed to sleeping with this apparatus on your foot.
Overall
There may not be another plantar fasciitis remedy in the world that is better than this. Sure, it can take some time to adapt to it but the reality is this will be an issue for nearly all night splints.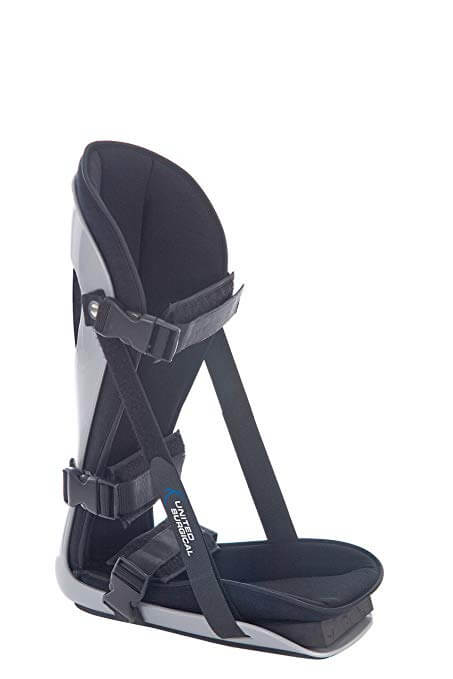 Despite the issues with breathability, this design is nearly flawless. No one will be excited to be diagnosed with plantar fasciitis but if you are, the adjustability and comfort that this provides will make you dread it less.
Read more
Comfortability
All the straps are padded to provide comfort on top of your shin and ankle. Additionally, they are positioned in a way that keeps your foot comfortable during recovery.
Breathability
A few users have commented and claimed that the breathability of this night splint is subpar. One reviewer specifically reported that all circulation was being cut off and that they consistently woke up in the middle of the night.
Fitting
While the breathability is a disappointment, the fitting is far from it. Not only are there four different sizes (from small to extra-large) and flexion straps but the boot adjusts from 10 degrees to 90 degrees.
Versatility
Coming with this product is a removable wedge and when you are looking to increase the stretch of your foot, you can leave the wedge inside. Or, simply take it out if it is unneeded.
Weight and Bulkiness
At less than one pound in total weight, it is a normal-sized boot. Still, it is designed with as many lightweight materials as possible to try to reduce the overall bulkiness.
Overall
A logical way to fix the lone issue with this boot is to direct a fan on the night splint while you are sleeping. Unless you can't sleep with any noise, this will enhance the breathability and complete the experience.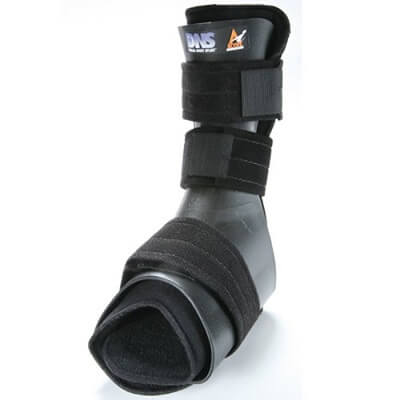 Unlike most of the other night splints on this list, this is a dorsal. Because of this, it is naturally less bulky than boot versions and has soft padding for comfort. This combination is ideal for a good night's rest with this dorsal on your foot.
Read more
Comfortability
The reduction of weight that a dorsal night splint possesses enhances the comfort by itself. Yet, the interior padding is what really creates the comfortable core that is present here.
Breathability
As compared to a traditional walking boot, this generates far less heat. When you are sleeping on hot summer nights, you will surely appreciate the lack of heat retention.
Fitting
No matter if you have narrow or wide feet; this splint will easily adjust both under your foot and around your ankle. In addition to this, there are size options for small and large and three adjustable Velcro straps for a customized fit.
Versatility
Even though this is a night splint, the integrated anti-slip pad allows you to wear it around your house with ease. This can also come in handy when you need to go to the bathroom in the middle of the night.
Weight and Bulkiness
Indeed, this is not a walking boot and does not encapsulate your entire foot. Because of this, it is much easier to sleep with and less cumbersome as a whole.
Overall
As great as this design is, it would be ideal if it held your foot at a 90-degree angle to provide you with proper dorsal flexion. Outside of this, though, the unparalleled combination of comfort and breathability can't be ignored.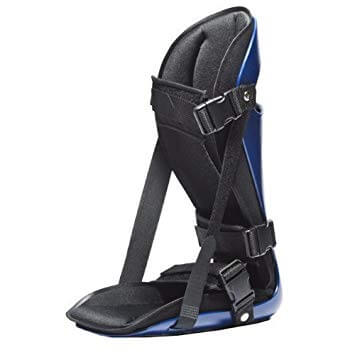 Despite the slight sizing issues that some users have had, from top to bottom, Bird and Cronin has designed quite the impressive night splint. And, even if you have other ailments such as Achilles tendonitis, this can be of use to you.
Read more
Comfortability
Thanks to the patented form fit 3-dimensional molded technology throughout, padding has been placed in strategic locations to enhance the overall comfort and the fit.
Breathability
To eliminate as much heat as possible when you are sleeping, this boot has been designed with a Lycra lined foam interior. Besides this being comfortable, the lining is also highly breathable.
Fitting
There are three individual foam padded straps that can all be adjusted to deliver a truly customized fit. One is located near your shin and the other two are at the base of your foot. Yet, a few users have complained that the sizing was insufficient.
Versatility
No matter which foot you need this splint for, its design allows it to be adaptable to either the right or left foot. In addition to this, a removable foam wedge is included that can add five degrees of stretch.
Weight and Bulkiness
Overall, this is as lightweight as it could have possibly been. Again, there will be an adjustment period for you when you begin sleeping with this boot on your foot.
Overall
Unfortunately, for some users, the medium size was too big and the small size was too narrow. Clearly, this will not be an issue for everyone but it is worth noting. Still, the actual night splint itself is fantastic.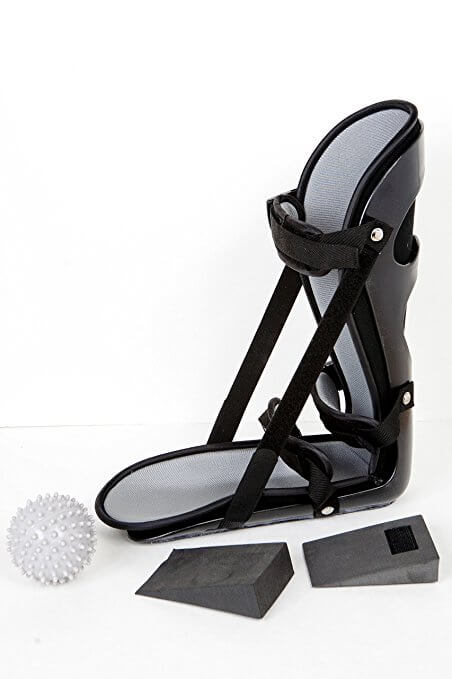 Much like many "boot" night splints, it can take some time to get used this remedy when you are sleeping. However, you can take comfort in knowing the inner lining is breathable and that the straps feature foam padding with soft comfortable latex padding.
Read more
Comfortability
The interior has enough cushioning to provide an optimal amount of comfort but the adjustable straps also feature foam padding for enhanced comfort.
Breathability
There are many different size options including small, medium and large to help a breathable boot.
Fitting
This night splint is offered in three different sizes and if you reference the manufacturer's sizing chart, you will be able to find the appropriate size for you. Additionally, there are multiple flexion adjustable straps.
Versatility
While there is a free foam flexion wedge included that can enhance the amount of stretching your foot can achieve, a few users have complained that it is useless because their heels lift up when the straps are tightened.
Weight and Bulkiness
Various reviewers have reported that while this boot is a bit on the bulky side, it does perform sufficiently. But, this probably should not surprise you at this point, right?
Overall
It is not as if you will not know this is on your foot but it does accomplish what it was set out to do. Yet, the customized fit and comfort that are delivered do somewhat cancel out the bulkiness.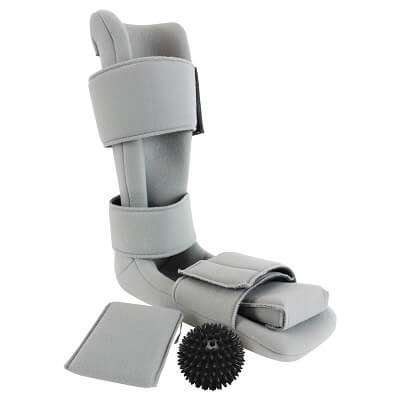 Vive has developed more than one night splint and while this is another boot version, it is completely different than their previous model on this list. As can be seen from the photos, it integrates more cushioning than you could ever fathom.
Read more
Comfortability
Indeed, there is cushioning everywhere on this boot. The rigid shell is padded with ultra-soft cushioning and the entirety of the boot is designed with soft foam.
Breathability
It is easy to assume that a lot of heat will be generated due to the excessive amount of foam padding. Yet, because the foam is breathable throughout, this actually is not much of a concern.
Fitting
All of the three adjustable straps are made of a strong fastener material and this prevents your foot from sliding or twisting while inside. Plus, there are four different sizing options to accommodate a wide range of feet sizes.
Versatility
Conveniently, you can customize how much stretch is achieved with the removable foam wedges. Even more so, this night splint is compatible with both your left and right foot.
Weight and Bulkiness
Notwithstanding all the padding, this is still a somewhat bulky design. In fact, one user questioned the length of the foot portion; claiming it added two to three inches of unnecessary length.
Overall
There is certainly a lot to like with this design. Due to the surreal amount of padding and cushioning, you can bet your bottom dollar that comfortability is not an issue. However, a few users have experienced durability concerns with the Velcro.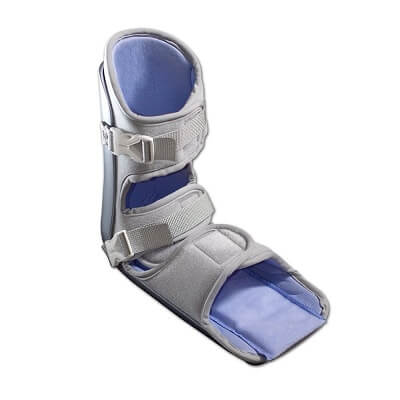 Among all the night splints on this list, perhaps none provide more comfort than the Nice Stretch 90. Top this off with the integration of a gel pack to reduce the overall clamminess and you know that you have a worthwhile night splint.
Read more
Comfortability
If a specific reviewer who has personally tested multiple night splints is any indication, this is one of the most comfortable versions on the market.
Breathability
The integration of the aforementioned gel pack does wonders for the breathability of this boot. Because of this, the heat that is generated from the boot is controlled and maintained better.
Fitting
Finding the right size for you should not prove to be a daunting task as it comes in a variety of them. Plus, there are multiple adjustable Velcro straps to tailor the fit to your needs.
Versatility
Even though it is not the main design purpose of this boot, when you need to, because of the non-skid treads you can easily walk around with it on. In the instance when nature calls in the middle of the night, this can prove beneficial.
Weight and Bulkiness
As compared to the average boot night splint, this low-profile design is not nearly as bulky. While there still might be an adjustment period for you, this is a welcome sight.
Overall
From the looks of it, it would appear this night splint is too low on this list. The problem is a few users have experienced the padding wear down within a few months of use. This possible concern of the longevity justifies its position.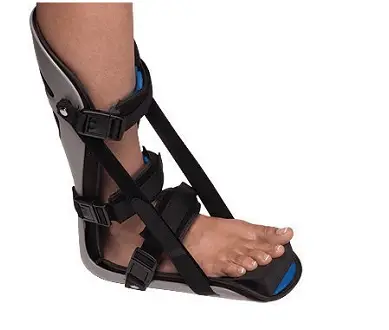 At this point, boot night splints are becoming cliché. Most of what this version has to offer you have previously seen with the night splints on this list; but, hey, is that really such a bad thing?
Read more
Comfortability
Between the straps and the foot, there is an optimal amount of padding for your foot. As a whole, this design positions your foot in a way to achieve a gentle stretch for your Achilles tendon and plantar fascia.
Breathability
Whether you choose to wear socks or not, the soft foam interior allows your foot to breathe while inside and the amount of heat buildup is minimized as much as possible.
Fitting
Once again, there are three individual padded straps that can all be adjusted to perfectly tailor the fit to your liking. In terms of sizes, there are options for small, medium, and large.
Versatility
What is nice about this design is it is unilateral. This means that you do not need to concern yourself with which foot is suffering from plantar fasciitis as it will adapt to either foot.
Weight and Bulkiness
The weight is as limited as it can possibly be but due to the shape and profile of the boot, it can be cumbersome to sleep with.
Overall
While this design does not do much to separate itself from the rest of the pack, it utilizes a lot of the same features that make boot splints useful for plantar fasciitis.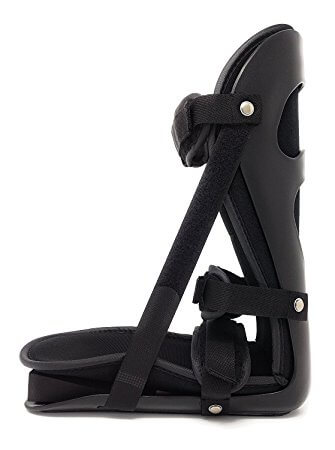 When you are able to find the right fit for you, you can begin to reap the benefits of this night splint. Yet, some users have brought up that finding that correct tightness can be a nuisance. But, the quality and overall engineering of this night splint deserve praise.
Read more
Comfortability
The gentle stretch provided from this night splint will assist with your pain and inflammation. Also, the padding in the interior has a Lycra covering for enhanced comfortability.
Breathability
To create a breathable core, your foot is not encapsulated inside the boot and is instead allowed to breathe. In addition, the aforementioned Lycra covering keeps your foot cool.
Fitting
Per the usual for night splints, there are multiple sizing options to select from and also a variety of adjustable straps in strategic locations for a tailored fit. But, one complaint that has been addressed by multiple users is it is difficult to find a proper fit.
Versatility
While the manufacturer does not recommend their night splint to be used as a walking boot, due to the non-slip sole tread there is added safety when you do need to get up at night.
Weight and Bulkiness
There is good news and bad news in regard to the bulkiness. As compared to the competition, it is not any bulkier; yet, it still can be a nuisance for some people who are not used to it.
Overall
This is a highly versatile night splint and it delivers an overall passable combination of comfort and bulkiness. But, some users will find the straps to be more of a nuisance than a convenience.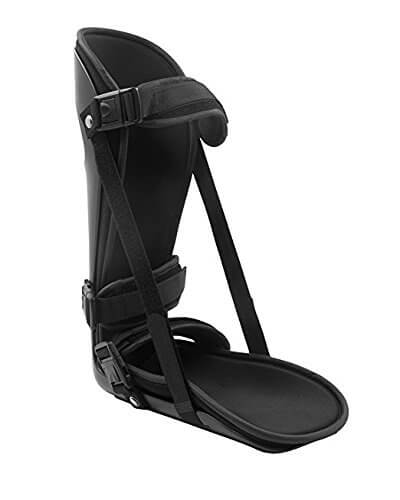 There is no doubt about it; the most impressive aspect of Posterior Splint's night splint is its lightweight design and ultra-breathable core with latex free foam padding. While it is not without its flaws, users universally agree it is considerably easier to fall asleep in this night splint than in most others.
Read more
Comfortability
All the edges are designed to be soft and flexible and this maximizes the pleasantry. In addition to this, there is a cushion pad which delivers a feasible amount of comfort.
Breathability
Due to the lightweight and breathable materials, irritation due to heat buildup will not be prevalent. To top it off, the straps wick away moisture from your skin.
Fitting
There are two fasteners that can be adjusted; one near your calf and the other near the forefoot. However, a notable concern is that the fasteners are not ideal for larger calves and feet.
Versatility
Thanks to the wraparound style, it is incredibly easy to remove and put on this dorsal.
Weight and Bulkiness
As opposed to a boot night splint you can wear it on either foot. Clearly, consumers will fall-in-love with how comfortable this feels when they are sleeping.
Overall
Granted you do not have larger feet and calves, this will be an ideal night splint for several people. Given its insane amount of comfort and breathability and non-cumbersome profile, it is a hit.

Subscribe to our Newsletter