Best Running Shoes For Plantar Fasciitis
In a
Hurry? Editors choice: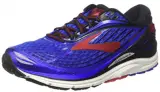 Test Winner: Brooks Transcend 4

If you are an avid runner and are suffering from heel pain, it is most likely plantar fasciitis. Small tears and inflammation in the plantar fascia ligament cause pain in your heel and/or the arches of your feet. Most runners can't sit still long enough for the pain to heal itself but luckily there are a few home remedies and
running shoe options
that can help speed up your
recovery time
and avoid another round of pain. In a pair of running shoes for plantar fasciitis, you'll want to make sure there is plenty of comfort and support, especially in the heel and arch area, and
decent shock absorption.
Standout Picks
Criteria Used for Evaluation
Comfort
Comfort is probably the most important feature to consider if you experience any pain when you run. We took a look at the midsoles that the shoes have, as well as any additional padding. We provided several products here that are made with great comfort and cushioning systems to help prevent pain, so make sure you review your choices and understand what would help you best. If you aren't sure, you can always go to the store and try some shoes on.
Another important thing that factors into a shoe's comfort is the support that the shoe provides. This is super important when it comes to plantar fasciitis. The proper support aids in dealing with the pain, but more importantly, helps to provide a stable platform required to keep from worsening the condition. Shoes that provide adequate support for this particular condition can make a huge difference preventing more pain and possible injury. So for this specific range of running shoes, support is a huge factor.
Features
When we looked at features, we examined ventilation systems, breathability, stability, shock absorption and other important parts of the shoe. The stability of a running shoe is important for someone who is suffering from plantar fasciitis because a stable shoe will help keep your foot positioned correctly and improve your stride. If you continue to run with pain, you may form a new habit of holding your foot in the wrong position and end up with more issues than you started with. Shock absorption is another big factor that you need to look into. When you run, each time you hit the ground, your body feels the strike of about five times your body weight. Imagine the effect that has on your heels.
As for breathability and ventilation, those are something important to look into for every shoe you buy, plantar fasciitis or no. A well-ventilated shoe will not only keep you comfortable, but it will also lessen the chances of bad odors in your shoes and lessen your risk of blisters.
Also taken into account with features are the styles that are offered for each shoe. Some shoes come with extra design features, too, and we took that into account. Different features are important to different people. For this reason, we have provided 10 shoes that provide an array of features that will benefit many people.
Durability
Durability becomes important whenever you are purchasing a product like this because you want to make sure you buy something that will last you for a while. The materials that the running shoes for plantar fasciitis are made play a big role in durability. Running shoes that have a rubber sole tend to be more durable than those with a synthetic sole, although synthetic soles tend to be lighter. Additionally, you will want to focus on the internal components of the shoes for plantar fasciitis. Is the tongue padded? Is there a sock liner? Any complaints about the laces? Even if the outside holds up well, you don't want holes on the inside.
A lot of times you can tell a lot about a company and how firmly they stand behind a product by their warranty. Many companies offer some sort of warranty against any defects in the running shoes. This provides peace of mine to the buyer and shows confidence from the manufacturer.
Value
No one wants to waste money on a low-quality product. Value is important, and we didn't just consider the price of the shoe when determining its value. We looked into the comfort, how durable it is, customer feedback, and the other features it offered. However, you can't expect to pay less than $70 for a pair of specialized shoes like these. Some options are slightly more expensive but will be worth it in the long run (get it?).
Subscribe to our Newsletter