Best Running Shoes For Wide Feet
In a
Hurry? Editors choice: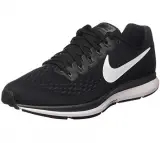 Test Winner: Nike Air Zoom Pegasus 34

For anyone who has ever done extensive running sessions before, you understand how important it is to find the right
running shoes
. One would think they could slap on any pair of shoes that they own to go out for a morning run and that would suffice. Yet, this approach could not be farther from the truth. The abuse that your feet go through when you run, given that you strike down with force every single time you land, is astronomical.
Possessing shoes that fit you correctly, provide enough cushioning like
cushioned running shoes
, and grants you with enough flexibility are all key. Not only will finding the right shoes helps your feet feel better, but it will also help your entire body feel better. Right shoes will make you feel like a completely new runner and could even shave off a few seconds from your mile time.
Standout Picks
Criteria Used for Evaluation
Comfort
A lot of design elements make up great running shoes and to be honest, a lot of them are dependent on your preferences. Everyone has different feet and a different running style; which sometimes makes shopping for trail running shoes even harder. Yet, no matter how you feel one way or another, your shoes need to be comfortable. For the issue such as plantar fasciitis, you could choose the best plantar fasciitis socks, which will provide more comfort besides your running shoes for wide feet. Who on earth wants to run in shoes that provide irritation and an overall level of discomfort? However, it is not as easy as merely designing a pair of running shoes out of nothing but cushion. In order to maximize the comfort, durability, and other elements, specific cushioning needs to be integrated.
One key location that you will find the need for cushioning is in the midsole. More or less, the midsole's purpose in running shoes for wide feet is to provide you with shock absorption and cushioning. After all, each step you take creates a shock when you touch the ground. But, some midsoles are thicker than others, and some are firmer. While soft midsoles provide more cushion, they may also wear down quicker. Yet, a firmer midsole may not provide enough comfort for you. Again, it is a matter of preference.
Flexibility
Without question, this section can be the most difficult to assess when people are buying their first running shoes. Much like with the midsole, the amount of stiffness you desire is going to be up to you. Not everyone will have the same running preferences and before you look into a pair of wide feet running shoes, you should understand yours. However, the issue with stiffness versus flexibility is also complicated because some manufacturers will be very vague about the information that regards it.
So, how can you get a better understanding of what you may prefer? Well, as a general rule of thumb, if you are a low-arched runner then you may prefer a stiffer midsole. However, note that this can compromise the comfortability. But, if you are a high-arched runner than a flexible midsole may suit your needs better. Think about it in this manner; when you are running would you rather feel dexterity with your feet or feel as if they are not going to move at all?
Breathability
If you are in the market for athletic clothing and apparel, aside from comfort, no design feature will come up more than breathability. It does not require a Master's degree to understand that when people work out, they will start to sweat. When moisture builds up, it can create clammy clothing, and the fabric becomes nearly impossible to breathe out of. Alright, so how do manufacturers adjust for sweat build-up when they design their running shoes? It is quite simple, actually.
Most of the time, there will be some sort of mesh material utilized in the shoe, with it being on the top portion of the shoe a majority of the time. This ensures that your feet receive a little bit of air when they are inside of the shoe. However, a fabric liner that wicks away moisture is also another key to maintaining a high level of breathability. Although, what happens if you want to run in frigid conditions? If you do not want the heat to escape, you could opt for a less breathable shoe. Yet, most people will want to run in relatively moderate weather and at the end of the day, you are going to sweat either way.
Durability
Among the sections being presented to you, this is the most self-explanatory. When you buy anything in life, you would like it if it is built to last and running shoes are no different. Given how much abuse they can take, though, you need to pay special attention to the durability. As a prime example, assess the design of the outsole. This is the portion of the shoes that will take the most abuse and it should be built to withstand some punishment. But, where do you plan on running? Will you encounter terrains that are uneven and rugged? It is just common sense that a rougher terrain will wear down an outsole quicker and if these are your intentions, aim for one with highly-durable rubber.
Subscribe to our Newsletter