Best Compression Shorts for Running
In a
Hurry? Editors choice: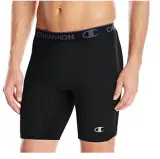 Test Winner: Champion Powerflex

You may have noticed that compression tights, shirts, and
shorts
are all the rage in the running community at the moment. Some benefits of wearing quality compression tights include increased oxygen to muscles, faster removal of lactic acid, and an
acceleration in recovery time
. There are many more benefits that compression gear includes, but those are just a taster of what you can expect to experience. So as we enter into warmer weather, and if you are a runner, you may want to swap out your
pants
and try out some brand new compression shorts.
Standout Picks
Criteria Used for Evaluation
Fit
For all of the products on our list above, we discussed the way each type of our best compression shorts fits. You'll find there is a lot of variety here, so you'll need to pay attention to customer reviews and comments on fit. Many of our best compression shorts seem small and tight at first, but they are designed to fit that way for compression. Just make sure you get the size that is right for you to get a lot of comforts. They actually are a nice-fitting pair of compression shorts and utilize gradient compression in their design so you get plenty of oxygen to your muscles. That will increase your power while you run, and keep you going strong. You'll also get the support you need on your runs, and plenty of versatility to use these shorts for another exercise.
Materials
Fabric choices can vary with some of these best compression shorts, but most of them feature polyester, nylon, spandex, or materials along those lines. The materials are combined so that the shorts are able to breathe and ventilate well, keeping you dry, while at the same time staying stretchy so you get great compression, but plenty of flexibility and range of motion while you run. Most shorts are comprised out of 25% nylon and 75% elastane materials, which makes them both stretchy and strong. They provide a lot of great compressions and also help provide the support you need while you are on the go. The fabric also features UV 50+ protection, so that you'll be safe from the sun if the weather is very warm. Also, you get a moisture-wicking feature with this fabric, and that brings you a lot of ventilation and breathability so you stay dry and comfortable.
Durability
We examined all of the products on our list for durability and discussed what we felt about each product. The products on our list are all designed to be durable, and they feature great fabrics and materials that should help you get the most out of your best compression shorts. You get plenty of durabilities designed into these best compression shorts. First, they have a high-quality fabric design that makes them comfortable, supportive, flexible, and very durable. They feature gradient compression which will help your muscles feel great for long periods of time. Plus, they have weather protection features built into them, which increases their durability.
Value
We also examined the value of each one of the products on our list. With value, we talked about affordability as well as durability, and what the shorts had to offer you overall. The running compression shorts on our list are offered at an average price, which means they aren't too expensive and offer a competitive option in our list of best compression shorts. You won't have to break your bank with these, and you'll still get a great pair of compression shorts. The shorts on our list are also very durable and built to last for some time, so you'll get a lot of use out of them before you need to replace them. You'll love how great they feel each time you hit the trails.
Subscribe to our Newsletter