Best Running Shoes for Flat Feet
In a
Hurry? Editors choice: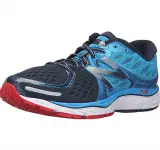 Test Winner: New Balance 1260V6

Running with flat feet can cause serious impact issues for your feet and legs, and often results in pain and fatigue. Some people are just born with it, while others wind up experiencing the problem because of injury, poor form, or from using incorrect footwear. In some cases, flat feet lead to another issue called
overpronation
, which makes your feet start turning inward. If you suffer from flat feet, you know just how uncomfortable
running shoes with high arches
can be. As a person who loves running, there is no reason to put off the activity you love any longer. There are many excellent flat feet running shoes available on the market today that can help you straighten out your flat feet as you run so that you can keep going with far less soreness.
Standout Picks
Criteria Used for Evaluation
Comfort
Comfort is probably the most important thing you'll want to analyze when you are trying to prevent soreness and pain from flat feet. Chances are, you've experienced enough discomfort and we are here to break down each shoe and let you know exactly what each can offer you. We've provided an analysis of the comfort designed into each one of the product on our list. Everyone's feet are different and require a different level of support. For people with flat feet, you'll want to focus on stability, shock absorption, and cushioning.
Depending on how much cushioning and support you need, make sure you review the comfort level of each shoe to help figure out exactly what you need. The midsole of a running shoe is one of the most important areas and as a person with flat feet, you'll need to keep an eye on this. A great midsole will offer you protection and shock absorption while running.
Features
We listed features for all of the products on our list, and different styles and brands tend to offer different concepts with their shoes. What we find that is similar about many of the features is that you'll usually find cushioning and shock absorption, good traction, and a feature that will help keep your stride straight so that you don't experience as much pain. All of these factors work together to help make these running shoes more comfortable for people with flat feet.
Additionally, the stability offered in running shoes, especially for those with flat feet, is very important. A good stability system can help you avoid overpronation. If you are feeling off balance in your shoes, you will not be running with the correct form and will only make things worse.
Other useful features that we looked at included breathability, removable insoles, how the shoe holds your foot, and traction. Each individual feature works together to keep you comfortable, confident, and safe from overpronating.
Durability
We discussed the durability of each one of the products on our list. Durability has a lot to do with the materials that are designed into the shoe, as well as the design of the rubber soles on the shoes. For the upper of the shoe, a lot of manufacturers use mesh combined with another strong material, such as leather or textile (denier). Combining this strong material with mesh helps to make the shoe not only just breathable but more durable as well.
A lot of lightweight shoes use EVA foam as the sole of the shoe. This is great for keeping the weight of the shoe down, but not all foams are created equally. Still, the strongest sole you can find for a running shoe is made from rubber. Running shoes are something that are likely to be worn every day, and not always on soft, clean terrain. Every aspect of the running shoe materials is an important factor in how long you'll have the shoes before needing to replace them.
Subscribe to our Newsletter