Best Asics Running Shoes
In a Hurry? Editors choice:
Test Winner: Gel-Nimbus 20

If you are in the market for a new pair of running shoes and have looked up some quality brands, most likely you have come across Asics. Asics not only makes quality running shoes but they are running shoes that are made for and by runners, so you get exactly what you want
when you hit the trails.
If you agree and have decided to invest in a pair of
great running shoes
than you have come to the right place, as we have done the research and listed the top ten Asics pairs of the 2019 season. Below we have not only listed the top ten pairs of best Asics running shoes but also explained what makes these ten the best over the rest.
Standout Picks
Criteria Used for Evaluation
Top Ten Pairs of Asics Shoes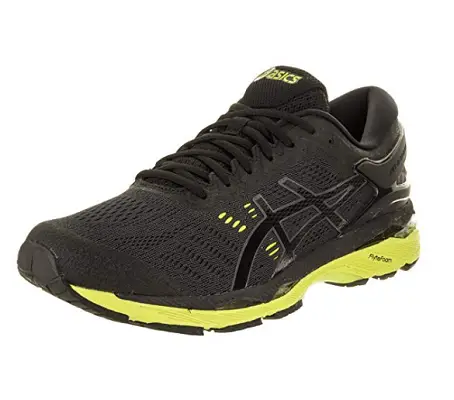 Topping this ultra-impressive list of shoes is the Gel-Kayano 24 Shoes. Arguably most noteworthy about this brand is the unparalleled glove-like fit that is provided.
Read more
Comfort and Shock Absorption
In addition to the natural softness of the underfoot, the fluid ride midsole is able to provide you with an ideal combination of cushioning and bounce-back properties for a fantastic ride.
Overall Fitting
The fluid fit upper technology that has been integrated combines stretch reinforcements and mesh and this will adapt to your foot for a customized "glove-like" fit. Plus, the toe box is quite spacious.
Breathability and Weight
On top of the mesh upper that was just alluded to, several buyers concur that the Gel-Kayano 24 Shoes are very lightweight and supportive.
Durability and Traction
What is so amazing about the fluid ride midsole is on top of the cushioning properties it provides for you, it also delivers an exceptional amount of durability and will stay intact for a long time.
Aesthetics
Runners across the globe all seem to be pleased with the aesthetics of the Gel-Kayano 24. Additionally, there are several different color combinations to choose from.
Overall
With its lightweight support, advanced midsole, and spacious toe box, it is no surprise to see why this model has received acclaim. It also helps that very few runners have had any bad words in regard to this shoe.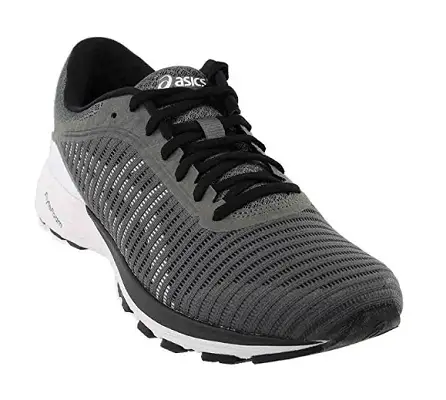 Despite the limited amount of color variations, which is a fairly minute point, all things considered, the Dynaflyte 2 Shoes are much lighter than their predecessor and a little cheaper.
Read more
Comfort and Shock Absorption
As with some of their other shoes, FlyteFoam has been used and this is actually much better at absorbing shock than traditional EVA foam (and weighs less, as well).
Overall Fitting
Even though it is recommended to test a half-size down, one user conducted a detailed review and claimed the Dynaflyte 2 was sized fairly well.
Breathability and Weight
On top of the fact that this version is slightly lighter than its predecessor, the fabric utilized on the upper maintains optimal breathability. Plus, the ComfortDry Sockliner technology helps eliminate odors.
Durability and Traction
One nice addition to the outsole is the trusses system and this is a plate of plastic that runs beneath the inner side of the shoe and it will decrease the twisting of the shoe.
Aesthetics
While the original Dynaflyte features vibrant and bodacious color combinations that are a bit flashier, its successor takes a more conservative approach with rather subtle color combinations.
Overall
Overall, this is quite an improvement over the original. It is not as heavy as the previous model, it holds back on the neon color options and it is even a little cheaper.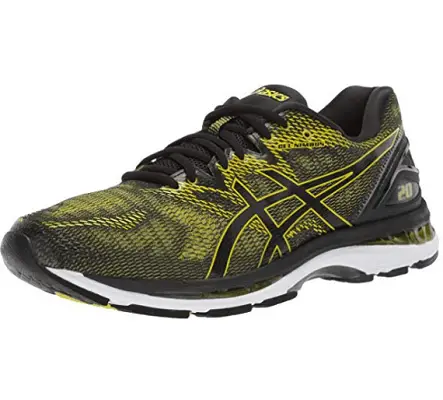 In spite of the fact that the Gel-Nimbus 20 Shoes do not offer the best arch support that the world has ever seen, they do deliver an optimal amount of cushioning and an ideal fit.
Read more
Comfort and Shock Absorption
Based on several reviews from buyers across the world, the cushioning and overall comfortability of the Gel-Nimbus 20 is above-average.
Overall Fitting
The good news is that several runners mention that the sizing of this shoe is spot on. However, the downside is more than a few have reported that the toe box is narrow.
Breathability and Weight
Both the well-constructed upper section and the lightweight nature of the Gel-Nimbus 20 have been appreciated by a vast number of purchasers.
Durability and Traction
Even in a variety of different surfaces and terrains, some runners have alluded to the fact that these shoes will perform well.
Aesthetics
A simple run in the park with these shoes are sure to garner your attention and compliments, in a good way. All in all, this is one of the best looking shoes out there.
Overall
Worth noting is that this model sports a stiffer footbed than other models and minimal arch support. Still, the cushioning is incredible and the appeal is striking.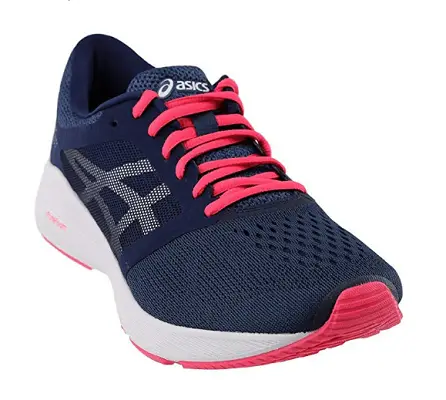 The Roadhawk FF Running Shoes will be most runners' dream shoe as it sports everything that a runner needs and crave. That is, except a spacious and roomy toe box so be cautious of that.
Read more
Comfort and Shock Absorption
Thanks to the FlyteFoam midsole and the seamless upper construction, the irritation is kept to a minimum and the overall cushioning offered is superb. Several runners have praised this aspect.
Overall Fitting
In spite of the fact that a few buyers were disappointed with the narrow toe box of the Roadhawk FF, others were thrilled with the snug fit as their feet did not slide while running.
Breathability and Weight
The upper is made of synthetic materials and mesh which is an ideal combination for superb breathability. In addition, most consumers were also pleased with lightweight construction.
Durability and Traction
One reviewer even suggested this shoe on a marathon due to its performance and durability. Part of the reason why this was claimed is that of the high-abrasion rubber outsole.
Aesthetics
One could argue that there is not enough variety in terms of color combinations but at the end of the day, most of the options available are visually appealing.
Overall
To be honest, the Roadhawk FF Shoes may not be ideal for those of you with wider feet. The only reason is that of the narrow toe box but past this, this shoe offers near-flawless performance.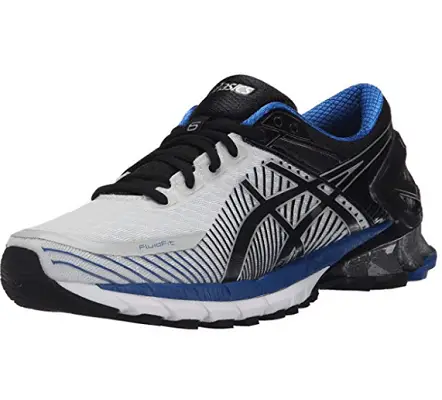 If you are looking for one of the best runs around town, the Gel-Kinsei 6 Shoes are sure to deliver it to you. As a nice bonus, it sports a gender-specific midsole for enhanced comfort.
Read more
Comfort and Shock Absorption
What is truly fascinating about the Gel-Kinsei is, outside of its upgraded seamless upper construction, it comes with a gender-specific midsole that will adapt to men.
Overall Fitting
Arguably the best aspect of this shoe is its fit. Runners concur that the spacious toe box, snug heel fit and seamless fusion with the foot is enough to make the fit nearly unmatched.
Breathability and Weight
Asics updated their Kinsei 6 Running Shoe with FluidRide technology that is able to deliver a lightweight experience for you when you go on runs.
Durability and Traction
Overall, there have been a decent amount of user reviews that have alluded to the strong durability present in the Kinsei 6 Shoe.
Aesthetics
Vibrant is the most accurate way to describe the appeal of this shoe and this is a head-turner, to say the least. But, it is entirely your preference if that is something you desire.
Overall
When running around town, few shoes can outperform the Gel-Kinsei 6. In addition, with its vibrant color combinations, you will quickly become the talk of the town.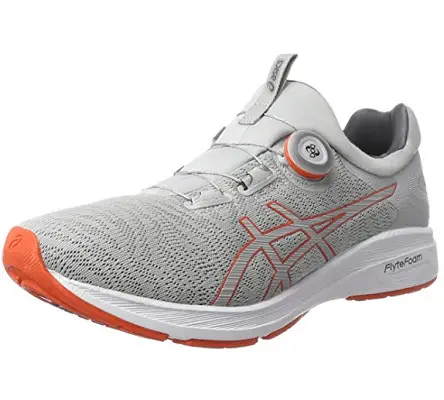 While there is a little bit of a drop off here, this is still an excellent pair of shoes and one that Asics should hang their head up high for. Then again, the heel cup could have delivered a snugger fit.
Read more
Comfort and Shock Absorption
For a stability shoe, the cushioning provided is ideal. Yet, despite this, one runner felt the lack of a tongue aggravated the top of their foot while running.
Overall Fitting
Even though some runners expressed their issues with the heel cup not delivering a snug enough fit, the mono-sock fit system does wrap around your foot for a superior fit.
Breathability and Weight
Thanks to the synthetic fabric, this shoe is able to absorb the excess moisture to prevent it from building up. Additionally, the lightweight nature of the Dynamis Shoe has been commended.
Durability and Traction
One specific buyer provided insight into their experiences and noted that the outsole of this shoe provided enough durability to handle daily running adventures.
Aesthetics
Truthfully, some of you may appreciate the subtle amount of color combinations that are available for these shoes. Then again, your options are limited.
Overall
Some minor shortcomings are present with the Performance Dynamis Running Shoes but overall, it combines several elements to be lightweight and durable.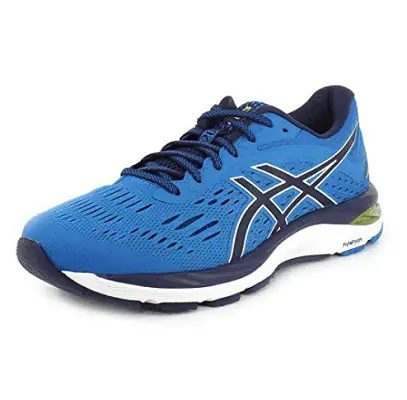 While other Asics running shoes are dragged down a bit by excessive weight that is not the case with their Gel-Cumulus 20 Shoes. Yet, they are not a flawless pair of shoes.
Read more
Comfort and Shock Absorption
A few key design integrations ensure that this is yet another supremely comfortable running shoe. Most important is the FlyteFoam midsole and seamless construction.
Overall Fitting
Begin benefited by the mesh upper section, this shoe will form to your foot. But, be wary that one runner noted it can be stiff for the first couple of runs.
Breathability and Weight
The elegant combination of the mesh upper and the lightweight construction ensure that the overall breathability is not going to be a concern.
Durability and Traction
Several buyers have reported that the outsole of the Gel-Cumulus 20 retains its firmness while also allowing you a bit of flexibility.
Aesthetics
A few of the color options are completely stunning. In fact, overall, none of the options are too outlandish to not fit in with most of your other running gear.
Overall
All in all, a lot of you will probably fall in love with this model after running in them for several weeks. As others have noted, the experience is likened to running on a cloud.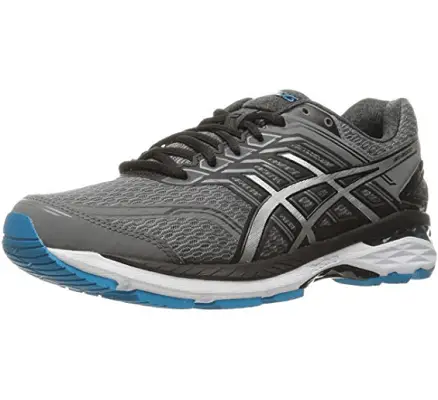 While there have been a number of runners that have wished this model cutback on the weight, few can argue with the uncompromised combination of cushioning and feel.
Read more
Comfort and Shock Absorption
Due to the integration of the forefoot and rearfoot GEL cushioning systems, the 5th version of the GT-2000 is able to attenuate shock during toe-off and all ground impacts.
Overall Fitting
The additional midfoot overlays work wonders to the overall fit of this shoe as it wraparounds you're midfoot. This especially aids in the arch.
Breathability and Weight
Again, a reduction of the overall weight would have been nice but at least the mesh upper is able to provide enough breathability for your feet during longer runs.
Durability and Traction
Outfitted in the outsole are deep vertical flex grooves and these not only assist with traction but they also enhance the overall flexibility of the shoe.
Aesthetics
If any shoe exemplifies the natural style of Asics, it would be the 5th version of the GT-2000. The bottom line, you are either going to like the design or not (it is not much in-between).
Overall
What is nice about this running shoe is it nails near perfection in several key areas. This includes its flexibility, comfortability, gait efficiency, and overall fitting.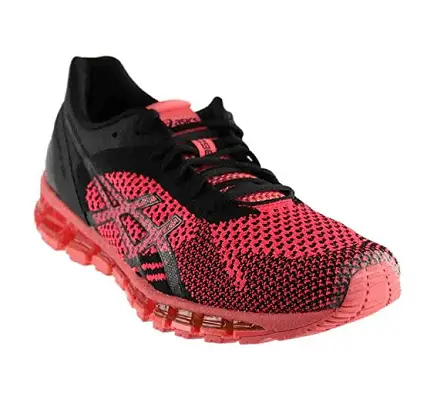 A lot of the staple technology that is integrated into Asics shoes is implemented into the Gel-Quantum 360. Overall, it is just another stellar model from a ridiculously consistent company.
Read more
Comfort and Shock Absorption
During all impact and toe-off phases, the shock absorption technology will alleviate shock and increase the comfortability overall. Heck, some runners have even gone sockless in these.
Overall Fitting
Be aware that there have been claims of a narrow midfoot area and the size running a little small. Yet, the stretchy knit upper will mold efficiently to your foot and provide a glove-like fit.
Breathability and Weight
The premium sock liner delivers superb moisture management and the upper offers an ideal amount of ventilation. However, a few buyers claim this is on the heavy side.
Durability and Traction
Even on wet and slippery surfaces, the tread of the outsole is able to deliver adequate to solid traction. No need to injure yourself on rainy days, after all.
Aesthetics
A strong variety of both lighter and darker color combinations are available and this subtle nuance ensures that every runner should be able to find a style that suits them.
Overall
Despite its heavy nature, the Gel-Quantum 360 provides you with an adequate amount of ventilation and smooth strides and takeoffs throughout the entirety of your runs.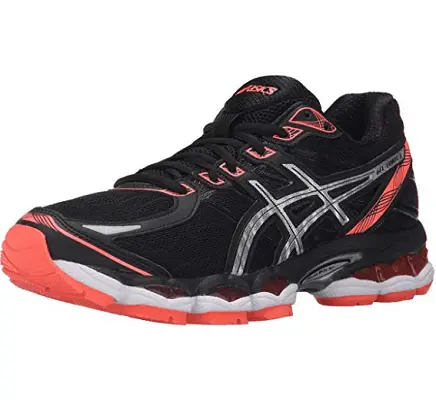 The Gel-Evate 3 Shoe cap off what has been an incredibly impressive list. Despite their smaller size, these shoes are notable for offering an extremely fluid ride with superb durability.
Read more
Comfort and Shock Absorption
As with other models from this manufacturer, the Gel-Evate 3 Shoes integrate forefoot and rearfoot GEL cushioning systems to alleviates shock and delivers optimal comfort.
Overall Fitting
Based on a plethora of user reviews, be aware that the sizing of the Gel-Evate 3 seems to be small and tight. As such, you may need to order a size larger than you are accustomed to.
Breathability and Weight
Even though the weight of this shoe has been noted as an issue, the improved upper section has not. On the contrary, the upper allows for a breathable ride.
Durability and Traction
While the vertical flex grooves of the outsole increase your flexibility and traction, the fluid ride technology enhances the durability as a whole.
Aesthetics
For the most part, the overall style of the Gel-Evate 3 has received accreditation from the vast majority of the fans.
Overall
Granted you are able to find the proper size for you, there is no reason why the Gel-Evate 3 Running Shoes can't provide you with years of use and reliability.

Subscribe to our Newsletter