Best Road Running Shoes
In a
Hurry? Editors choice: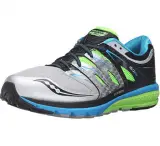 Test Winner: Saucony Zealot ISO 2

Every one of us at one time in our lives has put on a
pair of shoes for running
, tied the laces, and hit the road for a nice long run. There is truly nothing like going for a run through your neighborhood and feeling the breeze of the air hitting your face, and allowing yourself to escape from the stresses of your day and stay fit.
Some of us enjoy this so much that we try to hit the roads every day and if your one of those people than you know how vital a proper pair of shoes for running are. Below we have listed the top ten road running shoes of 2019 and will explain why they are the best of the best on the market.
Standout Picks
Criteria Used for Evaluation
Comfort
When it comes to analyzing any shoes, the cushioning and comfort they provide will always be at the forefront. No matter if they are walking shoes, sports shoes or shoes for running on long-distance, this will always remain significant.
When you spend long periods on your feet, they tend to ache quicker than anything else. So, wearing a highly-cushioned pair of shoes can aid to relieve this pain or prevent it from developing altogether. In specific, for sneakers, the cushioning is not only integrated to provide comfort but also impact absorption and response.
When you strike down from your heel to your toe, proper cushioning will give you an enhanced response and less pain. Also, as when you run at high speeds you will strike down with a decent amount of friction, over long periods excess cushioning in certain areas (for best-cushioned running shoes check here) can absorb substantial impacts and shocks. All in all, without enough cushioning in the shoes, your feet will suffer, and your running experience will be negatively affected.
Fit
Every single runner needs to be highly aware of this area as sneakers need to fit a certain way because if they do not, you are not getting the most out of your run. As a general rule of thumb, the shoes need to fit snug on your feet.
But, they should not be too tight to the point where you can't flex your feet. Instead, they should fit snug on your heel and in the midfoot, while having a little bit of wiggle room in the toe box. Say, half of the width of your thumb should be dead space in the toe box.
But how do you get this fit? Well, a lot of times, designers will integrate specific design features that assist in snugness. However, you need to ensure that you order the correct shoe size. If you ever have apprehension, reference the manufacturer's shoe size chart as that is a surefire way to know if the shoe will adequately fit your feet.
Breathability
If you have ever researched outdoor garments of any kinds, including shoes, then you have probably stumbled across the word "breathable." The first time you see the term, you may be thrown off by it and asking yourself, "garments do not have lungs so why do they need to breathe"? While that is looking at it in a literal sense, it has nothing to do with this. Instead, when a garment, or running shoes, is breathable, it means that it has a way to release moisture.
When excess moisture builds up and is not allowed to release, you will quickly feel clammy and overheat. It is enhanced with these shoes because when you run, your feet will release many sweat glands, and this perspiration needs a means of escaping. One way is by choosing a great pair of socks from our top 10 selected Coolmax socks. But, some users will also appreciate shoes that are not excessive in weight. Keeping them as light as possible will also aid in this as heavier shoes will cause your feet to wear out quicker and sweat more.
Drop
This is an area that is specific to runners and one that is critically important. The heel-to-toe-drop, which is the difference in height from the heel to the forefoot, is something that will come up time and time again because it is prevalent every single time you take a step when you run. Besides the fact that it is ideal when the cushion is located in specific places to make the transition from heel to toe (as that is how you run) as smooth as possible without being painful. But, the height of the drop is all based on your preferences.
Studies have been conducted in the past, and some have noticed no difference in injury rate based on the height of the shoe drop. Brian Fullem, a published author, states as a general rule of thumb that people with forefoot pain should aim for a lower-drop. Meanwhile, those with an ache in the heel area should aim for a traditional heel drop (he gives the example of 12mm). If you do not experience pain in any areas of your feet, you need not concern yourself with this, and you can choose a heel-drop that aids in your preference. And in case you have blister problems, try some ideas from our guide on the best blister treatment.
Outsole
The outsole of any shoe, but especially shoes for running, is as important as any portion of it. While you may think that it is only important for traction and durability, even though it is, it also can aid in a soft landing and flexing. But, it does matter in terms of traction, that is for sure. When you are running on any given day, it can be tough to predict the weather or terrain outdoors. If you ever get caught running on slippery surfaces, you need an outsole that features thick and substantial grooves for grip and traction.
If the cushion is placed in certain areas on the outsole, every single time you land on the ground, it can aid in a soft and painless landing. Similarly, with rubber, it can also help in flexibility for the forefoot area. And, finally, the outsole will take the most abuse of any section of the shoe. So, you want the rubber to be as durable as possible and hold up well to general wear and tear.
Top Ten Road Running Shoes
Subscribe to our Newsletter